The first 100% electric Caterham, this is the Caterham EV Seven
Caterham EV Seven
The Caterham EV Seven was developed in collaboration with Swindon Powertrain Ltd. The EV Seven is based on the larger Seven chassis (SV) and features a bespoke version of Swindon Powertrain's E-axle, combined with a battery pack.
Battery cooling uses a dielectric fluid. The liquid is in direct contact with the cells, allowing better thermal management during charge and discharge cycles. This advanced technology is at the forefront of battery-powered electric vehicles and until now has mostly been used to cool supercomputers that generate huge amounts of heat.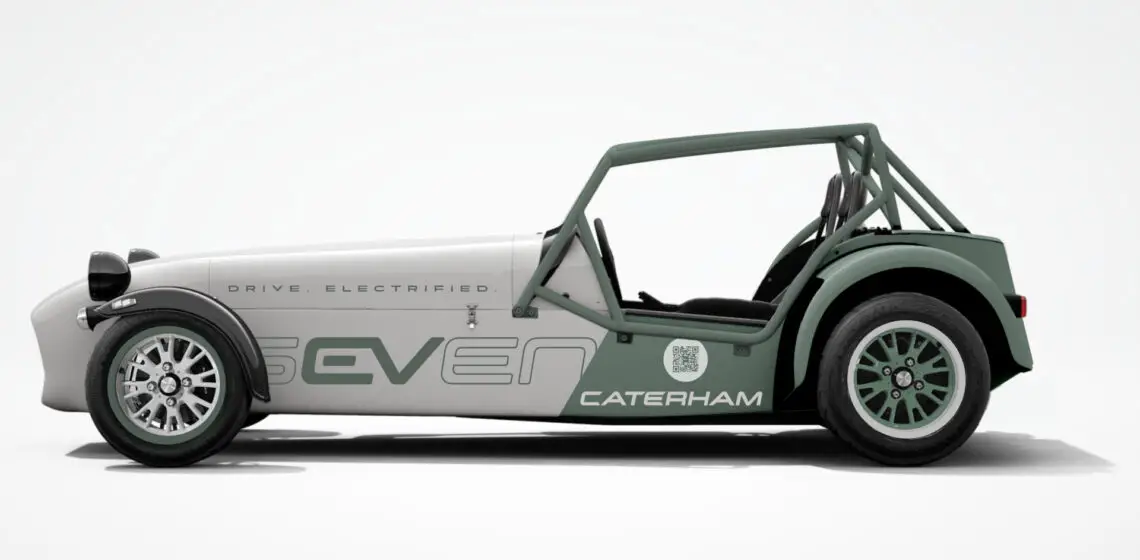 EV must be true to the DNA of a Caterham
Bob Laishley, CEO of Caterham, said, "Any future EV model we produce must be true to the DNA of a Caterham: lightweight, fun to drive and driver-focused. The main goal of this project is to develop a vehicle weighing no more than the equivalent of a Seven with passenger on board. We're never going to launch a one-ton Seven – we'd rather not do that."
Any electric Seven must be usable both on the road and on the track. For the latter, that means it must be capable of a repeatable driving cycle of 20-15-20: the ability to drive on the track for 20 minutes and recharge in 15 minutes with enough energy to drive for another 20 minutes.
"Building a Seven capable of driving on Sunday morning is achievable with current battery technology, but the challenge lies with track use where energy consumption increases dramatically. Right now, immersion battery cooling is one of the best solutions to cope with the rapid charge and discharge cycles you would encounter on a race track," Laishley adds.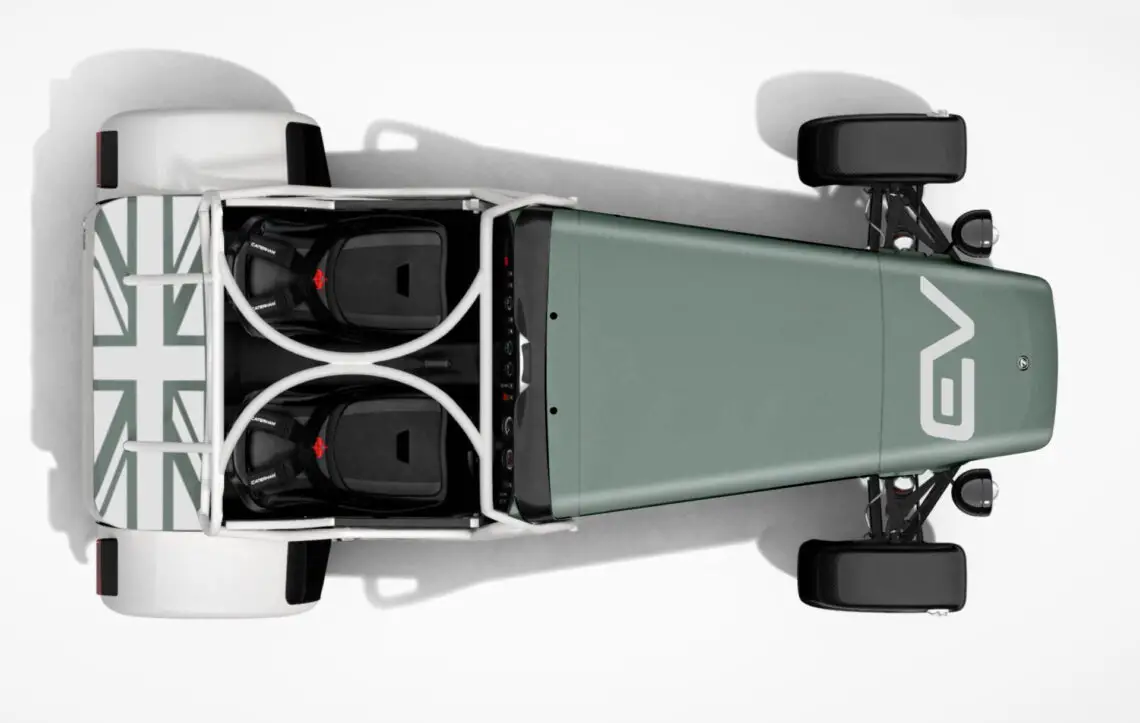 Battery of 51 kWh
The weight gain is less than 70 kg compared to the current production Seven 485 SV  on which it is based, representing a total mass of just under 700 kg. The 51 kWh battery is located in the engine compartment and transmission tunnel and is capable of DC fast charging at speeds up to 152 kW. It has a usable capacity of about 40 kWh, which allows the battery pack to safely withstand demanding track use followed by rapid charging without causing premature wear.
The electric motor produces 240 hp at 9,000 rpm and has a peak torque of 250 Nm. This yields a predicted 0-100 km/h time of about 4.0 seconds. The powertrain is designed to closely match the performance characteristics of the current production Seven to ensure that the EV Seven has the same driving characteristics as the ICE model. The Caterham EV Seven features a limited slip differential, adjustable Bilstein dampers from the Seven 420 Cup, a regenerative braking system and four-piston calipers.
Electric Caterham will come, but not yet
"We have no plans at this stage to put EV Seven into production – it's a test case to see how well an EV powertrain works for our customers' specific use cases. We're doing this project with our eyes wide open so we can learn how to deliver the specific Caterham vehicle characteristics needed for a Seven. We are going to bring this to market at the right time, when the future generation of battery technology allows for it, and so this is the time for us to try out the concept," Laishley said.
The Caterham EV Seven will debut at the Goodwood Festival of Speed in the United Kingdom in July. Caterham is also developing another all-electric sports car concept. The unveiling of that car will also take place this year. The design of this project will be led by the brand's new chief designer, Anthony Jannarelly, and further details will be announced in the coming months.
Caterham EV Seven Specification
Vehicle: Caterham EV Seven
Engine: Bespoke Swindon HPDE E Axle
Transmission: Single-speed, two-stage reduction with bespoke ratio
Final Drive:Limited slip differential
Battery: 51kWh (40kWh usable) – Immersion cooled battery
Charging: Up to 152Kw DC fast charge
Chassis: Large chassis
Dimensions: (L: 3,350mm, W: 1,685mm, H: 1,115mm)
Max Power (bhp / rpm): 240bhp @ 9,000rpm
Max Torque (Nm / rpm): 250Nm @ 0rpm
Weight: less than 700 kg
Performance (0 – 60 mph): 4.0 seconds (estimated)
Power-To-Weight: ~ 340 bhp-per-tonne
Top Speed: 130 mph (estimated)
Suspension: Bilstein adjustable (from 420 Cup)
Wheels: 13″ Apollo Black Alloy (6″ front and 8″ rear)
Tyres: Avon ZZR
Brakes: Ventilated discs with quad-piston calipers
Steering: Rack and pinion, 1.93 turns lock-to-lock