Review – Mercedes-Benz EQS (2022) – A flying carpet at lightning speed
But this isn't the first electric Mercedes-Benz, is it?
No that is right. The EQA and EQC have been on the market before, but those are actually petrol models — the GLA and GLC — which Mercedes has equipped with an electric powertrain. The EQS stands on a completely new electric platform, which no other model uses yet.
So you can actually not say that the EQS is an electric S-Class, but in terms of space, luxury and comfort it comes down to that. He has everything the Germans have to offer at the moment. For example, it is the most streamlined car in the world, has the longest range and even the largest infotainment screen.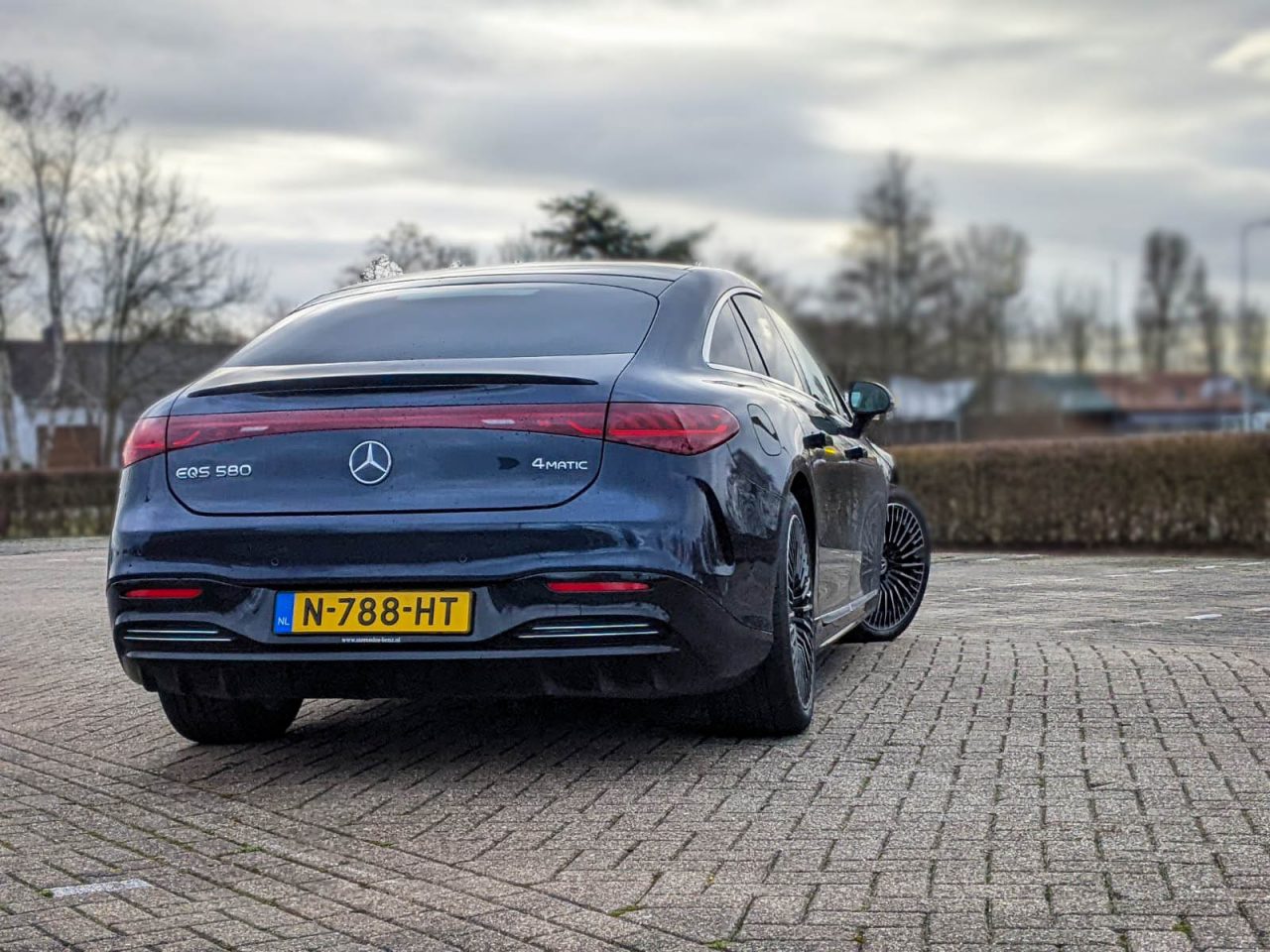 It's streamlined, you say?
Yes, you can say that. The EQS is the most aerodynamic production car in the world. It has a Cw value of 0.20. Its nose is quite slanted — allowing it to cut through the air well — but that sometimes makes parking a bit tricky. You have no idea where the nose party stops. Of course there are sensors all around the car – 350 pieces if you add them all together – and several cameras, which solve that problem.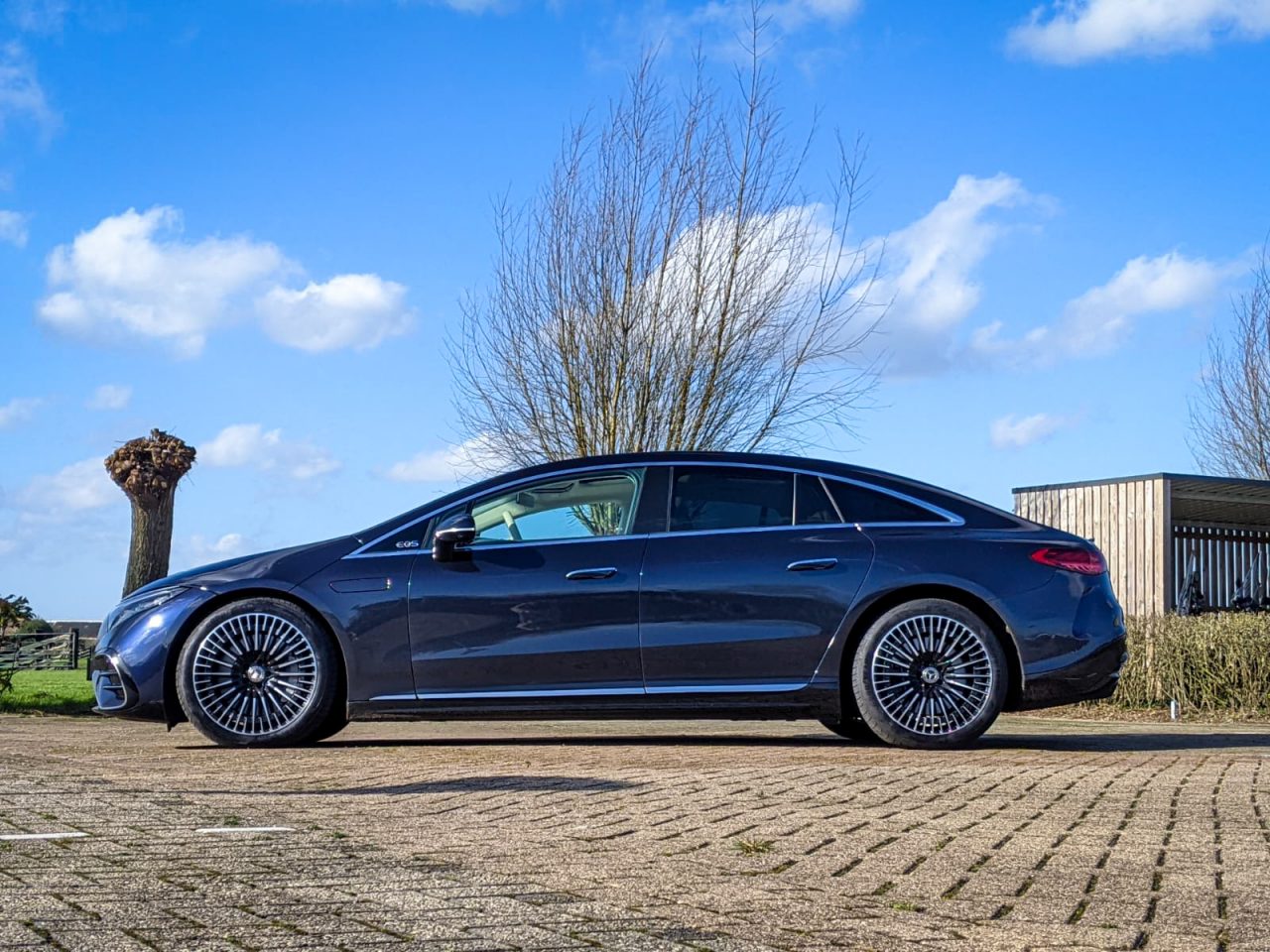 Small turning circle
In addition, the 5.22 long Mercedes-Benz has a turning circle of only 10.9 meters. It has rear-axle steering. The rear wheels can therefore steer. This proves to be particularly effective, because during our test we maneuver the EQS through small streets and narrow parking garages without any effort. As standard, the rear axle steering has a steering angle of up to 4.5 degrees, but a steering angle of up to 10 degrees is also possible. You can even activate this option afterwards, via an over-the-air upgrade. Of course against payment. If you are unable to park the battleship, you can also just let the car do it itself.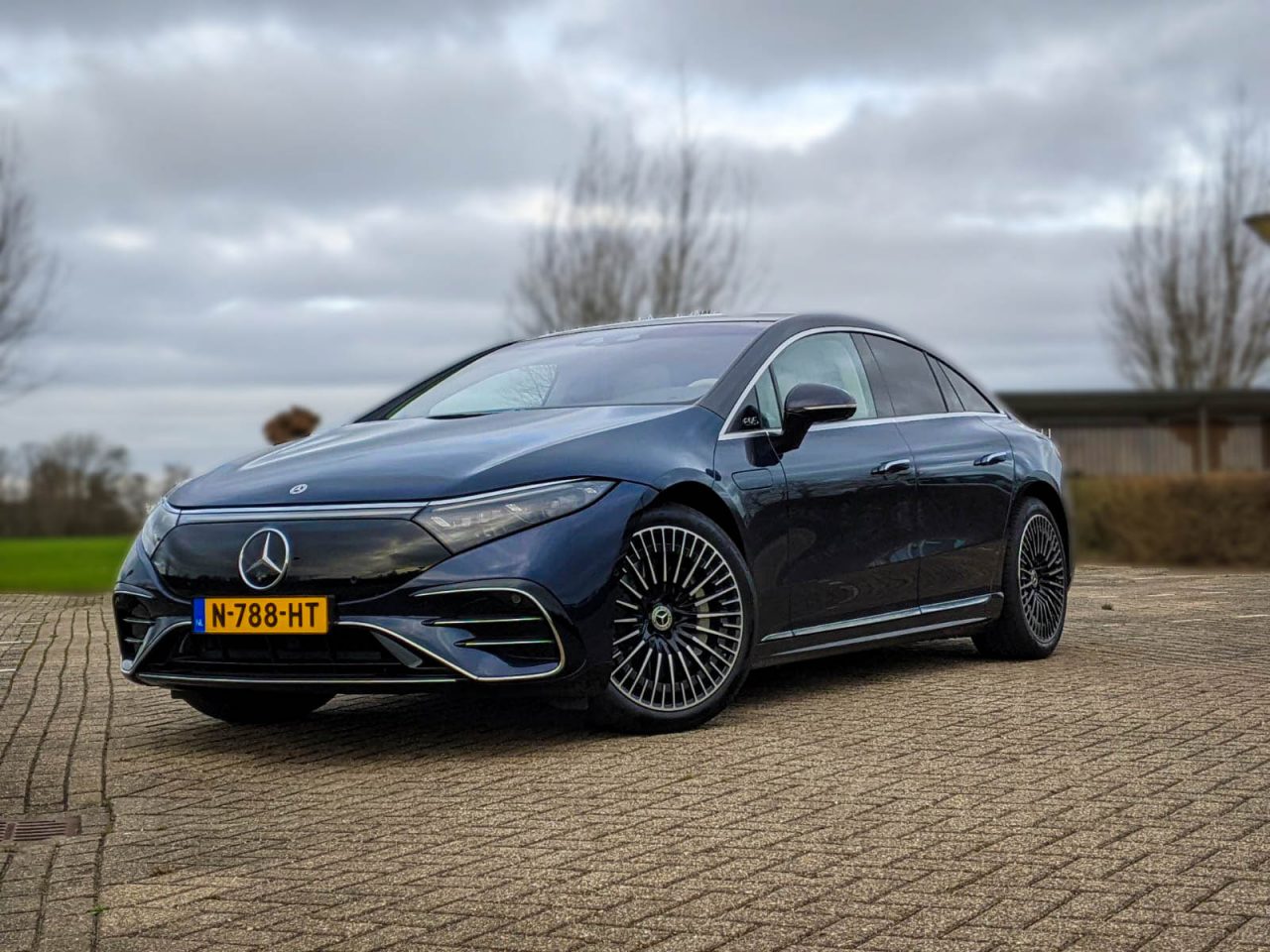 Does it really have the greatest range?
For a long time there was no EV that could go further than the Tesla Model S. According to the WLTP figures, it comes 652 kilometers far, but the EQS goes well beyond that. Thanks to its low Cw value and huge battery with a capacity of 108 kWh, you can reach up to 731 kilometers on a single battery charge. No EV in Europe comes any further. We drive the top version — the EQS 580 4MATIC — and it kicks it to 651 kilometers. The range of course drops considerably if you have a heavy right foot, but then you still have to do your best to empty the battery.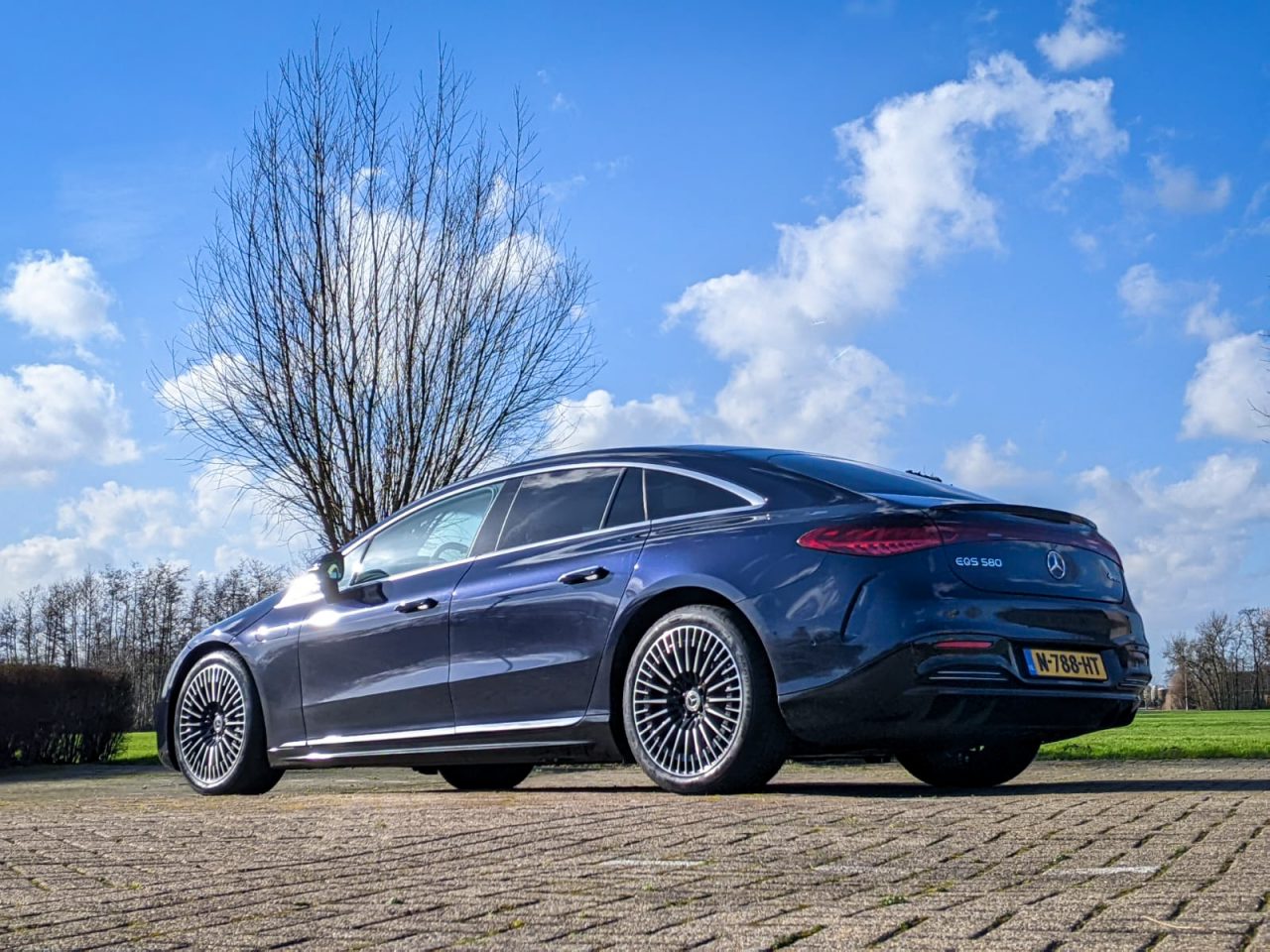 How fast can the Mercedes EQS fast charge?
In addition, it is possible to charge the EQS super fast. You can charge up to 200 kW at the right charging station. There are cars that can do this faster on paper — think a Porsche Taycan, Hyundai Ioniq 5, or all of Tesla's new models — but the EQS can sustain this pace for a long time while charging.
It's nice if an EV can charge up to 350 kW, but if it can only sustain peak charging power for five minutes and then drops significantly to protect the battery, then that's only nice in the brochure. The Mercedes stays at 200 kW for quite a while during charging, so that it pumps about 300 kilometers into the battery in fifteen minutes. Look, that's good for you.
And what about the largest infotainment screen?
The range is impressive, but the interior design is perhaps the highlight of the EQS. The MBUX Hyperscreen draws all the attention to itself. It's a large, curved display, stretching almost from A-pillar to A-pillar. It is a whopping 141 centimeters wide. It actually consists of three screens, which sit under one glass plate, making them seem to merge into one screen.
17.7 inches
The centrally placed screen is 17.7 inch(!) in size. That's 0.7 inches larger than the screen we're tapping on this piece. It works like a traditional infotainment screen — so you can control all kinds of functions on it — only it is much larger than you are used to in a car. Next to the central display is a 12.3-inch digital instrumentation and the front passenger also gets a screen in front of his nose. You can also operate a lot of functions on that screen, but you can also play a game of patience on it. The MBUX Hyperscreen is an option – which we would immediately check – because the EQS is standard equipped with the same infotainment system as the S-Class.
Does it drive well?
Count on yes! The air suspension makes it seem like you're sitting on a flying carpet. A heavy carpet, yes. The EQS 580 4Matic weighs 2,585 kilograms. Pooh! So tough boy. Fortunately, the weight is mainly in the floor, which provides a lot of stability. This way you can still send a nice game, but you will always feel the weight.
In a straight line, the EQS has no problem with the pounds. The 580 4Matic has an electric motor on the front and rear axles, which together produce a maximum power of 523 hp. Of course, an electric motor provides immediately available torque and there is enough of it: 855 Nm! The result is a 0-100 time of 4.3 seconds. Bizarrely fast, for a car of this weight.
EQS AMG 53 4Matic+
If that's not fast enough for you, you'll have to wait a little longer. A performance version will soon be launched on the market: the EQS AMG 53 4Matic+. It is the first AMG model to bear the EQ badge. This EQS on steroids has 658 hp and 950 Nm as standard. That seems sufficient to us, but (apparently) it is not. If you opt for the AMG Dynamic Plus package, the power increases to 761 hp and 1,020 Nm. The AMG EQS can reach 100 km/h in just 3.4 seconds.
Peace and comfort
It's nice that there is always enough power, but the EQS without an AMG badge does not invite you to drive like a hooligan. In fact, the EQS does not actually invite you to take a seat behind the wheel yourself. Just like with an S-Class, you sometimes just prefer to curl up in the back, fold up a table and watch a series or get rid of some e-mails.
The EQS does not surpass the S-Class in terms of luxury, but it does surpass the comfort. That's because of the drivetrain. The smooth, linear acceleration and buttery smooth ride mean you can doze off in the back or concentrate on your work. Moreover, there is complete peace in the EQS, because the drivetrain is very quiet.
How much does a Mercedes-Benz EQS cost?
The starting price of the EQS starts at 91,303 euros. For this you get the EQS 350, with a smaller battery (90 kWh) and a range of 529 kilometers. The EQS 580 4MATIC is available from 159,910 euros, but the version we drive is extra thick and you pay a lot for it: 172,921 euros. For that money you can also get the 658 hp AMG EQS 53 4MATIC +, because it is available from 172,010 euros.