Review – First impressions Ford E-Transit (2022)
Ford is also in the midst of electrifying its model lineup. The same is true, or true for the Transit commercial vehicle family. Earlier this year, Ford unveiled the E-Transit Custom, but as early as 2020, the brand presented the largest all-electric van: the Ford E-Transit. Meanwhile, development of the Ford E-Transit has been completed and the electric delivery vehicle is ready for introduction.
Ford E-Transit: up to 317 km range
We recap the most important specifications. Perhaps most importantly, range is not a problem. In fact, the 67 kWh battery pack is good for a range of 317 km (WLTP). More than enough for package delivery and also more than sufficient for the vast majority of business owners. In addition, the Ford E-Transit can also be used as a power supply for tools and other devices on site.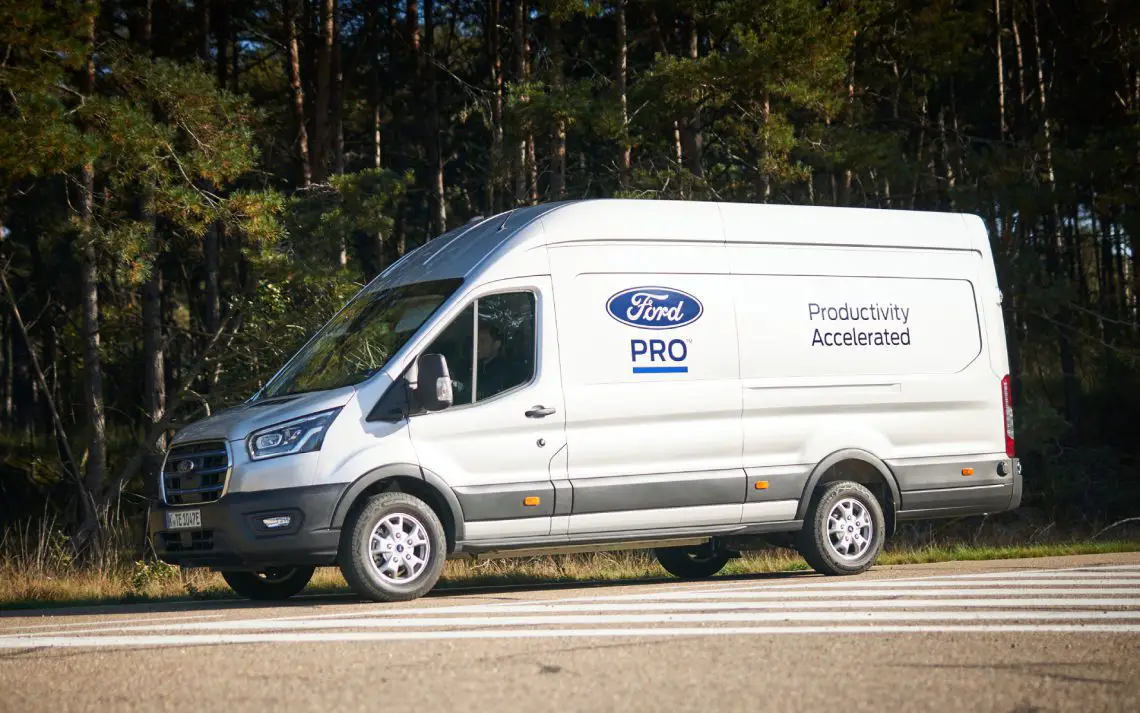 Ford E-Transit with up to 1,967 kg payload
Optionally, the Ford E-Transit has a system output of 135 kW (184 hp) or 198 kW (269 hp) and torque is always 430 Nm. In terms of payload and configuration options, the E-Transit is not inferior to its fuel brothers. There are numerous body styles and depending on the chosen version, the maximum permissible weight ranges from 3.5 to 4.25 tons and the payload is a maximum of 1,616 kilograms (Van) or 1,967 kilograms (Chassis Cab).
Additional cost quickly recouped
Dutch prices start around 50,000 euros. That's more than the diesel version, but Ford says you'll recoup that price difference within three years with the much lower power and maintenance costs.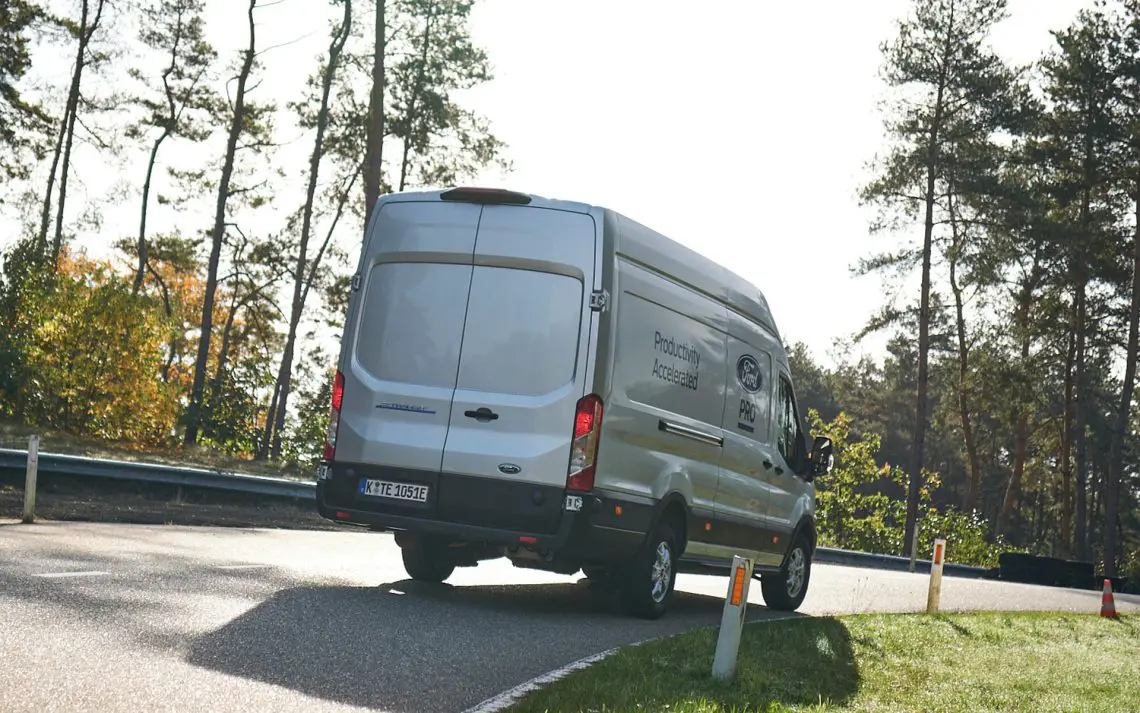 Driving the Ford E-Transit
So with the specifications we had already become acquainted. Now it is time for a first encounter on the road. We drive the Ford E-Transit at the Ford test track in Lommel, where Ford prepares all its models for production. That's where the Transit impresses with its handling.
Ford E-Transit drives like a passenger car
Being a test track, the route is challenging. For those of you who know the test site in Lommel a little bit: we are riding on Runway 7. That means a combination of fast and/or tight turns, hills with significant elevation changes over short distances, a cobblestone road, you name it. That will be complemented by a fallback test on Runway 16. The Ford E-Transit endures everything with ease.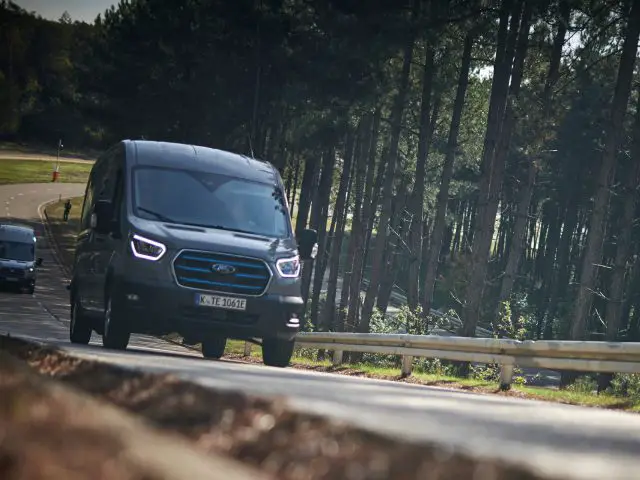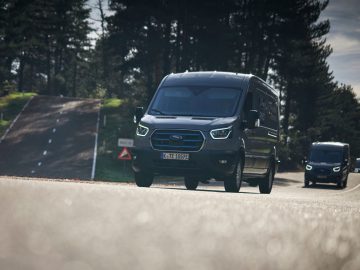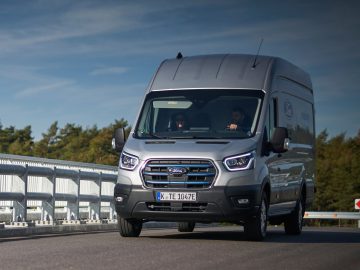 Even the variant with maximum raised roof hardly tilts. Even in evasive maneuvers, body movements are minimal. You forget, as it were, that you are out and about with a large cube. The high seating position betrays that you are in a large van, but otherwise it drives like a passenger car.
For a van, the acceleration is not bad either. Although we drove empty, thanks to the readily available power from the electric motors, acceleration should not be a problem even with a load. With cargo, it drives even better, one of the Ford test drivers assures us. In fact, the load then puts some more weight on the rear axle, which further improves handling.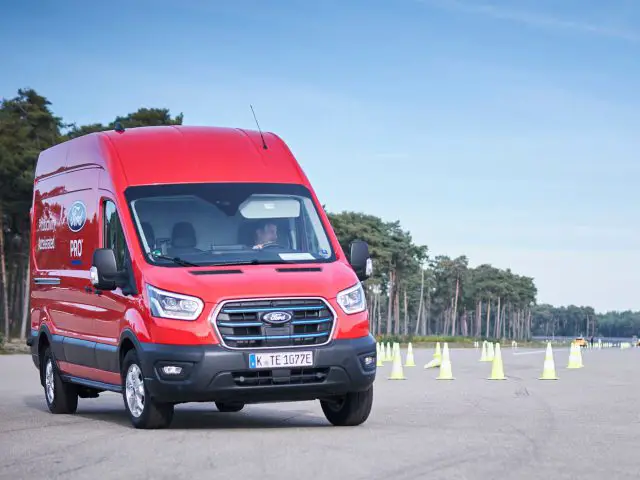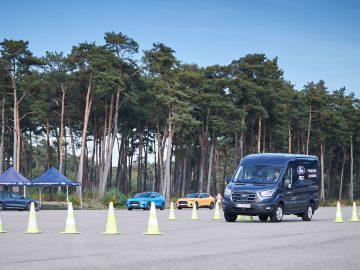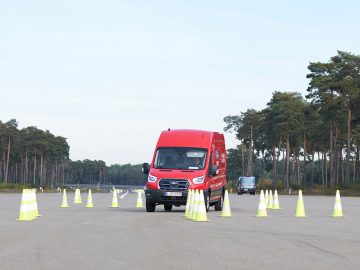 Superior: the Ford Pro Electric SuperVan
Complementing the introduction to the E-Transit, we also get to meet the Ford Pro Electric SuperVan. Since 1971, Ford has released a SuperVan three times before. The latest version is – of course – all-electric and basically shows what Ford has to offer in terms of all-electric propulsion.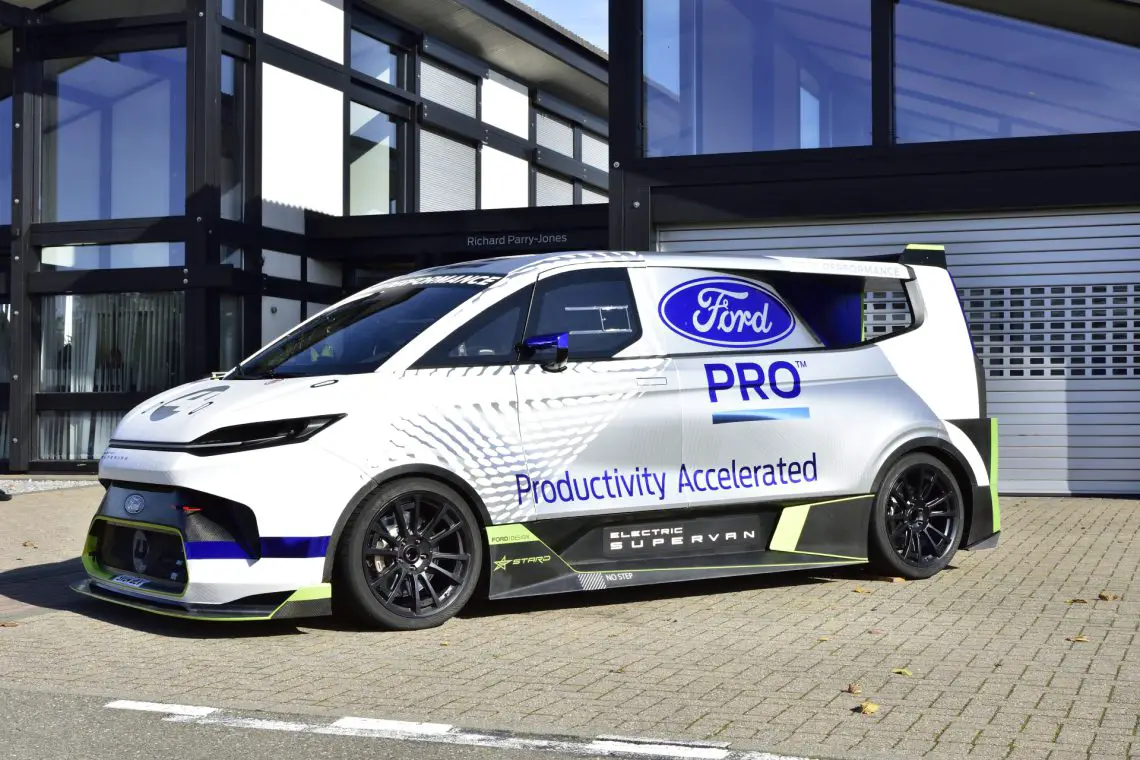 Racing chassis and FIA approval
In appearance, the Ford Pro Electric Supervan is based on the upcoming Ford E-Transit Custom, but under the skin, of course, it is completely different. Thus, the van is built around a chassis developed for motor racing. A roll cage and racing seats are also fitted, of course, both approved according to FIA regulations. Yet there is also a "street touch" to the new SuperVan: it just has different driving modes and adjustable levels of regenerative braking.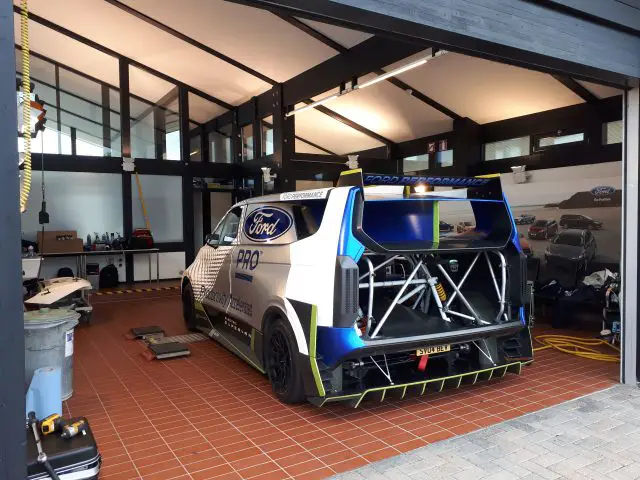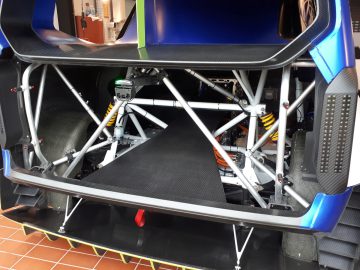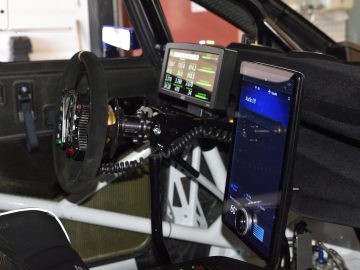 The new SuperVan in numbers….
The Ford Pro Electric Supervan in figures: the water-cooled lithium-ion battery has a capacity of 50 kWh. Four electric motors combine to produce a system output of no less than 2,000 hp and an overwhelming 1,800 Nm of torque. That results in a 0-100 sprint in less than two seconds.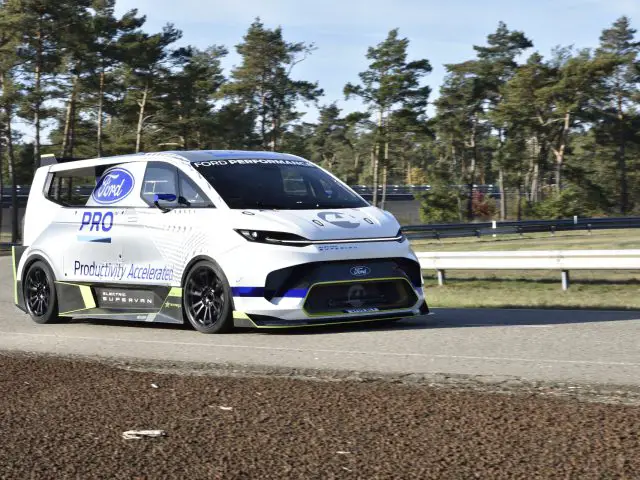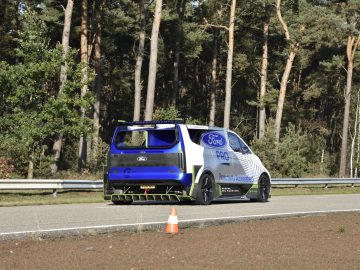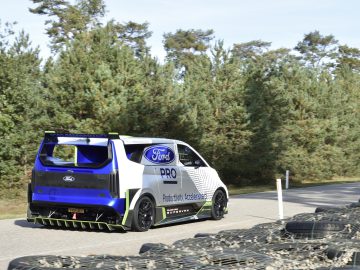 …and that's how it feels
We get a chance to experience those numbers for ourselves from the passenger seat, again on Runway 7. That starts with a sprint down the straight. Whew. In fact, I didn't even get a chance to look along on the driver's screen to see if the quoted sprint time was correct and what speed we achieved. I can especially see how the end of the straight is coming at us unrealistically fast.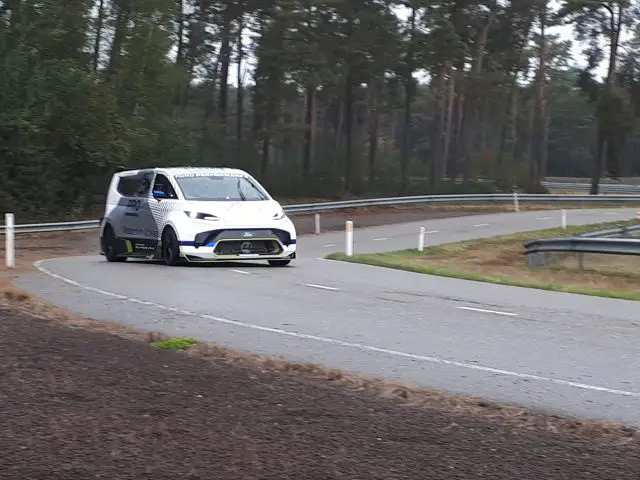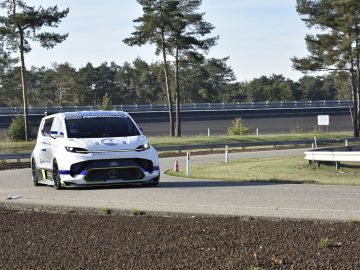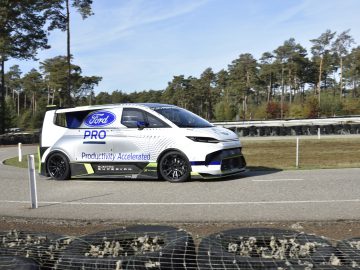 Then the test driver applies the brakes heavily, but even then the first corner is taken at an almost unreal pace. Even the turns after that, the SuperVan sticks to the road. Even on the hills that simulate a rural road with rapid elevation changes, or on the curve with cobblestones. That such a big square thing can have so much grip, it's almost unreal.
In the video below, you can see the Ford Pro Electric SuperVan in action. The footage was not played back in accelerated…
This Ford Transit has 2,000 horsepower! – AutoRAI TV