Driving on hydrogen: the chicken and the egg are there, now we need the growth
The "chicken-and-egg problem" is a recurring point of discussion when it comes to hydrogen driving. This was evident again today at the BMW i Vision Hydrogen event at the start-up Fountain Fuel's first hydrogen refueling station in Amersfoort, the Netherlands. Dr. Juergen Guldner, hydrogen program manager at BMW Group, and Stephan Bredewold, co-founder of Fountain Fuel, are both speaking. What it ultimately boils down to is that gas stations must be built before the cars are built, but those cars must start running soon to keep the gas stations running over time. Things seem to be moving forward, however, with the cabinet allocating 178 million euros to encourage hydrogen mobility.
BMW's hydrogen strategy
For BMW, at least, hydrogen is going to play an important role in the future. At the event, the brand is showing a clear vision within which there is no longer a place for the internal combustion engine. The Germans see no point in synthetic fuels, or e-fuels. Battery-electric cars and cars with a fuel cell are thus going to call the shots within BMW's lineup in the future.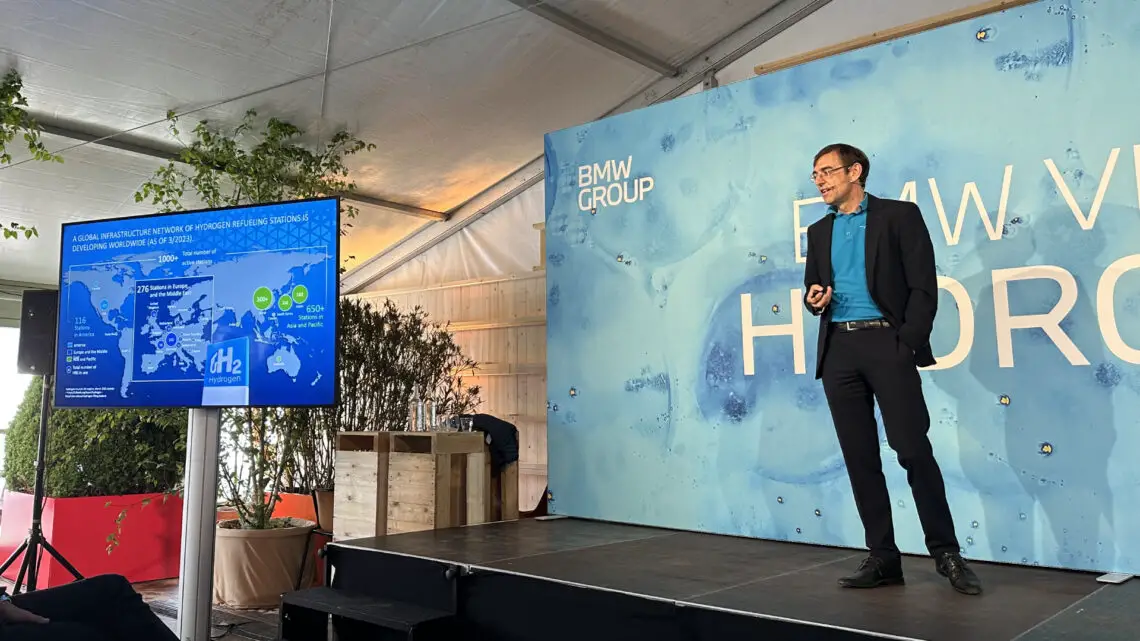 But what will the mutual distribution between the two powertrains look like within BMW? The brand says that hydrogen-powered cars, FCEVs, meet the needs of consumers who, for example, do not have access to (fast) charging infrastructure, often drive long distances or need to tow a heavy trailer or trailer on a regular basis. BMW therefore sees hydrogen as a suitable option for large passenger cars, such as the X5. In doing so, the brand is specifically targeting customers who currently drive a fat diesel and do not see a battery-electric car because of their usage patterns.
Eventually, the development path of BMWs on hydrogen is going to look the same as for electric cars. Currently, the brand is still in the pilot phase with the technology, but starting in 2025, BMW will offer multiple hydrogen-powered models. Indeed, BMW ultimately expects hydrogen to be cost-effective if it is going to be produced where there is an abundance of renewable energy. In economic terms, the low electricity prices there then outweigh the energy losses in hydrogen production and its transportation costs.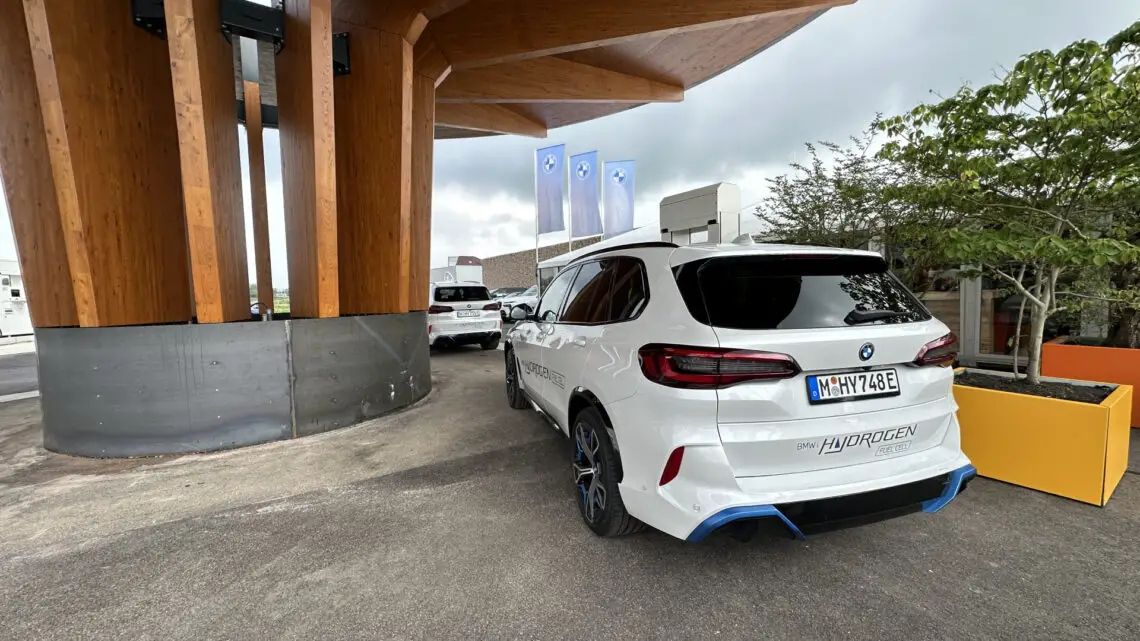 In this way, filling up with hydrogen should eventually become cheaper than filling up with gasoline or diesel. Today, this is not yet the case, as the kilogram price of hydrogen fluctuates between 18 and 30 euros. For a full tank of hydrogen, in the case of the iX5 Hydrogen, you will spend about 110 to 180 euros. With that, you can then drive 500 kilometers. In other words, it's not really very beneficial yet.
BMW iX5 Hydrogen: alternative to the fat diesel?
With its clear goals in hydrogen technology, BMW is clearly indicating that it does not want to bet on one horse. In addition to the advantages of hydrogen as an energy carrier, building cars with a fuel cell offers other advantages over battery-electric cars. This mainly involves the much lower amount of rare earth materials required to produce a hydrogen car. Also, a hydrogen car weighs less than a battery-electric car; compared to the BMW iX, the iX5 Hydrogen weighs a good 100 kilograms less.
Colleague Bart previously drove the BMW iX5 Hydrogen. Yours truly was also able to get a brief taste of the hydrogen SUV in Amersfoort and can only confirm what Bart said earlier: the iX5 Hydrogen already feels "finished. With the maximum output of 401 hp and 720 Nm of torque, it really feels like driving an X5 M50d, but without the engine noise. The result is a very refined, quiet and smooth driving experience. Bart gives you another tour:
Fountain Fuel: ambitious goals
Okay, so the car is there, but what about the fueling infrastructure? Dr. Guldner makes a clear call to policymakers and gasoline operators: build those gas stations so we can start building the cars. In terms of hydrogen refueling infrastructure, BMW expects that by 2030 there will be at least one hydrogen refueling station in every major European city and the maximum distance between two refueling stations will be no more than 200 kilometers. In total, that amounts to more than 600 gas stations throughout Europe.
Currently, you can refuel with hydrogen in 37 places in the Netherlands, but if it is up to the start-up Fountain Fuel, in two years it will be possible in many more places. The company wants to have 11 operational hydrogen refueling stations in the Netherlands by 2025. Amersfoort is home to their first gas station, which stands out mainly because of the huge wooden structure under which the refueling points stand. The gas station is conveniently located near the Hoevelaken interchange. By the way, there are also fast chargers for electric cars on site, so both technologies are served.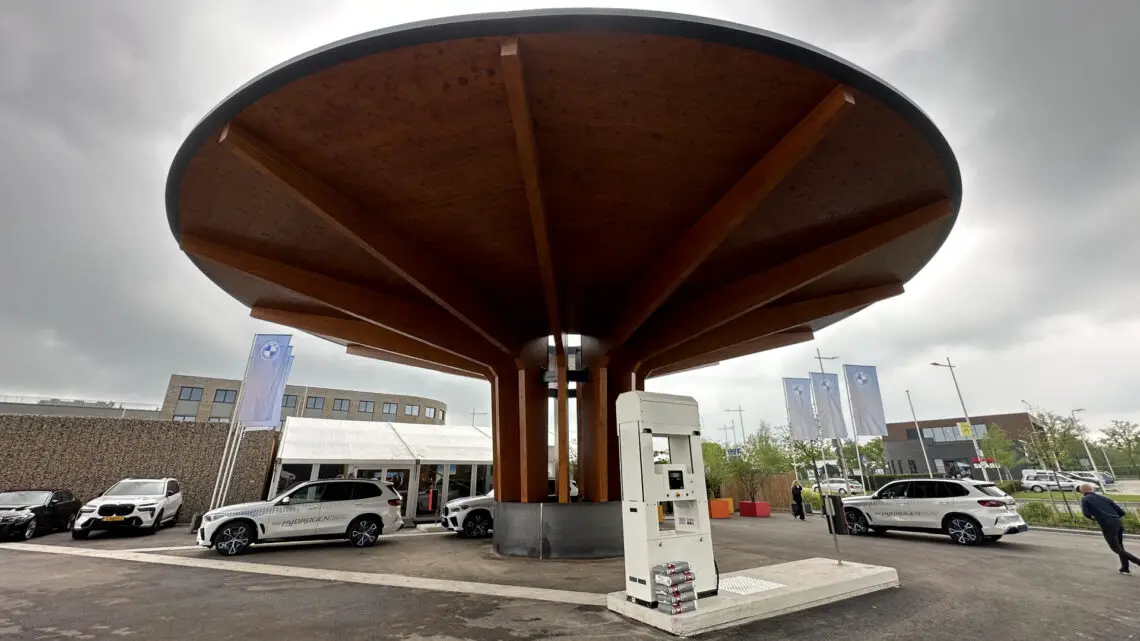 Stephan Bredewold, founder of Fountain Fuel, is adamant that the hydrogen car will make it in the future. He urges BMW and other automakers to begin producing cars quickly so that refueling infrastructure can be developed more quickly. That's where the chicken and the egg come into play again: investment in refueling infrastructure can only be recouped if there are also enough cars that will use it. He also believes that because of the location and design of the fueling stations, Fountain Fuel will continue to exist in the long run alongside the major oil companies, which are also working on hydrogen.
Hydrogen driving easier soon?
After the meeting between BMW and Fountain Fuel, one thing is certain: hydrogen-powered driving is slowly but surely transcending its infancy. Refueling points are proliferating, and in addition to Toyota and Hyundai, BMW has a clear vision for the future of hydrogen technology. That makes it increasingly interesting for entrepreneurs and policymakers to embrace hydrogen and ensure that the infrastructure continues to expand. This is going to happen, as the cabinet is allocating 178 million euros to promote hydrogen mobility in a broad sense. The technology is there, now the growth.