Spotted: a 1985 Citroën Visa
Anyone who regularly attends a car event will recognize it: there is almost as much interesting stuff to see in the parking lot as there is at the event itself. The same goes for the North Holland Oldtimer Festival in Hem, which again traditionally took place last Easter weekend. Many special and rare classics and youngtimers were on display in the event halls (including motorcycles and trucks), but we also feasted our eyes in the visitor parking lot. Over the next few weeks, we will pick out some favorites in Gespot. This time: a Citroën Visa.
The spotted specimen
We have already discussed the Citroën Visa in detail in the section
Cars of yesteryear
. So this time we can go straight to the spotted specimen. This still as new Citroën Visa is original Dutch from 1985. With that year of construction, it is from well after the facelift. So the "pig nose" has given way to the distinctive plastic rim around the entire nose.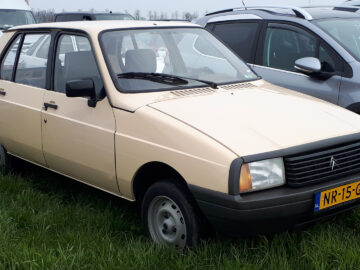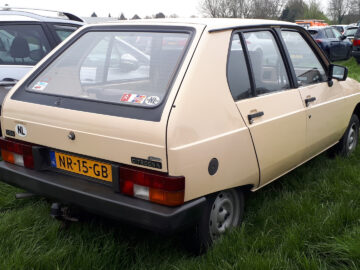 Two-cylinder boxer engine
Furthermore, we are dealing here with a rather simple design, although as far as we are concerned that is precisely what makes it fun – and extra special. The Citroën Visa was mainly available with four-cylinder engines, but this example has the most modest engine under the hood: a 652 cc twin-cylinder boxer engine! This engine was still derived from the twin cylinder from the iconic Citroën 2CV. The twin-cylinder boxer was also the Visa's only longitudinal engine.
He who does not honor the small
By no means every car enthusiast cares about lots of horsepower, as it turns out. The owner of this Citroën Visa is thickly satisfied with his little car. How do we know for sure? The car has been owned by the current owner since 1987! Can you imagine, buying a two-year-old town car now and still driving around in 36 years? Although, given its very clean condition, this one will not get too many miles and will probably even sleep inside. Nice that there are also enthusiasts who also cherish this kind of once ordinary car.
For when you do want more
Do you like the Citroën Visa, but a two-cylinder is not for you? Earlier in this column we had the completely different side of the Visa spectrum: the sporty Chrono version. It was already rare in his time. By now, every Citroën Visa is a rarity on the streets. Yet there are still 418 on Dutch license plates. After all, we are a country with many car enthusiasts.