REVIEW – SSANGYONG KORANDO E-MOTION (2022)
Should you leave an electric Kia or Hyundai for this Korean?
Electric cars from South Korea are doing well in the Netherlands. Think of the EVs from Kia and Hyundai, which are impossible to drag. A new electric Korean is now coming to our country, but this time from a relatively unknown brand: the SsangYong Korando e-Motion.
SsangYong
The name SsangYong probably does not immediately ring a bell with everyone. Nevertheless, the brand from South Korea has been active on the Dutch market for years. The automaker is known for its off-road vehicles and large SUVs, such as the Rexton . Thanks to their high CO2 emissions, these workhorses are very expensive in our country. You hardly see them driving.
The SsangYong Korando e-Motion is much more appropriate for tax purposes in our country. It does not emit any CO2, which saves a high BPM fine. This fully electric variant of the Korando – which you can also get with a diesel and petrol engine – is available from 39,990 euros. SsangYong has confidence in the product and offers a seven-year or 150,000 km warranty on the Korando.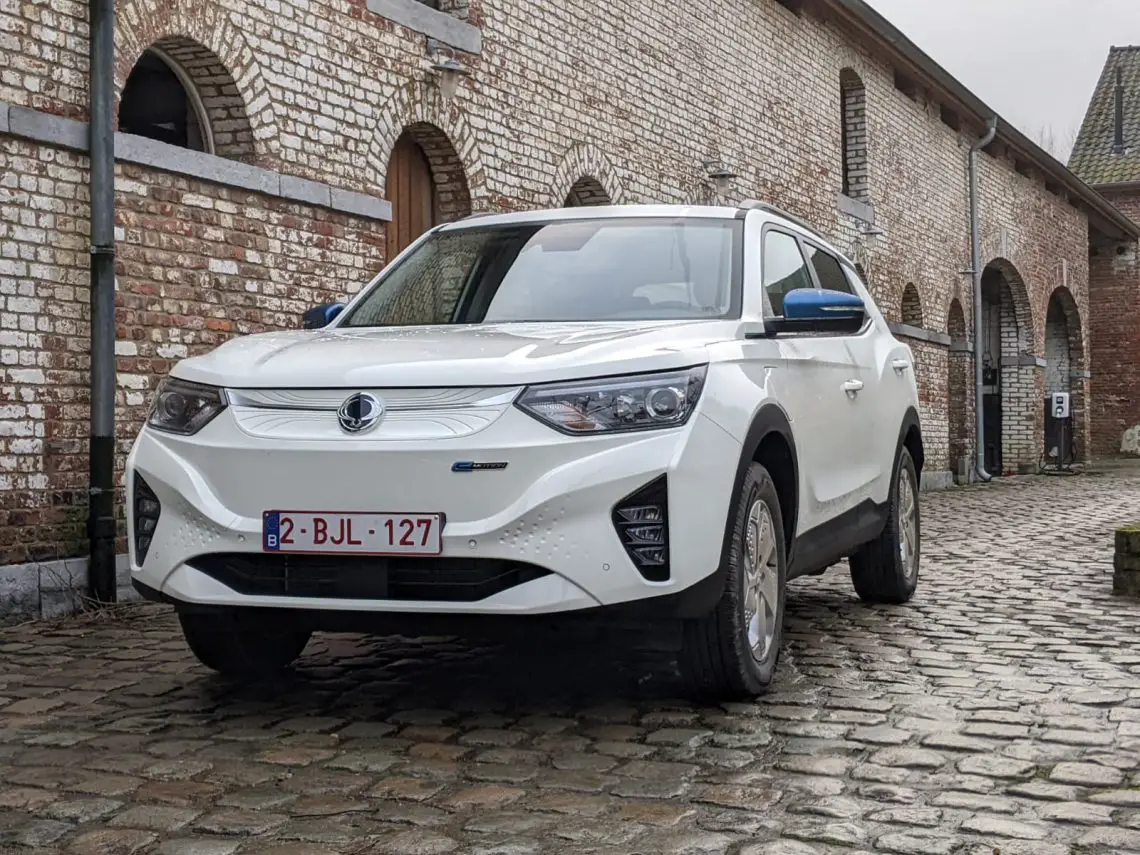 Dimensions
The compact SUV from SsangYong is 4.47 meters long and weighs 1,765 kilograms. This makes it about 450 kilos heavier than a traditional Korando. Between the front wheels is a 190 hp and 360 Nm strong electric motor. So it does not have four-wheel drive, as many other models from SsangYong have.
The e-Motion is directly the most powerful Korando you can get. It has significantly more horsepower than a petrol and diesel version. Also striking: the towing capacity of 1,500 kilograms is very neat for an electric car. Only a Hyundai Ioniq 5 does better with 1,600 kilograms.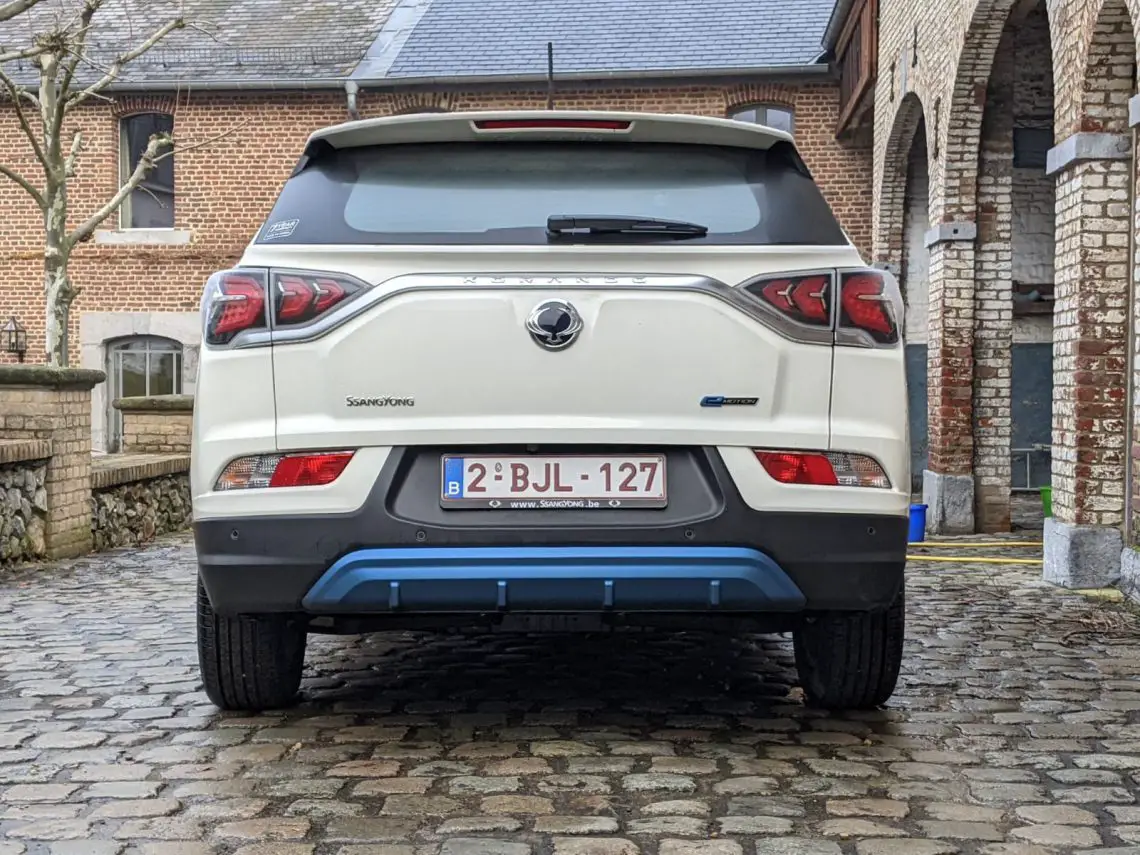 Range SsangYoung Korando e-Motion
In the bottom is a battery pack with a capacity of 61.5 kWh. On paper you can drive 339 kilometers before the battery is empty. Those are excellent figures, which fit an electric car of just under 40 grand. Remarkable: a heat pump is standard. Usually you have to pay a lot for this. A heat pump uses residual heat from the electrical components to efficiently heat the interior. Especially in winter, this ensures that your range does not collapse dramatically when it is a bit colder outside.
Charging speed Korando e-Motion
However, the payload is somewhat disappointing. As standard, the Korando e-Motion can handle 50 kW of charging power with a fast charger. It then takes about 54 minutes before the battery is charged to 80% again. Normal charging can be up to 6.6 kW, not very fast either. You can live with the slow charging speed, but during longer trips – for example abroad – you have to have good planning and a lot of patience.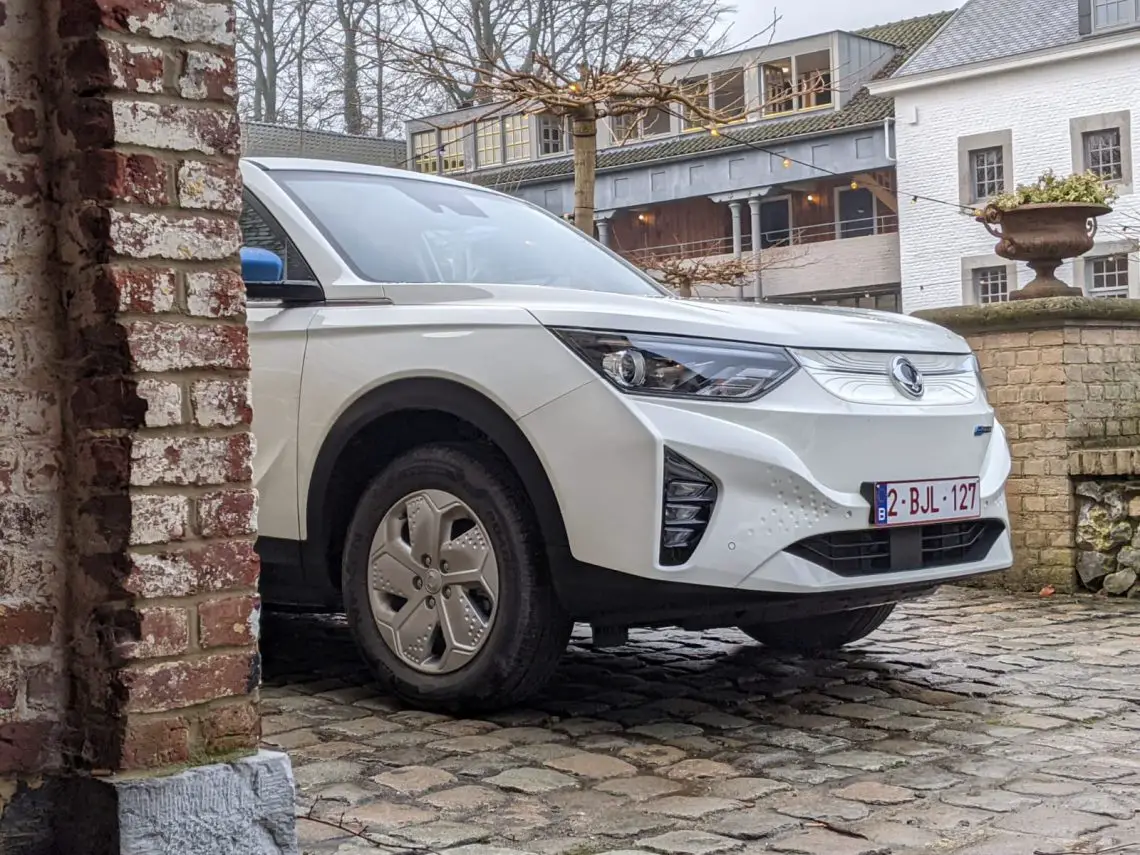 Differ
On the outside, the e-Motion looks slightly different from the traditional Korando – although you may not be very familiar with that model. The petrol and diesel versions have a traditional grille, but on the e-Motion the front is completely closed. In fact, there is no longer a grille at all. The wheels are also almost completely closed to reduce air resistance.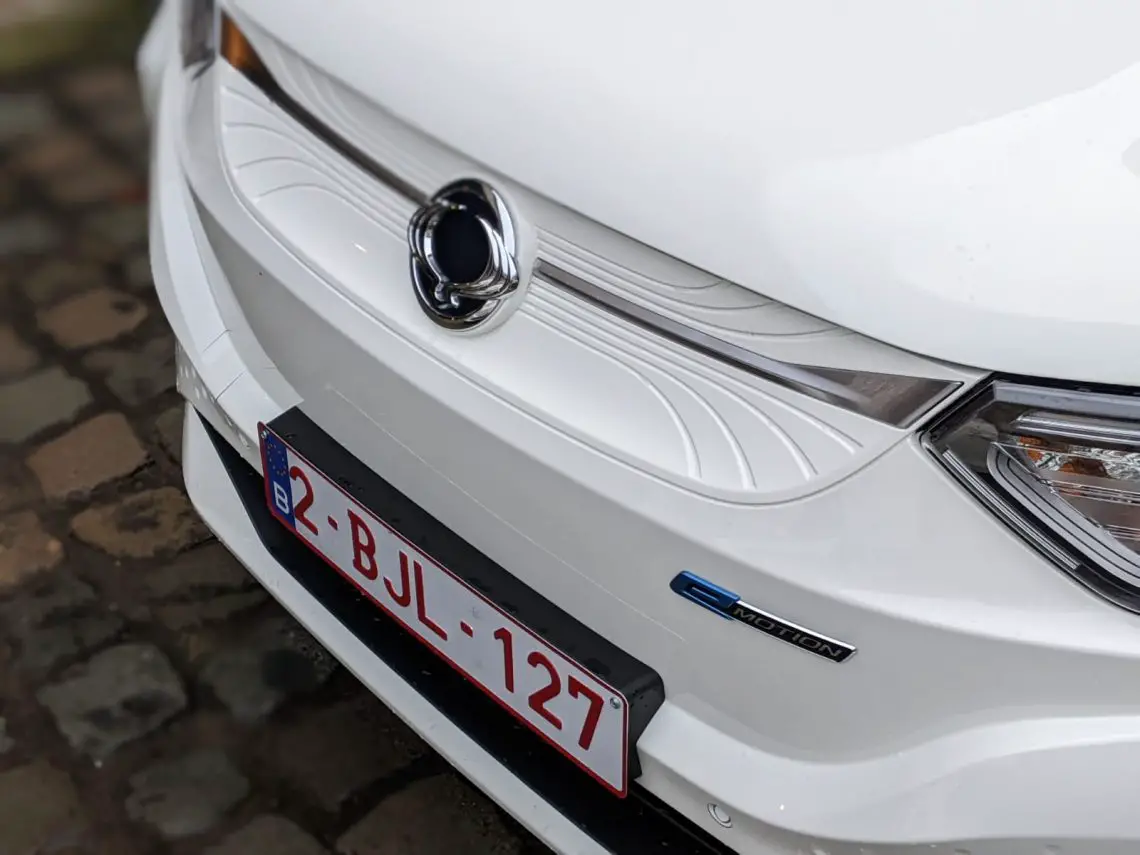 Blue accents
Furthermore, SsangYong provides the e-Motion standard with LED headlights with blue accents. The mirror caps and a skid plate at the rear are also blue, so you will never mistake the e-Motion for a regular Korando. Otherwise, an e-Motion badge on the tailgate will take care of that.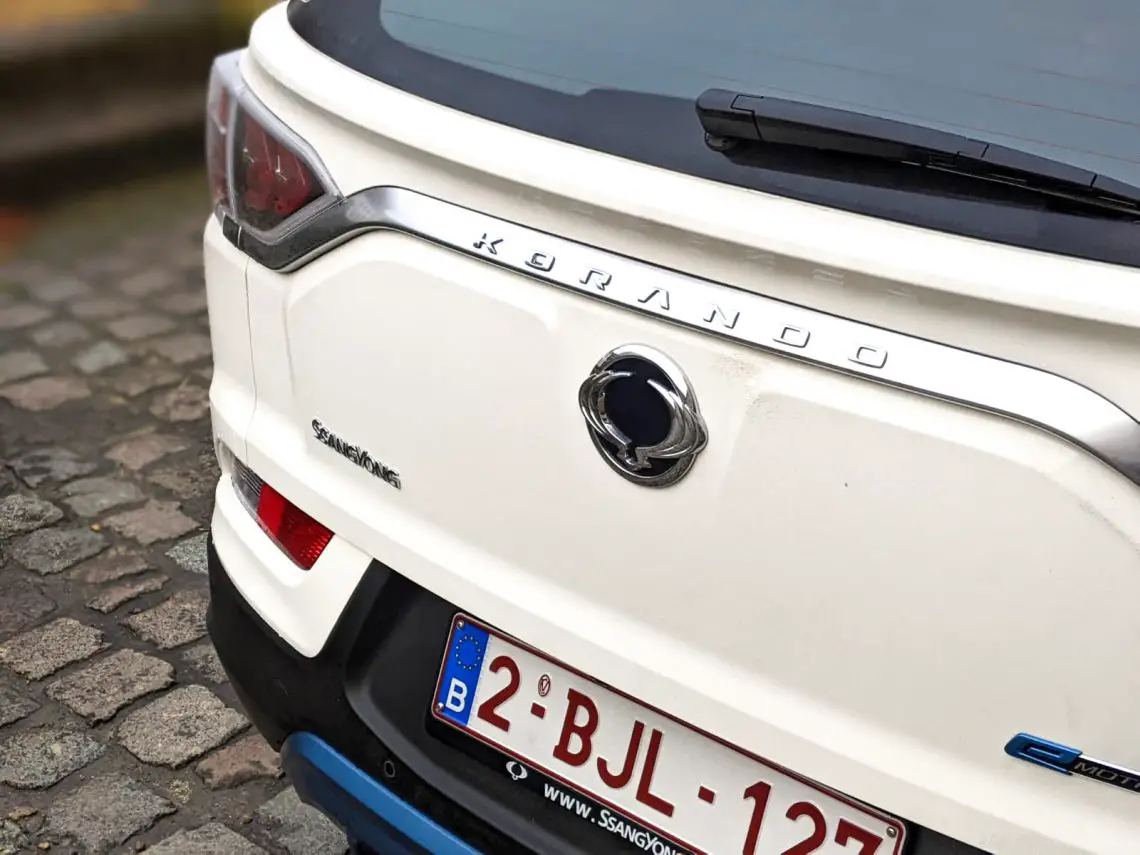 Practical and spacious
Because the electric motor is in the front, there is a lot of space in the back to leave your things. The e-Motion has a large loading volume of 551 liters. Few competitors offer more. The luggage space can be divided into several compartments thanks to a handy loading floor.
The space in the second row of seats is also generous. The headroom and legroom is top notch and the backrest of the rear seat is also adjustable. A heated rear seat is also available on request. Very nice if you regularly have passengers.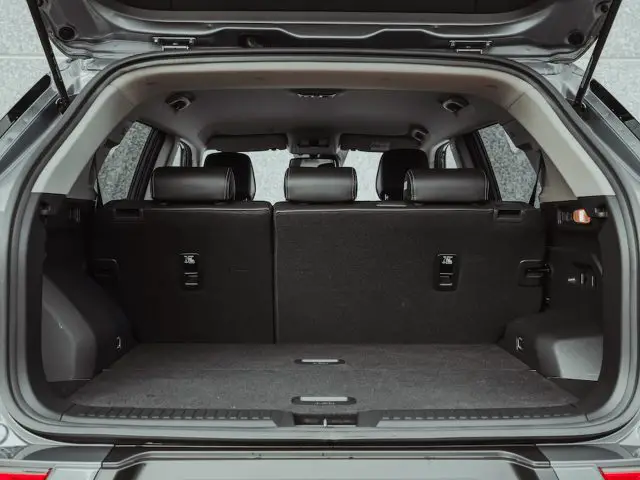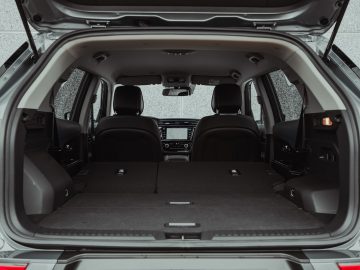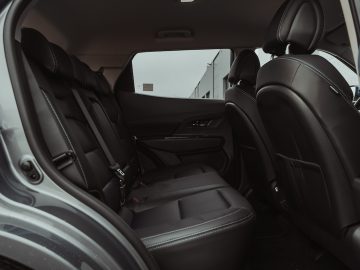 Stylish
There are also many blue accents in the interior. The seats and the center armrest have blue stitching and the door panels, the ventilation grilles and on the steering wheel are also blue accents.
high tech
The dashboard is stylishly finished and equipped with a surprising number of high-tech facilities. In front of you is a 12.3-inch digital instrumentation, which you can arrange according to your own wishes. The multimedia and navigation system is nice and smooth and can be easily operated via a vertical touchscreen. The car's settings can also be controlled via the system, but the climate control has its own physical buttons.
The infotainment system also offers support for Apple Carplay and Android auto. The audio system – whose brand we could not find – sounds surprisingly good. A downside in the front: there is only one USB port. An old-fashioned USB-A connection, while new phones and tablets use USB-C. Fortunately, there is a full 220-volt socket behind the center console, where you can connect a charger – or your laptop or espresso machine.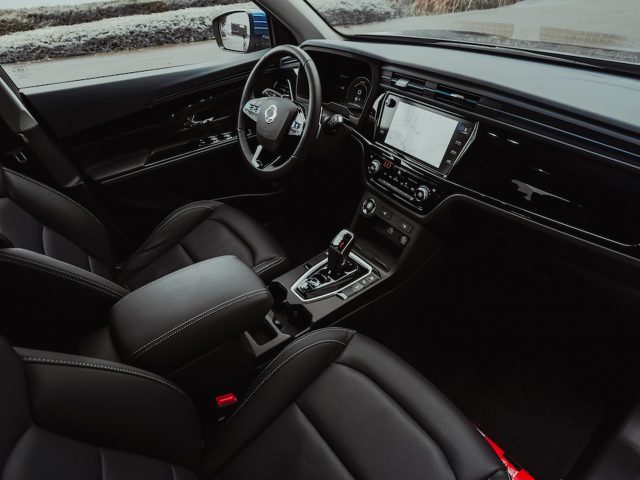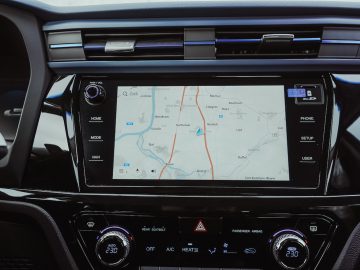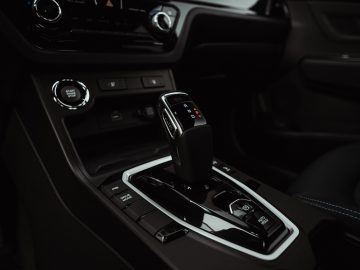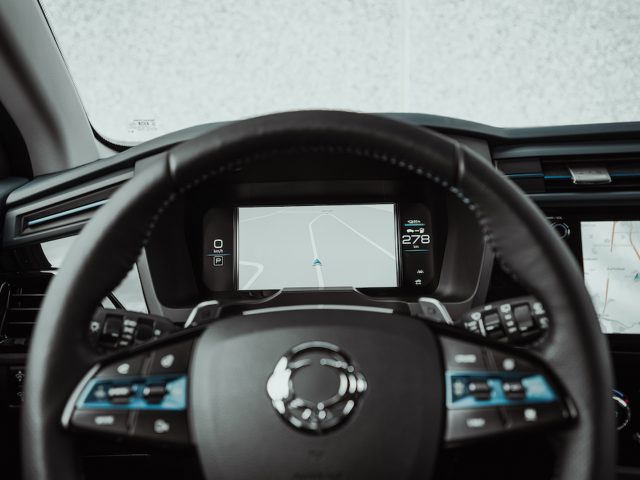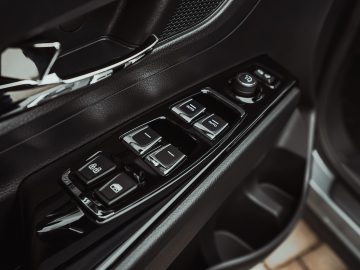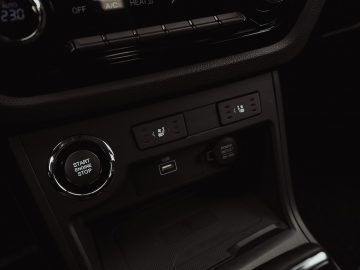 Driver assistance systems
A range of driver assistance systems are also standard, such as traffic sign recognition, adaptive cruise control, fatigue detection and an active lane assistant. The systems work neatly together, so that you can let the car do most of the work itself, especially on the highway. A reversing camera, wireless charger for your phone, ventilated and heated seats and a heated steering wheel are also things that make life in the e-Motion pleasant.
Do you want to know how it drives and do you want to see all the details? Watch our driving test video: