Honda CR-V Hybrid Racer: a completely deranged CR-V
Honda CR-V Hybrid Racer 2023
The Honda CR-V Hybrid Racer was built at the Honda Automotive Development Center (ADC) in Ohio by the Honda of America Racing Team (HART). Comparing the car to a normal CR-V is not really possible. Still, some components are interchangeable with an ordinary one.
Partly a standard Honda CR-V
Starting at the belt line, the Hybrid Racer used standard steel bodywork from the sixth-generation CR-V, including the glass windshield, windows and even the sunroof. The lower half is made of carbon composite, with a huge front splitter and flared wings. An equally large rear wing and half-cut butterfly doors on either side for the driver and passenger complete the bodywork.
Honda V6 IndyCar powerplant
In the rear lurks a 2.2-liter twin-turbo Honda V6 IndyCar powerplant with electro-support. The power? Count on about 800 horsepower. The powertrain runs on eco-fuel and features Skeleton Supercapacitors and Empel MGU hybrid technology for best performance.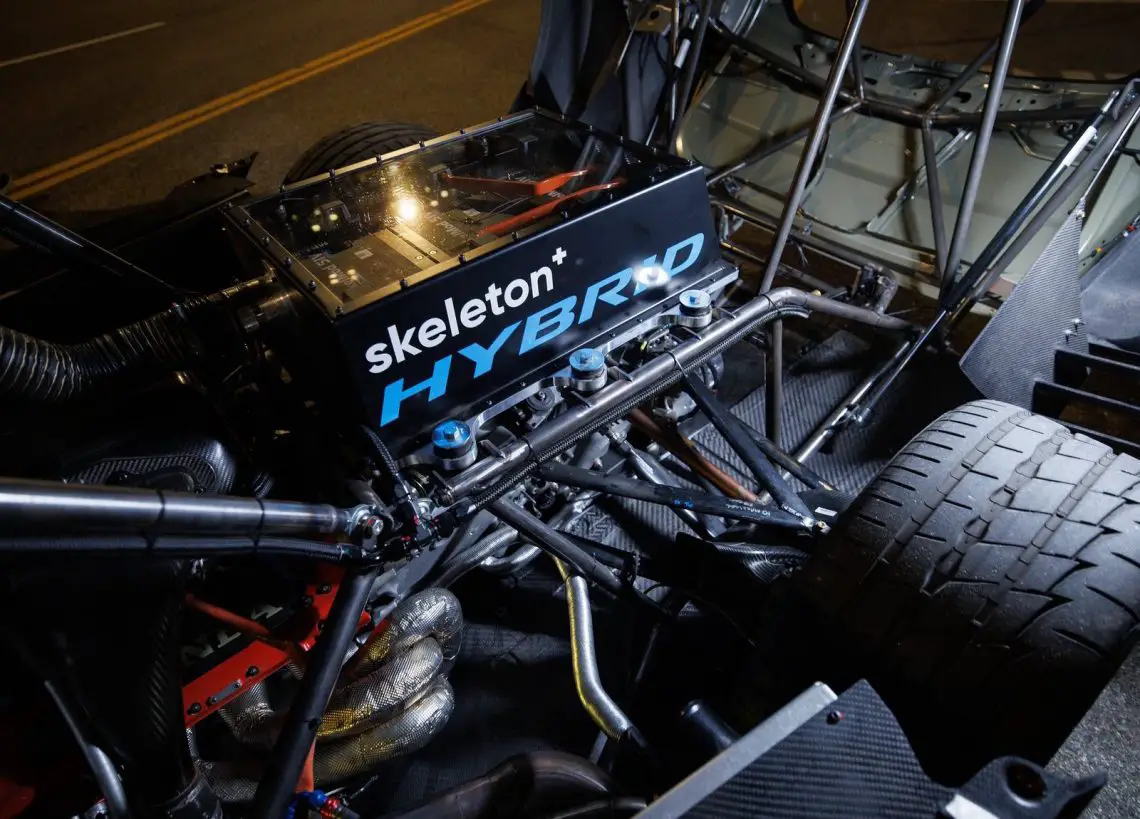 The Beast
While the car was in development, the project aptly codenamed "The Beast," with looks reminiscent of the silhouette of GT race cars and Group B rally cars from the 1980s and 1990s. But the technology underneath is strictly 21st century.
Honda CR-V Hybrid Racer – Specifications (USA)
Drivetrain
Honda HI23TT 2.2-liter, twin-turbocharged V6 engine
Borg Warner EFR7163 turbochargers
McLaren Applied Technologies Tag 400i Engine Control Unit
Drive-by-wire controlled port throttle
Shell 100% renewable race fuel
Driver-activated Empel electric motor generator unit
Skeleton super capacitor energy storage system
XTRAC six-speed transmission; Mega-Line Assisted paddle-shift
Chassis and Bodywork
Chromoly tube frame chassis
New, 6th generation Honda CR-V Hybrid bodywork from beltline up
Standard Honda CR-V Hybrid windshield and greenhouse
Custom carbon fiber lower bodywork incorporating flared fenders
Butterfly half-cut doors provide access for driver and passenger
Radiator adapted by HPD from the Dallara IR-18 Indy car
Clamshell rear bodywork to display power unit and drivetrain
Custom downforce-producing front splitter and rear wing
Suspension
Front suspension from HPD-developed Acura NSX GT-3 Evo22
Rear suspension adapted from Dallara IR-18 Indy car
Brembo 380mm front brakes from Acura NSX GT-3 Evo22
Brembo 355mm custom rear brakes adapted to Dallara IR-18 suspension
Firestone Firehawk Indy 500 Ultra-High Performance Summer Tires
Front tires 285/35-20; Rear tires a massive 305/35-20
2Elle Engineering 20×10.5 Front and 20×11 Rear two-piece alloy wheels