First new Honda Civic Type R in the Netherlands, don't be shocked by the price
Honda Civic Type R in Championship White
The new Honda Civic Type R is a car for purists. Honda dealer Welman ordered the one in the historically accurate color Championship White. This is sure to make the Type R enthusiast's heart beat faster. Compared to the previous generation, the design of this latest generation is slightly more understated, but Honda is taking performance to an even higher level.
Performance Civic Type R
Still the Civic Type R features a 2.0-liter V-Tec Turbo four-cylinder, in this case producing 330 hp and 400 Nm of torque. You can reach 100 km/h in 5.7 seconds and the top speed is 270 km/h.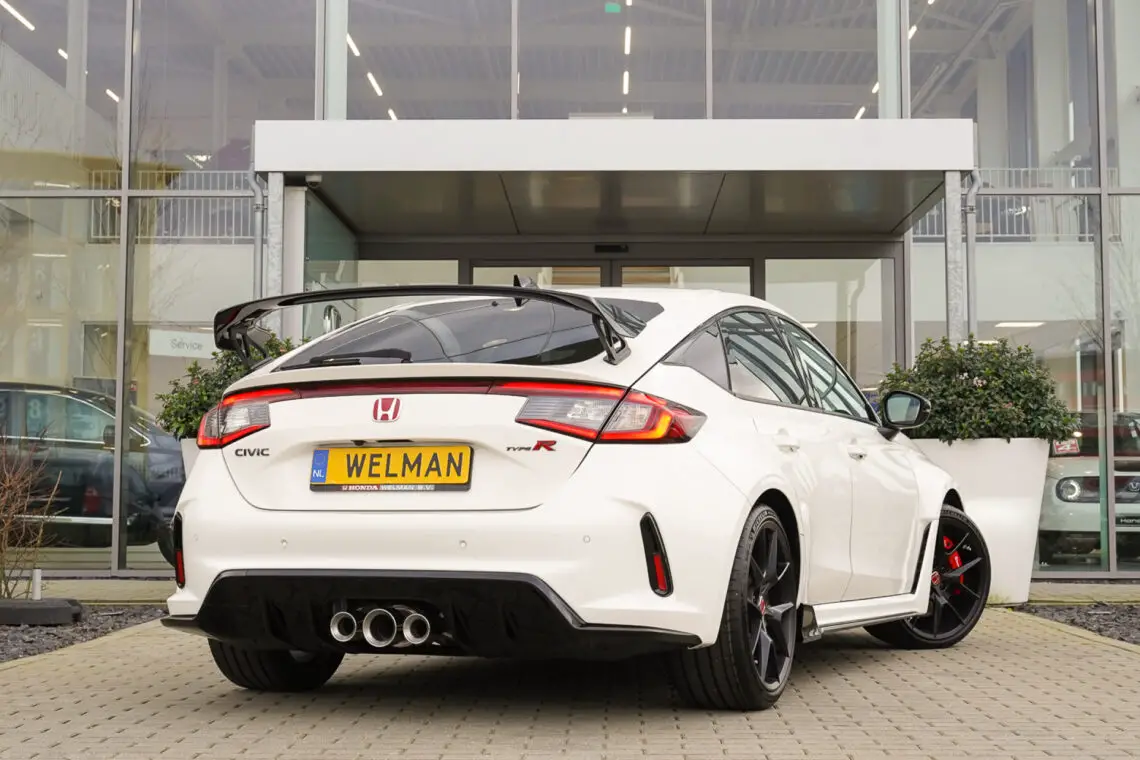 Price in the Netherlands and options overview
A Civic Type R is always full-option. The price in the Netherlands starts at 78,980 euros. There are only two factory options: a Carbon Pack (4,000 euros) and an Illumination Pack (1,500 euros). Those who order it all will arrive at a price of 84,480 euros. In the color Championship White, another 1,000 euros is added. The one at Honda Welman does not have the Carbon Pack or Illumination Pack, but it does have the specific white color scheme. This brings the price to 79,980 euros. By the way, you always get red-black interior trim including red bottom trim and, of course, the unmissable red bucket seats. Delicious. No, better said: blissful!
Outside Opportunity
A godsend then, this Honda Civic Type R. Only, of course, not everyone has 80,000 euros lying around. In that regard, it is unfortunate that the new Type R will be a rather expensive car in the Dutch tax climate due to BPM. In Belgium you can have a Civic Type R starting at 55,000 euros and in Germany you pay 55,500 euros. That still makes a fat 25,000 euro difference with the Netherlands. Either way: this particular Honda is bound to end up in the hands of a purist. Those who order a new one now, by the way, may have a long wait. Because the model is mega popular resulting in long delivery times. By the way, the "regular" Honda Civic e:HEV Hybrid also turned out very nice.