CAR TEST – ROLLS-ROYCE CULLINAN BLACK BADGE (2021)
Priceless moments
The super-luxury SUV: there are now several of them. Just think of the Bentley Bentayga or Mercedes-Maybach GLS. But there is one SUV that surpasses any other SUV in luxury and price: the Rolls-Royce Cullinan. The Rolls-Royce Cullinan Black Badge goes one step further.
Black Badge
The Rolls-Royce Wraith and Ghost were the first Rolls-Royce models under the Black Badge label in 2016. In 2017, the Dawn Black Badge was added. At the end of 2019, early 2020, Rolls-Royce introduced the Cullinan Black Badge as the absolute top model within the Cullinan program. Black Badge does not refer to the color, but purely to the higher engine power. Rolls-Royce offers more than 44,000 different colours, including on a Black Badge. Every car is custom made. And manual work, which is why a Rolls-Royce is quite expensive.
Questions about the price? Okay bye!
For a Cullinan Black Badge the counter starts at around 500,000 euros, where a Bentley Bentayga starts at around 255,000 euros and a Maybach GLS at 230,000 euros. A Rolls-Royce is therefore much more expensive. It is the pinnacle of the automotive industry and only accessible to the lucky few, such as professional football players, DJs, artists, wealthy families or lottery winners. Anyone who walks into a Rolls-Royce showroom – such as Cito Motors in Eindhoven – does not ask for prices. If you have to ask about the price, you simply cannot afford a Rolls-Royce.
"As a Rolls-Royce owner, 200 euros is of course change. It's a tip for your fries at the local snack bar."
600,000 euros is normal
Incidentally, the Phantom remains the absolute top model of Rolls-Royce. The price tag of such a car easily rises to 700,000 euros. In that respect, the Cullinan – Rolls-Royce's first SUV – is slightly 'cheaper'. But because there are plenty of options – such as a so-called Viewing Suite consisting of two seats for the tailgate (23,000 euros) – you will probably understand that an amount of 600,000 euros is normal.
Comfort prevails
In any case, the Rolls-Royce Cullinan Black Badge is the showpiece of the Cullinan range. The powertrain and chassis have been tuned more dynamically for more driving dynamics. That sounds nice on paper, but it is and remains a Rolls-Royce. So comfort prevails. All the time. 29 extra peekaa's and 50 Nm extra Newton meters can't change that, although the Black Badge at the bottom seems to have just a little more 'swung'. In total, the 6.75-liter V12 engine with two turbos has 600 hp and 900 Nm to forgive. This generous power results in a 0-100 time of 5.2 seconds and a top speed of 250 km/h.
Rolls-Royce Cullinan Black Badge: nice and lively
Quite impressive performance for a 5,341 mm long super SUV with a weight of about 2,750 kilograms. This weight shows itself in corners and during braking, then this SUV is particularly lively. You have to hit the brake pedal hard to make it stop. In corners, the Rolls-Royce leans quite a bit and during full throttle acceleration and braking the Cullinan Black Badge dives into its springs. A special experience. Still, there is a hint of dynamism, because steering a game in this Black Badge version is quite enjoyable. The cornering pace can be brisk upon request.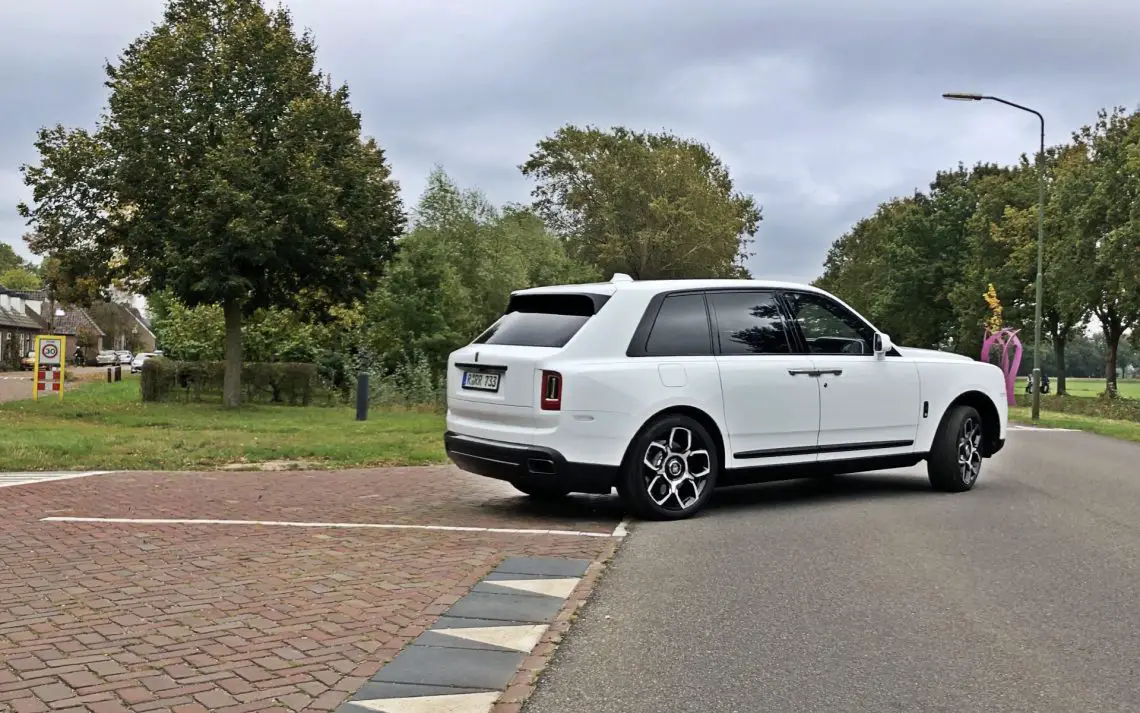 No tearing iron
But people, it is and remains a Rolls-Royce of course . And that by definition is not a tear iron. A Rolls-Royce is made for strolling and cruising wonderfully. This Rolls-Royce Cullinan Black Badge is excellent at it. Not normal what a rest this car has to offer. Delicious and buttery soft, extremely comfortable and whisper quiet. Thresholds do not exist and noises from the wheel arches are rare thanks to the tens of kilos of sound insulation. Even the V12 engine is rarely heard. You sometimes seriously wonder whether the engine is still 'running', the car is so quiet.
1 out of 5, well done!
The V12 engine is anything but economical. Even with normal use – so 100 km/h on the highway – a fuel consumption of 1 in 5 is a phenomenal performance. The tank capacity is also 100 liters. This means that a full tank of E10 petrol can cost you 200 euros, taking into account a price of 2 euros per litre. That is quite expensive for the normal mortal. As a Rolls-Royce owner, 200 euros is of course change. It's a tip for your potato chips at the local snack bar.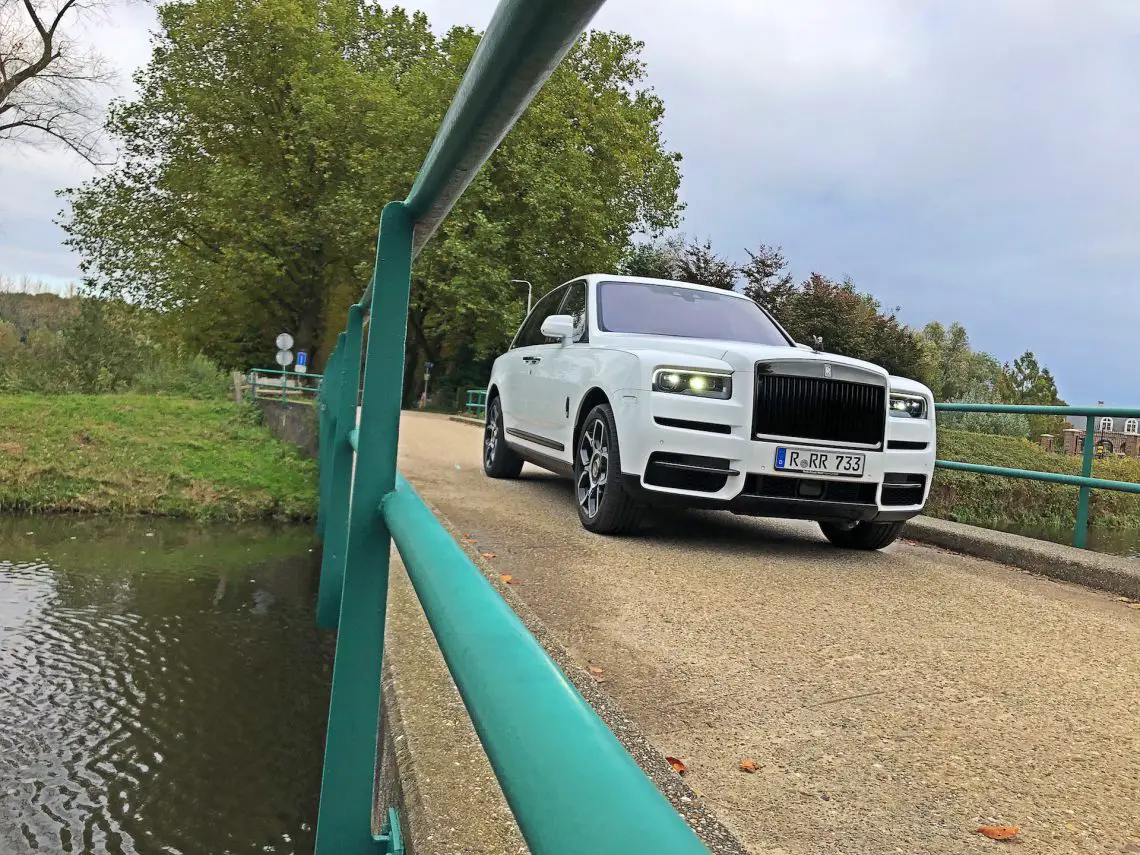 Neck turner pur sang
The higher fuel consumption is not only due to the impressive lung capacity of the V12 engine, but also due to the lack of aerodynamics. But it is precisely that stately and angular appearance that makes the Cullinan a real Rolls-Royce. This car stands out. It is a neck turner pur sang, even in this white color scheme. By the way, each lacquer is polished ten times by hand. Only then is a Rolls-Royce allowed to leave the factory gates in Goodwood.
Features Cullinan Black Badge
Thanks to this white color scheme, the characteristics of a Cullinan Black Badge stand out even more. Many exterior details are finished in high-gloss black chrome, as does the iconic Spirit of Ecstasy mascot that disappears into the grille as soon as you lock the car. The silver-on-black Double R logos are also typical of the Black Badge, as are the dark chrome finish of the grille surround, air intake surrounds and exhausts. Exclusive 22-inch Black Badge wheels complete the look.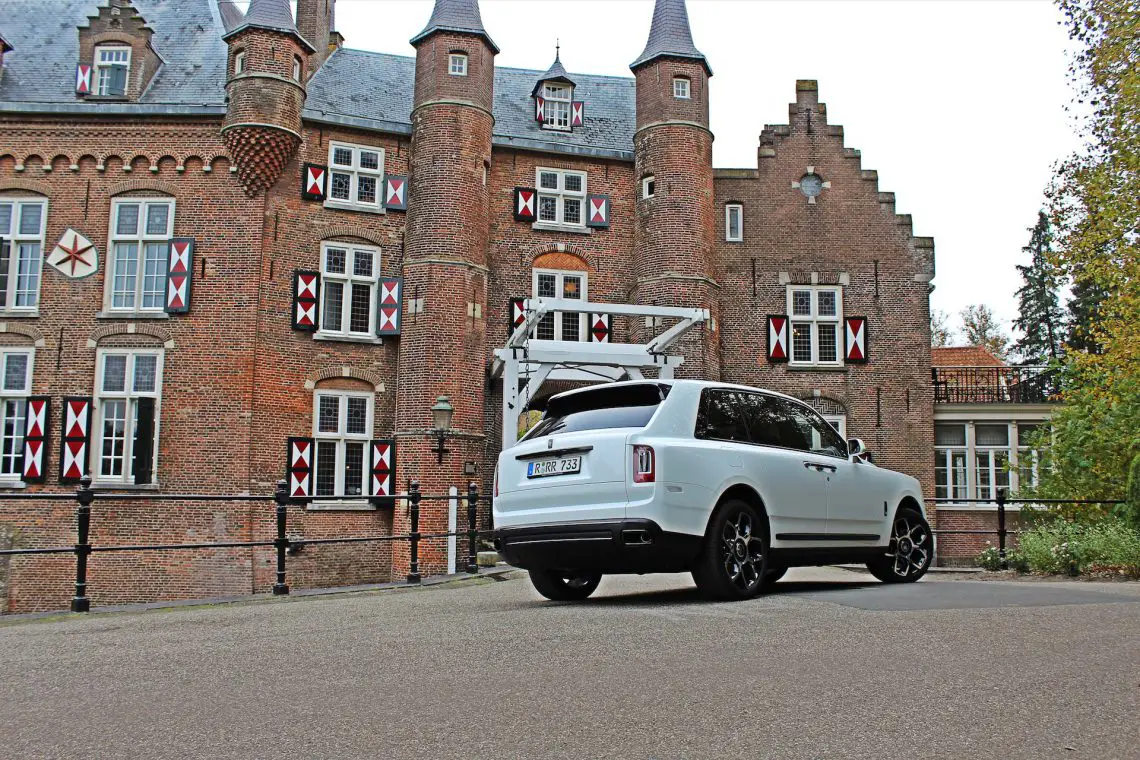 What a perfection
Then the interior. Do you have a minute? Every button is perfectly finished, only the gear lever has the same finish that you also find in a Golf or Focus. Everything else is spot on ! What a perfection. Unique to the Black Badge is the woven carbon fiber structure called Technical Carbon. This material has a three-dimensional effect. Each sheet of this Technical Carbon is finished with six coats of lacquer, left for 72 hours and then hand polished for ultimate shine. The complete process takes 21 days. And to think that the car has 23 of these Technical Carbon elements.
Starlight Headliner
The space in a Rolls-Royce is self-evident. The wheelbase of this Cullinan Black Badge is 3,295 mm. You sit regal both in the front and in the back. You don't have to close doors yourself in a Rolls-Royce. Both the front and rear doors can be closed electrically at the push of a button. And then there's the Starlight Headliner, a starry sky incorporated into the roof of your Rolls-Royce. Sensational. Magic. And romantic, because at night you can see 'shooting stars'.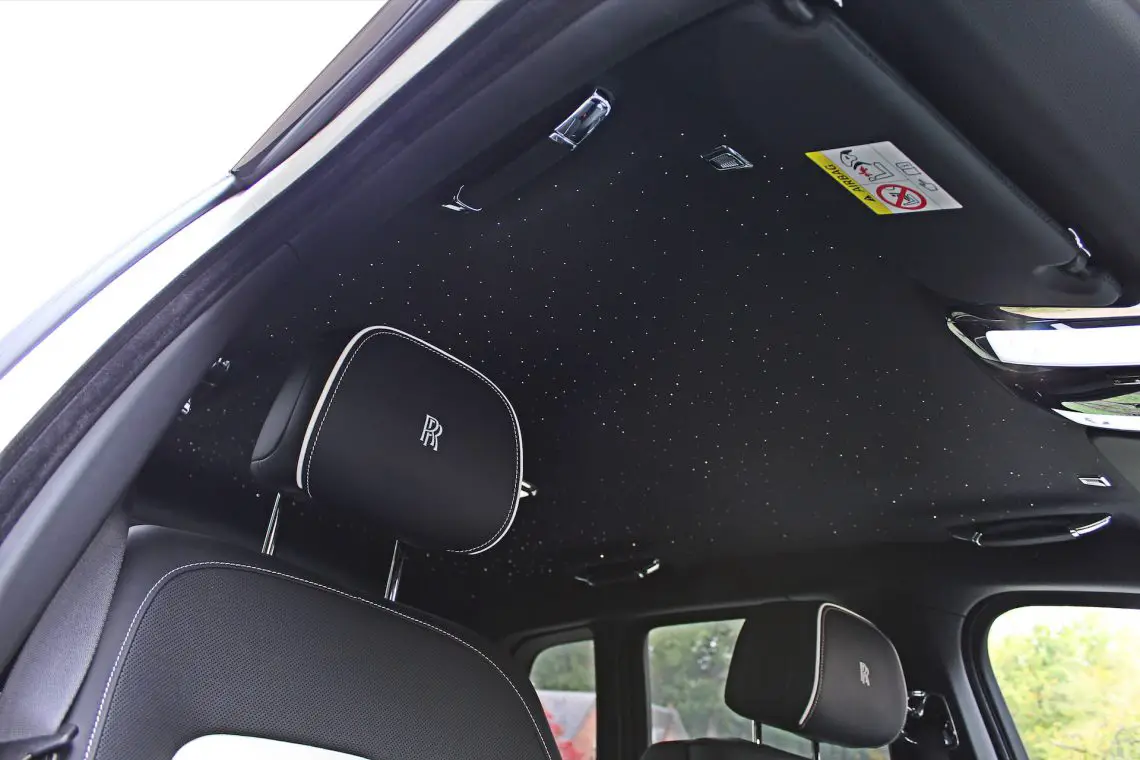 Sparkle in each other's eyes
Imagine that you and your loved one take a night ride with a beautiful starry sky right above you. You see the sparkle in each other's eyes. It's raining, but you can't hear the drops because the Cullinan is so quiet. The famous Spirit of Ecstasy appears on the nose as a true guardian angel. In the instrumentation, the Power Reserve meter indicates that you are still not using 95 percent of the total engine power. The way in front of you is clear. You pick up the pace, up to new adventures. Those are the moments you pay for. lavishly. But a Rolls-Royce also gives you a rich feeling in return. Not rich in money, but rich in priceless moments.
Performance with a comfortable twist
The Rolls-Royce Cullinan Black Badge offers extra performance, but in the Rolls-Royce way. It's performance with a comfortable twist. If you don't understand that, better opt for a Bentley Bentayga Speed or Mercedes-Maybach GLS 600. You have to respect the physical limits of a car of 2,750 kilograms and thick 5.3 meters. Anyone who can buy an SUV for more than 500,000 euros that surpasses the aforementioned competitors in terms of finish and comfort on all fronts. It's something special.