Volkswagen ID.X Performance has new ID.7 as its base
Fat appearance, that Volkswagen ID.X Performance
The Volkswagen ID.X Performance features a carbon fiber front splitter and rear diffuser. The engineers increased the wheel track by 80 millimeters and lowered the sport suspension including specific stiff springs by 60 millimeters. Together with the new powertrain, that combination is good for extra sporty performance and even more agile handling.
hefty wheels
The ID.X Performance sits on sporty 20-inch rims with a center wheel nut and racing tires in the width size 265. Behind, a carbon fiber wing provides some additional downforce. Tinted taillight clusters emphasize the sporty looks of the electric high-performance limousine. Inside, occupants sit in carbon fiber bucket seats. Red accents there endorse the sporty character.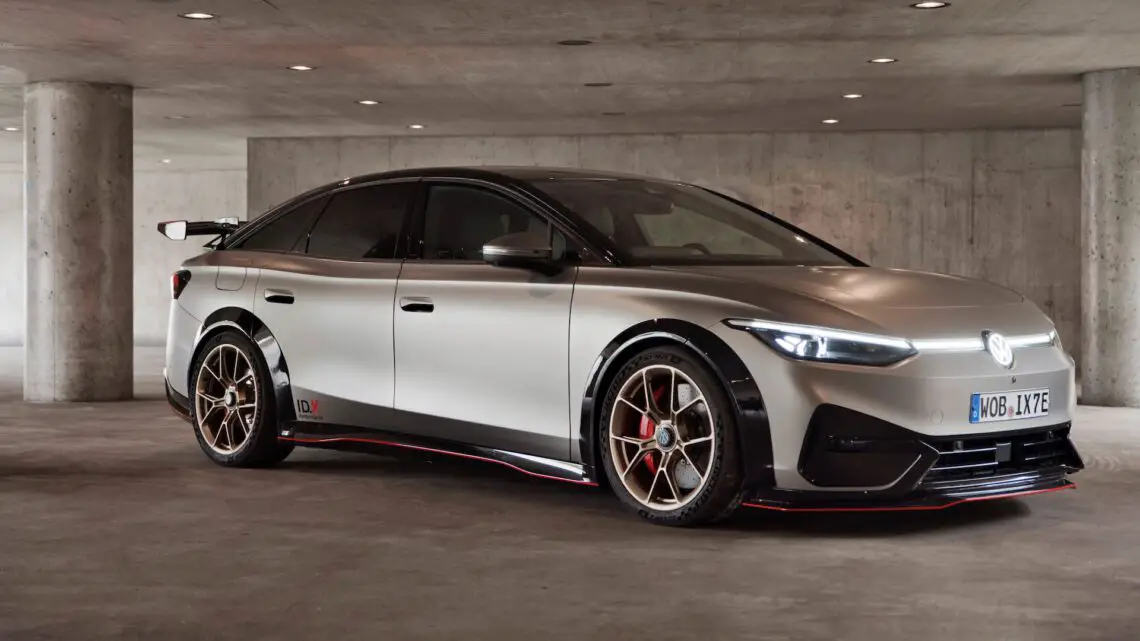 Powertrain
In the Volkswagen ID.X Performance show car, Volkswagen supplemented the permanent synchronous motor on the rear axle with an additional asynchronous motor on the front axle to achieve all-wheel drive. This makes this drive ideally suited for delivering short power spikes in the form of a boost function. Drive torque is controlled by a Vehicle Dynamics Manager, which also controls the operation of the limited slip differential on the rear axle. That feature is controlled via a separate 17-inch display in the center console. Energy for the dual-motor powertrain is provided by a battery pack with high continuous power output and short charge times at up to 200 kW. The all-wheel-drive powertrain has an output of 441 kW (558 hp).