This is the new generation Honda CR-V
SUV taken to next level
Honda is taking its CR-V to the next level. Not only with better powertrains, but also by putting more focus on using better materials and fabrics. As a result, Honda is pushing the SUV more toward the premium segment.
The CR-V will get a full hybrid (e:HEV) powertrain or – for the first time on the European market – a plug-in hybrid (e:PHEV) powertrain. Both variants feature a 2.0-liter, four-cylinder, direct-injection Atkinson cycle gasoline engine that has been revised to improve efficiency, refinement and dynamic performance across the range.
Honda CR-V e:PHEV
The e:PHEV uses the same lightweight and powerful electric motors as the e:HEV variant. The plug-in CR-V has an electric range of 82 km, allowing it to perform most daily trips fully electric. At a battery temperature of 25 degrees, an empty battery can be charged to 100% in just 2.5 hours.
Honda CR-V e:HEV
The full hybrid CR-V will feature the most advanced version of the award-winning e:HEV full hybrid powertrain, first seen in the Civic hatchback. A high-capacity lithium-ion battery and two compact, lightweight electric motors work together with the gasoline engine to quickly switch between EV, Hybrid and Engine Drive.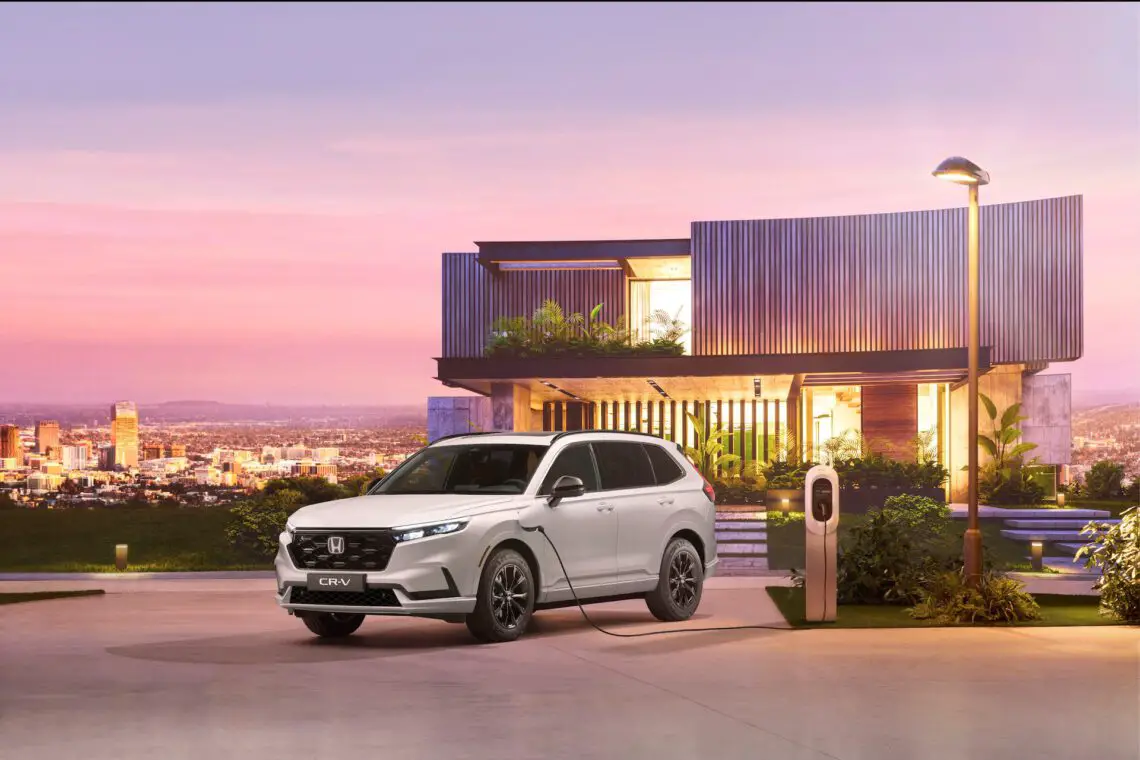 Interior space increased
The front corners of the CR-V are low, thanks to a wide, uncluttered hood, giving drivers a good spatial understanding of the car. Thanks to the cabin's large windows, the CR-V offers good outside visibility for all occupants. The evolutionary design also masks an increase in every dimension for the CR-V. The new CR-V is wider, longer and larger than the outgoing model and offers more interior space for passengers, a 40 mm longer wheelbase provides 16 mm more rear legroom and 18% more luggage space.
Eight positions for the rear seatback, with 10.5° greater angle, also allow passengers to relax comfortably. The all-new CR-V is the first vehicle to be equipped with Honda SENSING 360, the company's new omnidirectional safety and driver assistance system, which eliminates blind spots around the vehicle and further helps prevent collisions by relieving the driver.
Iconic model
"The new CR-V builds on everything the iconic model stands for: progressive design, a premium cabin, industry-leading levels of safety, usability and comfort, and efficient and responsive performance," said Tom Gardner, senior vice president at Honda Motor Europe Ltd. "This latest iteration is the ultimate SUV package and offers a unique, dynamic and premium product that perfectly meets the current demands of the European market."