This is how BMW builds the 750,000 euro BMW 3.0 CSL
Fifty years of BMW M so fifty units of BMW 3.0 CSL
Again, why a new BMW 3.0 CSL? Simple, BMW wanted to do something special in connection with the 50th anniversary of BMW M. Therefore, based on the BMW M4 CSL, the brand comes up with an anniversary model. Of course, in a previous BMW 3.0 CSL article you were able to read all about this special car, so in this story we focus purely on production.
BMW M4 CSL forms basis of BMW 3.0 CSL
Although the body of the BMW 3.0 CSL is based on the standard production body of the BMW M4 CSL, it is modified in a special hall of the body shop in Dingolfing – the same location where the body of the BMW M4 GT4 is produced. For example, the distinctive wheel arches are widened using special welding processes.
Specific coloring
The body then makes its way through the regular standard production process of the paint shop. At special workstations, Dingolfing's paint finish specialists then use stencils to manually apply special paint jobs, such as the 3.0 CSL-specific livery with the three M color stripes on it. At the same time, the team assembles the unique parts, such as the front side panels and bumpers, hood and carbon fiber roof.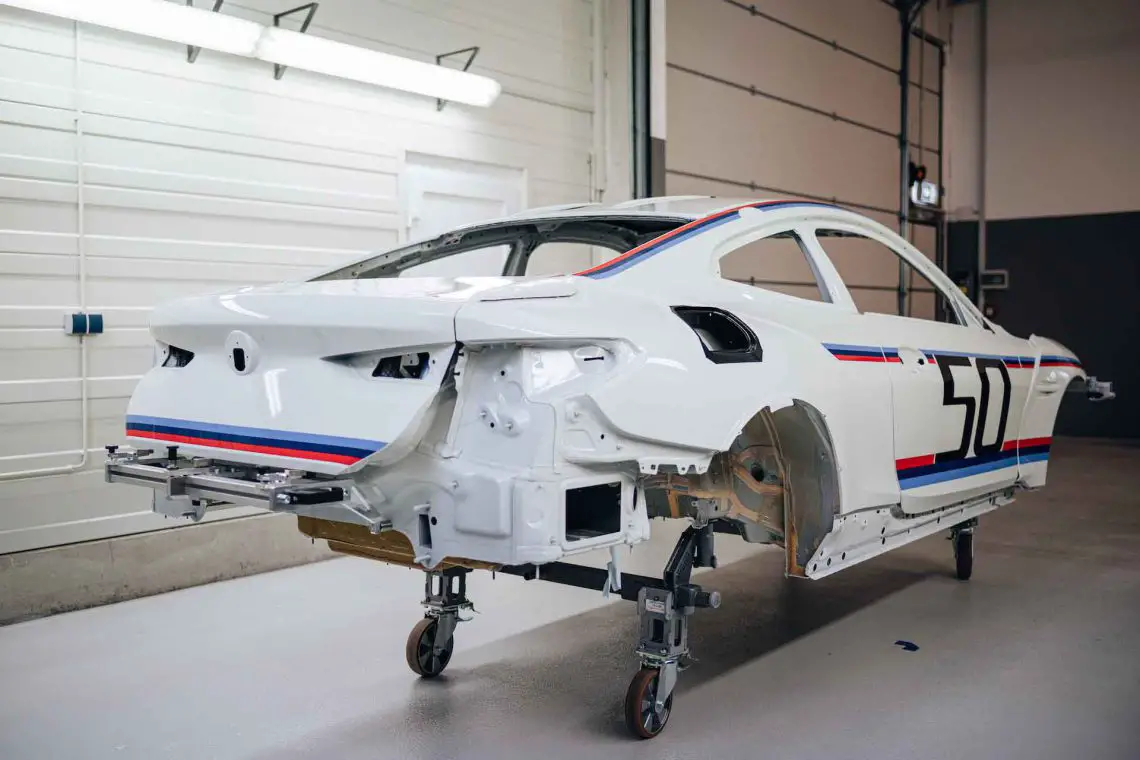 Assembled in Moosthenning
The BMW 3.0 CSL will be assembled in a workshop set up specifically for this purpose in Moosthenning, an offsite location managed by BMW Group Plant Dingolfing, close to Dingolfing's main car plant. Here the vehicle is assembled step by step by a team of 30 experienced experts. The special interior elements are individually manufactured in workshops in Garching and Dingolfing.
Two week construction period
All in all, the assembly process of one vehicle takes nearly two weeks. There are a total of eight major assembly cycles, each lasting one working day. Upstream, various attachments are attached, such as CFRP side panels or the CFRP hood. At the end of the process, the distinctive rear and other exterior parts are mounted on a separate station.
Delivery to customer
Once the work in Moosthenning is completed, the vehicle goes back to the "big" vehicle plant in Dingolfing, where the car first undergoes extensive standardized tests, for example on the roller dynamometer or brake dynamometers. Each BMW 3.0 CSL then undergoes an additional final inspection process with a required driving program on the factory's own test track. Finally, the vehicle is prepared for the customer and taken, for example, to BMW Welt in Munich for a personal handover or delivery.