These brands are most often misspelled!
hundai
The Confused.com study looked at the number of incorrect searches made worldwide in a month for car makes and models. Hyundai is the most misspelled car brand in the world. Not so strange, with the popularity of, for example, the IONIQ 5 . Hyundai is misspelled nearly 2.25 million times, with "Hundai" and "Hyndai" being the most common spellings. It's tricky too!
Volkswagen and Porsche
Volkswagen is in second place with 1.15 million searches with spelling errors. Of these, "Wolksvagen" and "Volkswagon" are the most common worldwide. Porsche closes in on the top three, which is misspelled just over 1 million times a month with "Porshe", "Porsh" or "Porsch". Especially non-Germans seem to have trouble with the correct spelling of the German car brands.
Text continues below the image.
Models
Not only the brands, but also the models are regularly searched for incorrectly. Range Rover is the most misspelled model, followed by the "Porsch Cayene" and the "Renault Cleo". Other fun flaws you can find in the list , which includes the "VW Turan", "Range River Sport", "Honda Sivic", "Ford Fokus" and "Fist 500".
How?
Often the searches are a matter of quick typos – whether the Fist 500 should really be something people search for – or ignorance, as can be the case with Buggatti. We are also just lazy, because if something comes close, we think it's fine to arrive at the right search result within one mouse click. We do miss Mitsubishi and SsangYong in the list, which are pre-eminently brands that are written incorrectly.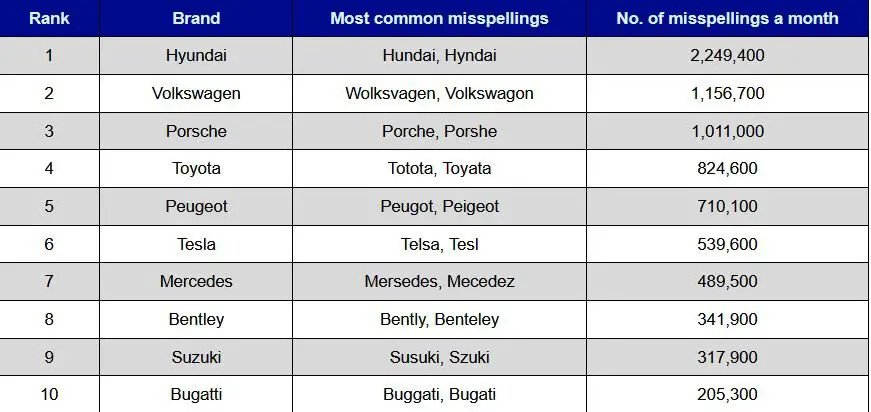 Source: Automobilewoche.de
Also read: These are the 10 most reliable and least reliable car brands