TESTED: Suzuki V-Strom 800DE and V-Strom 1050DE
Why a Suzuki?
Why should you choose a Suzuki? Maybe because you are enamored with 6 years of manufacturer's warranty. But then you look at a motorcycle mainly from a sensible point of view. A motorcycle is also emotion. Will the V-Strom models get you there, then? Absolute! Because if Suzuki's V-Strom models are one thing, they are adventurous. They are Adventure Sport motorcycles for a reason.
Suzuki V-Strom 800DE and V-Strom 1050DE (2023) – REVIEW – MotorRAI TV
Riding Suzuki V-Strom 800DE
Adventure is also in the genes of the new Suzuki V-Strom 800DE. It comes from 12,699 euros. The V-Strom 800DE is powered by Suzuki's all-new 776cc parallel-twin, also found in the Suzuki GSX-8S naked bike. The new twin cylinder with Euro5 emission standard has a long bore to stroke ratio and is characterized above all by extremely smooth running. Powerful torque at very low revs provides additional comfort. In practice, it drives wonderfully.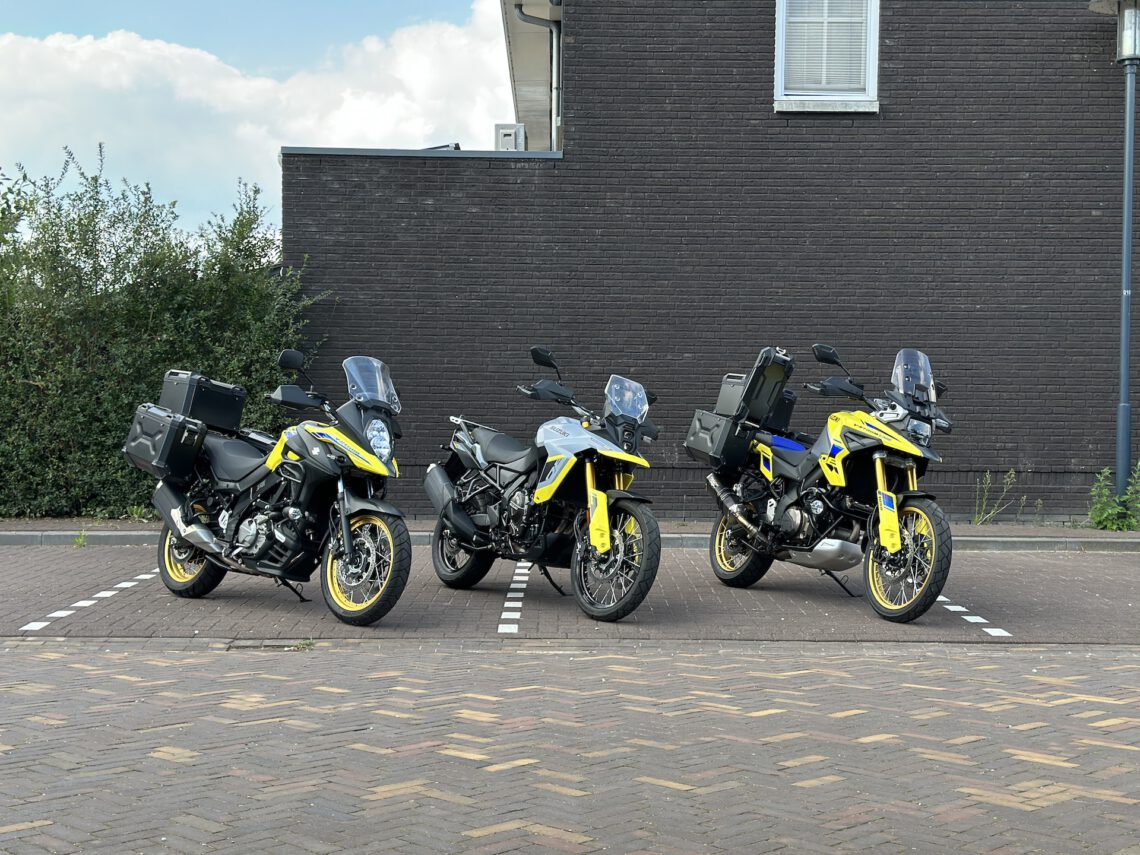 What makes this powertrain special?
Suzuki equips the new powerplant with a 270° crankshaft. Interestingly, the ignition interval is similar to that of a V-twin. This also gives you the character of a V-Twin with lots of torque down low and a wonderful soundtrack. The V-Strom also features the so-called Suzuki Cross Balancer crankshaft mechanism. Two balance shafts angled at 90 eliminate vibration and contribute to the smooth engine character. The maximum engine output is 84.3hp at 8,500 rpm and has a maximum torque of 78 Nm at 6,800 rpm. Suzuki also offers this motorcycle in a 35kW variant for A2 license holders.
Three riding modes
The Suzuki V-Strom 800DE's new 776cc parallel-twin has three riding modes, selectable via the Suzuki Drive Mode Selector (SDMS). There is a choice of driving mode A (active), B (basic) and C (comfort). A difference in throttle response is especially noticeable. In mode "A," the powertrain is nice and alert; in mode C, the powerplant responds a bit more quietly to input from the accelerator pedal. By the way, this machine has electronic "ride-by-wire" throttle control. Very much to our liking is the Bi-Directional Quick Shift System that lets you shift up as well as down. This system works very smoothly.
Traction Control and Gravel
The new V-Strom 800DE's traction control system also has a special G (Gravel) mode. How does that work? Simple: in this mode, the ignition timing is delayed to allow a limited amount of wheelspin when driving on unpaved terrain. This benefits the controllability of the machine when driving on dirt roads and trails.
Solid hardware
The Suzuki V-Strom 800DE is further characterized by a robust steel frame, a lightweight aluminum swingarm, a 21-inch front wheel with wire wheels and the Hitachi Astemo (SHOWA) adjustable suspension front and rear. In short: solid hardware! It results in a very stable driving experience, not only when cornering but also during highway trips. The wide handlebars hold comfortably and inspire great confidence. You rest your feet on wide steel footrests fitted with profiled rubber blocks. Even riding standing is no problem as a result.
ABS and brakes
Suzuki equips the new V-Strom 800DE – which weighs 230 kilograms – with a fine braking system and an adjustable ABS system with two modes. Mode 1 has minimal intervention and is therefore excellent for riding on gravel trails. Mode 2 is ideal for city driving and normal road conditions. On demand, use Rear ABS Cancel mode to disable the rear wheel ABS for desired braking control on gravel and other unpaved surfaces. The braking system features dual front brake discs and a single rear disc.
Equipment Suzuki V-Strom 800DE
This new machine from Suzuki is further equipped with a 5-inch TFT display with pop-up alerts, a 20-liter capacity tank, LED lighting all around and a Suzuki Intelligent Ride System electronics package. In short: an excellent total package at a competitive price. By the way, Suzuki may well come out with another "normal" Suzuki V-Strom 800, as a normal and DE variant of the bigger brother 1050 also exists. Time will tell. Should you be in need of a slightly heavier motorcycle with more power, Suzuki has another V-Strom 1050 on offer. How good is that machine? Time to move on to the top model.
Basic specifications Suzuki V-Strom 800DE
Engine: 776cc DOHC four-valve parallel-twin
Engine power: 84 hp
Engine torque: 78 Nm
Weight: 230 kilograms
Seat height: 855 mm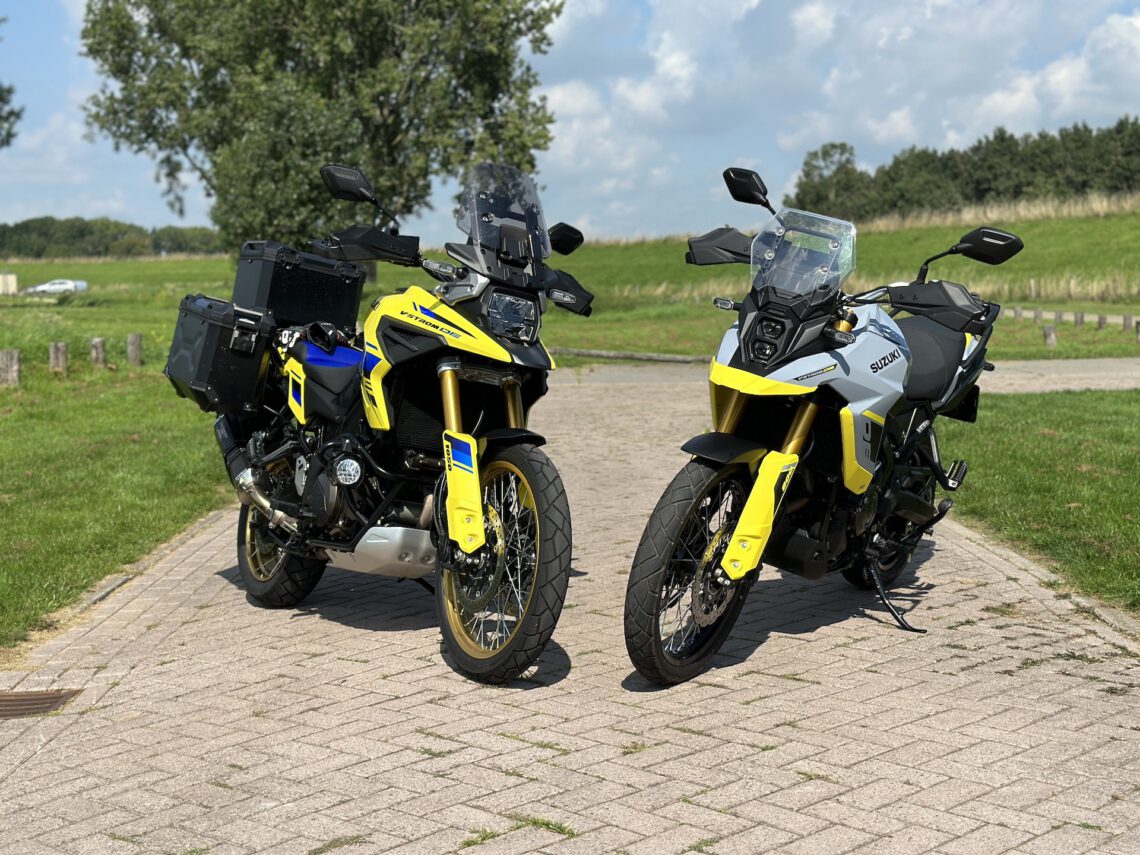 Riding Suzuki V-Strom 1050DE (2023)
The new Suzuki V-Strom 1050 is available from €16,299, or €16,999 for the 1050DE version. We ride on the DE variant. What exactly are the differences between the 1050 and 1050DE? Of course, we are happy to explain.
V-Strom 1050
This V-Strom 1050 has cast aluminum wheels with a 19-inch front tire and 17-inch rear tire. Also included is the large touring windshield with Quick Release height adjustment. Standard equipment also includes a center stand, hand guards, a plastic sump guard and the height-adjustable saddle. Want more? Then go for the DE variety.
V-Strom 1050DE
The Suzuki V-Strom 1050DE features a 21-inch front tire (Dunlop Trailmax Mixtour in size 90/90R21) and a 17-inch rear tire (150/70R17) with a semi-block pattern. The longer aluminum swingarm and wheelbase improve handling for off-road use. In doing so, the longer suspension travel is even better at absorbing bumps and rough surfaces.
Side note: the seat height
Other novelties of the V-Strom 1050DE include wider handlebars, wider steel footpegs, an aluminum engine guard and a standard accessory bar. The Suzuki V-Strom 1050DE further introduces a new Gravel mode (G-mode) as part of the Suzuki Traction Control System, as well as the ability to completely disable the rear wheel ABS system. One small note, though: the seat height increases to 880 mm, versus 855 mm for the regular 1050. This effectively makes the 1050DE suitable only for people who are a little taller. At 1.85 meters long, it just goes. If you are smaller, then the 1050 or even the 800DE is the better option.
Powertrain Suzuki V-Strom 1050
The V-Strom 1050's 1,037cc, 90° four-stroke V-twin is a delightful companion. The block has dual overhead camshafts, high mid-range torque and also a fine V-twin rumble and exhaust sound. In this case, so does the optional Yoshimura exhaust. Highly recommended as far as we are concerned.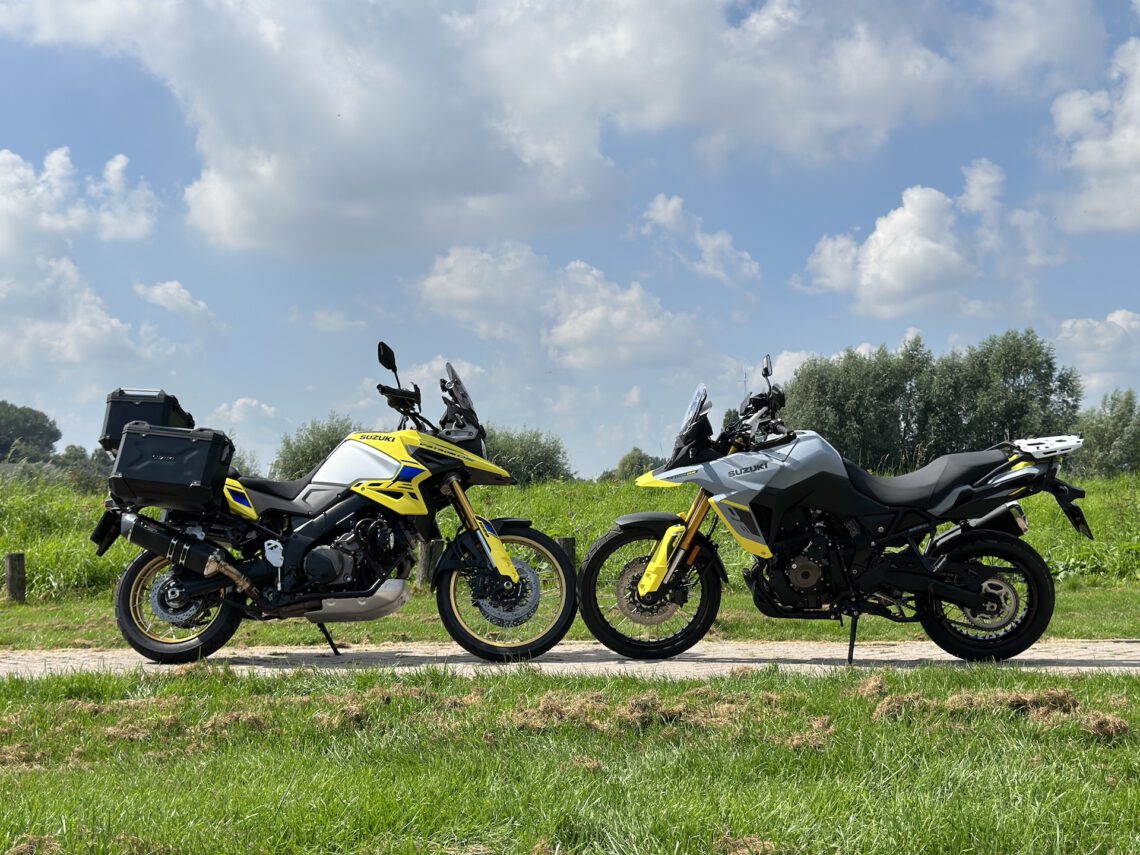 Stable idling
What makes this block special? Two 49 mm electronically controlled throttle bodies perhaps? In addition, each cylinder has two iridium spark plugs. Explain. The first spark plug sparks throughout the engine's rev range, and the second spark plug supports combustion and power delivery at low speeds. This results in a linear throttle response and stable idle. Smooth is this engine anyway, although the new twin cylinder of the V-Strom 800DE wins out over this larger V-Twin when it comes to smooth running. The 1050's V-Twin is a bit rougher.
These systems have the Suzuki V-Strom 1050DE
The Suzuki V-Strom 1050 and V-Strom 1050DE have different systems on board. We list them briefly for you.
Suzuki Intelligent Ride System (S.I.R.S.)
A 6-axis IMU
Suzuki Drive Mode Selector (SDMS)
Cruise control
Bi-Directional Quick Shift System up & down
Low RPM Assist
Suzuki Traction Control System (STCS) – 3 modes or completely off
Hill Hold
Load Dependent Control System
Top notch transmission!
That's quite a few systems right? Like the 800DE, the Bi-Directional Quick Shift System shifts up and down superbly. You rarely make them that smooth. Hill Hold and Load Dependent Control System need some additional explanation.
Hill Hold activates the rear brake for 30 seconds after you've stopped on an incline when driving uphill. This allows you to drive off more smoothly without worrying about the engine rolling backwards. The Load Dependent Control System recognizes differences in loading at any time and automatically adjusts brake pressures. The Slope Dependent Control System adjusts brake pressure to prevent rear wheel elevator on a steep slope.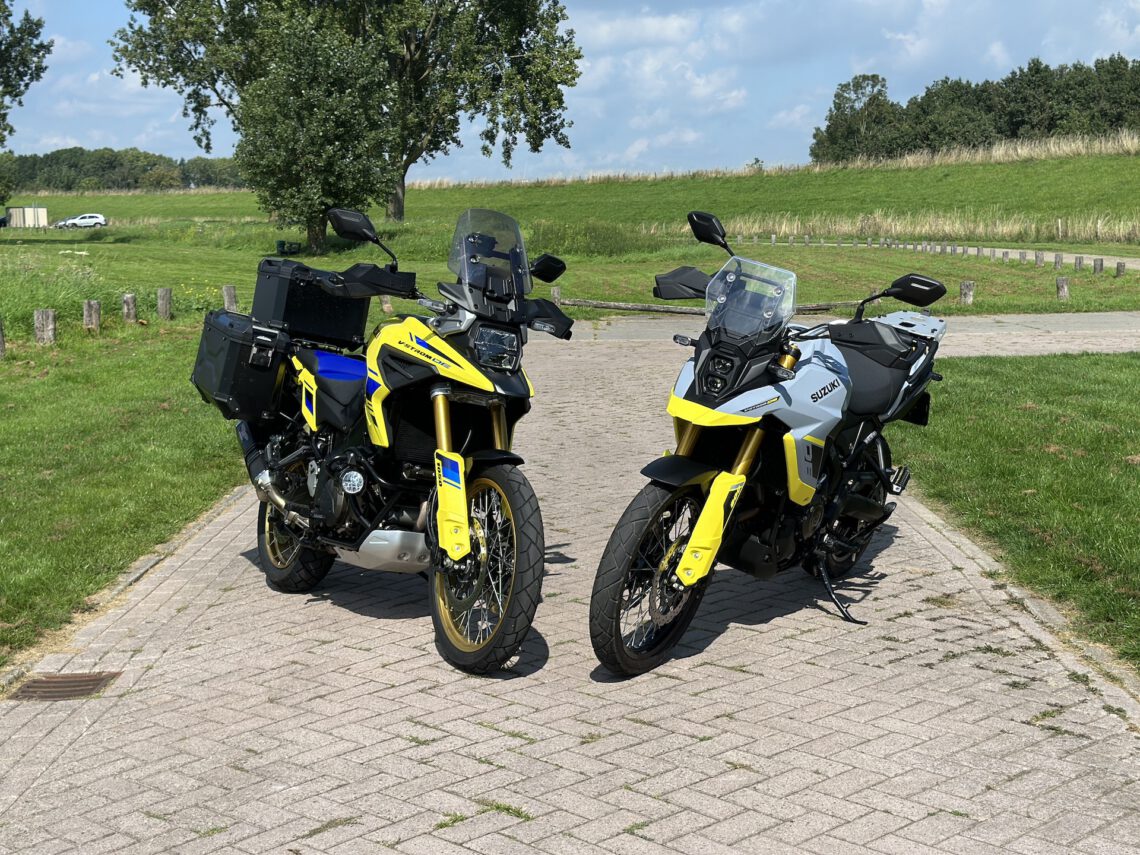 Clearly readable display
The Suzuki V-Strom 1050's dashboard is easy to read. The dasboard can be manually or automatically set to a day setting (white) or a night setting (black), allowing you to optimize readability at any time and in any driving condition. To the left of the dashboard is a USB connector. Under the seat is another 12V outlet.
Bitey brakes
If one thing stands out on the V-Strom 1050DE, it's the biting brakes. A pair of radially mounted Tokico four-piston front calipers with "floating" mounted 310 mm brake discs provide solid braking performance, along with the disc brake in the rear wheel. An anti-lock braking system (ABS) is standard. The braking system requires some getting used to at first. The advice: use it with love, and a smooth deceleration will naturally follow.
Adjustable suspension and damping
The 43 mm upside-down KYB front fork and KYB monoshock at the rear are fully adjustable, so you can adjust the characteristics to suit your preferences or intended use. So you can customize this machine to your own taste in several ways.
Basic specifications Suzuki V-Strom 1050
Engine: 1,037 cc, 90° four-stroke V-twin
Engine power: 107 hp
Engine torque: 100 Nm
Weight: 242 kilograms
Seat height: 855 mm
Basic specifications Suzuki V-Strom 1050DE
Engine: 1,037 cc, 90° four-stroke V-twin
Engine power: 107 hp
Engine torque: 100 Nm
Weight: 252 kilograms
Seat height: 880 mm
Conclusion
Suzuki, with the new V-Strom 1050DE and V-Strom 800DE, puts out two beautiful machines with very rich equipment. They ride wonderfully. The 800DE is the everyman's friend, while the 1050DE is suitable for taller individuals with a greater desire for adventure. But both machines do not disappoint on the highway either. Indeed, they ride extremely smoothly and are surprisingly agile. Because theV-Strom 800DE is somewhat lighter and has an unprecedented smooth engine, this bike is our preferred choice. In terms of appearance, it is hardly inferior to its bigger brother. But secretly, some jitters have arisen for the V-Strom 1050DE, because that really is a beast of a machine. So choosing is difficult. In either case, you're in the right place.