Suzuki GSX-S1000GX
The new Suzuki GSX-S1000GX falls right in between sport tourers and adventure tourers. The GX has the power source of the GSX-S1000GT and offers the design of the V-STROM 1050. It is the ultimate, sporty motorcycle that can take you in any direction.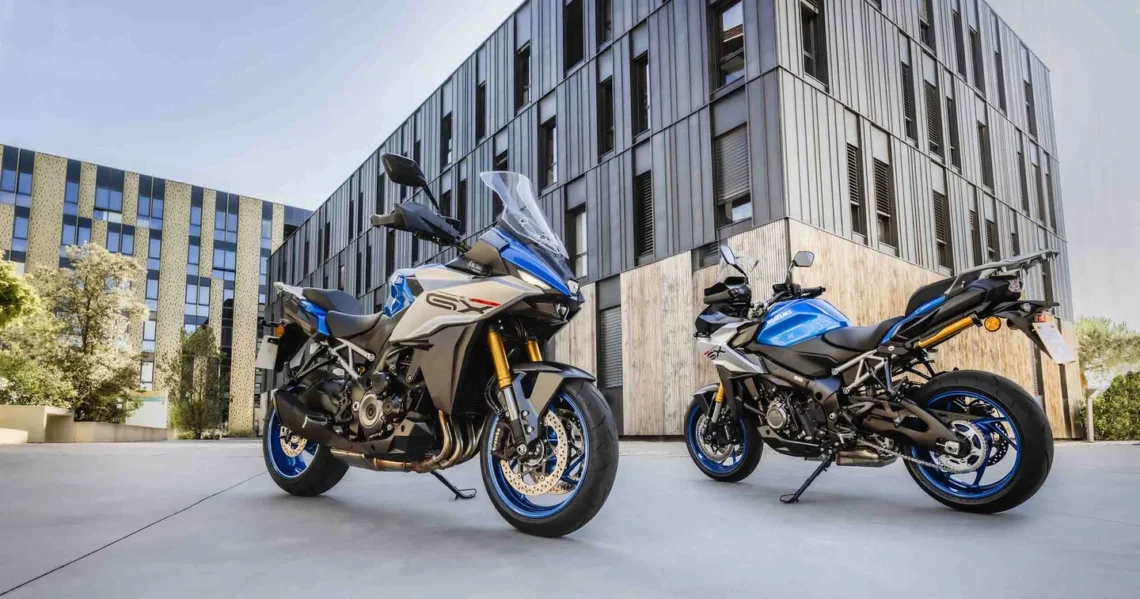 Suzuki GSX-S1000GX streamlined
Aerodynamics play an important role in the GX. For this reason, the machine was developed in the wind tunnel down to the smallest details. Among other things, that approach resulted in a unique windbreak that provides the necessary wind protection. The windshield is adjustable in three steps, increasing or decreasing the height by 43 mm. Hand guards and fairings also reduce drag and provide better protection from wind and rain.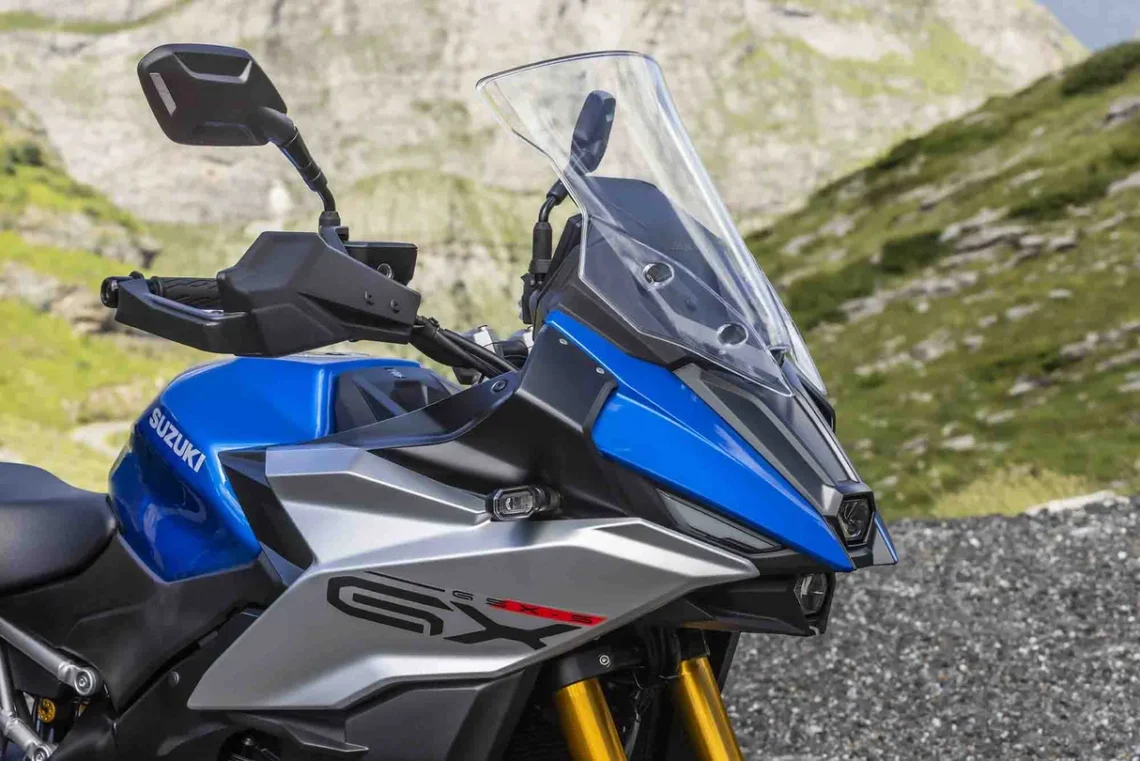 Differences from Suzuki GSX-S1000GT
The differences from the GSX-S1000GT are significant. The GX, for example, has a larger suspension travel (150 mm front and rear) that provides more ground clearance, as well as a more straight-up seating position. The handlebars are 55 mm closer to the rider compared to the GT. It is also 50 mm wider. Compared to the GT, the saddle is 15 mm thicker for the rider and 10 mm thicker for the passenger. The seat height is 845 mm.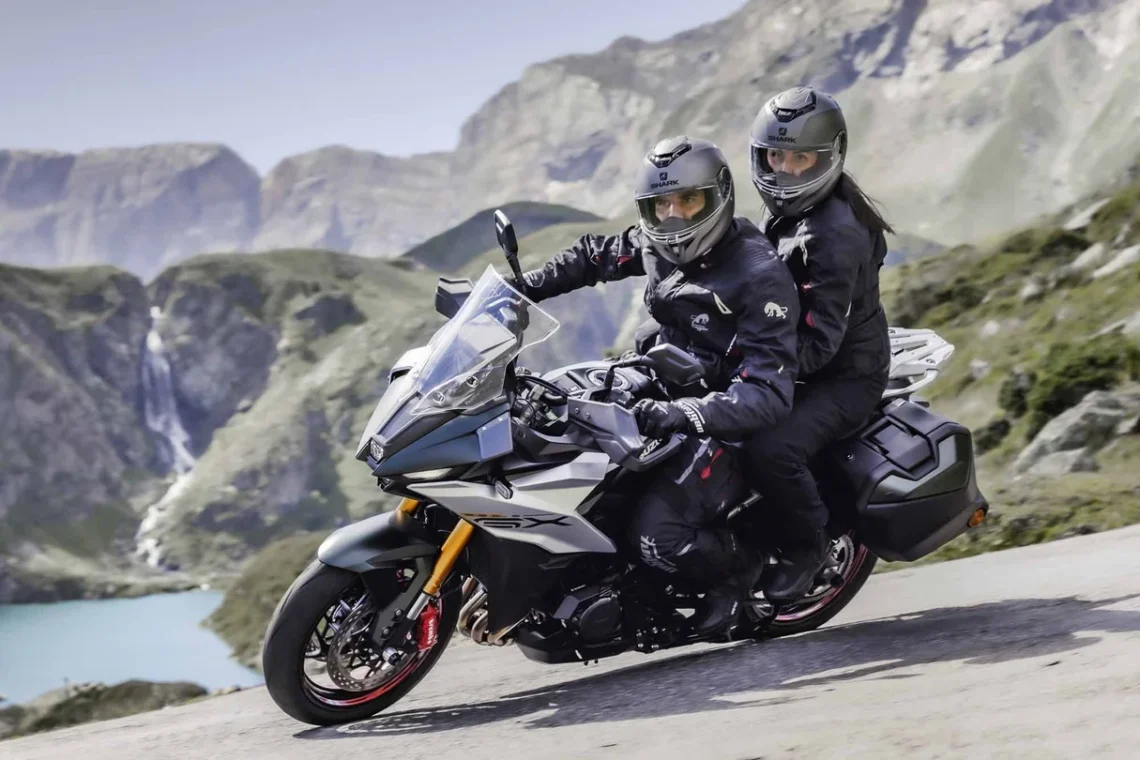 152-hp four-cylinder
Like the GSX-S1000 and the GSX-S1000GT, the GX has a powerful 999cc four-cylinder engine. The block excels with its high torque and power in a wide rev range. The liquid-cooled four-in-line produces 106 Nm of torque at 9,250 rpm. Peak power is 112 kW (152 hp) at 11,000 rpm.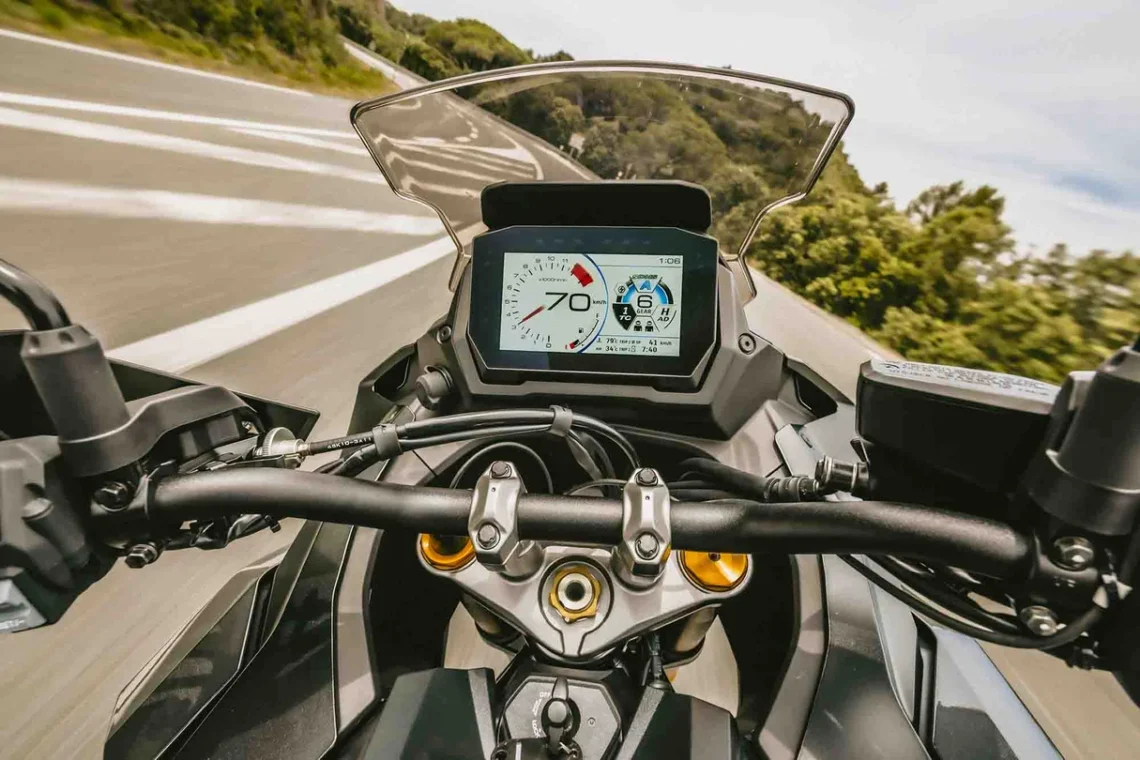 With quickshifter
Systems like Suzuki Easy start, the Bi-directional Quick Shift System, the Suzuki Clutch Assist System (SCAS) and Low RPM Assist offer you maximum convenience. The Suzuki GSX-S1000GX's sharp handling and excess comfort are possible thanks to a comprehensive package of electronic assistance: Suzuki Intelligent Ride System. This advanced electronics package consists of several sensors and a 6-axis Inertial Measure Unit (IMU) that enable the following driver assistance systems:
Suzuki Drive Mode Selector Alpha (SDMS-α)

Power Mode Selector
Suzuki Traction Control System (STCS)
Smart TLR (Traction, Lift, Roll and Torque) Control
Active Damping Control (ADC).

Suzuki Advanced Electronic Suspension (SAES)

Suzuki Floating Ride Control (SFRC)
Suzuki Velocity Dependent Control (SVDC)
Suzuki Deceleration Damping Control (SDDC)

Suzuki Road Adaptive Stabilization (SRAS)
Automatic Rear Suspension Modes
Ride-by-wire Electronic Throttle System
Bi-directional Quick Shift System
Smart Cruise Control
Motion Track Brake System
Slope Dependent Control System
Suzuki Easy Start System
Low RPM Assist