Review – Mercedes-Benz C300e Estate (2022)
Review Mercedes-Benz C 300 e
The future is electric, (almost) everyone agrees on that. However, a jump to fully electric is still too big for many people at the moment, in practical or financial terms. A plug-in hybrid is therefore seen as a perfect interim solution. Thanks to a (often actual) range of about 40 to 50 kilometers, you can make your daily commute kilometers completely clean. That is good for the environment and your wallet.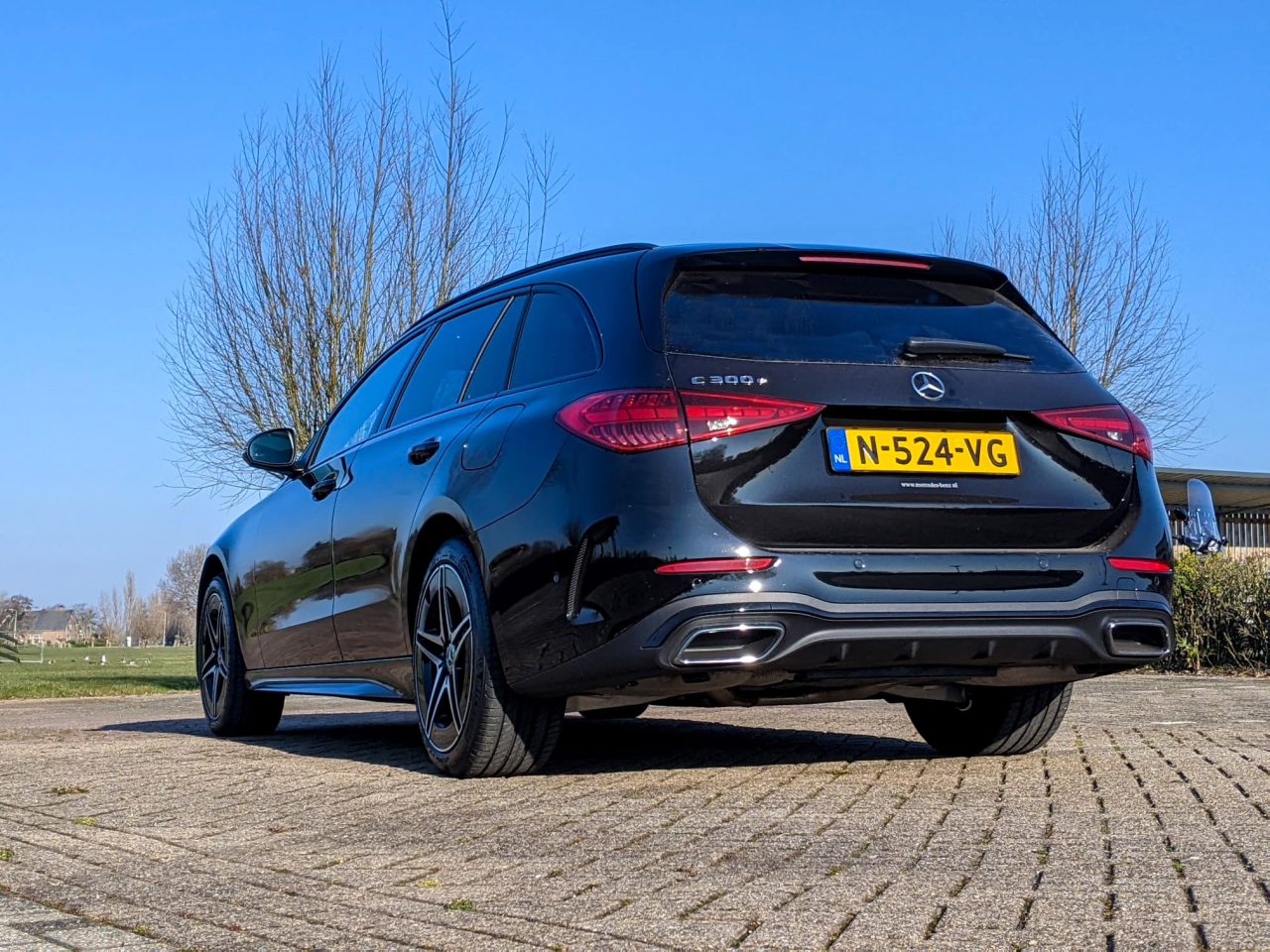 Disadvantages plug-in hybrid
But if you really want to plug in properly, you have to look for a charging station after almost every ride. Sometimes several times a day. Try that for a few years. If the charging stations in your street are once again all occupied, you don't feel like a long search after a tiring working day and you quickly skip charging.
Plug-in hybrid with the longest range
Mercedes-Benz has found the perfect solution: a longer electric range. It can be that simple. The Mercedes-Benz C 300 e is the furthest of all PHEVs. The petrol engine only kicks in after 100 kilometers. Okay, the Polestar 1 comes just a little further with 124 kilometers of purely electric range, but only 1,500 of the 609 hp sports car have been built. So we don't count those.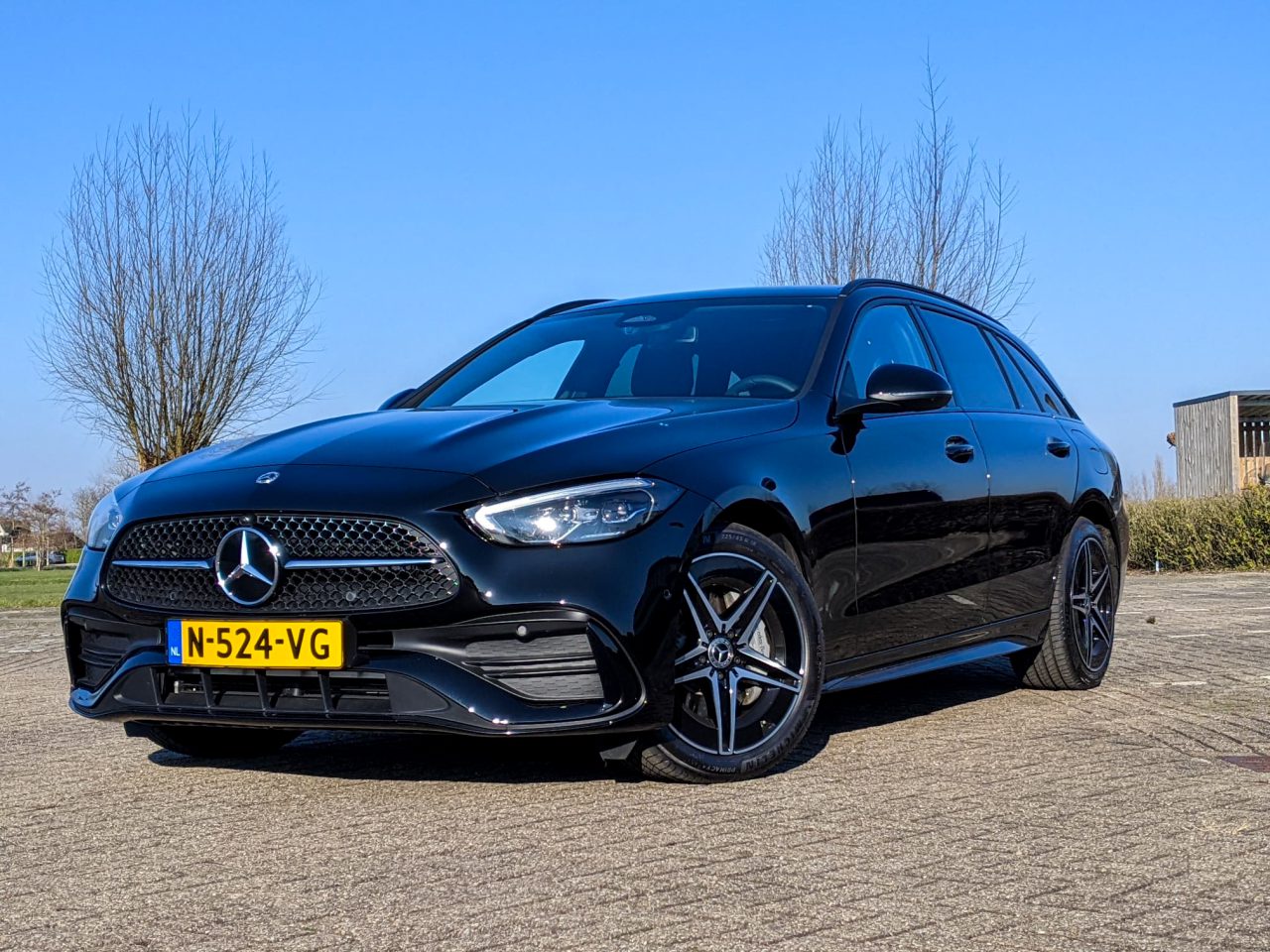 Mercedes-AMG
The powertrain of the Mercedes PHEV consists of a 2.0-liter four-cylinder petrol engine with 204 hp, a 129 hp electric motor and a 9-speed automatic transmission. The system output is 313 hp with up to 550 Nm of torque. A particularly potent PHEV. Not so long ago, Mercedes put an AMG badge under the hood on models with more than 300 horses. We live in a different time.
Some more figures: the 0-100 km/h sprint is completed in the Estate in 6.2 seconds. The electric top speed is 140 km/h, but if the petrol engine helps, the Estate continues to 240 km/h. So you can speed up a lot with this sustainable German. This is at the expense of your electric range of course.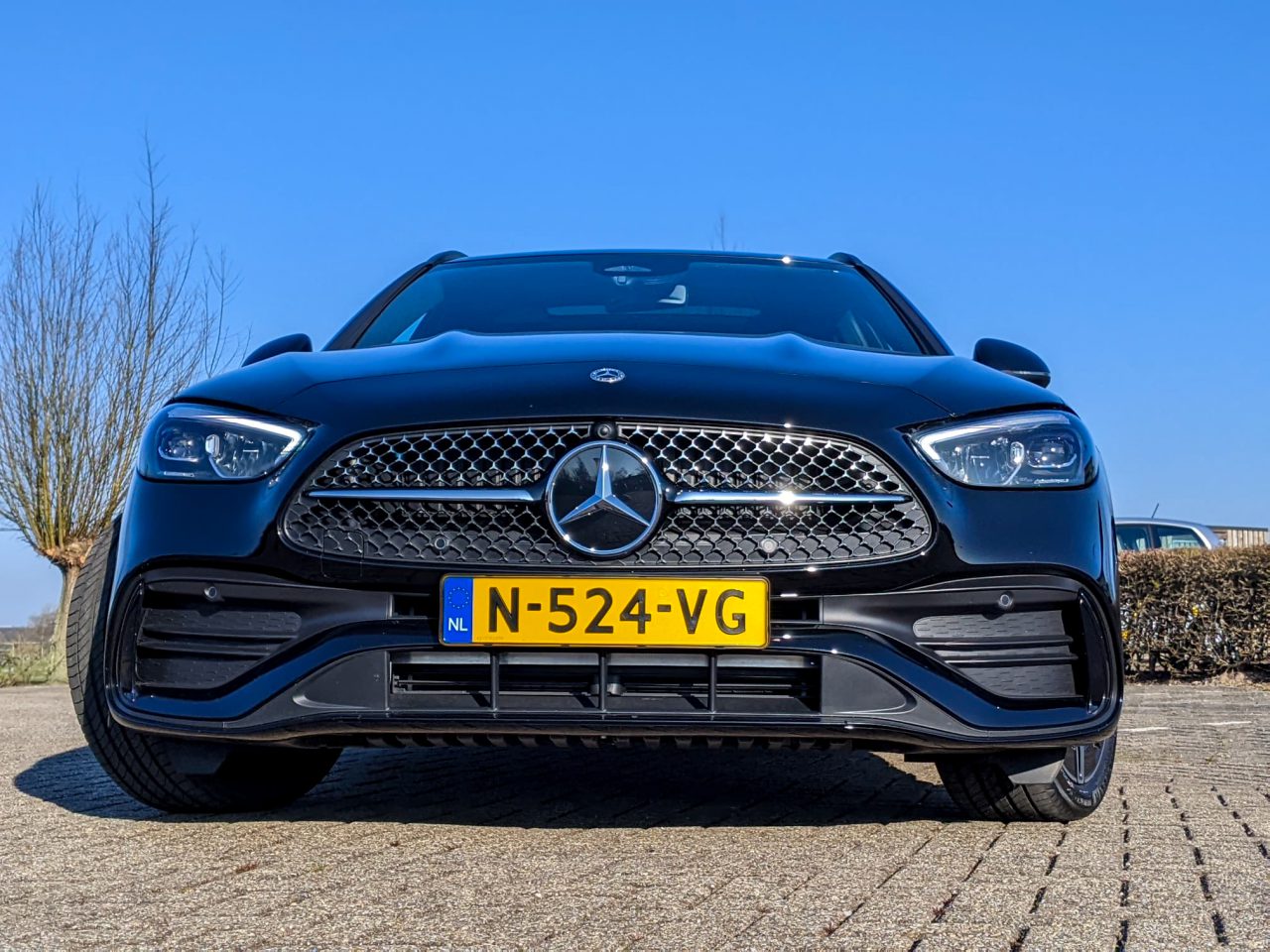 Actual range Mercedes-Benz C300e
Because what about that? As mentioned, the new C-Class PHEV comes on paper 100 kilometers on a single battery charge. This is possible thanks to a large battery pack, with a capacity of 25.4 kWh. So a big unit. For comparison, the first generation Nissan Leaf — a fully electric car — has a 24 kWh battery. You can charge up to 11 kW at a wallbox or public charging station. The battery pack is fully full again in 2.5 hours. Fast charging up to 55 kW is also possible — then charging only takes 30 minutes — but you have to pay extra for that.
100 kilometers turns out to be a pretty realistic task. During our test week — early March — it is still quite chilly outside. It freezes every night and even during the day we need both the heated seats and the heater to keep us warm. Our commute consists of highway kilometers, so we don't make it easy for the Mercedes there either. Yet the stated WLTP range does not collapse dramatically. Without any effort we cover 90 kilometers every day.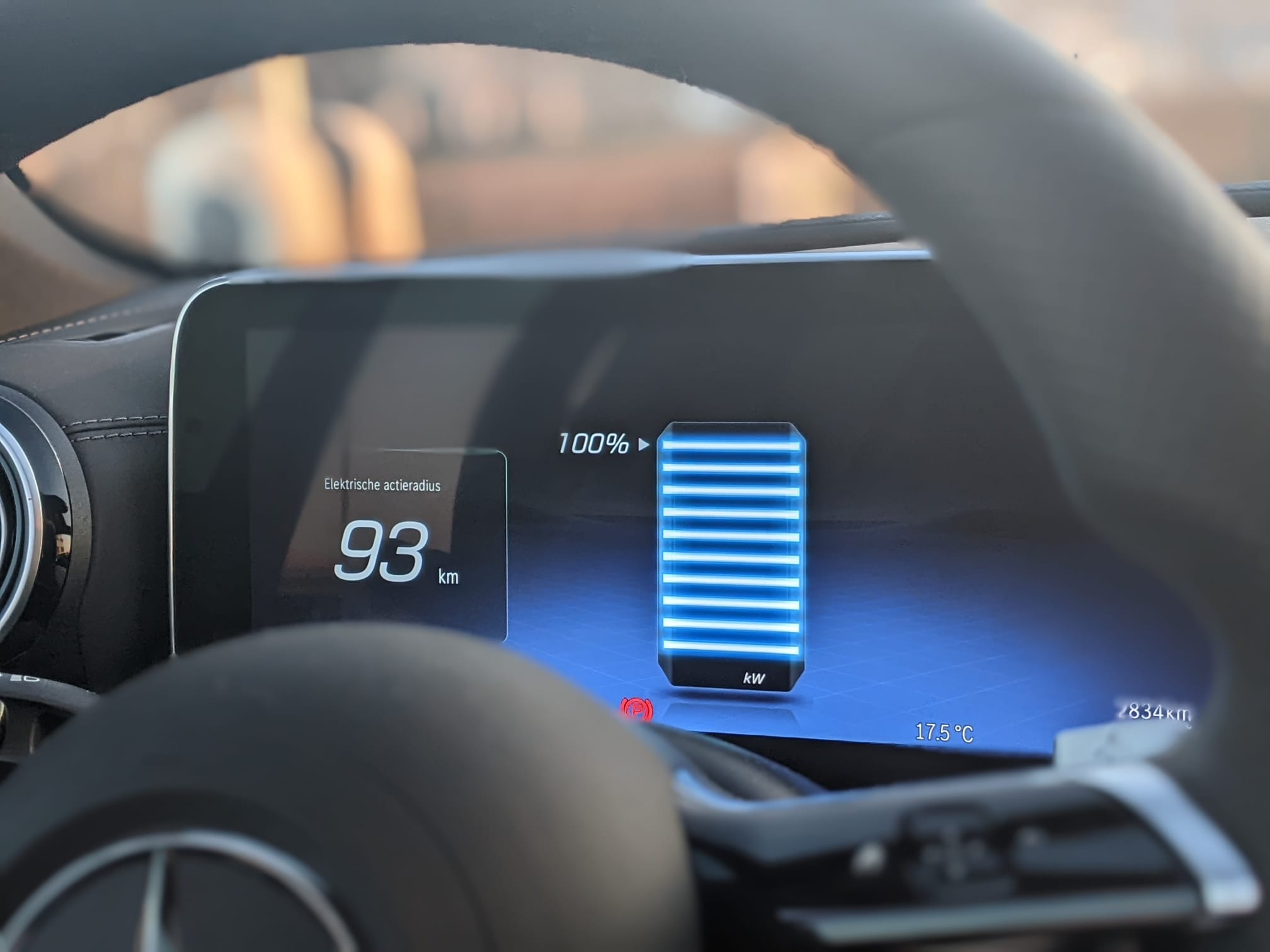 fast charging
Only during a longer trip to the east of the country do we not have enough on a single battery charge. Unfortunately, our test car is not equipped with the fast charging option, so we are forced to use the petrol engine. Our tip: check this option, because you will earn it back in no time. Even with current highway charging rates.
Anyway, the petrol engine can show what it has to offer. With a noticeable jolt in the drivetrain, the 2.0-litre four-cylinder comes to life in the middle of the highway. Not a nice place for a fuel engine to wake up to. Fortunately, the petrol engine does not make too much noise, but the peace that an electric motor brings has somewhat disappeared. You also miss the immediately available torque, but with 204 hp and 320 Nm you still have more than enough power to get going smoothly.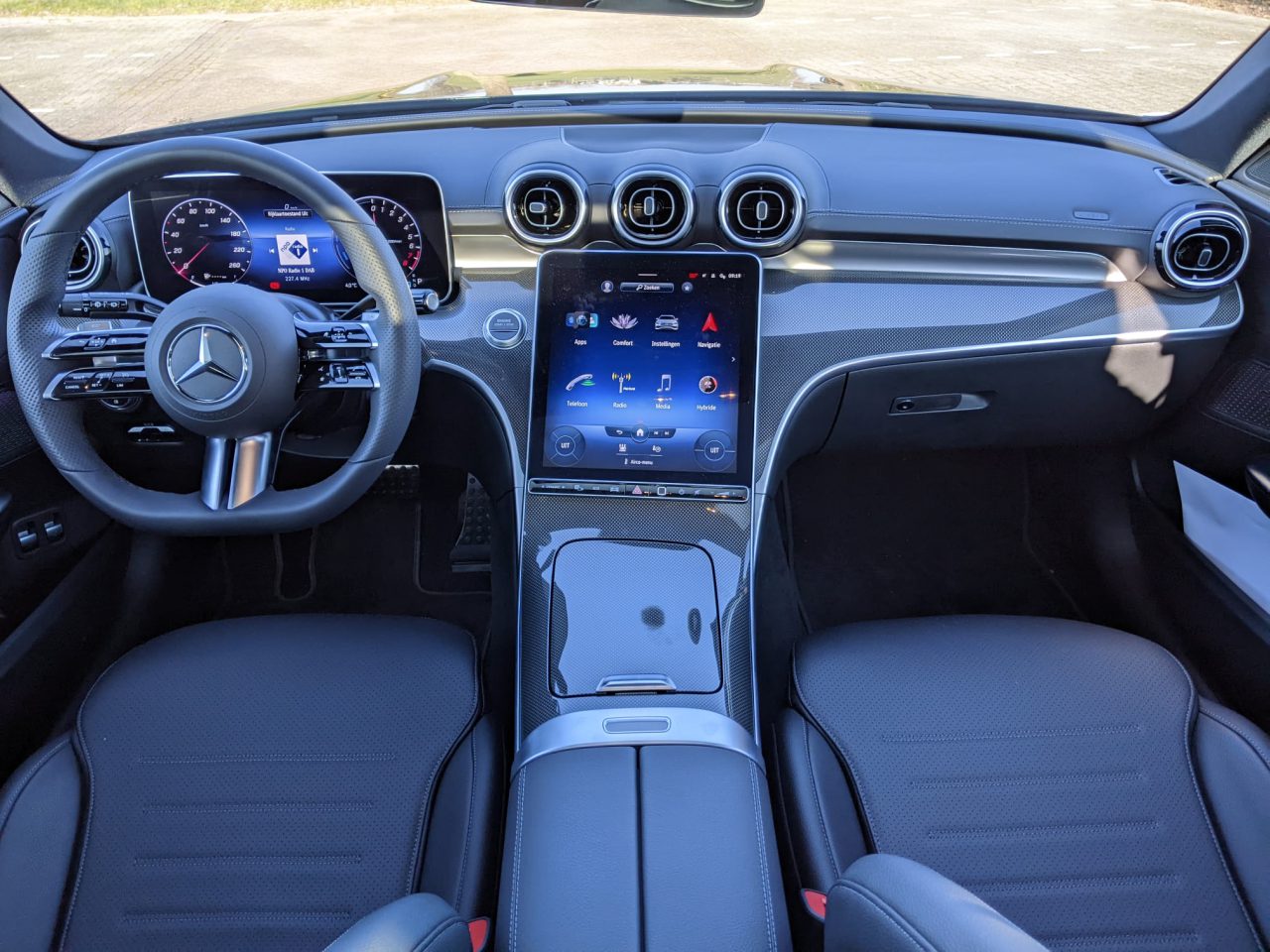 Regenerative braking
If the battery is empty, you can recover energy in several ways. For example, through regenerative braking. The car then brakes on the electric motor, which then acts like a dynamo. The energy that is released is stored in the battery pack. The brake pedal is then almost superfluous, but you do not come to a complete stop. You can adjust the degree of regenerative braking via flippers behind the steering wheel. The car can also decide for itself when to brake. It then uses navigation data, sensors and the traffic situation. For example, if you approach a roundabout, it brakes automatically. That takes some getting used to in the beginning, but in a busy environment it is quite nice that the car thinks along.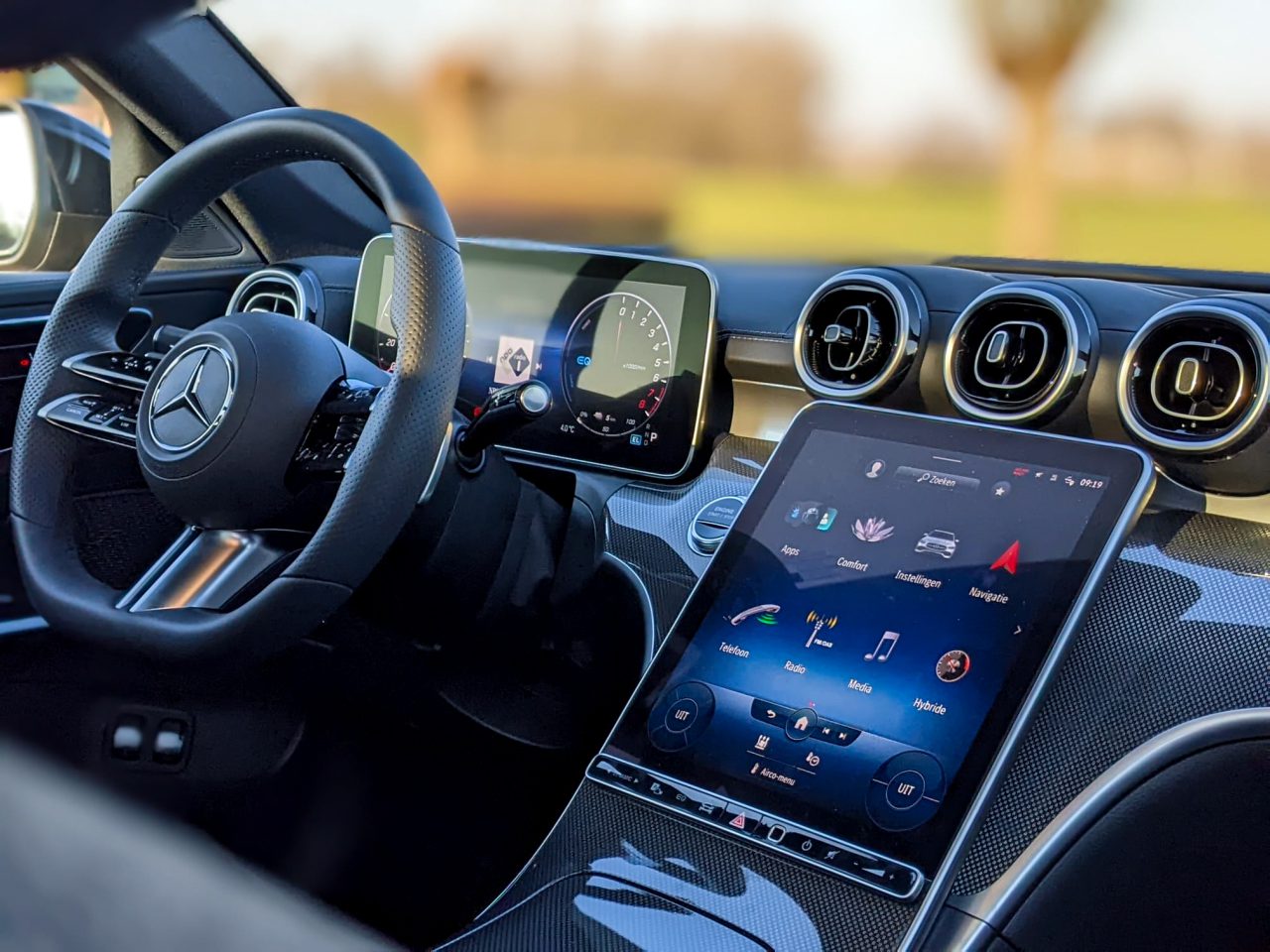 Comfortable car
The C300e is almost as comfortable as the regular C-Class , which is also an electrified car. The base C-Class is already a mild hybrid. Why the PHEV is a little less comfortable? The chassis is just a bit harder to absorb the extra weight of the gigantic battery pack. But make no mistake, it never gets uncomfortable. Mercedes-Benz even equips the plug-in hybrid with an air-suspended rear axle as standard. Where you do get in trouble behind, is in the luggage compartment. Due to the battery pack, you have to make do with 95 liters less space. 360 liters remain.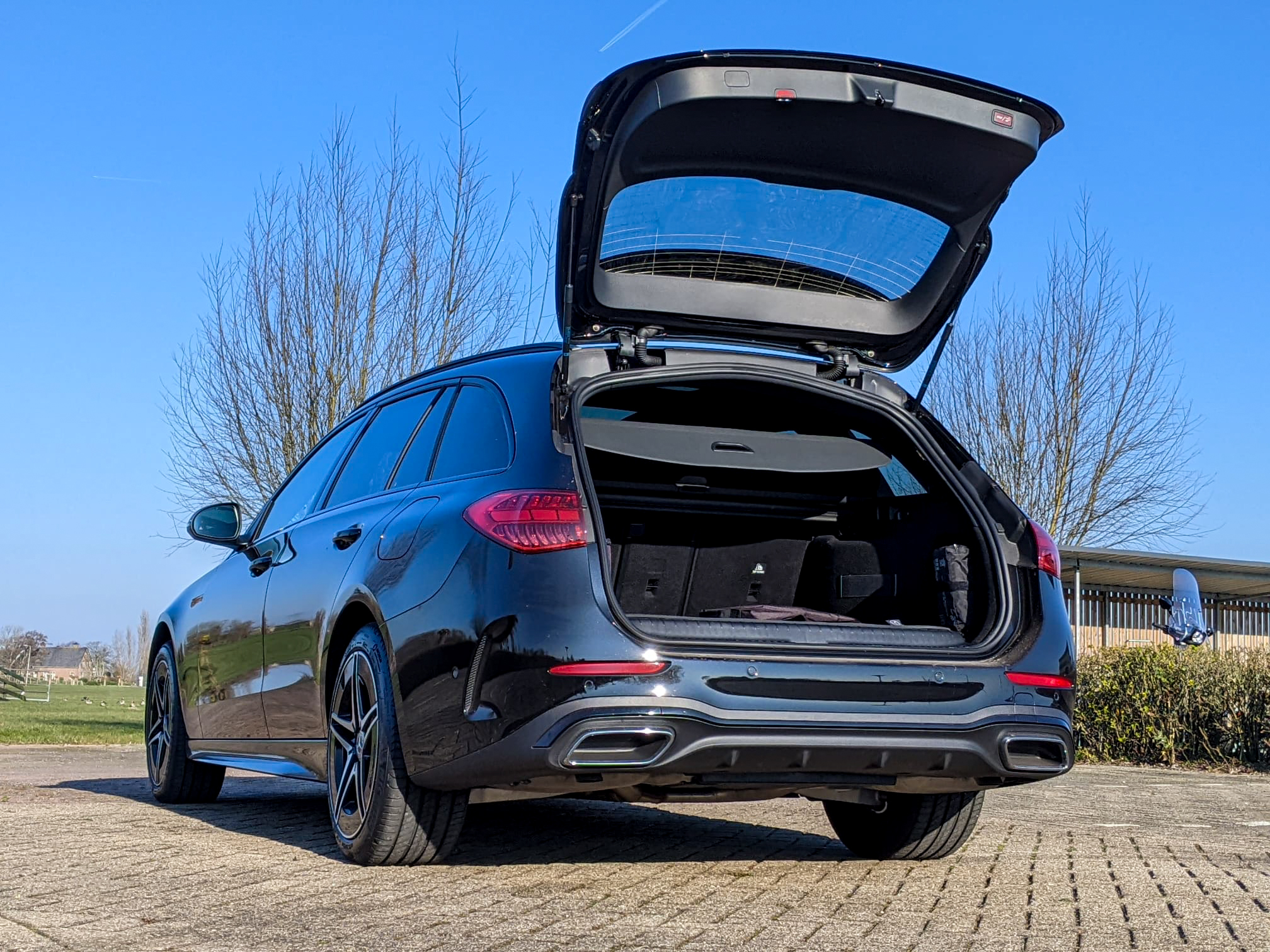 Prices Mercedes-Benz C-Class
You can drive the new C-Class plug-in hybrid from 56,062 euros. This is the Limousine. For the C 300 e Estate you pay a minimum of 57,538 euros. For comparison, for the entry-level — the C 180 — you pay at least 50,339 euros (Limousine) and 52,613 euros (Estate). Our test car is full of luxury extras and therefore has a consumer price of 64,187 euros.              
Also check out our test with the Mercedes-Benz C 200 mild hybrid