REVIEW – JEEP 4XE PLUG-IN HYBRID – MORE POWER FOR LESS MONEY
Do you like plugging in a Jeep?
When you think of Jeep, you quickly think of mud, adventure and growling petrol engines. The latter unfortunately makes some Jeep models – thanks to the Dutch tax system – very expensive in our country. But there is hope. Jeep's new 4xe models feature a powerful yet fuel-efficient plug-in hybrid powertrain. AutoRAI.nl investigated whether a PHEV Jeep is still a real Jeep in the Italian Alps.
BPM fine
You pay a high BPM fine in our country for cars with high CO2 emissions. There's not much you can do about it, that's the way it is. A tough Jeep is therefore very expensive in our country. But the automaker has found a solution, making the model range more affordable without having to sacrifice power.
Plug-in hybrid
Thanks to plug-in hybrid technology, the Jeep Renegade, Compass and Wrangler are suddenly extra interesting. Especially in the Netherlands. Not only because they can drive short distances electrically – up to 50 kilometers, WLTP – and have high power, but also because of the low BPM fine.
Especially with the Wrangler it saves a sip on a drink in terms of price. You can drive the 380 hp Wrangler 4xe from 80,690 euros. Still a considerable amount, but for a variant without electrification – and considerably less power – you previously had to pay at least 90,000 euros. Then you still had to start with the options list.
Co2 emissions
The BPM amount is much lower, because the CO2 emissions of the electrified Wrangler are significantly lower: between 79 and 94 g/km. The same story applies to the Renegade 4xe (36,990 euros) and Compass 4xe (39,990 euros). Both variants have more power than the regular petrol versions, while the BPM fine is up to five times lower. The price difference between the 150 hp petrol variant and the 190 strong Compass Plug-in Hybrid is only 800 euros. You'll get that after a few months.
380 hp
Enough numbers, what do you get for that money? The Wrangler 4xe features a 272 horsepower 2.0-liter four-cylinder, two electric motors – one on the rear axle, one in the transmission – and an eight-speed TorqueFlite automatic transmission. The electric motors are good for 145 hp and the total system power is 380 hp and 637 Nm. So not wrong. The PHEV can tow 1,508 kilos and can reach 100 km/h in just 6.4 seconds.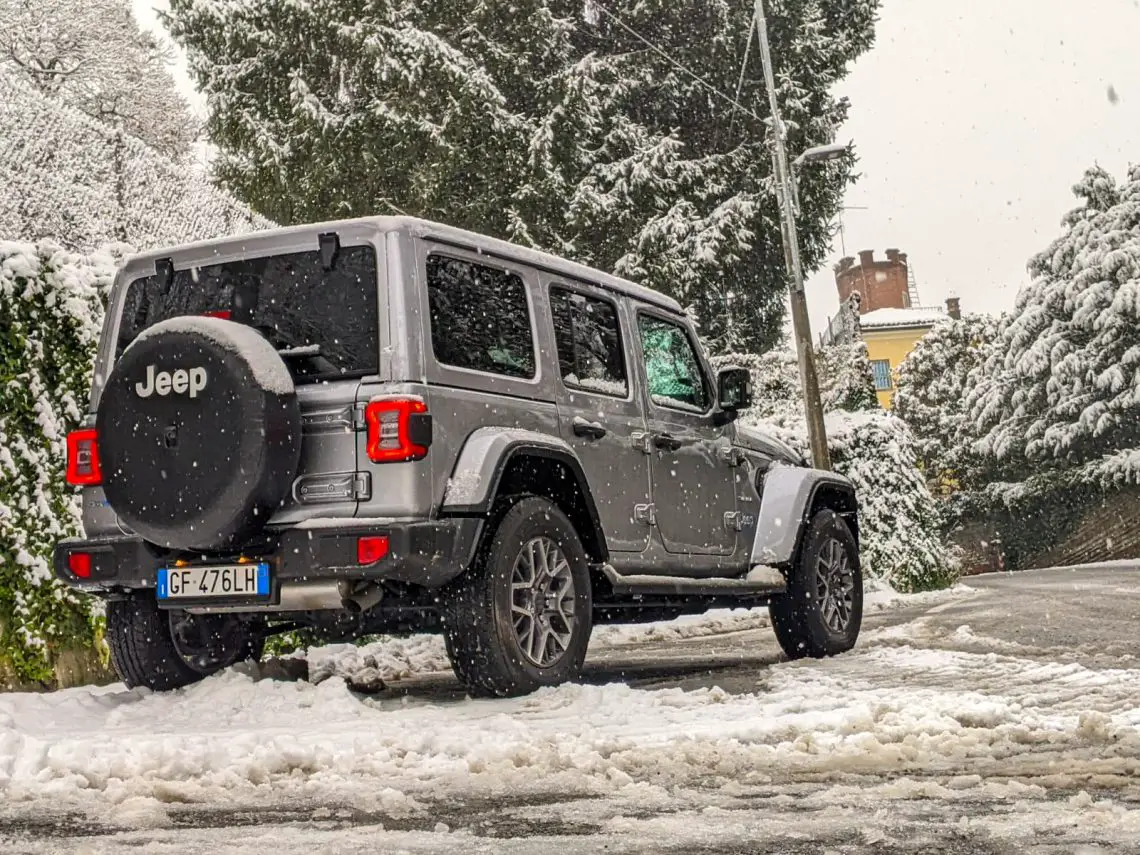 Range
For a quick sprint, it uses all available engines, but you can also drive entirely on the electric motor. It gets its energy from a 17.3 kWh battery, which you can charge via a plug and use regenerative braking. With a full battery you can officially drive 50 kilometers fully electrically, but rather count on 35 to 40 kilometers.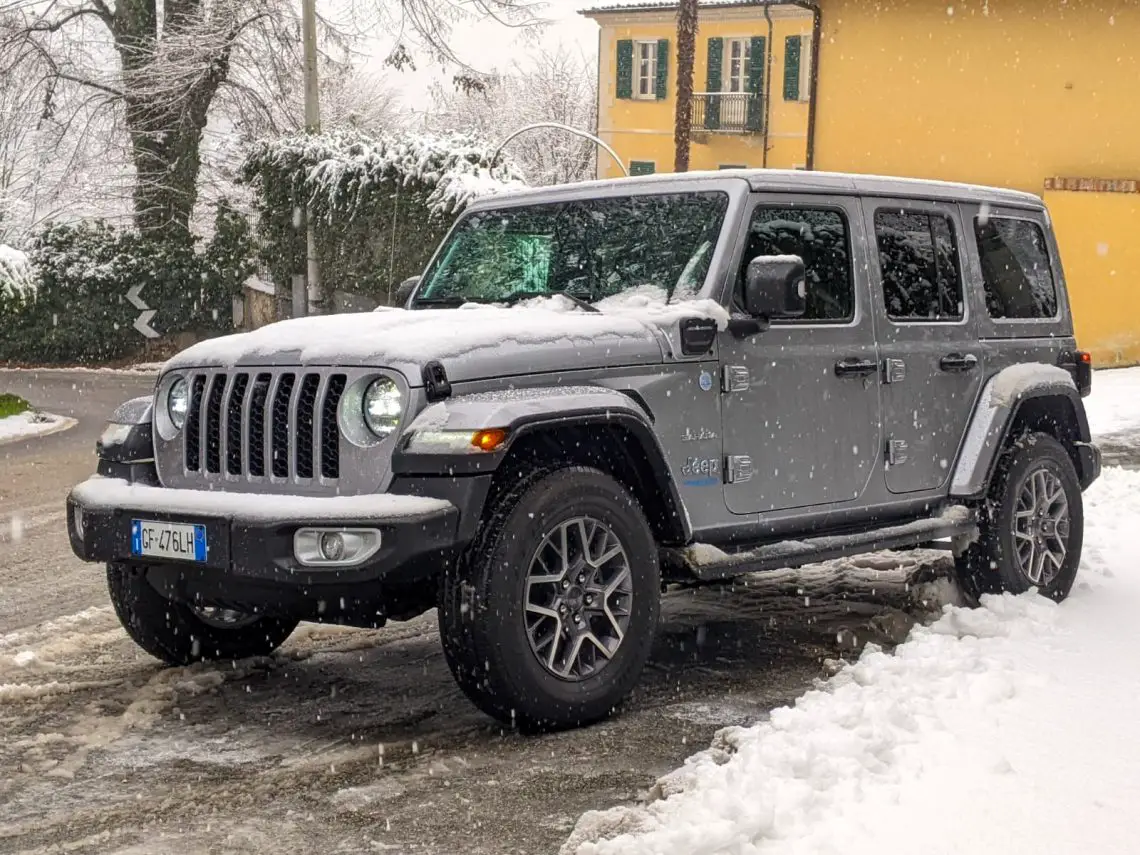 Dressed up thick
The Jeep Wrangler 4xe 380 Sahara that we test is the entry-level, but is already thick in the stuff. Parking sensors front and rear, various driver assistance systems, Alpine Audio system with 9 speakers and subwoofer, a digital instrumentation – it's all standard.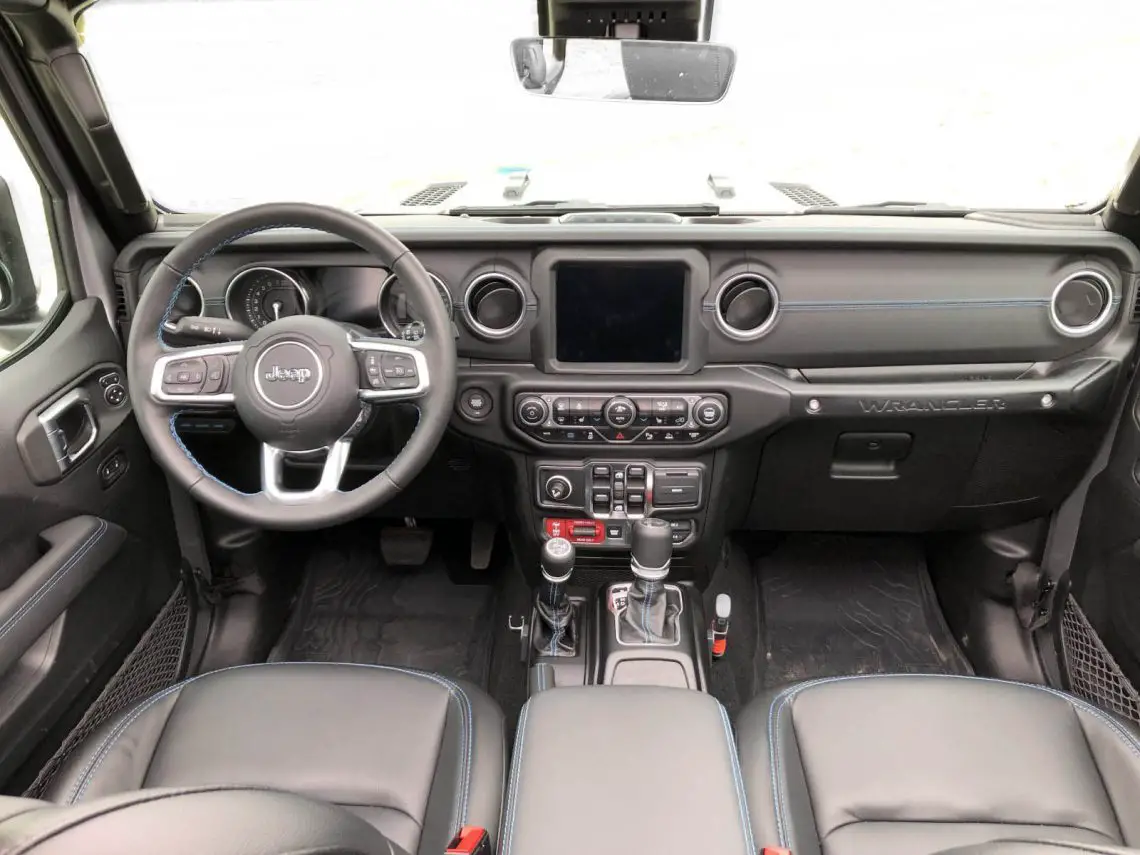 Blue accents
You can recognize the Wrangler 4xe – as long as it is not covered in mud or snow – by a lot of blue accents and 4xe logos. Just like a traditional Wrangler, you can remove the tailgate and roof panels and take all the doors off their hinges. To complete the safari feeling, you can fold the windscreen forward. Will you do this often in the Netherlands? Probably not, but it's nice to tell in the pub. If you do strip the Wrangler, you don't have to worry about the interior getting dirty. It is completely washable and has drain plugs to drain the water from the car.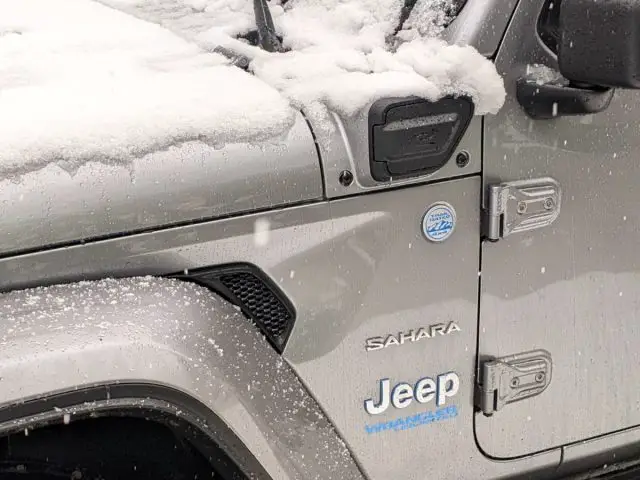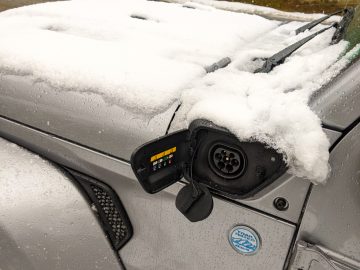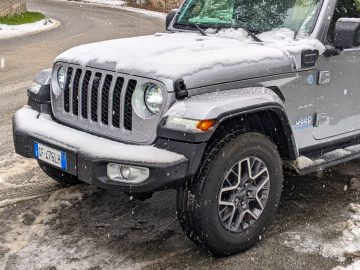 Taste the sum
How does that drive, such an electrified Jeep? The power is the first thing you notice. The instant torque from the electric motors provides powerful – yet smooth – acceleration. No petrol engine that first has to make a lot of speed, but just direct power – so that you are nicely pressed into your seat.
That's great if you like to be the first to leave the traffic light, but also if you have a large mud pool or solid hill in front of you. Moreover, you can dose the power very precisely. This is also nice during off-roading – where a little too much gas can sometimes have disastrous consequences.
Of course, the PHEV-Jeep is also equipped with a 4×4 system and different driving modes. This comes in handy when there's a thick layer of snow on the road, such as during our test drive in the mountains around Turin. Effortlessly we drive up white mountain roads full of steep switchbacks, as the snow piles higher and higher on and next to the Wrangler.
400 Nm
As soon as the battery is empty, the petrol engine automatically takes over from the electric motors. That goes without fits and starts and the machine is immediately involved. The petrol engine immediately provides a familiar Jeep feeling, but likes a sip. Not bad with a power of 272 hp and 400 Nm. A home charger is therefore really a must-have, so that you can charge the battery every day and do not have to wait until a charging station becomes available in the street.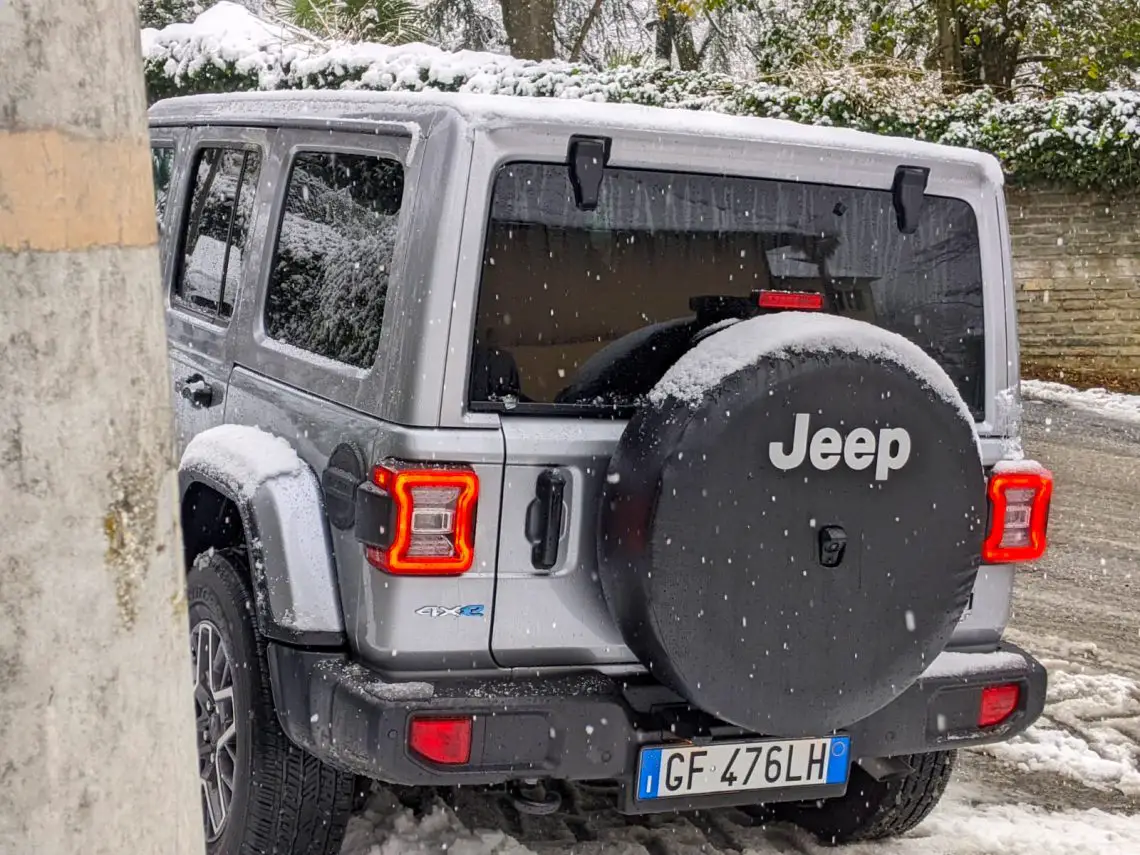 Conclusion
A PHEV Jeep makes you want more. More power for less money, what's not to like? Electric driving and off-roading go well together. We already found out when we drove the Renegade 4xe and Compass 4xe in the Netherlands. Off-roading is perhaps even more fun without a noisy petrol engine, because you hear the nature around you and you always have a good amount of torque available.
On the public road, the powerful driveline also provides a lot of fun and, not unimportantly, lower fuel consumption. However, the Wrangler was clearly not designed in a wind tunnel, which means that it regularly needs to be recharged. Otherwise you mainly drive around with an empty battery. The Compass and Renegede do better in that area.
As far as we are concerned, Jeep does not have to fear the future – in which electric driving will be the norm. In fact, we want a fully electric Jeep to come as soon as possible.