Review – BYD Dolphin (2023) – More fun than a Volkswagen ID.3 and MG4?
Who or what is BYD?
BYD has only recently entered the Dutch market. For a few years with buses and recently with cars. So chances are you are not yet familiar with the brand. Let us update you briefly. BYD – which stands for Build Your Dreams – is a manufacturer to be reckoned with. Why? Simple: it is not a newcomer, but a giant player with 600,000 employees. It builds and sells millions of cars a year. Not only do they build a lot of cars, they also make their own batteries. In fact, the company began as a battery manufacturer in 1995 and is now an expert in battery technology. According to rumors, even Tesla buys batteries from BYD.
Dolpin
With brand also puts the batteries in its own cars. In the Netherlands, the brand sells three models: the Han, Tang and the Atto 3. The latter is a compact SUV, which gets a hatchback brother in the Netherlands this year: the Dolphin. This model – like the BYD Seal – is part of the Ocean series. Among other things, BYD also has a Dynasty series of cars named after dynasties, such as the Han and Tang. The Dolphin is 4,290 mm long and 1,770 mm wide and has a wheelbase of 2,700 mm. It is a bit smaller than a Volkswagen ID.3, but a bit larger than an MG4. It also competes in Europe against the Renault Megane Electric.
Blade Battery
The Dolphin has a 60 kWh lithium iron phosphate battery. So no lithium-ion battery. BYD is extremely proud of this battery, which they call the Blade Battery. This is because it lasts longer, you can charge it to 100 percent full without any problems and it is very safe. BYD has shown in numerous demonstrations on YouTube that you can do the craziest things with the battery pack-such as pierce it with a drill-without it even tending to catch fire. Check out our video at the bottom of this article on how they do it.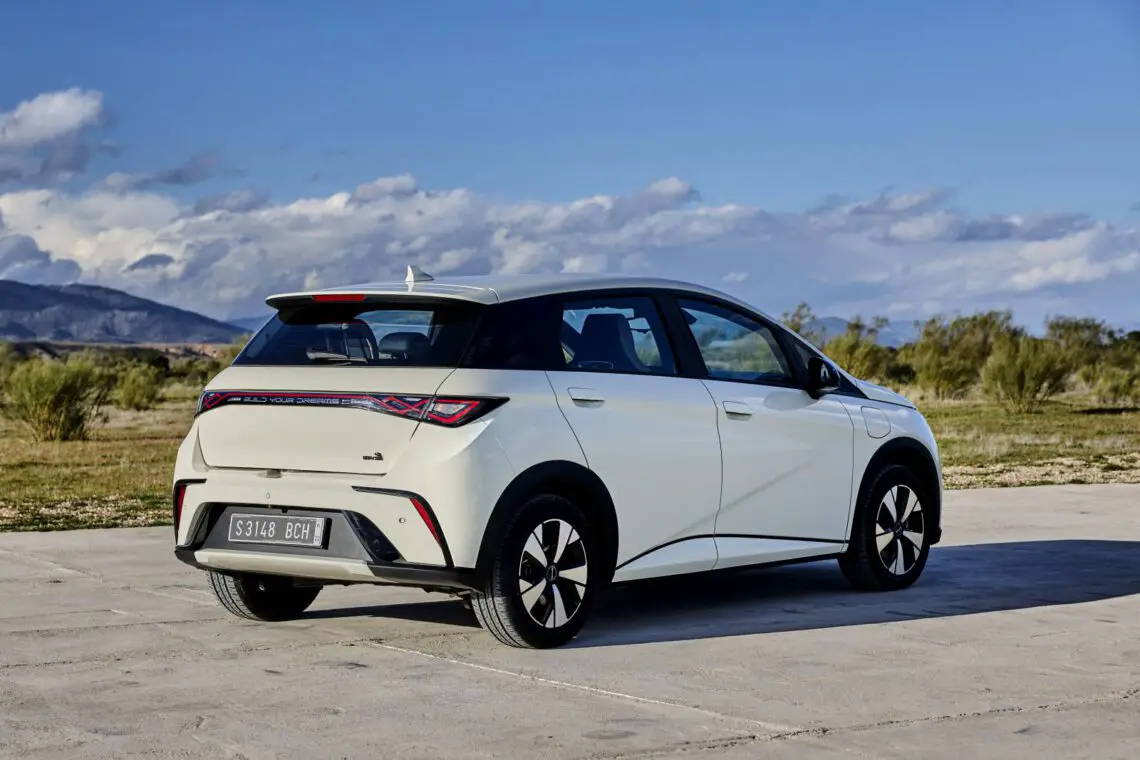 Range BYD Dolphin
The battery pack gives the Dolphin a range of 427 km (WLTP). Home charging can be up to 11 kW and at a fast charger it can handle 88 kW of charging power. According to the manufacturer, the battery can charge from 30% to 80% in 29 minutes. Thanks to V2L (Vehicle-To-Load) technology, you can also feed power back from the battery pack and power external devices. A heat pump is standard, so the range does not drop dramatically in winter. Later, another Dolphin with a smaller battery pack is likely to come to the Netherlands. We suspect this is a 45 kWh variant.
204 hp
On the rear axle of the Dolphin is an electric motor rated at 204 hp and 290 Nm. A 0 to 100 sprint is done in 7.1 seconds. The top speed is 160 km/h. The car features four driving modes: Sport, Normal, Economy and Snow. See that big screen below in the photo? At the push of a button, it turns 90 degrees to the right and suddenly stands upright. For that too, you just have to watch the video at the bottom of this article to believe it.
Space?
The interior seats five and is made of vegan leather. Nice and sustainable, in other words. The front sport seats give the car a sporty edge. They are heated and can be adjusted electrically in six directions for the driver and in four directions for the front passenger. Rear seat passengers have nothing to complain about, either. As in many electric cars, there is remarkable legroom in the rear. The rear seats can be folded down in a 60:40 ratio, expanding the 345-liter luggage compartment to 1,310 liters.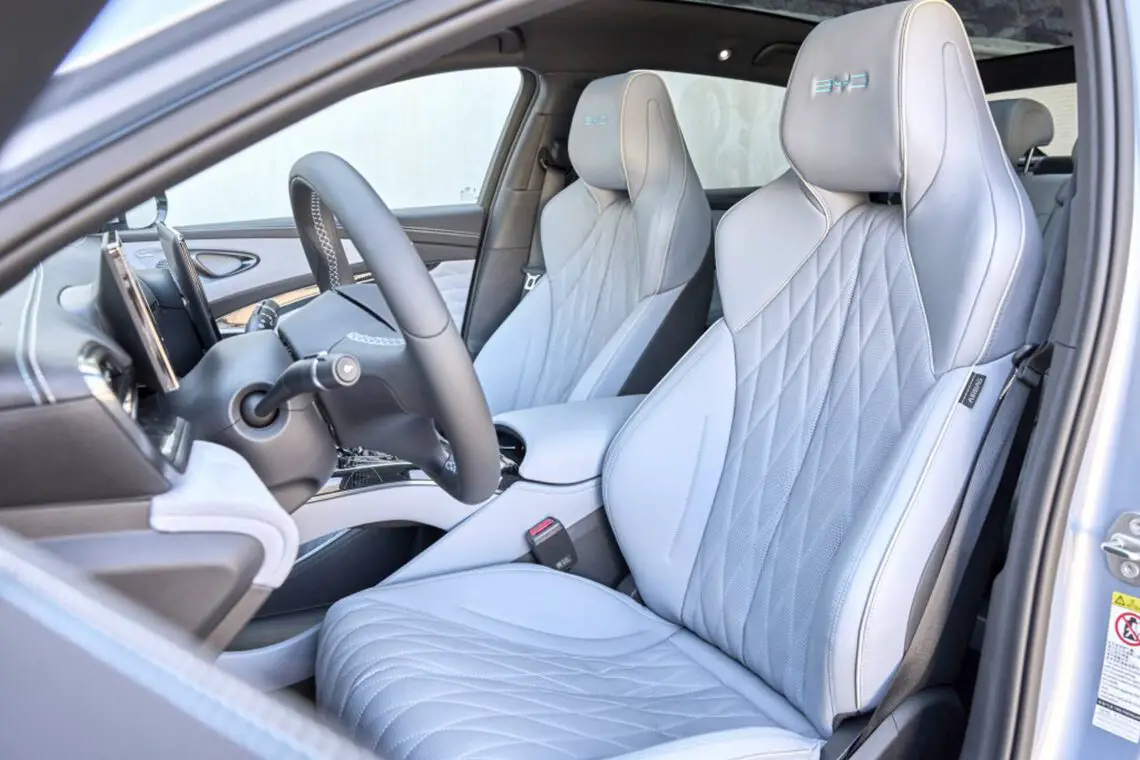 Where can you buy BYD?
The well-known Dutch importer of the Japanese car brands Toyota and Lexus is BYD's distributor in the Netherlands. So the Chinese benefit from a huge dealer network. Sales are conducted online, but there are now two flagship stores of their own, in Amsterdam and Rotterdam. Two more will be added this year. In cooperation with the Louwman Dealer Group, there are three service points, in Eindhoven, Arnhem and Groningen. That number will also be doubled this year. Prices of the Dolphin the brand will announce later. Expect something between 35,000 and 40,000 euros.
All specifications at a glance:
General Specifications BYD Dolphin (60 kWh) 
 
Dimensions (L/W/H) 
4,290/1,770/1,570 mm
Wheelbase
2,700 mm
Drive Type 
Front-wheel drive
Top speed 
160 km/h
Engine Power
150kW/204 hp
0-100 km/h acceleration time
7.1 (figure not yet final)
Wheel Size
16/17 inch
Electric range
427 km (WLTP combined)
Trunk volume
345/1,310 liters
Seats
5 
Battery type 
BYD Blade Battery (LFP) 
Rated power
60 kWh
Load capacity 
88 kW DC   
11 kW AC (3-phase) 
DC charging time (30-80%) 
29 minutes
Heat pump 
Standard 
V2L function 
Standard