Review: BMW M2 (2023), with greetings from Mexico
BMW M2 Coupe
A Mexican BMW M? Yes, of course! The new BMW M2 2023 will be built at the San Luis Potosí plant in Mexico, where BMW also produces the new BMW 2 Series Coupe. You won't notice much of that Mexican twist in this new sports coupe, by the way, although the car does have some Mexican temperament in it. In this review, we highlight all the details of the new M2, including the options available on this test specimen.
Retro design
The new BMW M2 looks nice and retro as far as we are concerned. Sleek lines and especially strongly flared wheel arches make this car a chunky appearance. The grille looks "normal" for a change. Or rather, like it used to be. Both body width and track width are significantly larger than those of the new BMW 2 Series Coupe. To look at it, it's like a BMW M4 "Compact. Also note such subtle details as the hood with powerdome, the beautiful side mirrors, hefty air intakes and four fist-thick exhausts. This is what you call a nice little bomb.
The new BMW M2 Coupe (2023), how good is it? – REVIEW – AutoRAI TV
The performance of the BMW M2 2023
The BMW M2 uses a 6-cylinder in-line gasoline engine with M TwinPower Turbo technology. Incidentally, the power source differs in only a few ways from the engine fitted in the BMW M3 and BMW M4. The 3.0-liter engine delivers its peak power of 338 kW (460 hp) at 6,250 rpm. That is 66 kW (90 hp) more than the previous M2. Maximum torque of 550 Nm is available from 2,650 to 5,870 rpm. The maximum speed is 7,200 rpm. In short, you may enjoy this powertrain to a fairly high rpm.
Shifting is standard with an 8-speed M Steptronic transmission. This transmission can also be controlled with shift paddles on the steering wheel. The automatic transmission shifts superbly, super smooth and very direct. Shifting gears yourself is not necessary, but it is incredibly fun.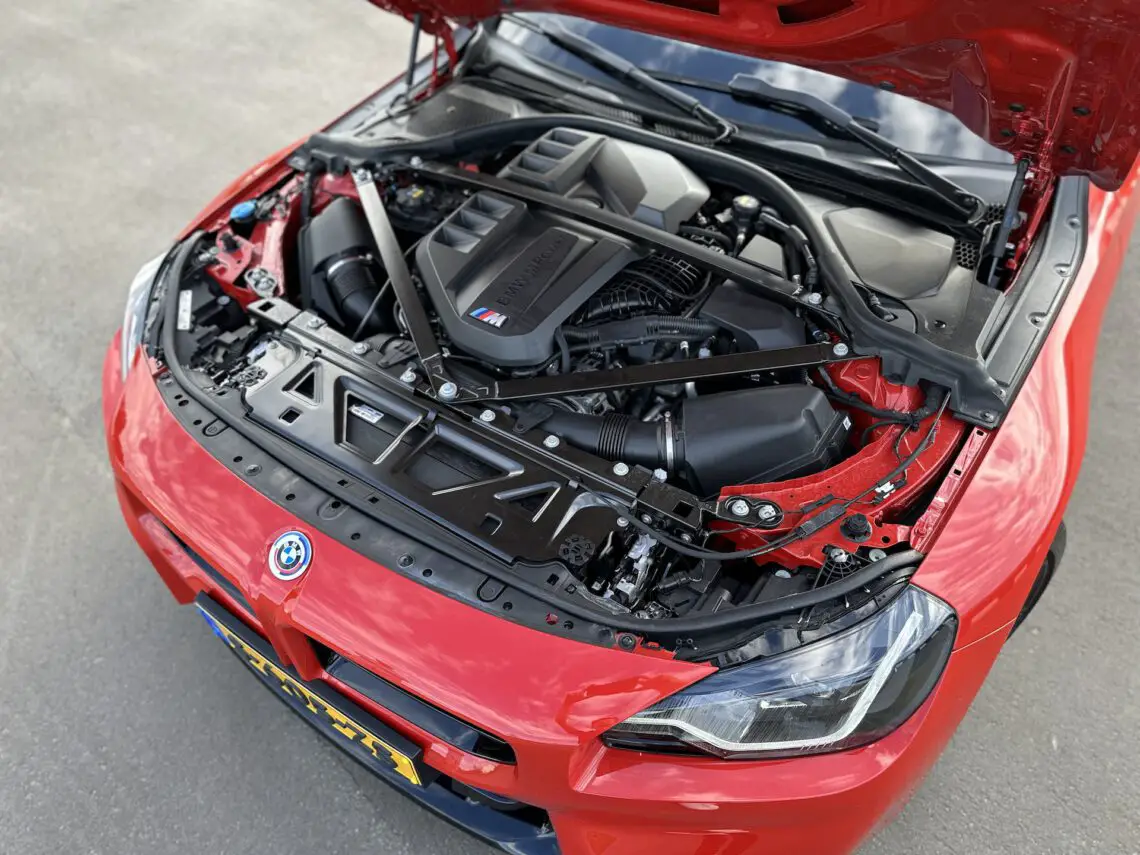 Also with manual transmission
Optionally, BMW provides a six-speed manual transmission with Gear Shift Assistant, which precisely determines the torque of engagement to prevent slippage during downshifts during braking in corners. The Gear Shift Assistant can be disabled in the M Setup menu. Opting for the manual transmission does have financial implications: you will pay a minimum of 119,375 euros, while the automatic version costs 114,938 euros. A price difference of about 4,400 euros. That has to do with higher CO2 emissions.
The performance of the BMW M2
The 0-100 time of the new BMW M2 is 4.1 seconds if you choose the M Steptronic transmission. With the manual transmission, it is 4.3 seconds. Acceleration from 0 to 200 km/h takes just 13.5 seconds with the M Steptronic transmission (manual: 14.3 seconds). Top speed is 250 km/h as standard. A higher top speed is possible. Explain in a moment. First on the options.
This BMW M2 features the following options:
M Toronto Red: 1,050 euros
BMW Individual Merino Schwarz leather upholstery: 1,983 euros
Heated steering wheel: 213 euros
M Headlights Shadow Line: 267 euros
M Compound braking system Red: 321 euros
Comfort Access: 587 euros
Seat belts with M striping: 321 euros
Additional tinted glass in rear door windows and rear window: 374 euros
Electrically adjustable seats: 1,014 euros
Driving Assistant: 908 euros
Active Cruise Control: 640 euros
Parking Assistant: 640 euros
Adaptive LED headlights: 695 euros
BMW Live Cockpit Professional: 1,120 euros
HIFI Harman Kardon: 587 euros
M Race Track Pack: 13,295 euros
BMW M Race Track Pack
By the way, the price of the BMW M Race Track Pack has gone up a bit in the meantime. Because on a new M2 Coupe, the package now costs 14,494 euros. You then get a carbon fiber roof (reduces the weight of the car by about 6 kilograms), M Carbon bucket seats, M interior moldings in carbon fiber and finally an M Driver's Pack. The M Driver's Pack increases the car's top speed to 285 km/h. By the way, the M Driver's Pack can also be installed at a later date. The carbon fiber bucket seats in particular make this package pricey, as the seats alone cost 5,338 euros. The M Carbon bucket seats are built around a carbon fiber reinforced plastic (CFRP) structure with openings in the side cheeks and headrest. They reduce the weight of the car by about 10.8 kilograms. Salient detail: the "M2" indicator in the headrest is illuminated.
This BMW M2 Coupe costs…
What does that cost below the line? This BMW M2 Coupe is yours for 139,059 euros, while the sports coupe is available from 114,938 euros. In Germany, it's from 75,400 euros (we shed a tear). In the Netherlands, unfortunately, you have to deal with almost 39,000 euros in BPM.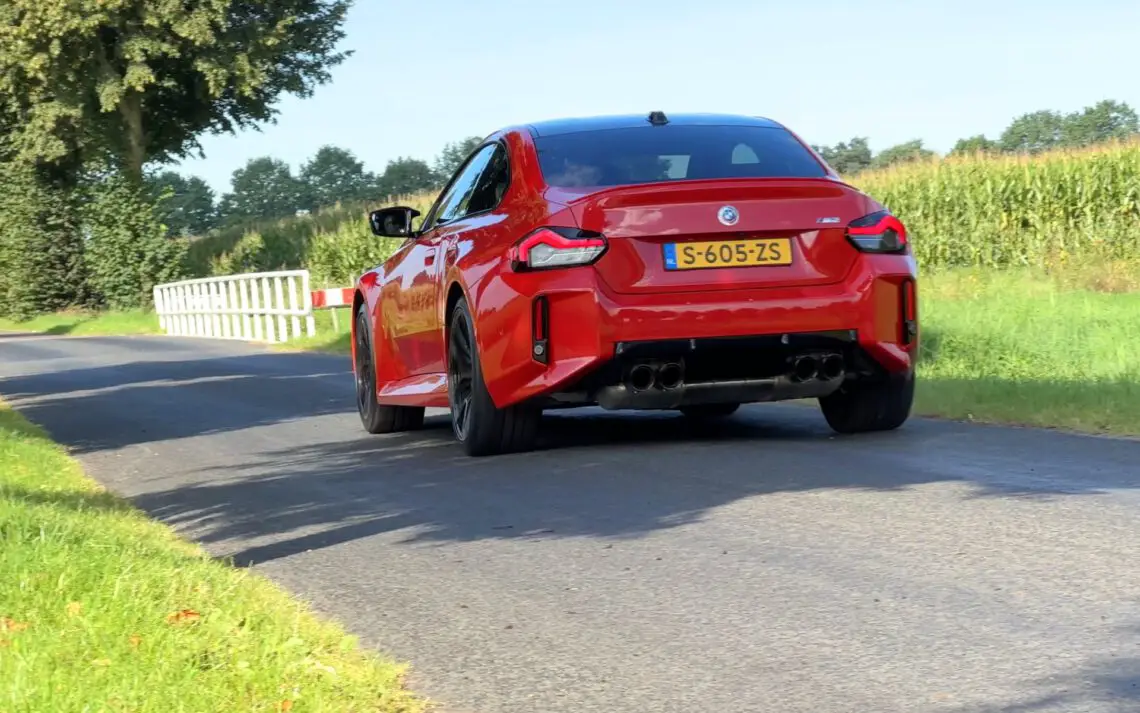 Worth every euro?
Although the car is on the pricey side, this M2 is still worth every euro. Because what a fun package this is. Rarely did we drive a car where the seat position can be set so low. As a result, you get an excellent feel for the car "with your butt. You know exactly what he is doing and can control him perfectly should the hind come to the side. The balance in the car is also excellent, giving the new M2 great confidence. This is also due to the good and especially wide rubber. Up front, the BMW M2 has tires with a width of 275 mm. At the rear, that's even 285 mm. In short: a lot of surface area that also allows you to angle considerably.
Lots of electronics
While driving, you also notice that this car has an extraordinary amount of electronics. Think ten-speed traction control system, M Drift Analyser and M Laptimer. Furthermore, this car also has several driver assistance systems. It is preferable to turn off the speed warning before departure, or it will sound continuous beeps. Lane Departure Warning is also a bit on the enthusiastic side, so again the advice is to turn it off for a while. Then you avoid resistance in the steering wheel when you take a nice turn. They are little things that you can live with just fine.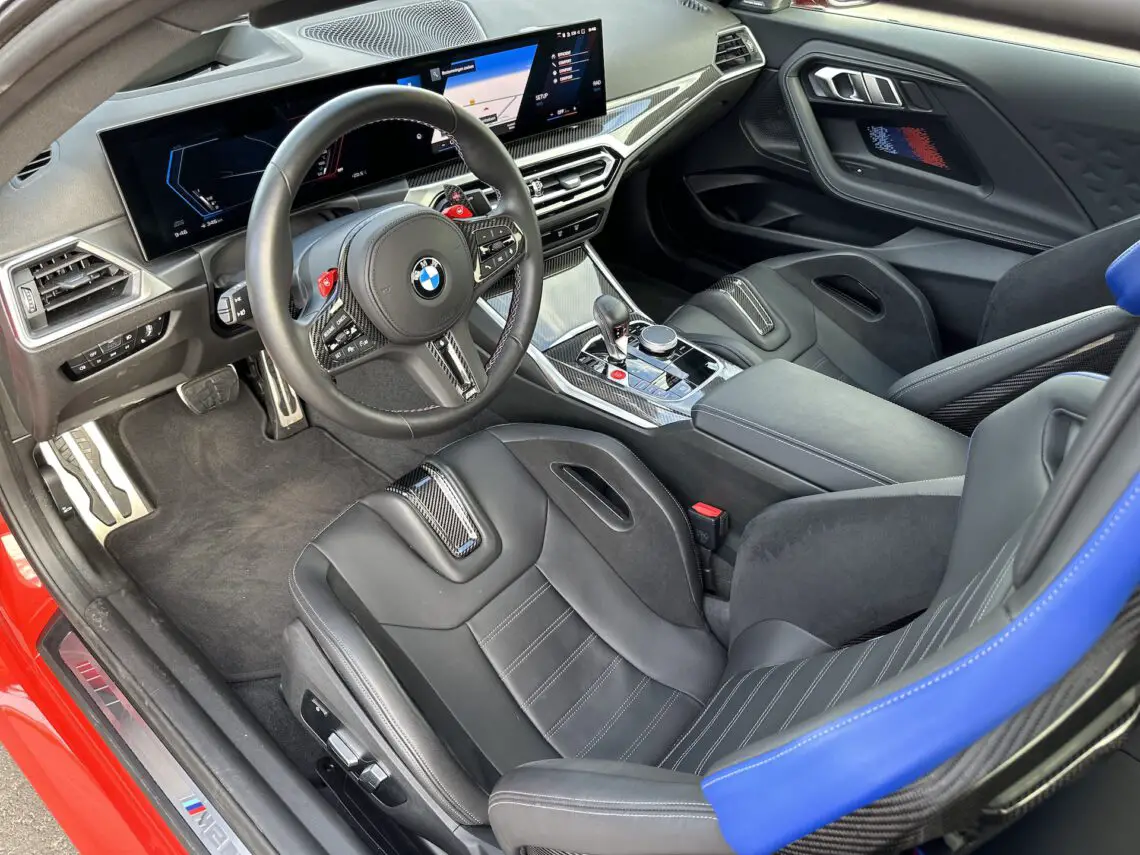 Excellent hardware
Furthermore, you notice by every fiber in your body that this new BMW M2 Coupe is correct. The hardware is fat: a wonderfully smooth six-in-line with fantastic soundtrack, the active M sport differential at the rear, electronically controlled dampers, M Servotronic steering with variable gear ratio and powerful M Compound brakes with six-piston fixed calipers up front and single-piston floating calipers at the rear. The car also has several driving modes: Road, Sport and Track. Weight distribution, by the way, comes out at 50:50.
Infotainment BMW M2
In terms of infotainment, the BMW M2 also makes considerable strides. You overlook a BMW Curved Display. Driver-relevant information – including the light indicating the shift moment – appears in a new graphic layout on the 12.3-inch Info Display. M specific widgets for car settings and tire condition are just two things that can be called up in the 14.9-inch Control Display. The optional BMW Head-Up Display also offers M-specific views. Do give yourself some time to get to know the infotainment system, because the amount of apps in particular impresses. Sometimes it takes quite a while to find the features you want. But in general, you can live just fine with BMW Operating System 8. Moreover, the graphics are very well done. Razor-sharp and clear.
Conclusion review BMW M2 2023
More complete than ever, but also better than ever. The new BMW M2 2023 has captured our hearts. Every ride is a celebration, even if you drive more leisurely. Because just from the view in the side mirrors – where the eye catches nice thick hips – we get particularly hot. The rest of the total package is also correct. Now to save up. And accept that this is probably the very last old school BMW M2 ever. Possibly a successor will get an electrified powertrain, though.