Photo credit: Classic Remise Berlin
Classic Remise Berlin (there is also a branch in Düsseldorf) is located in a former streetcar depot from 1913. Basically, Classic Remise is a storage facility for (exclusive) vintage cars, but it offers much more than just safe storage. Similarly, there are specialized workshops, dealers and stores for a variety of things around cars. There is also a beautiful classic-style restaurant with vintage cars in the dining room. Finally, there are a beer garden (open in summer) and several spaces for events.
Display cases for 1:1 cars
Upon arrival, there is plenty to see on the outside grounds alone, in the form of vintage cars from visitors and customers alike. Inside, you quickly become impressed. On the left are "open and exposed" some relatively mundane classics. On the right is one exclusive car next to another, safely stored in a sort of display case for 1:1 cars. It is a two-layer automatic parking system, but with a glass enclosure around it so the cars are both protected and remain visible. The content is impressive.
Very impressive collection
Five minutes after entering, we have already seen three Lancia Stratos', including a rally version. On the left is a Mercedes-Benz 190 E in racing trim (replica, but still beautiful), on the right our eye already catches an early Lamborghini Murciélago, a Mercedes-Benz 300 SL and a Ferrari 275 GTB. Once we turned around again, we came face to face with an impressive classic truck equipped to transport Riva yachts. Opposite it again is a 1940s electric truck.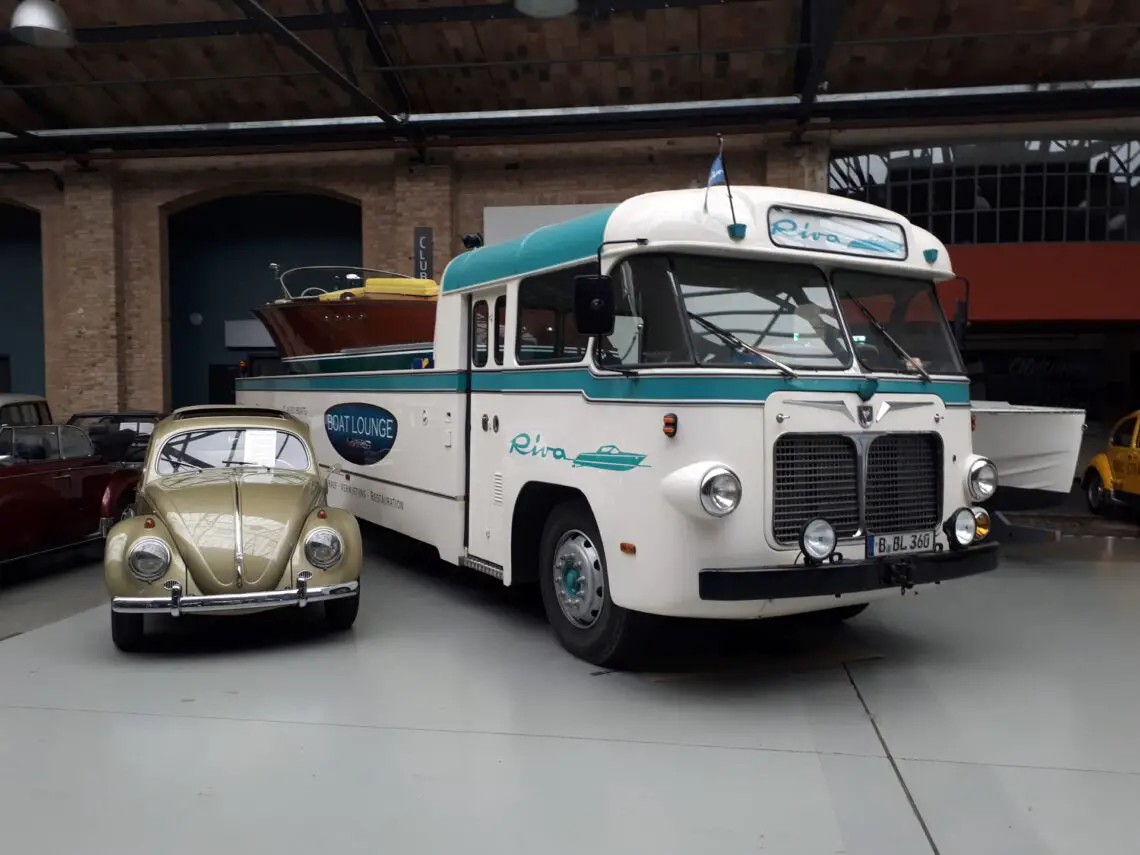 There are also modern cars here. How about a Bugatti Veyon, Jaguar F-Type Project 7, a Ferrari LaFerrari standing fraternally next to an Enzo or no less than two Ford GTs of the latest model? Or really rare cars like an Alfa Romeo 6C 2500 Super Sport Villa d'Este, Alfa Romeo 6C 2500 Super Sport Villa d'Este or Champion 500G. We could go on like this for a while. We have only just entered and there are many more corridors. In short, be sure to check out the photos at the bottom of this article.
Luxury offices
On the outer left edge are some upscale offices, with classic interiors, often including exclusive vintage cars. For example, these offices house the aforementioned dealers, as well as appraisers and even a vintage car rental company. Unfortunately, the offices and their contents are not allowed to be photographed, but impressive it certainly is.
Stores in Classic Remise
In the middle of the depot hall you will find the diverse stores. At one you will find parts, at the other accessories and clothing. Of course, a miniature car store is not missing either. Unfortunately, all the stores were closed during our visit, or at least no employee was present.
Specialized workshops
Seen from the entrance on the right, you will find the specialized workshops, neatly arranged by theme. There is a Mercedes-Benz workshop, one for Porsches, an Italian or British specialist, and so on. So you can not only store your classic car here, but also have it maintained to perfection.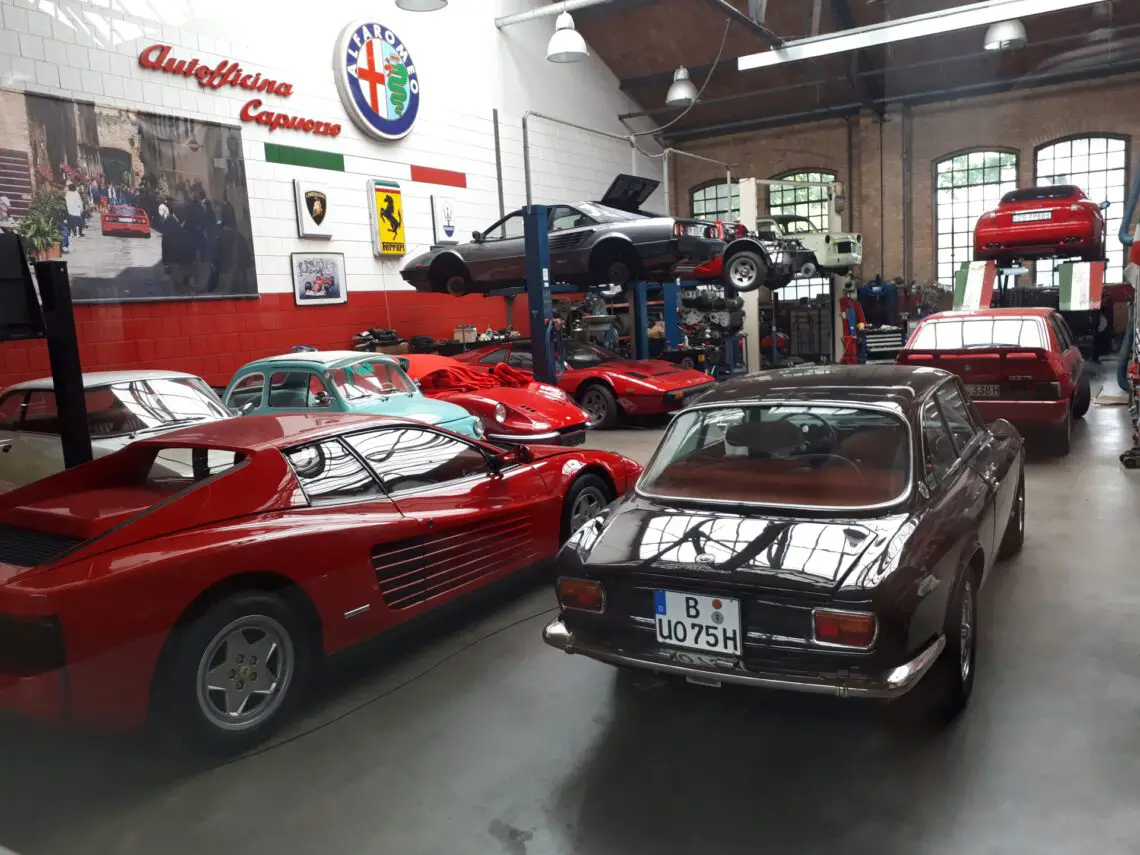 Free Entrance Classic Remise
We went to Classic Remise Berlin because we happened to be in the area anyway, but now that we've been there we think it's a "must see" for any car enthusiast visiting Berlin. Moreover, a visit to Classic Remise is free too. It is open daily, from 8 a.m. to 8 p.m. (from 10 a.m. on Sundays). The restaurant and some internal stores have different opening hours and visiting them is sometimes by appointment.
There are also guided tours, where you can get additional information and also visit some places that remain closed to regular visitors, such as the workshops. Classic Remise Berlin is located at Wiebestraße 36-37, in the Berlin-Moabit district, in a location that is also easily accessible by public transport. See also www.remise.de.
Photo report Classic Remise Berlin
Below is a photo impression of what Classic Remise Berlin has to offer. We deliberately call it an impression, because despite the large number of photos, there is still plenty we didn't photograph. There is so much beauty and exclusivity here, you can keep busy photographing….