MINI John Cooper Works Countryman is fat performance SUV
Powertrain MINI John Cooper Works Countryman
The new MINI John Cooper Works Countryman uses a 2.0-liter Twin Power Turbo four-cylinder in-line engine. Optimized pistons, connecting rods and engine mounts give this powerplant a lively character, according to MINI. The block also has two turbos and throttle-less air intakes. The result? The gasoline engine delivers 221 kW (300 hp) and 400 Nm of torque, good for a 0-100 sprint of 5.4 seconds and a top speed of 250 km/h. ALL4 all-wheel drive is standard.
New JCW logo
The MINI John Cooper Works Countryman is the first model to feature the new John Cooper Works (JCW) logo in a classic color scheme of black, red and white. Other features include aerodynamically optimized 19- and 20-inch JCW wheels, sportier bumpers and the new MINI LED headlights with light tubes in JCW Signature Mode. The front also features the new octagonal grille in high-gloss black and the new tricolor JCW logo. Also check out the C-pillars finished in Chili Red and the roof in the same color (also available in Jetblack). The model also features Chili Red-colored brake calipers and a sport exhaust system with active valves. The body color in the photos is called Legend Grey.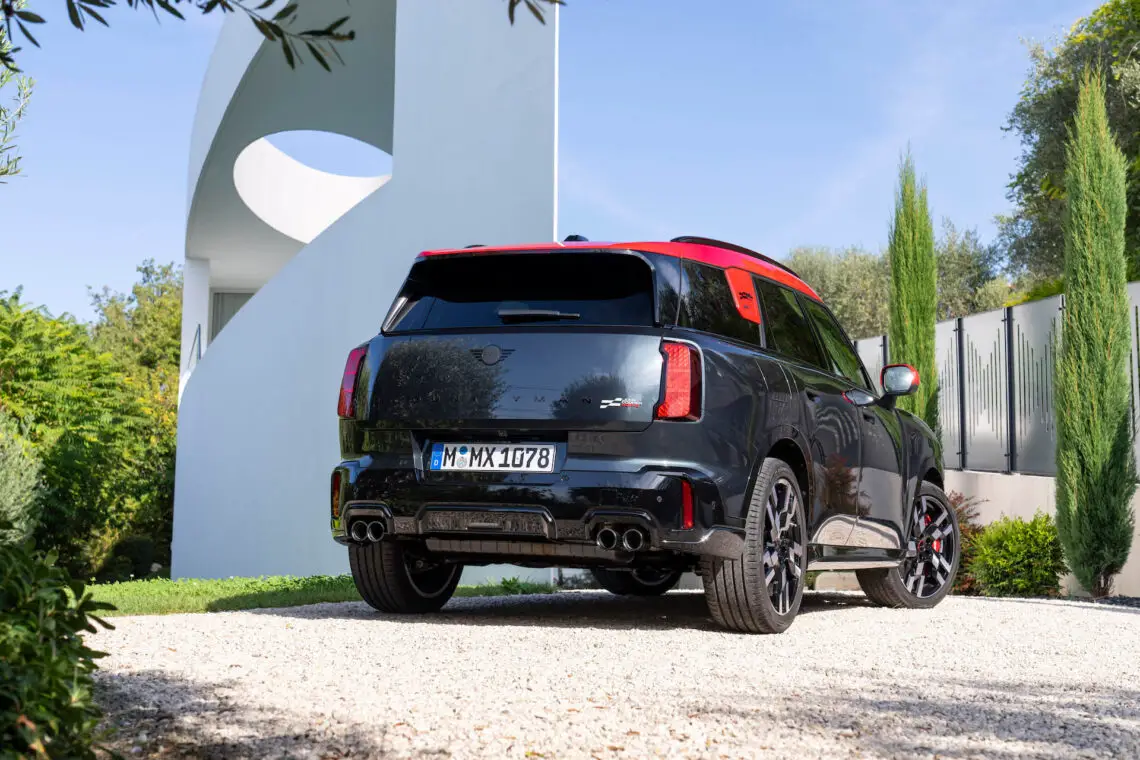 Interior MINI John Cooper Works Countryman
The new MINI John Cooper Works Countryman has a sporty interior. Notable are the vertical door handles and air vents in the upper section. The red and black color scheme on the dashboard, door panels and JCW sport seats is a nod to MINI's racing heritage. The dashboard is finished with two-tone fabric made from recycled polyester. The rear seat can be slid over a distance of 13 centimeters and it can be folded down separately, increasing the capacity of the luggage compartment from 460 liters to 1,450 liters.
Go-Kart Mode
The toggle switches on the MINI "toggle bar" control all driving functions. The central high-resolution OLED touchscreen provides access to all operating functions. Here you can also select the MINI Experience Modes to get the desired ambience in the interior with specially designed ambient lighting and sounds. Go-Kart Mode offers a sporty driving feel, emphasizing the engine sound. The MINI projector behind the OLED touchscreen is used to embellish the dashboard with atmospheric color schemes and patterns that match the Experience Mode selected.
Market launch and consumer price.
The MINI John Cooper Works Countryman will arrive at dealerships in the Netherlands in the first quarter of 2024. The price? That comes out to 76,990 euros, of which 22,439 euros bpm (The Hague says thank you) and 9,241 euros VAT.