MG5 Electric: will this be the hit of the year?
It is quite frustrating if you want to drive a fun, practical electric car with an average income. After all, many new electric models fall into higher classes and are unaffordable for the general public. MG is targeting the middle class with fully electric models that offer amazing value for money. The MG ZS EV in particular makes a big impression in that regard.
It is not for nothing that MG is one of the fastest growing car brands. The brand has only been active in Europe since October 2019, but in 2021 sales tripled to 52,546 cars and there are already 400 dealers active in 16 European countries. We already knew that MG is very ambitious. But success only comes when the models catch on with the general public and that seems to be happening.
Now MG shows all European superpowers with the first affordable electric station wagon with all the features you expect from a station wagon from the C-segment. The new MG5 Electric is 4.60 meters long and has a trunk of 479 liters, which grows to 1,367 liters with the rear seats (60/40) folded. This makes the MG5 Electric a typical family car with enough space for the family, comparable to an Opel Astra Sports Tourer, for example. Furthermore, there are 27 storage compartments in the interior, the roof can carry 75 kg and the maximum towing weight is 500 kg. This means that the MG5 Electric is suitable for a roof box and bicycle carrier.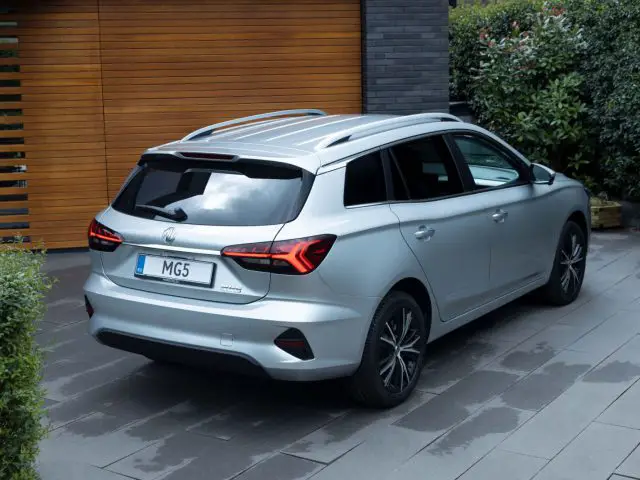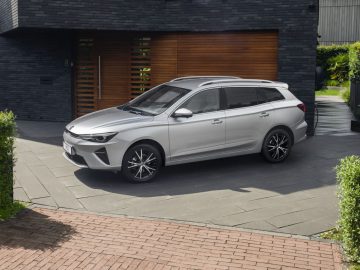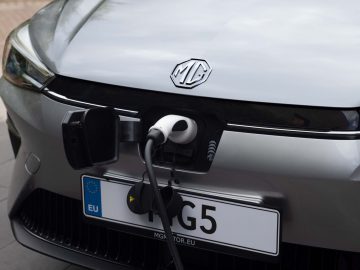 Two battery versions
The MG5 Electric is initially available with a 61.1 kWh battery (Long Range). It has a range of 400 km (WLTP) and an electric motor that produces 115 kW (156 hp) of power and 280 Nm of torque. At a later stage, you can also opt for the slightly more affordable 'Standard Range' with a 50.3 kWh battery and a range of 320 km (WLTP). Despite the smaller range, it is slightly more powerful with an engine power of 130 kW (177 hp).
Also not unimportant: all versions of the MG5 Electric can charge at a (public) AC charging point with a capacity of up to 11 kW. They are also suitable for fast charging (DC) with a capacity of up to 87 kW, with which the battery can be charged to 80% in approximately 40 minutes. This means that the station wagon, built in China, meets all contemporary standards.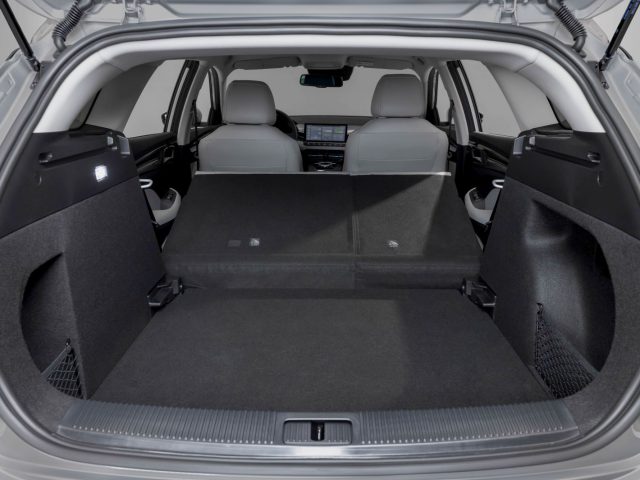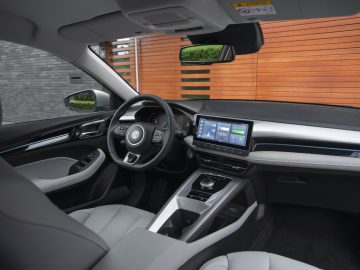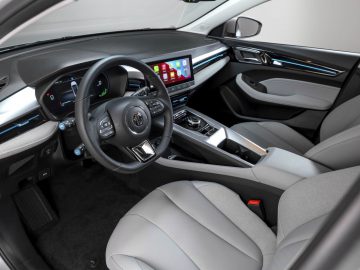 Two versions
As with all MG models, the range of the MG5 Electric has been kept as simple as possible. In addition to the two battery variants, there are two trim levels (Comfort and Luxury) and four exterior colors (white, black, red and silver-grey) to choose from. It is expected that most customers will opt for the Comfort version, as it is already quite fully equipped.
You get air conditioning including a PM2.5 air filter, LED headlights, LED taillights, heated front seats, parking aid, a 7-inch digital instrument cluster, a leather-wrapped multifunction steering wheel, 16-inch alloy wheels and keyless entry. In terms of safety, you can count on nine intelligent driver assistance systems, including Adaptive Cruise Control, Front Collision Warning with Automatic Emergency Braking, Lane Keep Assistance and Traffic Jam Assistance.
If you opt for the more expensive Luxury version, you get all the amenities of the Comfort including climate control, 360-degree parking camera, automatically dimming interior mirror, electrically adjustable driver's seat with lumbar support, artificial leather seat upholstery and 17-inch alloy wheels.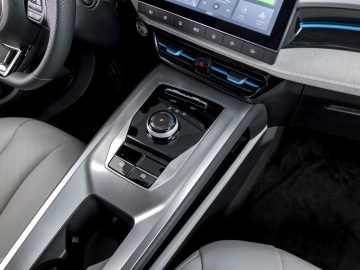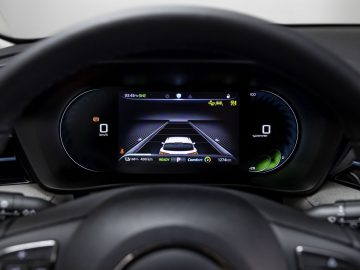 MG iSMART Lite
Modern infotainment should of course not be missing these days and they know that at MG too. That is why every MG5 Electric is also equipped with MG iSMART Lite as standard. This newly developed system is operated via a 10.25-inch touchscreen and has built-in navigation, Apple CarPlay, Android Auto, Bluetooth, four USB ports and DAB+ digital radio. MG iSMART also connects to a smartphone app that allows you to remotely control various vehicle functions and set and monitor the charging process from the comfort of your home.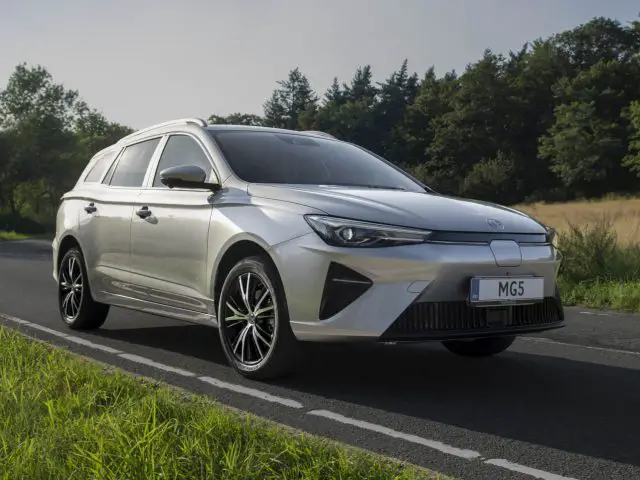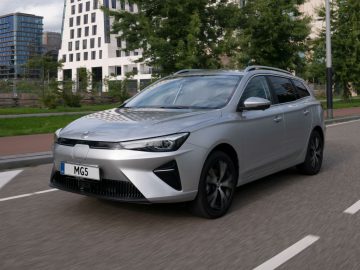 Vehicle-to-Load
Also funny to mention is the Vehicle-to-Load system (V2L). Allows the battery to supply energy to an external electrical device. V2L uses a charging cable with a type 2 plug that fits into the car's charging socket on one side and a power strip with household outlets on the other.
The V2L system offers a charging power of 2,200 W and can power all kinds of electrical appliances. Think of an air pump, kettle, cool box, e-bike, laptop, electric scooter and so on. You can even charge another electric car, for example to help an EV driver if it threatens to become stranded with an empty battery. The V2L system is standard for the MG5 Electric and we also know it from the MG ZS EV and MG Marvel R Electric.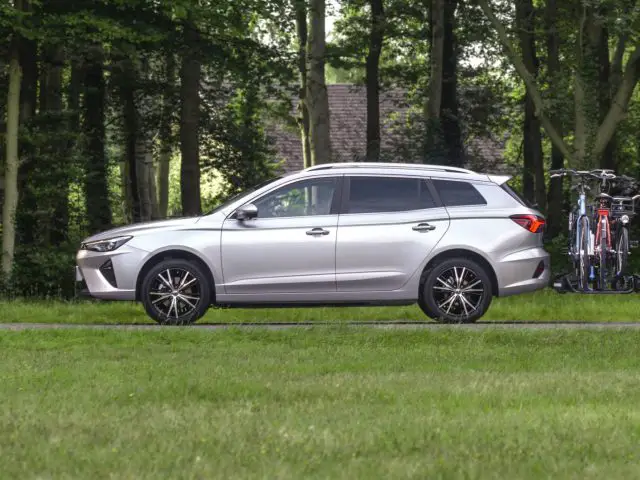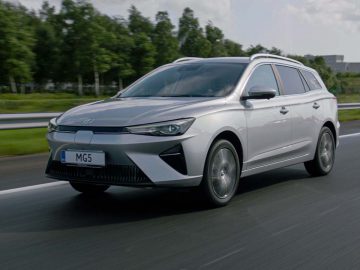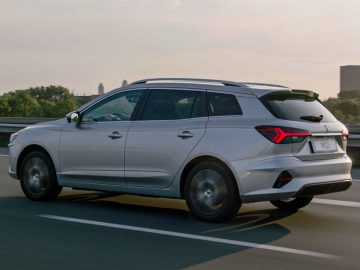 Prices MG5 Electric
The new MG5 Electric will be available at Van Mossel's Dutch MG dealers from March 2022. It is the fourth MG model in the line-up, alongside the MG EHS Plug-in Hybrid, the recently redesigned MG ZS EV and the MG Marvel R Electric. The prices below include 995 euros delivery costs.
MG5 Electric Standard Range Comfort – 33,985 euros
MG5 Electric Standard Range Luxury – 35,485 euros
MG5 Electric Long Range Comfort – 36,985 euros
MG5 Electric Long Range Luxury – 38,485 euros