Mercedes-AMG C 63 S E Performance: four-cylinder powerhouse
Gamechanger
Mercedes-AMG says the following about this new generation performance C-Class. "The new Mercedes-AMG C 63 S E Performance is a gamechanger in AMG's 55-year history. It brings the latest hybrid technology from motorsport onto the road with know-how from Formula 1. The combined system power and combined system torque are among the best in the segment."
Big words. So is the new Mercedes-AMG C 63 S E Performance really that special? Well, actually, yes. On the powertrain, we will go into more detail in a moment. At least know that Mercedes-AMG supplies the model as a Limousine and Estate.
Variable four-wheel drive
For the first time in a C 63, fully variable all-wheel drive AMG Performance 4Matic+ is used to transfer power to the road. This system also includes a Drift mode for even more driving pleasure. Active rear axle steering is standard for increased maneuverability and a shorter turning radius.
Of course, the Mercedes-AMG C 63 S E Performance looks incredibly thick. Flared wheel arches, sportier bumpers, hefty AMG wheels, a sport exhaust system and extensive AMG treatment of the interior add to the appeal.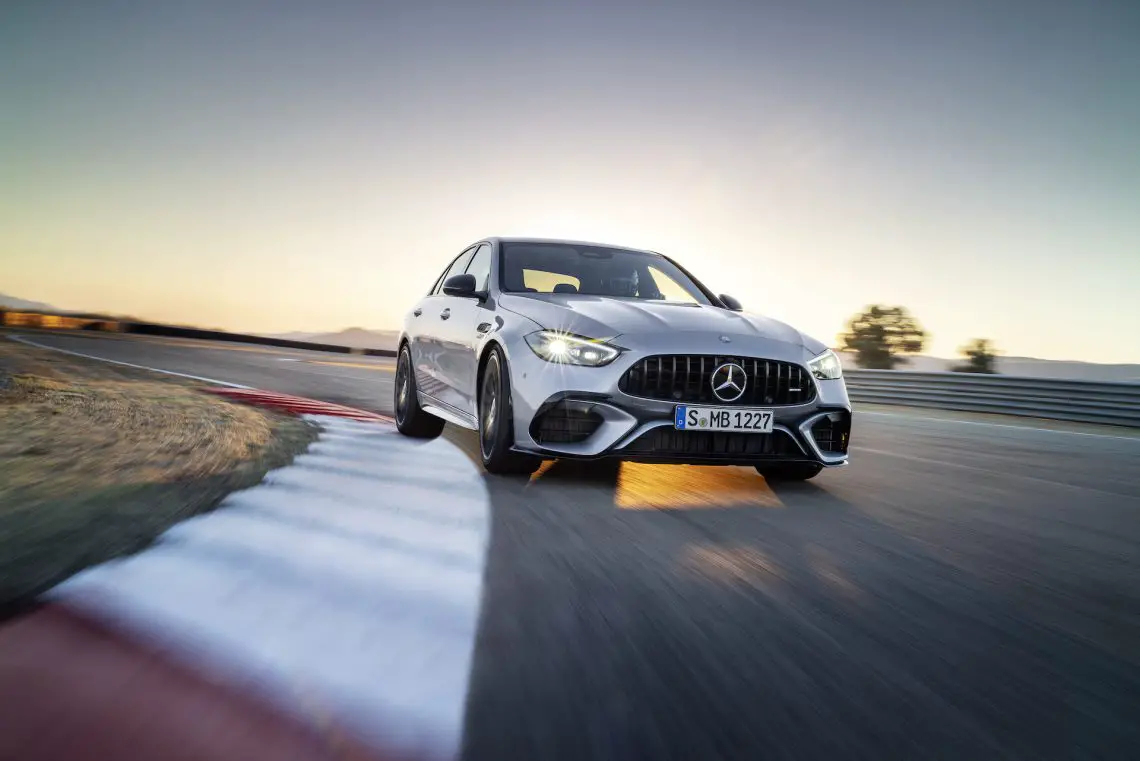 Mercedes-AMG C 63 S E Performance powertrain.
But the biggest news is the new powertrain. It is powered by a new 2.0-liter four-cylinder turbocharged engine (M139l) – longitudinally mounted – combined with a permanently energized synchronous electric motor, a high-performance battery developed in Affalterbach and an AMG Speedshift MCT-9G transmission.
The four-cylinder produces an output of 476 hp (350 kW) at 6,725 rpm and delivers 545 Nm of torque between 5,250 and 5,500 rpm. The electric motor produces 204 hp (150 kW) and 320 Nm of torque.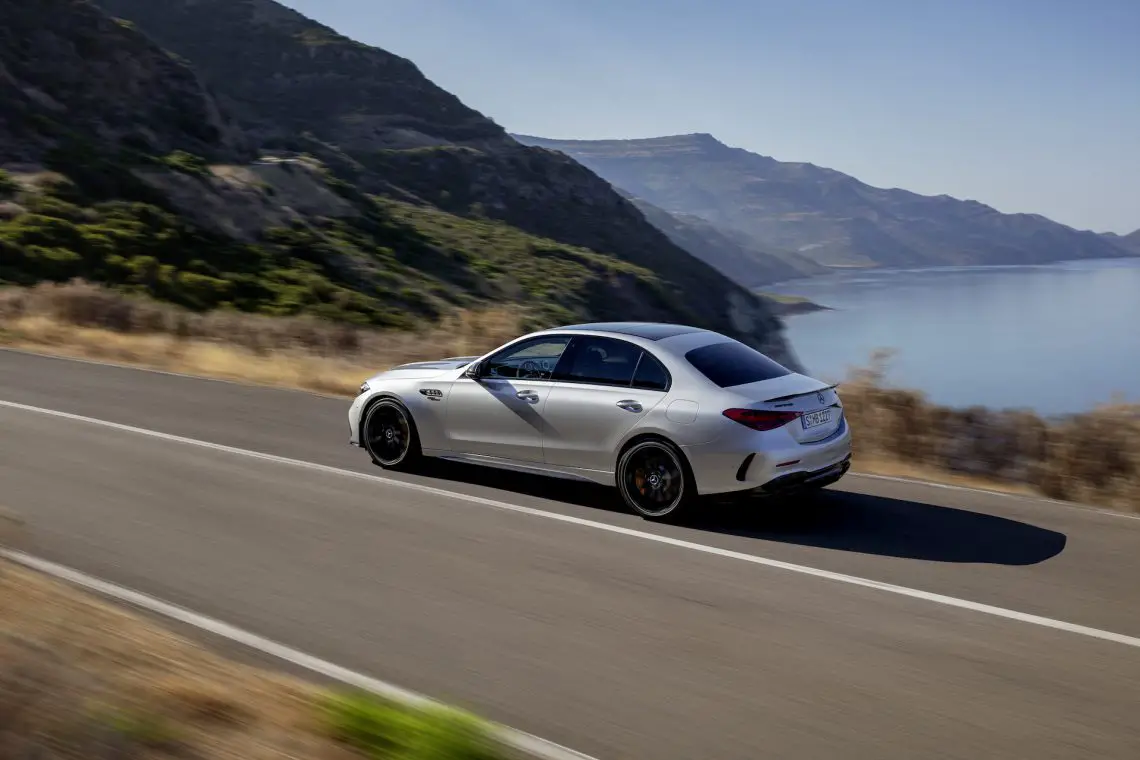 System Power
System power of 500 kW (680 hp) and maximum system torque of 1020 Nm provide impressive performance. Both the Limousine and Estate accelerate from standstill to 100 km/h in 3.4 seconds. If the optional AMG Driver's Package is chosen, the fun in the Limousine is not over until 280 km/h (Estate: 270 km/h). The Limousine weighs 2,111 kilograms, versus 2,145 kilograms for the Estate.
Compact battery
The high-performance battery in the C 63 S E Performance has a capacity of 6.1 kWh, a continuous output of 70 kW and a peak output of 150 kW for ten seconds. Very heavy the battery is not, it weighs 89 kilograms. Charging is via a 3.7 kW on-board charger, at a charging station, wallbox or household outlet. According to AMG, the battery is designed for fast power delivery and power consumption, not for the longest possible range. The electric range of 13 kilometers is therefore limited.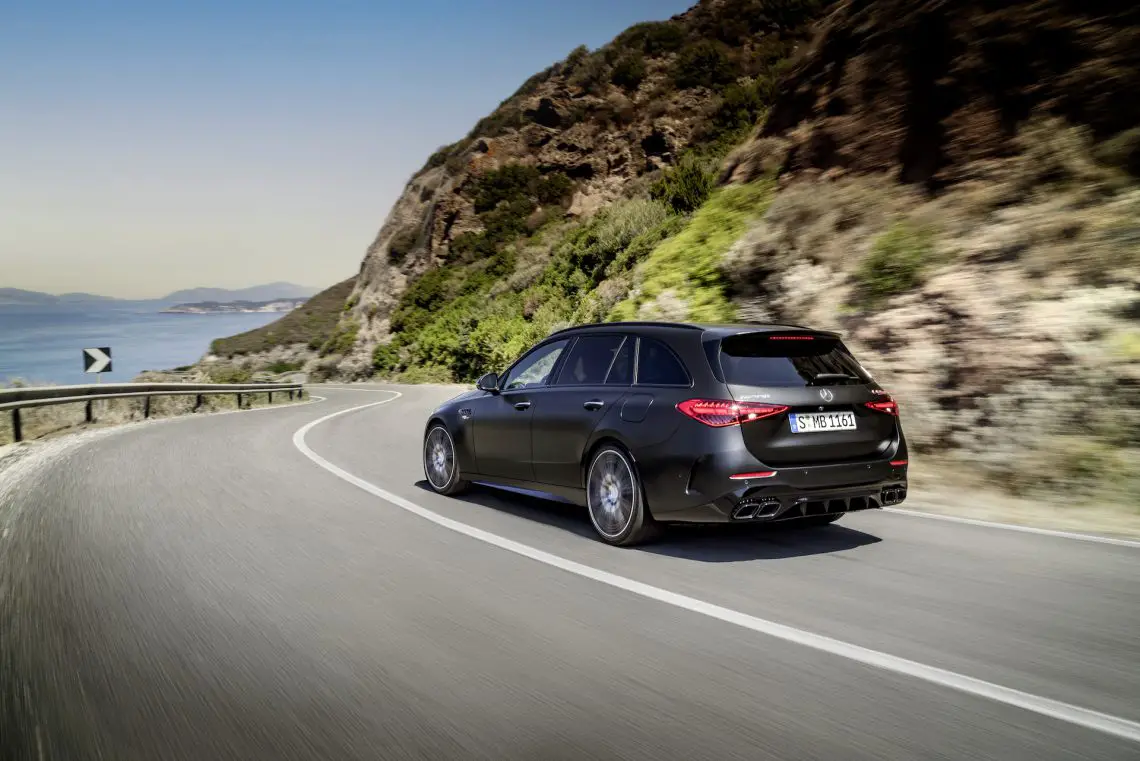 Optimal battery temperature
The basis for the high performance of the AMG 400 volt battery is the innovative direct cooling system: for the first time, a high-tech coolant based on an electrically non-conductive liquid flows around all 560 cells and cools them individually. As a result, the battery is always within a consistent, optimal operating temperature window averaging 45 degrees Celsius, no matter how often it is charged or discharged.
It may well be that when driving at high speeds, the average temperature is exceeded. The protection mechanisms are therefore configured to extract maximum performance from the battery, with the temperature level then reduced by direct cooling.
Maximum performance on track as well
Conventional cooling systems cannot handle this and the battery can no longer reach its full potential. This is not the case with the AMG high-performance battery: even during fast laps in hybrid mode on the track, where acceleration (battery discharging) and deceleration (battery charging) are frequent, the energy storage system maintains its performance potential.
Driving modes and recovery
The C 63 S E Performance has eight AMG Dynamic Select driving modes, namely Electric, Comfort, Battery Hold, Sport, Sport+, Race, Slippery and Individual. Each driving mode has its own character. In electric mode, the top speed is 125 km/h. For energy recovery, there are four programs: Level 0, Level 1, Level 2 and Level 3. The higher the number, the more intense the recovery of energy (recuperation). In the Race driving program, recovery is automatically set to level 1 to achieve the most manageable car possible.
Price C 63 S E Performance
The biggest advantage of this powertrain? The average low CO2 emissions. It records an average fuel consumption of 6.9 l/100 km, good for CO2 emissions of 156 g/km. As a result, the BPM penalty will be limited in the Netherlands. We wonder what that will mean for the starting price. Those will be announced by Mercedes-Benz at a later date.