McLaren 750S is 30 percent modified from the 720S
McLaren 750S
Designed and developed after meticulous analysis of the renowned McLaren 720S, the new McLaren 750S combines advances in weight reduction, powertrain performance, aerodynamics and dynamic qualities. Thus, McLaren aims to take the driving experience to the next level. About 30 percent of the 750S's components are new or modified to achieve these improvements. So about 70 percent are still McLaren 720S.
Performance V8 engine
The supercar features a twin-turbo 4.0-liter V8 engine producing 750 hp and as much as 800 Nm of torque, mated to a seven-speed automatic transmission with revised ratios. The 750S's 0-100 time comes out to 2.8 seconds and the 0-200 km/h sprint is 7.2 seconds (Spider 7.3 seconds).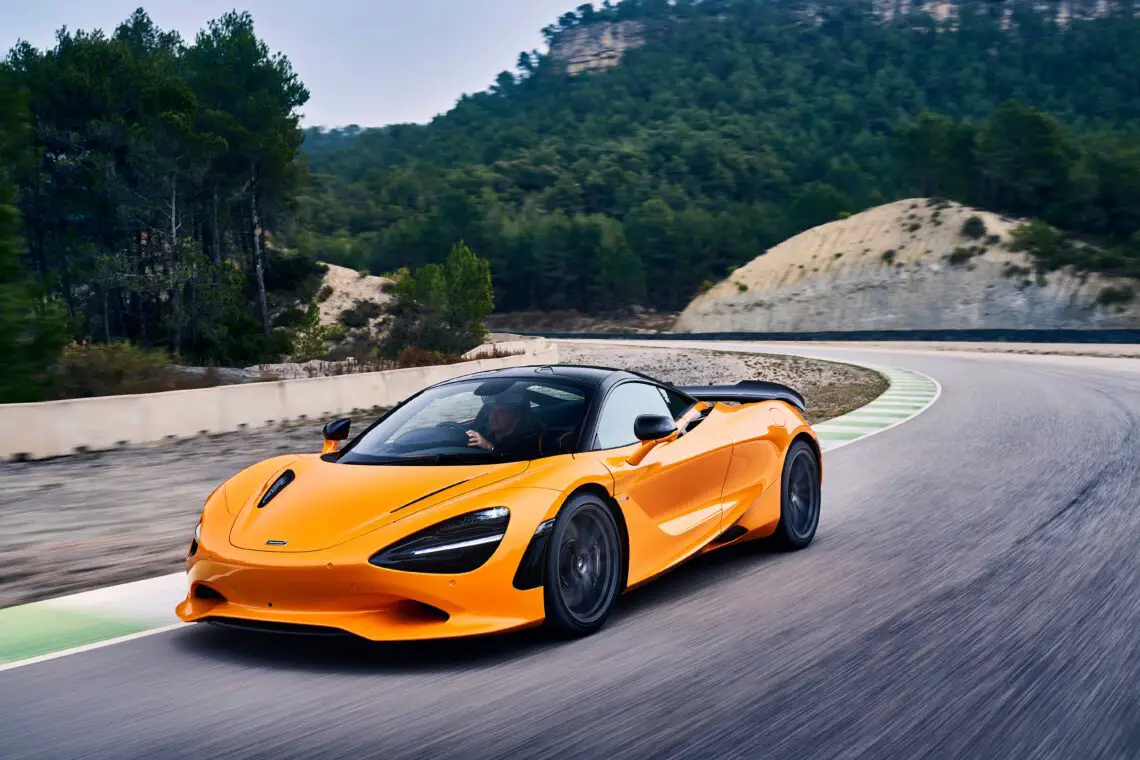 Weight reduction
Carbon fiber self-supporting construction forms the basis of the 750S. Compared to the 720S, the 750S is about 30 kilograms lighter. The car has a dry weight of 1,277 kilograms. That weight reduction results in a horsepower-to-weight ratio of 587 horsepower per 1,000 kilograms.
Improved interior
Other features of the McLaren 750S include racing seats with carbon-fiber upholstery and the lightest wheels ever fitted as standard on a mass-produced McLaren. Thanks to clever modifications to the bodywork, McLaren also takes the car's aerodynamic qualities to the next level. The new interior is even more driver-oriented and also features new, simpler controls. Apple CarPlay is standard.
The McLaren 750S Coupe and 750S Spider are available for immediate order through McLaren dealers.
McLaren 750S: technical specifications
| | |
| --- | --- |
| Engine configuration. | M840T engine, 4.0-litre twin-turbo V8, 3,994cc |
| Drivetrain layout. | Longitudinal mid-engined, RWD |
| Power PS (bhp/kW) @ rpm | 750 (740/552) @ 7,500rpm |
| Torque Nm (lb ft) @ rpm | 800 (590) @ 5,500rpm |
| Transmission | 7 Speed SSG. Comfort, Sport and Track modes |
| Steering | Electro-hydraulic; power-assisted |
| Chassis – coupe | Carbon fiber Monocage II monocoque with aluminum front and rear crash structures |
| Chassis – Spider | Carbon fiber Monocage II-S monocoque with aluminum front and rear crash structures |
| Suspension | Independent adaptive dampers, dual aluminum wishbones, hydraulically linked PCC III system. Comfort, Sport and Track modes |
| Brakes | Carbon Ceramic Discs (390mm front; 380mm rear) with aluminum brake calipers (6-piston front; 4-piston rear) |
| Wheels (inches) | Front: 19 x 9J; Rear: 20 x 11J |
| Tyres | Pirelli P-ZERO™ standard. Front: 245/35/R19 93Y (XL); Rear: 305/30/R20 103Y (XL) Pirelli P-ZERO™ Corsa and P-ZERO™ Trofeo R available as options. |
| Length, mm (inches) | 4,569 (180)      |
| Wheelbase, mm (inches) | 2,670 (105) |
| Height, mm (inches) | 1,196 (47) |
| Width, with mirrors, mm (inches) | 2,161 (85) |
| Width, mirrors folded, mm (inches) | 2,059 (81) |
| Width, without mirrors, mm (inches) | 1,930 (76) |
| Track (to contact patch center), mm (inches) | Front: 1,680 (66); Rear: 1,629 (64) |
| Lightest dry weight, kg (lbs) – coupe | 1,277 (2,815) |
| Lightest dry weight, kg (lbs) – Spider | 1,326 (2,923) |
| DIN weight [fluids + 90% fuel], kg (lbs) – coupe | 1,389 (3,062) |
| DIN weight [fluids + 90% fuel], kg (lbs) – Spider | 1,438 (3,170) |
| Fuel tank capacity, litres (UK/USA gallons) | 72 (15.8/19) |
| Luggage capacity, litres – coupe | Front: 150 Rear: 210 |
| Luggage capacity, litres – Spider | Front: 150 Rear: 58 |
Performance data
| | |
| --- | --- |
| 0-97km/h (0-60mph) – coupe and Spider | 2.7 seconds |
| 0-100km/h (0-62mph) – coupe and Spider | 2.8 seconds |
| 0-200km/h (0-124mph) – coupe | 7.2 seconds |
| 0-200km/h (0-124mph) – Spider | 7.3 seconds |
| 0-300km/h (0-186mph) – coupe | 19.8 seconds |
| 0-300km/h (0-186mph) – Spider | 20.4 seconds |
| 0-400m / ¼ mile – coupe | 10.1 seconds |
| 0-400m / ¼ mile – Spider | 10.3 seconds |
| Maximum speed – coupe and Spider | 332 km/h (206 mph) |
| 200-0km/h (124mph-0) braking, meters (ft) – coupe and Spider | 113 (371) |
| 100-0km/h (62mph-0) braking, meters (ft) – coupe and Spider | 30.0 (98.0) |
Efficiency
CO2 emissions, g/km WLTP EU (combined) – coupe and Spider
276
Fuel consumption, WTLP EU I/100km (UK MPG)
Combined – coupe and Spider
12.2 (23.2)
Fuel consumption, Federal/United States mpg
City – coupe and Spider
TBC
Highway – coupe and Spider
TBC
Combined – coupe and Spider
TBC