CAR TEST – MERCEDES-BENZ C 200 MILD HYBRID (2021)
How good is the new generation C-Class?
More than ever, the C-Class is a baby S. Not only to see, but also to drive. The new Mercedes-Benz C-Class is making great strides on all fronts.
C-Class incredibly popular
Did you know that the C-Class has been the best-selling Mercedes-Benz model for the past decade? More than 2.5 million Saloons and Estates of the previous generation C-Class have been sold since its introduction in 2014. All in all, Mercedes-Benz has delivered more than 10.5 million C-Class models since 1982.
China in the lead
China has been the largest market for the C-Class Saloon since 2016. In addition, the United States, Germany and Great Britain have been the largest markets for the C-Class Saloon and Estate over the past ten years. Incidentally, two out of three C-Class models sold in Germany are an Estate.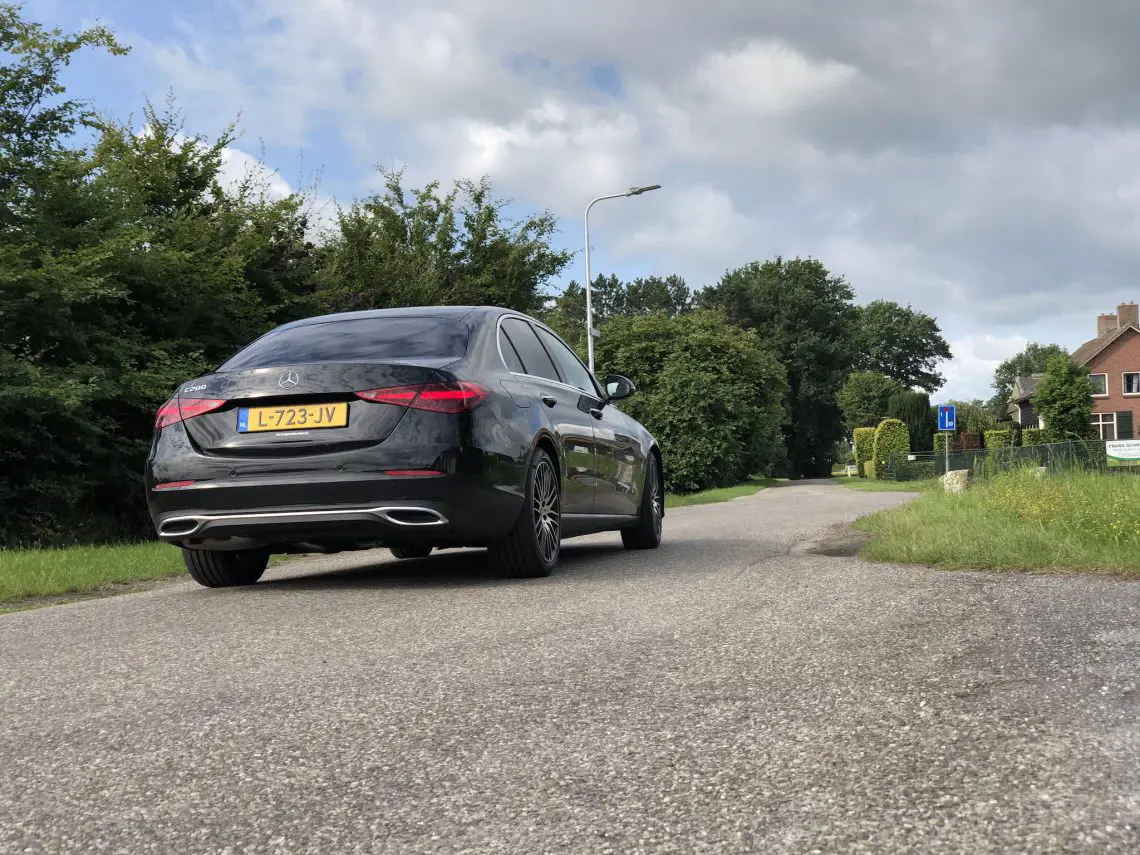 Mercedes-Benz C-Class has grown a bit again
At 4,751 mm long and 1,820 mm wide, the Limousine and Estate are significantly larger than their predecessors. The wheelbase has increased by 25mm to 2,865mm. Both front and rear passengers benefit from the larger exterior dimensions. With up to 35 mm more knee room in the rear, the rides for the rear passengers are even more pleasant.
Modest? Well no!
And although this obsidian black copy may look a bit understated, it still stands out in traffic. It is not normal how many people turn their necks for this C-Class. A sign that Mercedes-Benz has put down a strong design.
rear axle steering
Optionally, Mercedes-Benz offers rear-axle steering on the new C-Class. The steering angle on the rear axle is 2.5°. This reduces the turning circle by 43 cm to 10.64 m. At speeds below 60 km/h, the rear wheels steer in the opposite direction to the front wheels – and up to 2.5° to the angle of the front axle when parking.
Performance C 200 Mild Hybrid
The 1,550 kilogram Mercedes-Benz C 200 mild hybrid, with integrated starter alternator, with an extra power of up to 15 kW and an extra torque of 200 Nm. The C 200 has a 1.5-litre four-cylinder turbo petrol engine with 204 hp and 300 Nm of torque. 100 km/h in 7.3 seconds and a top speed of 246 km/h. May tow 1,800 kilograms braked.
Range of more than 1,100 kilometers!
The action radius is special. Thanks to a 66-litre petrol tank with a 7-litre reserve, distances of up to 1,100 kilometers can be achieved on a full tank. Driving at 105 km/h on the highway results in a consumption of 1 in 20. Consumption on paper is 6.6 l/100 km, but we have achieved 6.3 l/100 km. Switching is done with a 9G-Tronic automatic transmission, which is super comfortable and yet also nice and smooth with switching.
Other engine variants from C-Class
Of course, Mercedes-Benz supplies many more engine variants, such as a C 180 with 170 hp, a C 300 with 258 hp and various diesels, such as C 200 d with 163 hp, a C 220 d with 200 hp and a C 300 d with 265 hp. A plug-in hybrid will also follow, one with a system output of 313 hp and 550 Nm. The battery has a total capacity of 25.4 kWh, good for an electric range of up to approximately 100 km. For the time being, Mercedes-Benz only supplies four-cylinder units.
Always mild hybrid
All engine variants have mild hybrid support in the form of an integrated starter alternator, ISG. The ISG system uses a 48V on-board system that provides functions such as sailing, boosting or energy recovery and enables fuel savings. The engines therefore also start very quickly and comfortably.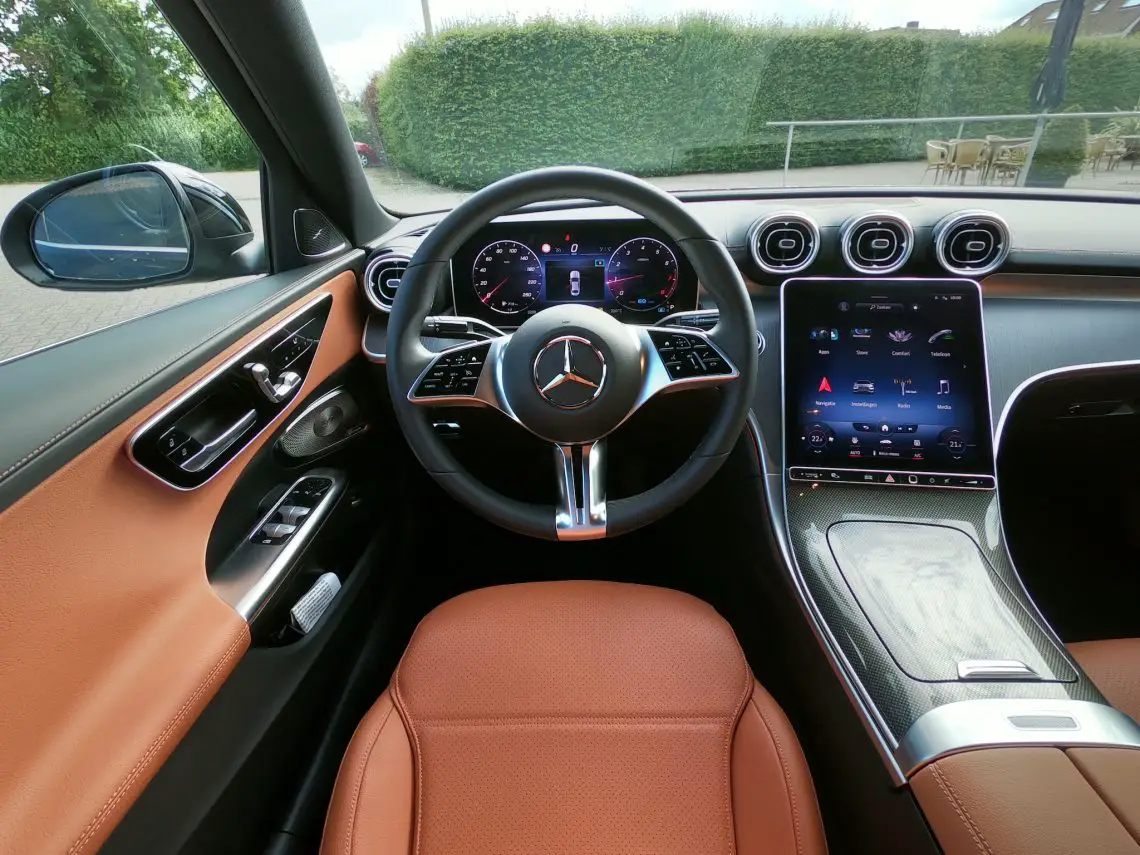 Interior new C-Class
The interior shows great similarities with the S-Class, also in terms of finish. So here too, beautiful materials and an abundance of displays. The driver's compartment features a high-resolution 12.3 inch (31.2 cm) LCD display as standard. It stands free and seems to float in front of the wing profile and the large trim. This distinguishes the driver display from the traditional cockpit with classic round instruments.
The increasing degree of digitization is also clearly visible in the central display: the vehicle functions can be operated via the high-quality touchscreen. The portrait format offers significant advantages, especially for navigation. The touchscreen seems to float above the dashboard, just like the trim. Like the dashboard, the display is slightly oriented towards the driver. The central display has a standard diameter of 11.9 inches (30.2 cm).
MBUX second generation
After its introduction in the S-Class, the new C-Class already starts with the second generation MBUX, an excellent system with razor-sharp graphics. Very easy to operate and all functions are easy to find. Also nice: wireless support for Apple CarPlay and Android Auto.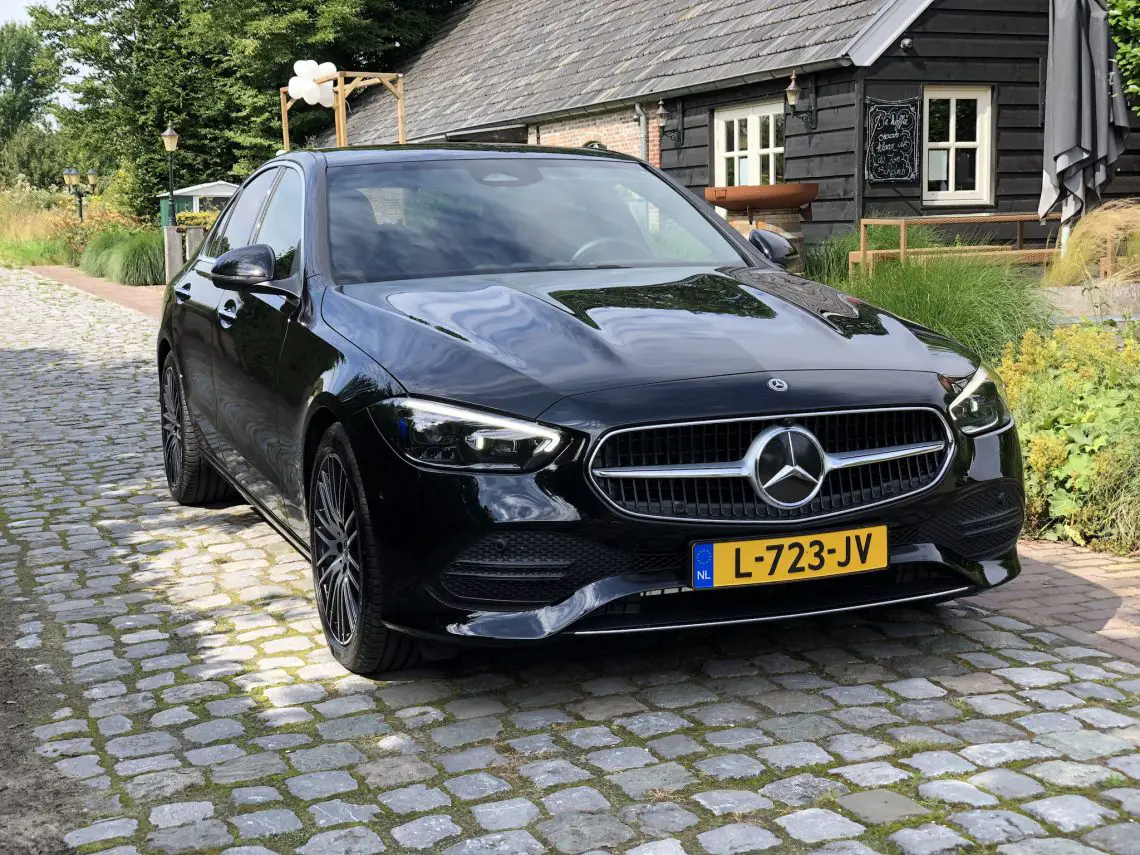 Around view monitor
We are particularly pleased with the around view monitor, which allows you to explore the environment around the car while swiping. It just looks like a computer game. The traffic light monitor is super handy, where you don't have to look under the window pillar with your neck bent to see the traffic light. You just look at the central display to see when the lights turn green. And speaking of green, orange and red: the C-Class also has mood lighting. There is a choice of various colors so that there is a color for every mood.
Displays customizable
The appearance of the displays can be customized with three display styles (subtle, sporty, classic) and three modes (navigation, assistance, service). In the 'Classic' style, the driver is welcomed with a familiar display environment. The proven display with two tubes and changing contents between them shows all information relevant to the driver. The 'Sporty' position is dominated by the color red. In the 'Subtle' style, the content is reduced to the essential.
hey mercedes
The 'Hey Mercedes' voice assistant is more capable of dialogue and learning by activating online services in the Mercedes me app. In addition, certain actions can also be performed without the activation word "Hey Mercedes". This includes, for example, taking a telephone call. Hey Mercedes is also able to recognize the occupants by their voice. In addition, connection with a Smart Home is also possible. Can you double check whether you have switched off all the lights or check whether someone is home.
Over-the-air updates
The software is always kept up to date through over-the-air updates. As soon as a new update from Mercedes-Benz is available, a message appears in MBUX. The update is downloaded and installed in the background. The user must then again explicitly agree to its activation. In this way, the car is always up-to-date. Even functions that have not even been invented yet can be installed in already sold cars through OTA updates.
Prices C-Class
Then you will receive the prices from us. You can drive in the C 180 from 48,280 euros. The C 200 Launch Edition Luxury Line driven by us starts at 52,669 euros and of course has the necessary options, such as a panoramic sliding roof (2,141 euros), an excellent Burmester 3D surround sound system (1,222 euros) and a Premium package (3,630 euros). ). Together with some other options, this test car should cost 63,700 euros. Diesel is also possible from 53,005 euros with the C 200 d.
Conclusion test Mercedes-Benz C-Class
The new Mercedes-Benz C-Class is next level on all fronts. The Luxury Line driven by us places an absolute emphasis on comfort. If you want more sportiness and a less soft chassis, you have to rely on the AMG Line or real AMGs. In any case, the C 200 Luxury Line is a great mile-eater in which you can completely relax. As far as we're concerned, the capital C in the name C-Class stands for 'comfort king', especially in the D-segment.