CAR TEST – LEXUS LS 500H (2021), LUXURY THE LEXUS WAY
Built for eternity
The Lexus LS 500h is the absolute top model in the Lexus range. Thanks to various recent adjustments – including in the field of comfort and hybrid technology – the Lexus LS is once again in the spotlight. Reason enough for us to drive this stately limousine again.
Tough competition for Lexus LS
The BMW 7 Series, Mercedes-Benz S-Class and Audi A8 are not the least competitors that Lexus is up against with its LS 500h. The recently renewed S-Class sets the bar extremely high in terms of driving dynamics, technology, atmosphere and luxury. But the 7 Series and A8 can also benefit from it when it comes to offering the best technologies. The Lexus LS 500h obviously offers the best that Lexus has to offer, but in its own way.
More hybrid than ever
First, let's take a look at the updates Lexus has made to its flagship. Lexus has mainly focused on two things: more assistance from the electric motor and a greater role for the battery pack. The emphasis was on an average driving style, in which the driver operates the accelerator and brake pedals with light pressure. This is the case in approximately 90% of the travel time. In all cases, light pressure on the accelerator is sufficient for smooth and powerful acceleration and it is certainly noticeable.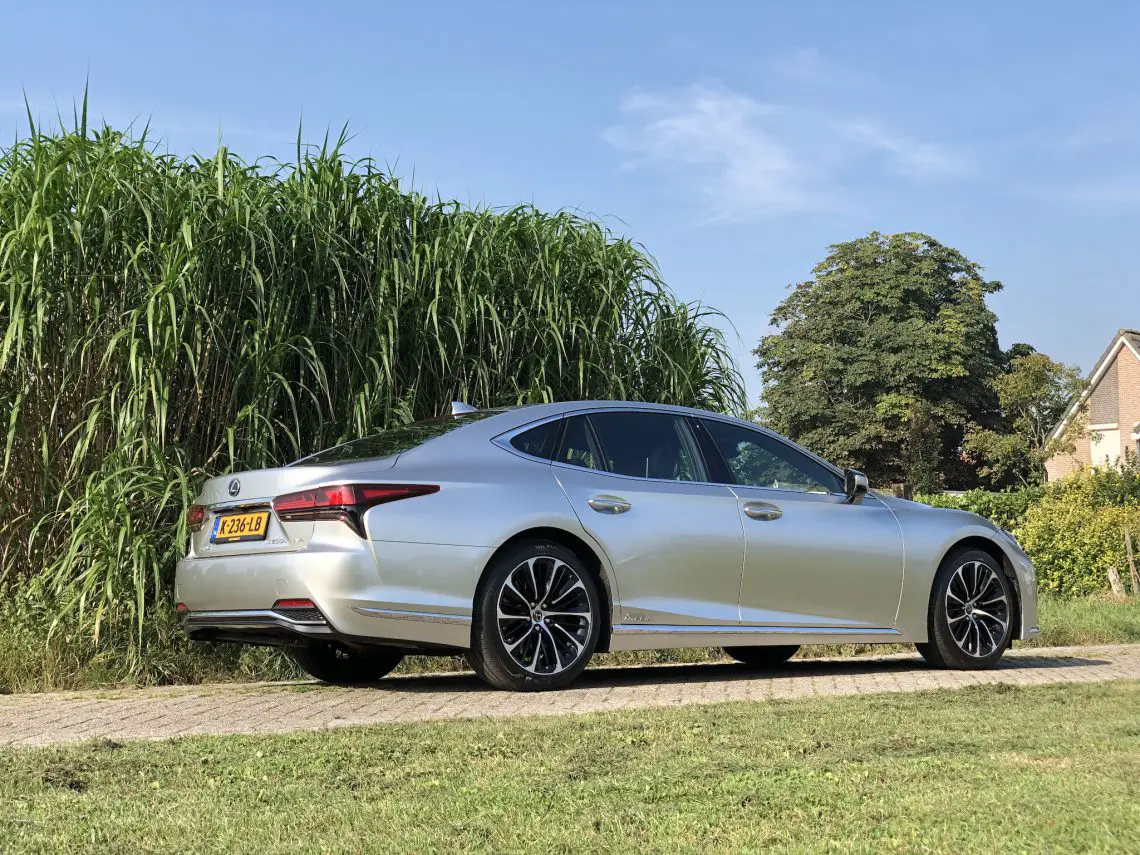 Lexus LS 500h also economy miracle?
But don't expect the LS 500h to be an economy marvel with its hybrid technology. On average we note about 1 in 10 to 1 in 11, with quiet use. But even this is pretty neat when you realize that a car like the Lexus LS 500h AWD in roadworthy condition weighs 2,345 kilograms. That weight is certainly noticeable in corners and during braking. The brake pedal takes some getting used to, but once you have a feel for the technology, driving in this LS 500h is a very pleasant experience.
Smoother cheeks
That's actually because of… well: everything! You can tell that Lexus has pulled out all the stops to provide the most comfortable driving experience. This is even more the case with the new LS than before. For example, the tires got smoother sidewalls without sacrificing run-flat capabilities. The AVS adaptive damping system now uses a new increased flow linear solenoid valve. This increases the range of the adaptive dampers, resulting in extra comfort on poor surfaces, among other things.
New foam types
The stiffness of the torsion stabilizers has been adjusted to optimally absorb weight transfer due to body movements. This improves both comfort and straight-line stability. Even the interior of the seats has been adjusted. New foam types are used and the stitching is also deeper. The new chair not only offers more sturdiness but also more comfort. That too is palpable. The lateral support could be better, but in general you sit on fantastic furniture.
BladeScan Headlights
Updates can also be seen on the outside. Including the new BladeScan headlights. They have rapidly rotating micro-mirrors (6,000 revolutions per minute) for very precise light distribution. The road is perfectly lit without dazzling oncoming traffic. The daytime running lights have an L-pattern and are integrated into the headlamp. The signature spindle grille now features dark metallic accents.
Apple CarPlay and Android Auto
Lexus' infotainment system works fine, but isn't the best on the market. In this area you notice that the car is already somewhat outdated compared to, for example, a new S-Class. Still, it is fine to live with, although the service does take some getting used to. Once you've mastered everything, you can live with it. You also look at a large driver-oriented 12.3-inch touchscreen. The multimedia system supports smartphone integration via Apple CarPlay and Android Auto, so in fact everything is already solved.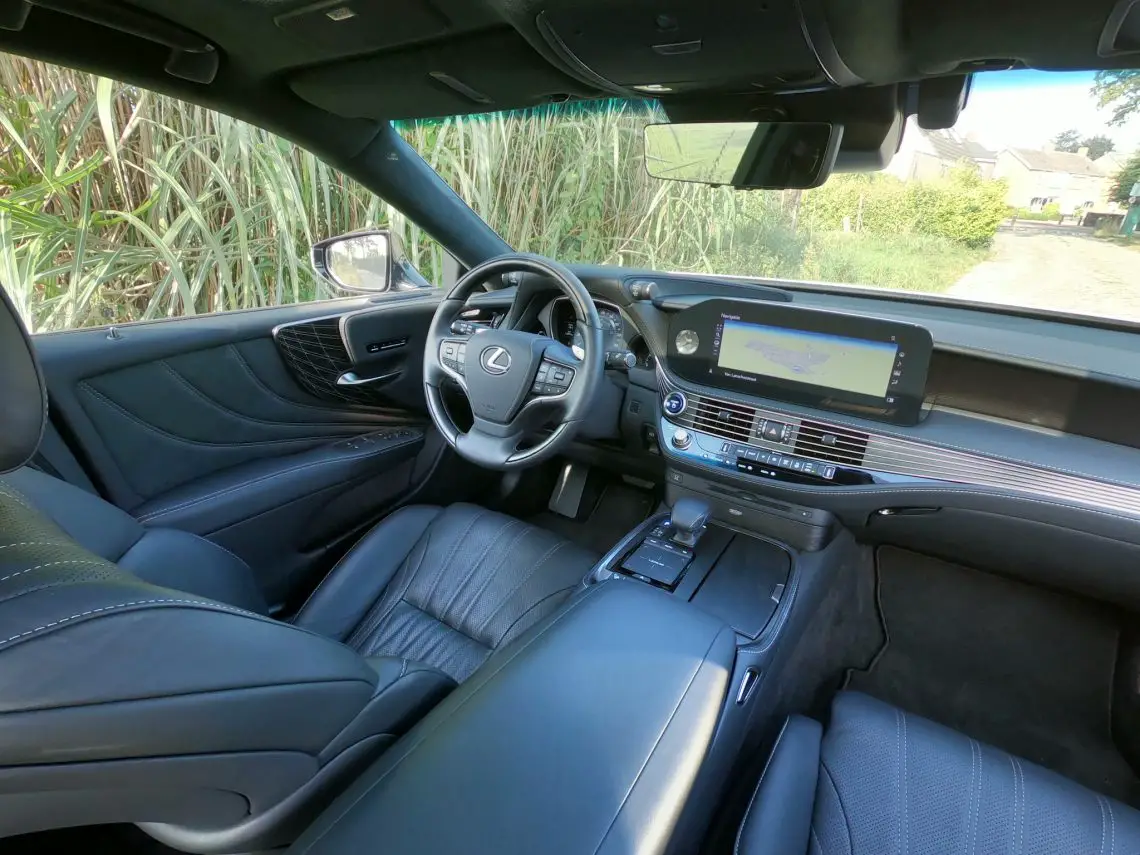 Lunar Silver
This particular test car is finished in the color Lunar Silver. Nice, such a color. So? Well, Lunar Silver isn't just any paint color. Lexus uses Sonic technology in this paint, which makes it possible to pack the aluminum particles in the paint more closely and align them perfectly in a paint layer with a thickness of only 1 micron. The result is a very special lacquer layer that, depending on the light, looks like normal silver or has a champagne glow when the sun is on it. A beautiful piece of craftsmanship.
Typical Lexus
That craftsmanship is also reflected in the interior. We are on the road in a Lexus LS 500h AWD President Line, available from 171,695 euros. FYI: a regular LS 500h – without AWD – starts at 127,695 euros. So a nice price difference. The interior exudes tranquility and luxury. This is mainly due to the chosen materials. Leather, aluminum, high-quality plastics: everything looks perfect and typical Lexus. What is missing is mood lighting as you find in an S-Class. In the Lexus LS, the emphasis is on tranquility and as little distraction as possible. Call it organic simplicity.
Option of over 13,500 euros
An option is missing on this Lexus. And that is the unique finish of the door panels. You can choose from 'Origami' panels with Kiriko Glass or door panels inspired by Japanese weaving technique 'Nishijin-Ori' in combination with 'Haku' ornaments. Both options have a price tag of over 13,500 euros. So somehow we understand that Lexus left them out. But it is precisely those artistic options that form the USPs of this Lexus LS. This car excels in this respect compared to competitors.
The pinnacle of luxury
You have to fall for the distinctive design, for the organic shapes in the interior. You have to let him work on you. That's exactly what we did during our test session with this car. You will appreciate it more and more after every ride. In particular, how quiet and comfortable this car is. In this car you want to drive yourself, or let yourself drive. The layout of the rear compartment says it all with TV screens, electrically adjustable lounge chairs and more. According to Lexus, this LS 500h is the pinnacle of luxury, but in the Lexus way. So with Japanese simplicity in mind. Back to the essence of comfort, a focus on silence and comfort, little fuss, but just peace. That's exactly what you get in this Lexus LS 500h.
Conclusion review Lexus LS 500h
Even the powertrain stays neatly in the background. What are we talking about? About a 3,456 cc V6 petrol engine with 299 hp and 350 Nm of torque, supplemented by a 179 hp and 300 Nm strong electric motor. All this results in a system output of 359 horsepower. Enough power to sprint from 0 to 100 km/h in 5.5 seconds. The top speed is set at 250 km/h. Nice that this Lexus can do that, but it makes no sense at all to drive in this Lexus. Then choose an S-Class AMG. In this Lexus LS 500h it's all about relaxing. And Lexus has more than succeeded in that mission. Moreover, this car gives the impression of being built rock solid . It's a car built for eternity.