Car portrait: the supercars of Helmig Heerink
Italian supercars
Helmig's fleet includes three cool supercars, two of which are special Italians. We are dealing with a Lamborghini Huracán Performante in the color "Verde Mantis" and with a Ferrari 458 Speciale in the color "Bianco Italia. The 458 Speciale was delivered to the Netherlands in 2014, where the Performante was imported to the Netherlands in 2021.
Performante or 458 Speciale?
The Lamborghini Huracán Performante and the Ferrari 458 Speciale are two impressive supercars. The Huracán Performante is powered by a 5.2-liter V10 engine, while the 458 Speciale is powered by a 4.5-liter V8 engine (hence the name 458). Both engines are high revving and deliver more than enough power. The V10 in the Huracán Performante is good for 640 hp and the V8 in the 458 Speciale produces 605 hp. Both cars have and automatic transmission with seven gears.
Performance
In terms of performance, both cars are lightning fast. For example, the Huracán Performante sprints from 0 to 100 km/h in just 2.9 seconds, while the 458 Speciale does so in 3.0 seconds. They also have similar top speeds, with the Performante capable of reaching over 330 mph and the 458 Speciale having a top speed of around 325 mph. Hard enough to turn in your pink pass a few times, that is.
Difference in character
A key difference between the two cars is their propulsion systems. The Performante has an all-wheel drive system, while the 458 Speciale is equipped with rear-wheel drive. This affects the way the cars behave on the road, with the Huracán Performante offering more grip and traction, while the 458 Speciale has more playful and challenging handling. In fact, the Ferrari 458 Speciale can be a very treacherous car, especially when compared to the all-wheel-drive Performante. So the question is; would you go for challenging driving, or do you still go for the "safe" Lamborghini? Let's submit it to Helmig!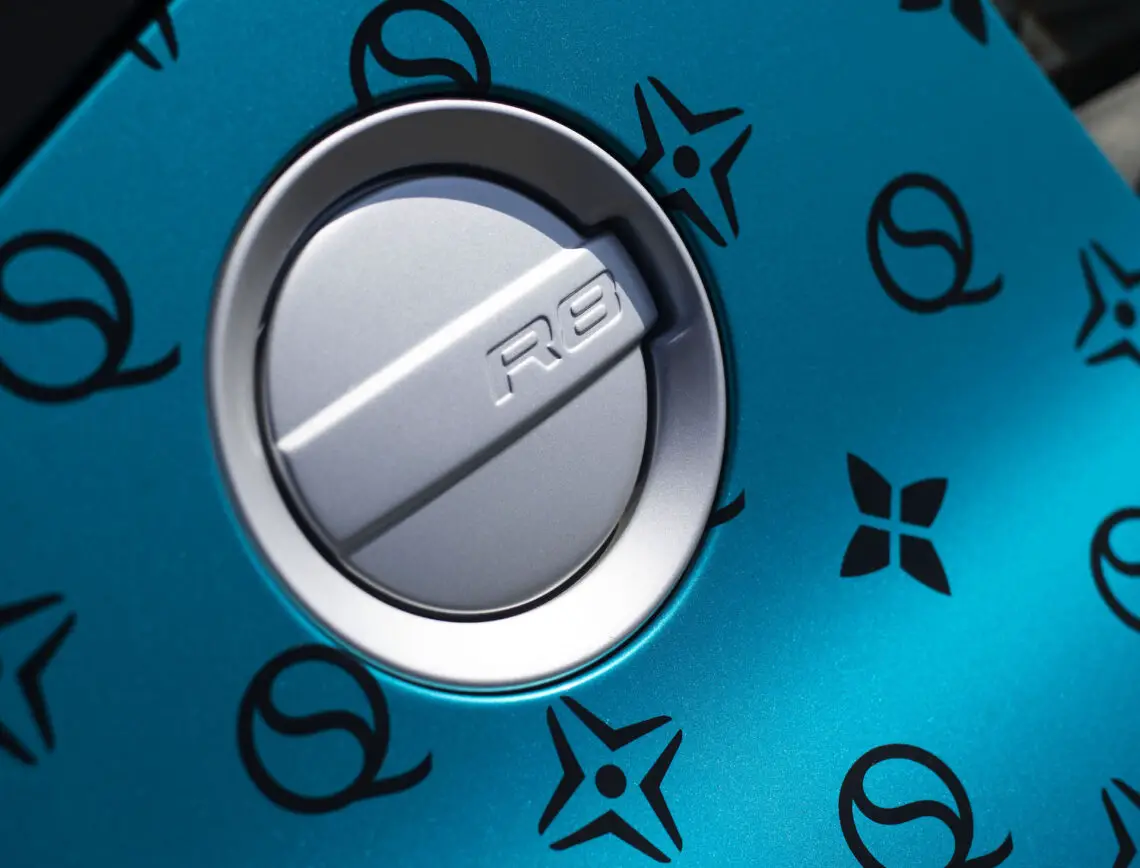 A long time ago we did a photo shoot (see photos) of your wrapped Audi R8…. What is the story behind this car?
"With my company we mediate freelance IT professionals, the best of their kind. We match these with companies. Goes from data analyst to security experts. With our company we regularly do car-related things, such as race days at the track. We also sometimes do races on racing simulators. The R8 belonged to my brother, but he wanted to get rid of it. The choice then was sell it, or keep it and use it as a very special marketing tool. You get advertising in two ways; people obviously see the car and you can show off online that you have an Audi R8 as a company car. That, of course, is something very special. In practice, the car is used by our employees to go to customers. A supercar like that really shows the work-hard-play-hard principle that we stand for in our company. Maybe a little too much, but that fits well within our culture."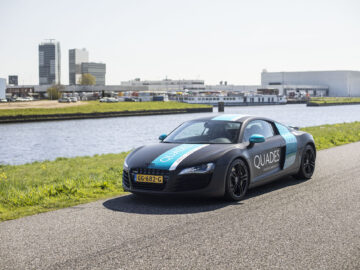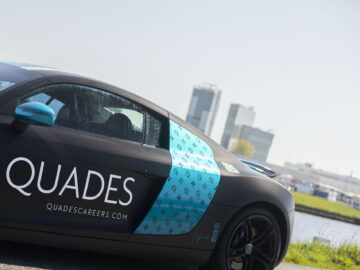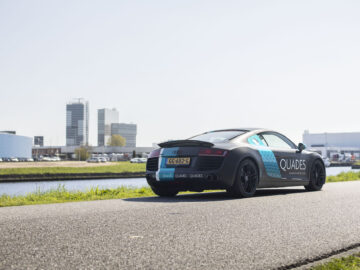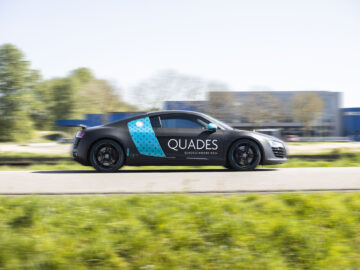 Imagine: you only get to keep one more. Which Italian do you choose? Or perhaps you choose the Audi R8?  
"The Audi R8 is a beautiful car, but is from prehistoric times compared to the other cars. Choosing between the Italians is a very tough one though…  In the Lamborghini I drive much more. That one has more comfort and a great driving experience. But I'll still keep the Ferrari then. It is, of course, the last unblown V8 and thus a good investment. Drives great, really raw. Mainly because of rarity and investment, I go for the Speciale. The Lamborghini is obviously the better car, though, because it has everything in it. You can also drive the Performante as a normal car. For daily use, then, the 458 Speciale is a bad car."
What cars have you all owned before this, and do you perhaps regret selling them?
"The first exclusive car I bought was a Maserati Ghibli SQ4. I got a taste for it and not long after that I bought an Aston Martin V8 Vantage to go with it. Then bought a 458 instead of the Vantage V8. Then traded in the 458 for the Performante. Also bought an SLS as a second supercar, but that didn't drive nice. Beautiful car to look at, though. Then after two months I traded in the SLS for an 812 Superfast. Such a gran turismo with engine in front is beautiful to look at, but practice shows that I prefer a performer then. The 812 then still tends too much to a "normal" car, thanks in part to the engine placed in front. I regret selling the SLS. This was a very good car. Low mileage, the classic combo of gray and red, it would have been a good investment. I also regret selling the 458, because I sold it at a bad time. Also, you should never really get rid of your first Ferrari."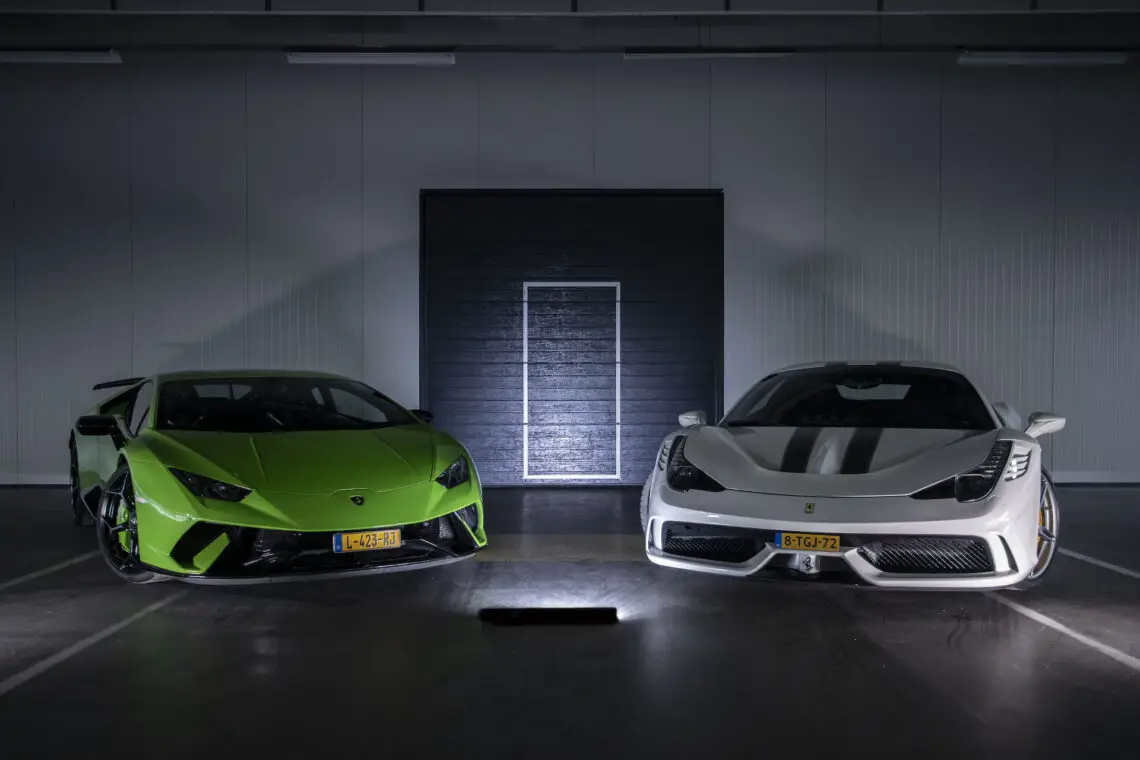 What car would you like to have someday?
"I must have a Pagani someday; to me that is the epitome of automotive craftsmanship. Apart from the fact that they are so fast, that really is a piece of art on wheels. It doesn't get more unique than Pagani. Even if it were built on the assembly line, I would still think it was cool. The whole brand story also appeals to me. Horacio Pagani is also a really special guy, really nice. Also, a Lamborghini with V12 is high on the list, the Aventador SVJ for example. Or possibly the new Lamborghini Revuelto."
What is the best memory you have with your car(s)?
"That was with the Performante, at a tour with other car enthusiasts in Spain. That was the first time I rode with Prince. My co-driver just couldn't go last minute, and I hesitated whether to go. Finally made the choice to go, on my own. I also took delivery of my car there. On day two we drove through the mountains near Bilbao, in the middle of the clouds. The tears sprang to my eyes, it was that cool. The brutal sound of the V10, very special to experience."
Where does your car passion come from?
"I am the only car fanatic in my family. My first car was a Volkswagen Golf 2. I lived in the East, close to Germany. I decided to import cars from our eastern neighbors and I slowly began to see that each car has its own charm. I began to see that Italian cars arouse more emotions in me and that with an American car I was like "once, never again. By driving many different cars, I began to notice details that I never noticed before. That's where I think my love of cars was born."