All about the new Hyundai Kona Electric 2023
Hyundai Kona Electric is more EV than ever
Hyundai took a different approach than usual. Because the brand first developed the electric variant of the Kona and only then developed the combustion engine variants. That way, the Hyundai Kona Electric comes into its own and the SUV is more EV than ever, including associated features. Consider a frunk: a front luggage compartment. It also has active air vents, an Eco package and a heated charging port that works in temperatures as low as -30° Celsius. The charging port is also illuminated for better visibility at night.
Own styling
Each powertrain variant of the new Kona has its own styling. The all-electric Kona features pixel accents on the grille and rear bumper. It also stands out with a pixel-inspired design for the alloy wheels.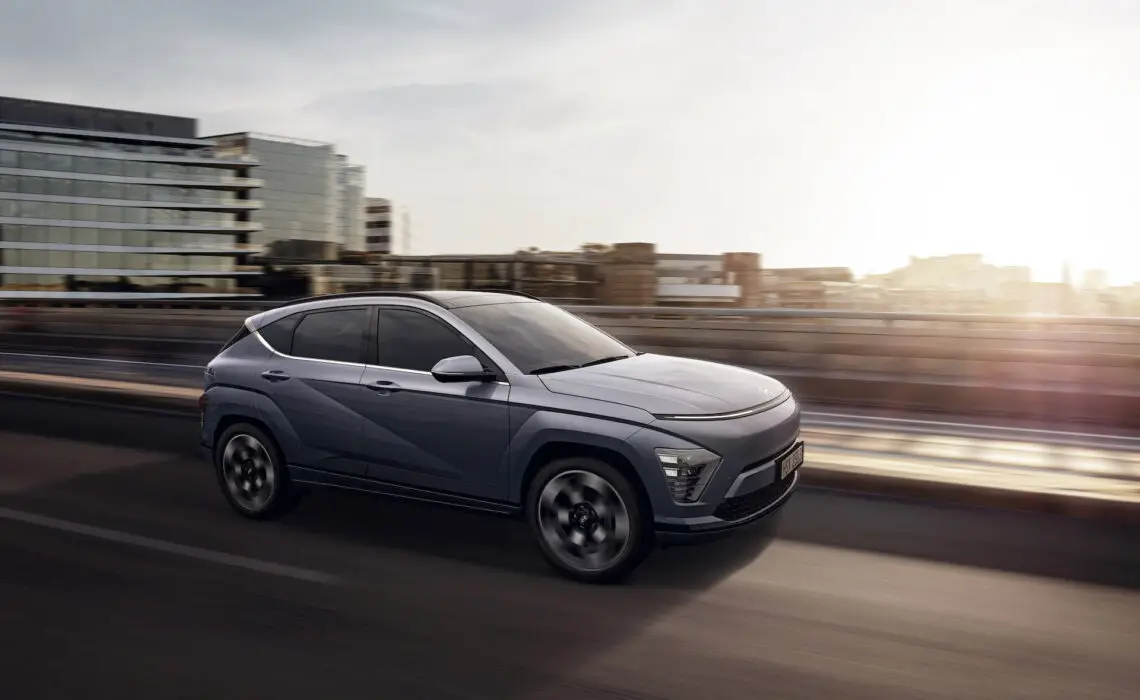 i-Pedal
Other features of the Hyundai Kona Electric include i-Pedal, for one-pedal driving. So you can accelerate, brake and stop using only the accelerator pedal. The Smart Regenerative System automatically adjusts the degree of regenerative braking based on information obtained from traffic flow in front of the car.
Charging other devices
The SUV also has Vehicle-to-Load (V2L) functionality for charging electrical devices, such as a laptop or electric bike. The V2L function has a maximum output of 3.6 kW. Electronic-Active Sound Design (e-ASD) has also been considered. This provides more experience while driving. The volume of e-ASD sound depends on driving speed, torque, electric motor and acceleration.
A Head-Up Display with a 12-inch large projection screen completes the Hyundai. This system projects key driving information, such as vehicle speed and speed limit, right into the driver's field of vision.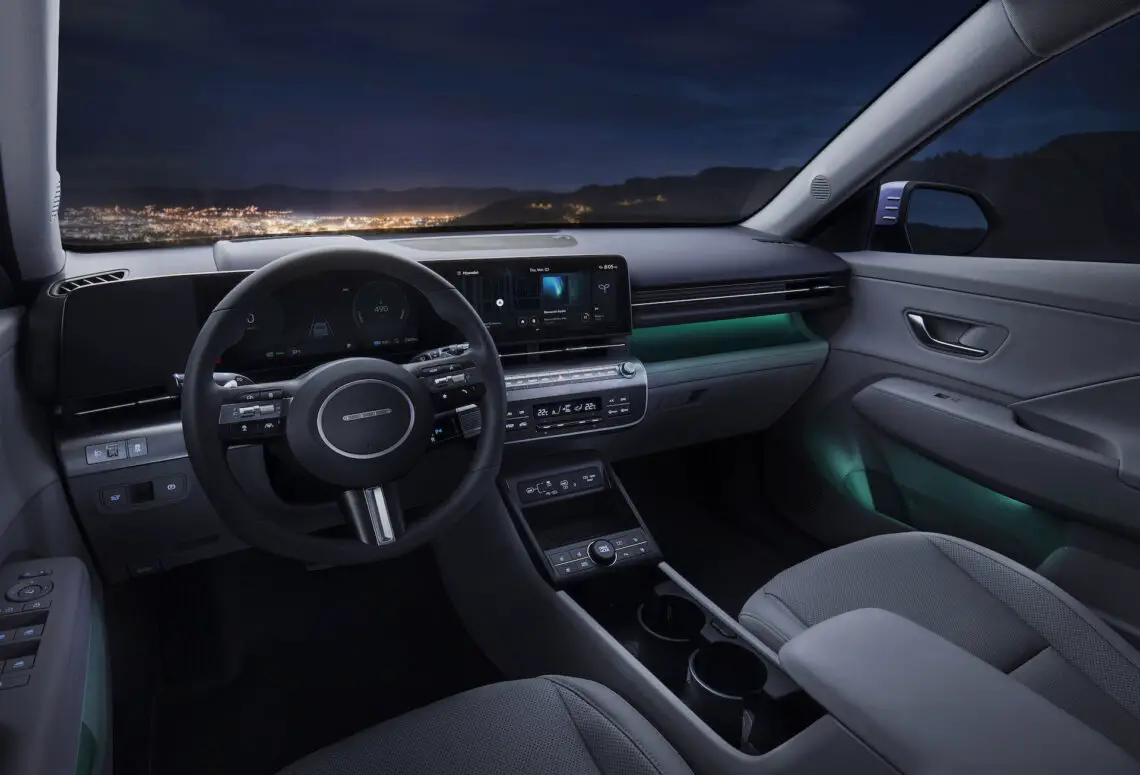 Driving range Hyundai Kona Electric 2023
The most important thing for an EV, of course, is electric range. Two versions of the new Hyundai Kona Electric will appear: a Standard and a Long Range. The Standard has a 48.4 kWh battery, good for 342 kilometers of driving range (WLTP). System power is 114.6 kW with 255 Nm of torque. Hyundai cites an average power consumption of 15.7 kWh per 100 kilometers.
Long Range
The Hyundai Kona Electric Long Range has a 65.4 kWh battery. The WLTP driving range comes out to 490 kilometers. This variant is slightly more powerful at 160 kW. Torque of 255 Nm is the same as the Standard. Finally, the average power consumption 15.1 kWh per 100 kilometers. Charging from 10-80 percent at the fast charger takes about 41 minutes. Preconditioning of the battery ensures safe charging and optimal range in winter.
Dimensions
The new Kona Electric is 4,355 mm long, a fraction longer than the Mild-Hybrid or Hybrid (4,350 mm). The width is 1,825 mm and the wheelbase comes out to 2,660 mm.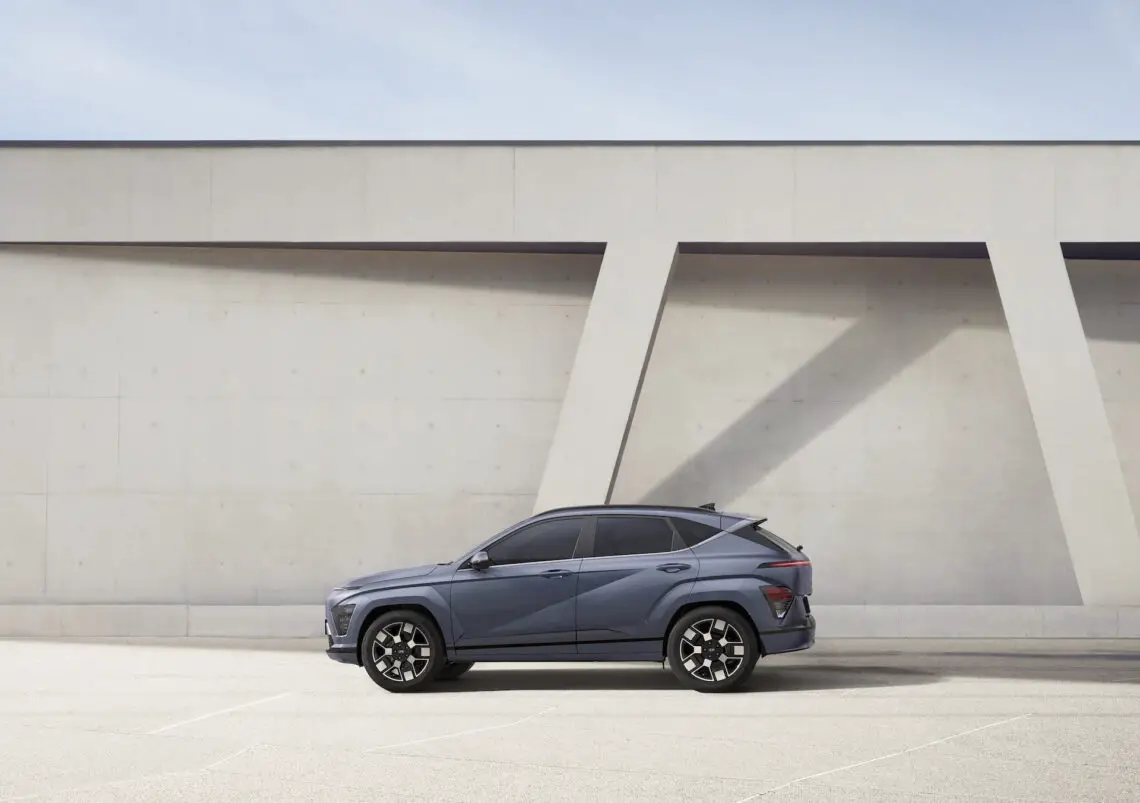 Exterior colors
There are finally eleven exterior colors to choose from, namely Meta Blue Pearl, Abyss Black Pearl, Atlas White, Serenity White Pearl, Shimmering Silver Metallic, Ecotronic Gray Pearl, Engine Red and Jupiter Orange Metallic. In November 2023, Ultimate Red Metallic, Cypress Green Pearl and Sailing Blue Pearl will be added.
Driver assistance systems
In terms of driver assistance systems, the new 2023 Hyundai Kona Electric is packed. These include a Surround View Monitor (SVM) for 360-degree visibility around the car during parking and exiting, blind spot detection, Remote Smart Parking Assist (RSPA) for assistance during parking and exiting and more.