Alfa Romeo 33 Stradale returns! And how!
Alfa Romeo 33 Stradale
Alfa Romeo returns to the world of "fuoriserie" with customized models with the 33 Stradale. Carrozzeria Touring Superleggera was commissioned by Alfa Romeo to produce only 33 examples of the Alfa Romeo 33 Stradale. By the way, all the cars have already been sold. The starting price is not mentioned.
Bottega team
The exclusivity of the two-seater coupe is underlined by the so-called "Bottega": a team of Alfa Romeo professionals that involves customers from the beginning in the process of creating a personalized car. It is even possible for a buyer to personally "sign" the chassis number.
Two powertrains
The new Alfa Romeo 33 Stradale is a special supercar. That's because the car is available with two powertrains. Alfa Romeo will deliver the 33 Stradale with a 3.0-liter V6 twin-turbo gasoline engine with more than 620 hp, or with all-electric drive with more than 750 hp of power and an estimated range of 450 km (WLTP). The target top speed is 333 km/h, while acceleration from 0-100 km/h is completed in three seconds. Equally impressive is braking performance: from 100 km/h to standstill in less than 33 meters. The number "3" is apparently very important to Alfa Romeo.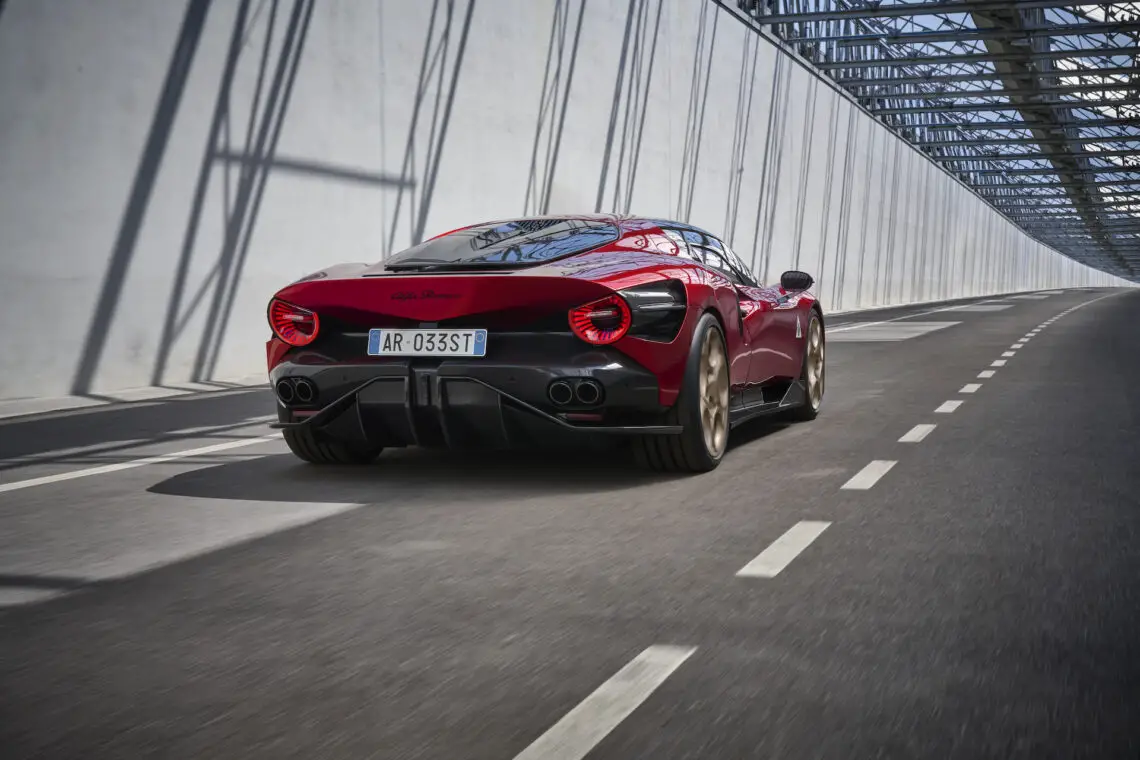 The big boss speaking
"With the new Alfa Romeo 33 Stradale, we wanted to create something that characterizes the brand and its history and makes Alfisti proud. Such a result could only be achieved thanks to the expertise, hard work and passion of our team. With the support of the management that has the clear ambition to contribute to writing new chapters for the future of the brand, while respecting its unique history. This is the brand's first 'fuoriserie' model since 1969 and will not be the last," said Jean-Philippe Imparato, CEO of Alfa Romeo.
Sexy design Alfa Romeo 33 Stradale
You can see from everything that the classic 33 Stradale served as the inspiration for this new variant. The supercar's profile looks dynamic and sleek. Features include "elytra" wing doors and two large air intakes on the side. Thanks to the corner opening of the doors and the large sunroof, occupants enjoy a unique view. The truncated rear end, V-shaped graphic and round taillight units complete the party.
Valtteri Bottas
The model is composed of an aluminum H-frame chassis and a carbon-fiber monocoque for maximum rigidity and weight reduction. Salient detail: Alfa Romeo F1 Team driver Valtteri Bottas is involved in the final tuning of the 33 Stradale to ensure sensational track performance, but also daily usability on public roads. Definitely a sensational car from a brand with a rich history. Alfisiti will be proud. We secretly do, too.