Prijzen tickets Dutch Grand Prix 2024/2025
Dutch Grand Prix 2024 in Zandvoort
De race in 2024 is in het weekend van 23, 24 en 25 augustus op het circuit van Zandvoort. De datum van de race in 2025 is nog niet bekend. Benieuwd naar de ticketprijzen? We zetten de prijzen voor je op een rij. Belangrijke kanttekening: er geldt een maximaal aantal tickets van 6 per aanvraag. Daarnaast hoor je pas later of je een van de gelukkige bent om tickets te kopen.
De online shop sluit namelijk op 8 september 2023. Alle geldige aanvragen die op tijd zijn ontvangen, worden gelijk behandeld. De willekeurige toewijzing van de tickets wordt verwacht tussen 22 september en 6 oktober 2023. Je ontvangt hier automatisch bericht over van de organisatie. Duimen dus dat het gaat lukken.
"Vanaf 25 augustus tot en met 8 september hebben fans de kans om tickets aan te vragen voor de Dutch Grand Prix van 2024 en 2025"
Combi-tickets voor race in 2024 en 2025
Je kunt zowel tickets voor 2024 als combi tickets voor 2024 en 2025 aanvragen. Als je combi-tickets aanvraagt en je wordt uitgeloot, dan loot je ook automatisch mee voor de tickets voor 2024. Zo heb je dus dubbel kans op een toewijzing.
Formula 1 Heineken Dutch Grand Prix 2024/2025
Er zijn verschillende keuzes, want de prijs van een ticket is sterk afhankelijk van de gekozen locatie rondom het circuit. Er is keuze uit General Admission, Bronze, Silver 1, Silver 2, Gold en Main Straight. De prijs is ook afhankelijk van de gekozen dag. Zo is vrijdag – tijdens de vrije trainingen – aanzienlijk goedkoper dan een bezoek op zaterdag (kwalificaties) en zondag (racedag).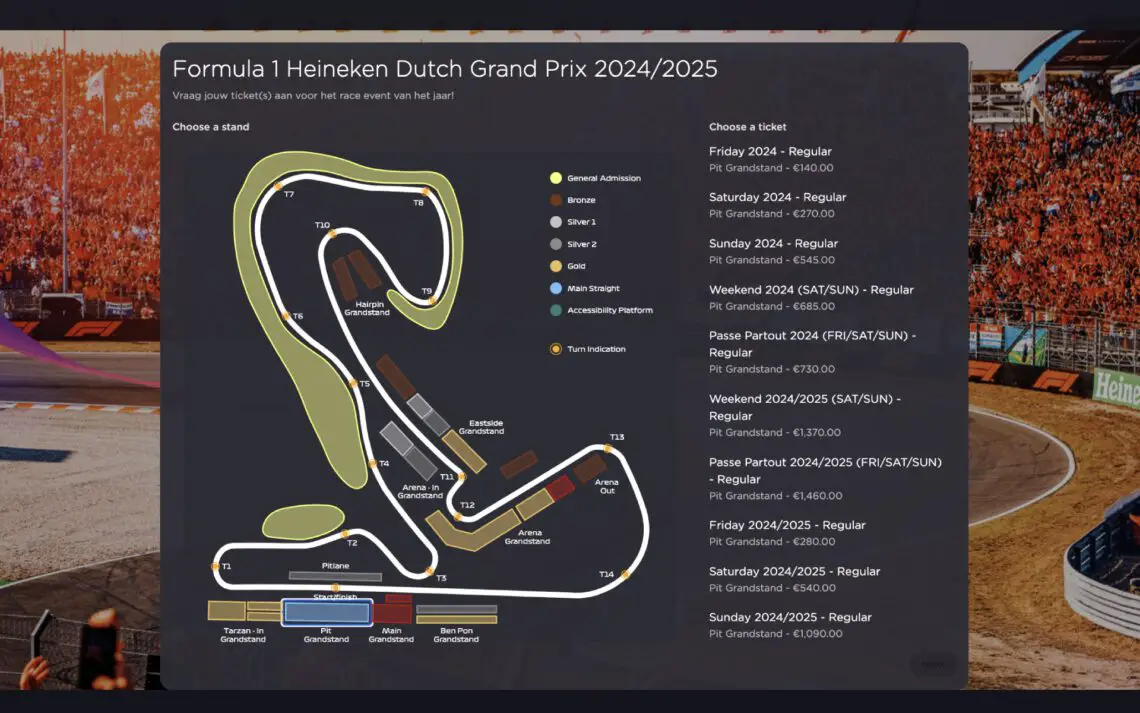 Zo werkt het bestelproces van tickets Dutch Grand Prix 2024/2025
De organisatie aan het woord: "Door de enorme interesse en het beperkte aantal beschikbare tickets maken we gebruik van een aanvraag- en toewijzingsproces. Tot en met 8 september heb je de mogelijkheid om jouw tickets aan te vragen. Alle aanvragen maken evenveel kans op toewijzing ongeacht de datum van de aanvraag, dus je hebt ruim de tijd om jouw ticketaanvraag te doen. Extra kans maken? Je kan ook combitickets 2024/2025 aanvragen. Wanneer je uitgeloot wordt voor deze '2-jaarskaarten', loot je automatisch mee voor 2024 tickets. Daarmee heb je dus een dubbele kans om erbij te zijn! Ook kan je jouw kansen nog vergroten wanneer je aangeeft dat je ook in aanmerking wil komen voor tickets in een andere categorie dan die je hebt aangevraagd. Tussen 22 september en 6 oktober 2023 hoor jij of de door jouw aangevraagde tickets zijn toegewezen. Bij toewijzing van de tickets geldt een automatische betalingsverplichting die binnen 7 dagen na ontvangst van de betaallink moet worden voldaan. Wij bieden ook een gespreid betalen optie als je niet het gehele bedrag in 1x wil voldoen."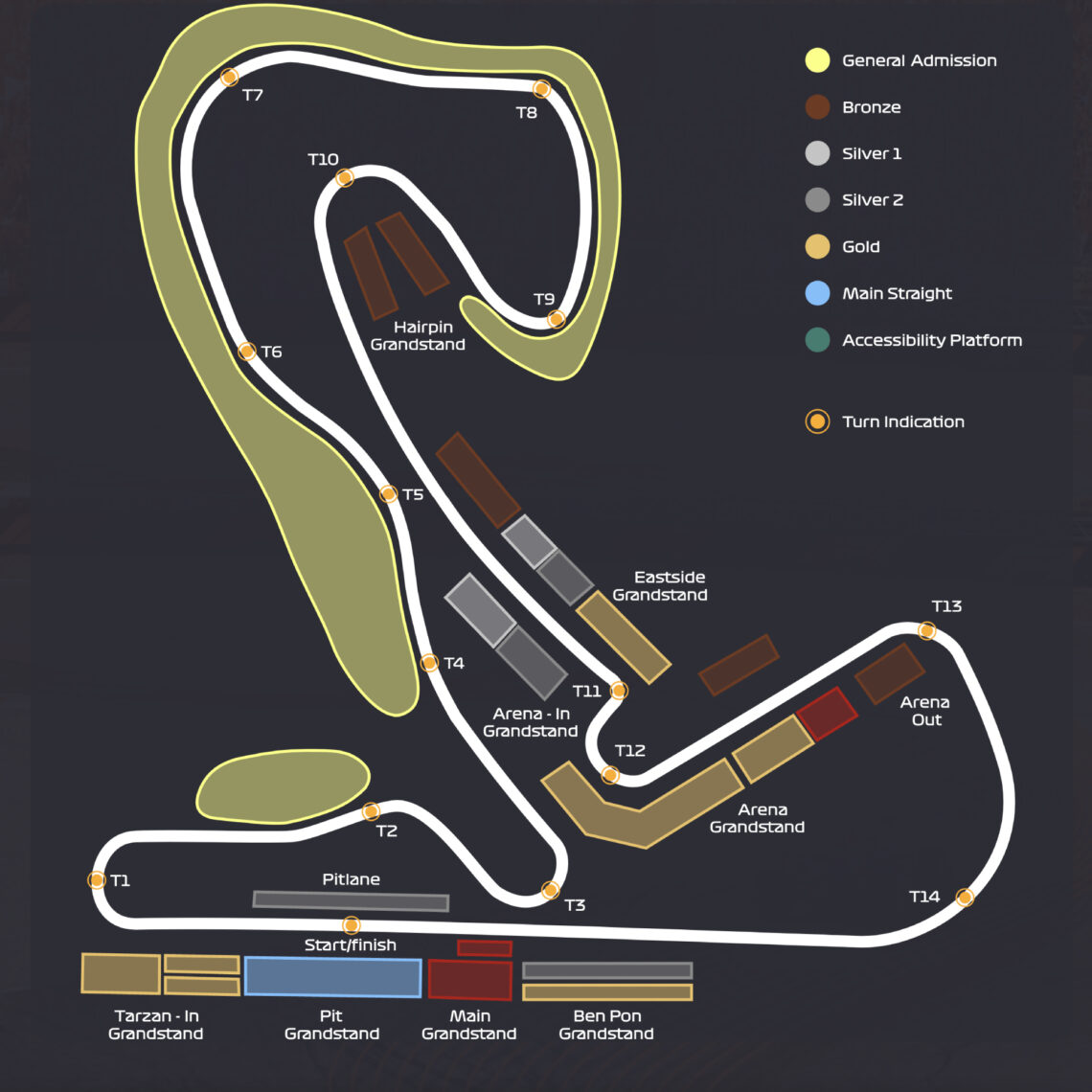 Wat kost een ticket?
De prijzen van een ticket variëren enorm. Wil je tijdens racedag op zondag op de hoofdtribune zitten? Dan betaal je 545 euro. Direct je tickets voor 2024 én 2025 bestellen? Dan moet je 1.090 euro betalen. Liever gewoon algemene toegang? Dan betaal je 180 euro voor een zondagticket. Wil je algemene toegang op vrijdag, zaterdag en zondag? Dan kost je dat 265 euro. Benieuwd naar alle ticketprijzen voor de Dutch Grand Prix? We zetten we hieronder per locatie/tribune voor je op een rij. Het is een bijzonder lange lijst, maar dat komt omdat de organisatie heel veel verschillende opties aanbiedt.
Prijzen tickets Dutch Grand Prix 2024
General Admission 1
Friday 2024 – Regular – €60.00
Friday 2024 – Kids-  €33.00
Saturday 2024 – Regular – €75.00
Saturday 2024 – Kids – €40.00
Sunday 2024 – Regular – €180.00
Sunday 2024 – Kids – €99.00
Weekend 2024 (SAT/SUN) – Regular – €235.00
Weekend 2024 (SAT/SUN) – Kids – €130.00
Passe Partout 2024 (FRI/SAT/SUN) – Regular – €265.00
Passe Partout 2024 (FRI/SAT/SUN) – Kids – €150.00
Weekend 2024/2025 (SAT/SUN) – Regular – €470.00
Weekend 2024/2025 (SAT/SUN) – Kids – €260.00
Passe Partout 2024/2025 (FRI/SAT/SUN) – Regular – €530.00
Passe Partout 2024/2025 (FRI/SAT/SUN) – Kids – €300.00
Friday 2024/2025 – Regular – €120.00
Saturday 2024/2025 – Regular – €150.00
Saturday 2024/2025 – Kids – €80.00
Sunday 2024/2025 – Regular – €360.00
Sunday 2024/2025 – Kids – €198.00
Hairpin 1
Friday 2024 – Regular – €85.00
Friday 2024 – Kids – €46.75
Saturday 2024 – Regular – €125.00
Saturday 2024 – Kids – €70.00
Sunday 2024 – Regular – €299.00
Sunday 2024 – Kids – €165.00
Weekend 2024 (SAT/SUN) – Regular – €370.00
Weekend 2024 (SAT/SUN) – Kids – €200.00
Passe Partout 2024 (FRI/SAT/SUN) – Regular – €399.00
Passe Partout 2024 (FRI/SAT/SUN) – Kids – €217.00
Weekend 2024/2025 (SAT/SUN) – Regular – €740.00
Weekend 2024/2025 (SAT/SUN) – Kids – €400.00
Passe Partout 2024/2025 (FRI/SAT/SUN) – Regular – €798.00
Passe Partout 2024/2025 (FRI/SAT/SUN) – Kids – €434.00
Friday 2024/2025 – Regular – €170.00
Saturday 2024/2025 – Regular – €250.00
Saturday 2024/2025 – Kids – €140.00
Sunday 2024/2025 – Regular – €598.00
Sunday 2024/2025 – Kids – €330.00
Hairpin 2
Friday 2024 – Regular – €85.00
Friday 2024 – Kids – €46.75
Saturday 2024 – Regular – €125.00
Saturday 2024 – Kids – €70.00
Sunday 2024 – Regular – €299.00
Sunday 2024 – Kids – €165.00
Weekend 2024 (SAT/SUN) – Regular – €370.00
Weekend 2024 (SAT/SUN) – Kids – €200.00
Passe Partout 2024 (FRI/SAT/SUN) – Regular – €399.00
Passe Partout 2024 (FRI/SAT/SUN) – Kids – €217.00
Weekend 2024/2025 (SAT/SUN) – Regular – €740.00
Weekend 2024/2025 (SAT/SUN) – Kids – €400.00
Passe Partout 2024/2025 (FRI/SAT/SUN) – Regular – €798.00
Passe Partout 2024/2025 (FRI/SAT/SUN) – Kids – €434.00
Friday 2024/2025 – Regular – €170.00
Saturday 2024/2025 – Regular – €250.00
Saturday 2024/2025 – Kids – €140.00
Sunday 2024/2025 – Regular – €598.00
Sunday 2024/2025 – Kids – €330.00
Eastside 1
Friday 2024 – Regular – €85.00
Friday 2024 – Kids – €46.75
Saturday 2024 – Regular – €125.00
Saturday 2024 – Kids – €70.00
Sunday 2024 – Regular -€299.00
Sunday 2024 – Kids – €165.00
Weekend 2024 (SAT/SUN) – Regular – €370.00
Weekend 2024 (SAT/SUN) – Kids – €200.00
Passe Partout 2024 (FRI/SAT/SUN) – Regular – €399.00
Passe Partout 2024 (FRI/SAT/SUN) – Kids – €217.00
Weekend 2024/2025 (SAT/SUN) – Regular – €740.00
Weekend 2024/2025 (SAT/SUN) – Kids – €400.00
Passe Partout 2024/2025 (FRI/SAT/SUN) – Regular – €798.00
Passe Partout 2024/2025 (FRI/SAT/SUN) – Kids – €434.00
Friday 2024/2025 – Regular – €170.00
Saturday 2024/2025 – Regular – €250.00
Saturday 2024/2025 – Kids – €140.00
Sunday 2024/2025 – Regular – €598.00
Sunday 2024/2025 – Kids – €330.00
Eastside 2A
Friday 2024 – Regular – €95.00
Saturday 2024 – Regular – €160.00
Sunday 2024 – Regular – €340.00
Weekend 2024 (SAT/SUN) – Regular – €415.00
Passe Partout 2024 (FRI/SAT/SUN) – Regular – €460.00
Weekend 2024/2025 (SAT/SUN) – Regular – €830.00
Passe Partout 2024/2025 (FRI/SAT/SUN) – Regular – €920.00
Friday 2024/2025 – Regular – €190.00
Saturday 2024/2025 – Regular – €320.00
Sunday 2024/2025 – Regular – €680.00
Eastside 2B
Friday 2024 – Regular – €105.00
Saturday 2024 – Regular – €200.00
Sunday 2024 – Regular -€399.00
Weekend 2024 (SAT/SUN) – Regular – €475.00
Passe Partout 2024 (FRI/SAT/SUN) – Regular – €520.00
Weekend 2024/2025 (SAT/SUN) – Regular – €950.00
Passe Partout 2024/2025 (FRI/SAT/SUN) – Regular – €1,040.00
Friday 2024/2025 – Regular – €210.00
Saturday 2024/2025 – Regular – €400.00
Sunday 2024/2025 – Regular – €798.00
Arena-In 1
Friday 2024 – Regular – €95.00
Saturday 2024 – Regular – €160.00
Sunday 2024 – Regular – €340.00
Weekend 2024 (SAT/SUN) – Regular – €415.00
Passe Partout 2024 (FRI/SAT/SUN) – Regular – €460.00
Weekend 2024/2025 (SAT/SUN) – Regular – €830.00
Passe Partout 2024/2025 (FRI/SAT/SUN) – Regular – €920.00
Friday 2024/2025 – Regular – €190.00
Saturday 2024/2025 – Regular – €320.00
Sunday 2024/2025 – Regular – €680.00
Arena-In 2
Friday 2024 – Regular – €105.00
Saturday 2024 – Regular – €200.00
Sunday 2024 – Regular – €399.00
Weekend 2024 (SAT/SUN) – Regular – €475.00
Passe Partout 2024 (FRI/SAT/SUN) – Regular – €520.00
Weekend 2024/2025 (SAT/SUN) – Regular – €950.00
Passe Partout 2024/2025 (FRI/SAT/SUN) – Regular – €1,040.00
Friday 2024/2025 – Regular – €210.00
Saturday 2024/2025 – Regular – €400.00
Sunday 2024/2025 – Regular – €798.00
Eastside 3
Friday 2024 – Regular – €125.00
Saturday 2024 – Regular – €225.00
Sunday 2024 – Regular – €470.00
Weekend 2024 (SAT/SUN) – Regular – €580.00
Passe Partout 2024 (FRI/SAT/SUN) – Regular – €625.00
Weekend 2024/2025 (SAT/SUN) – Regular – €1,160.00
Passe Partout 2024/2025 (FRI/SAT/SUN) – Regular – €1,250.00
Friday 2024/2025 – Regular – €250.00
Saturday 2024/2025 – Regular – €450.00
Sunday 2024/2025 – Regular – €940.00
Race Home Hospitality (ticket inclusive) – €3,267.00
Arena Grandstand 1
Friday 2024 – Regular – €125.00
Saturday 2024 – Regular – €225.00
Sunday 2024 – Regular – €470.00
Weekend 2024 (SAT/SUN) – Regular – €580.00
Passe Partout 2024 (FRI/SAT/SUN) – Regular – €625.00
Weekend 2024/2025 (SAT/SUN) – Regular – €1,160.00
Passe Partout 2024/2025 (FRI/SAT/SUN) – Regular – €1,250.00
Friday 2024/2025 – Regular – €250.00
Saturday 2024/2025 – Regular – €450.00
Sunday 2024/2025 – Regular – €940.00
Race Home Hospitality (ticket inclusive) – €3,267.00
Arena Grandstand 2
Friday 2024 – Regular – €125.00
Saturday 2024 – Regular – €225.00
Sunday 2024 – Regular – €470.00
Weekend 2024 (SAT/SUN) – Regular – €580.00
Passe Partout 2024 (FRI/SAT/SUN) – Regular – €625.00
Weekend 2024/2025 (SAT/SUN) – Regular – €1,160.00
Passe Partout 2024/2025 (FRI/SAT/SUN) – Regular – €1,250.00
Friday 2024/2025 – Regular – €250.00
Saturday 2024/2025 – Regular – €450.00
Sunday 2024/2025 – Regular – €940.00
Race Home Hospitality (ticket inclusive) – €3,267.00
Eastside 4
Friday 2024 – Regular – €85.00
Friday 2024 – Kids – €46.75
Saturday 2024 – Regular – €125.00
Saturday 2024 – Kids – €70.00
Sunday 2024 – Regular – €299.00
Sunday 2024 – Kids €165.00
Weekend 2024 (SAT/SUN) – Regular – €370.00
Weekend 2024 (SAT/SUN) – Kids – €200.00
Passe Partout 2024 (FRI/SAT/SUN) – Regular – €399.00
Passe Partout 2024 (FRI/SAT/SUN) – Kids – €217.00
Weekend 2024/2025 (SAT/SUN) – Regular – €740.00
Weekend 2024/2025 (SAT/SUN) – Kids – €400.00
Passe Partout 2024/2025 (FRI/SAT/SUN) – Regular – €798.00
Passe Partout 2024/2025 (FRI/SAT/SUN) – Kids – €434.00
Friday 2024/2025 – Regular – €170.00
Saturday 2024/2025 – Regular – €250.00
Saturday 2024/2025 – Kids – €140.00
Sunday 2024/2025 – Regular – €598.00
Sunday 2024/2025 – Kids – €330.00
Arena Out Grandstand
Friday 2024 – Regular – €85.00
Friday 2024 – Kids – €46.75
Saturday 2024 – Regular – €125.00
Saturday 2024 – Kids – €70.00
Sunday 2024 – Regular – €299.00
Sunday 2024 – Kids – €165.00
Weekend 2024 (SAT/SUN) – Regular – €370.00
Weekend 2024 (SAT/SUN) – Kids – €200.00
Passe Partout 2024 (FRI/SAT/SUN) – Regular – €399.00
Passe Partout 2024 (FRI/SAT/SUN) – Kids – €217.00
Weekend 2024/2025 (SAT/SUN) – Regular – €740.00
Weekend 2024/2025 (SAT/SUN) – Kids – €400.00
Passe Partout 2024/2025 (FRI/SAT/SUN) – Regular – €798.00
Passe Partout 2024/2025 (FRI/SAT/SUN) – Kids – €434.00
Friday 2024/2025 – Regular – €170.00
Saturday 2024/2025 – Regular – €250.00
Saturday 2024/2025 – Kids – €140.00
Sunday 2024/2025 – Regular – €598.00
Sunday 2024/2025 – Kids – €330.00
Ben Pon Grandstand 1
Friday 2024 – Regular – €125.00
Saturday 2024 – Regular – €225.00
Sunday 2024 – Regular – €470.00
Weekend 2024 (SAT/SUN) – Regular – €580.00
Passe Partout 2024 (FRI/SAT/SUN) – Regular – €625.00
Weekend 2024/2025 (SAT/SUN) – Regular – €1,160.00
Passe Partout 2024/2025 (FRI/SAT/SUN) – Regular – €1,250.00
Friday 2024/2025 – Regular – €250.00
Saturday 2024/2025 – Regular – €450.00
Sunday 2024/2025 – Regular – €940.00
Race Home Hospitality (ticket inclusive) – €3,267.00
Ben Pon Grandstand 2
Friday 2024 – Regular – €105.00
Saturday 2024 – Regular – €200.00
Sunday 2024 – Regular – €399.00
Weekend 2024 (SAT/SUN) – Regular – €475.00
Passe Partout 2024 (FRI/SAT/SUN) – Regular – €520.00
Weekend 2024/2025 (SAT/SUN) – Regular – €950.00
Passe Partout 2024/2025 (FRI/SAT/SUN) – Regular – €1,040.00
Friday 2024/2025 – Regular – €210.00
Saturday 2024/2025 – Regular – €400.00
Sunday 2024/2025 – Regular – €798.00
Pit Grandstand
Friday 2024 – Regular – €140.00
Saturday 2024 – Regular – €270.00
Sunday 2024 – Regular – €545.00
Weekend 2024 (SAT/SUN) – Regular – €685.00
Passe Partout 2024 (FRI/SAT/SUN) – Regular – €730.00
Weekend 2024/2025 (SAT/SUN) – Regular – €1,370.00
Passe Partout 2024/2025 (FRI/SAT/SUN) – Regular – €1,460.00
Friday 2024/2025 – Regular – €280.00
Saturday 2024/2025 – Regular – €540.00
Sunday 2024/2025 – Regular – €1,090.00
Tarzan In Grandstand 2
Friday 2024 – Regular – €125.00
Saturday 2024 – Regular – €225.00
Sunday 2024 – Regular – €470.00
Weekend 2024 (SAT/SUN) – Regular – €580.00
Passe Partout 2024 (FRI/SAT/SUN) – Regular – €625.00
Weekend 2024/2025 (SAT/SUN) – Regular – €1,160.00
Passe Partout 2024/2025 (FRI/SAT/SUN) – Regular – €1,250.00
Friday 2024/2025 – Regular – €250.00
Saturday 2024/2025 – Regular – €450.00
Sunday 2024/2025 – Regular – €940.00
Race Home Hospitality (ticket inclusive) – €3,267.00
Tarzan In Grandstand 3
Friday 2024 – Regular – €125.00
Saturday 2024 – Regular – €225.00
Sunday 2024 – Regular – €470.00
Weekend 2024 (SAT/SUN) – Regular – €580.00
Passe Partout 2024 (FRI/SAT/SUN) – Regular – €625.00
Weekend 2024/2025 (SAT/SUN) – Regular – €1,160.00
Passe Partout 2024/2025 (FRI/SAT/SUN) – Regular – €1,250.00
Friday 2024/2025 – Regular – €250.00
Saturday 2024/2025 – Regular – €450.00
Sunday 2024/2025 – Regular – €940.00
Race Home Hospitality (ticket inclusive) – €3,267.00
Tarzan In Grandstand 1
Friday 2024 – Regular – €125.00
Saturday 2024 – Regular – €225.00
Sunday 2024 – Regular – €470.00
Weekend 2024 (SAT/SUN) – Regular – €580.00
Passe Partout 2024 (FRI/SAT/SUN) – Regular – €625.00
Weekend 2024/2025 (SAT/SUN) – Regular – €1,160.00
Passe Partout 2024/2025 (FRI/SAT/SUN) – Regular – €1,250.00
Friday 2024/2025 – Regular – €250.00
Saturday 2024/2025 – Regular – €450.00
Sunday 2024/2025 – Regular – €940.00
Race Home Hospitality (ticket inclusive) – €3,267.00