Why some electric cars will probably be a lot cheaper soon
Free fall
The corona crisis seems definitely behind us and the demand for luxury goods, such as cars, seems greater than ever. Those who want a new sought-after electric car – such as Kia EV6 – in their driveway sometimes have to wait more than a year as a result. Consequently, due to high demand, prices of key raw materials for electric cars rose sharply in recent years. That now seems to have come to an end. For example, the price of lithium has been in free fall since November.
China
Indeed, the demand for electric cars is not everywhere. In China, many consumers are currently holding back. They worry about the housing market and economy. Moreover, Chinese consumers today receive fewer subsidies from the government if they want to buy an electric car. These factors have caused the demand for EVs to collapse dramatically. So is the demand for lithium and other key raw materials for electric cars. Indeed, China is the largest market in the world for EVs .
Halved
The price of lithium has almost halved in China due to falling demand since November. In January alone, the price for a ton of lithium carbonate fell 34 percent. It is currently priced at 35,000 euros (261,000 yuan) for a ton (see chart below). 1 kWh of battery capacity requires 1 kg of lithium carbonate (Li2CO3). So a large battery pack is easily several thousand euros cheaper to produce.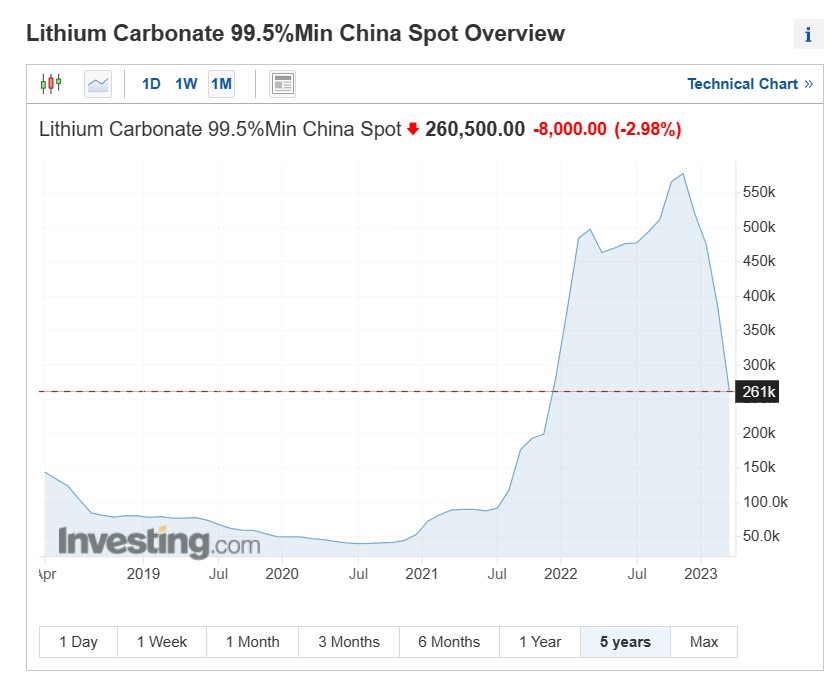 Chinese brands benefit
According to The Financial Times, the fall in the price of lithium is currently allowing Chinese automakers to buy batteries extra cheaply from major Chinese manufacturers such as CATL. Chinese car manufacturers can therefore market their cars at competitive prices. It may explain why MG – the Chinese automaker working intimately with CATL – can currently sell the MG 4 at a very competitive price in Europe.
Outside China
European manufacturers – who do not use Chinese batteries – benefit less from cheap lithium. Lithium coming out of the ground outside China is, in fact, still extremely expensive. The world's largest lithium producer, U.S.-based Albemarle, has even warned that lithium prices will only continue to rise for the foreseeable future.