Toyota and VDL join forces for further hydrogen rollout
Hydrogen trucks
The collaboration aims to accelerate carbon reduction in road transport. For Toyota Motor Europe, this is an important factor in achieving the goal of becoming completely carbon neutral by 2040.
Toyota Motor Europe sees great potential in the use of hydrogen trucks to make logistics routes emission-free. The lower mass of hydrogen systems allows for heavier payloads, and rapid hydrogen refueling is essential for intensive transportation. A hydrogen fuel cell truck can refuel as quickly as a diesel truck. In addition, the usage pattern of trucks, with their demand for larger amounts of hydrogen, provides an important contribution to sustainable infrastructure around major routes.
"A hydrogen fuel cell truck can refuel just as fast as a diesel truck."
Emission-free future
Hans Bekkers, Commercial Director VDL Special Vehicles: "VDL Special Vehicles believes in an emission-free future for medium and heavy on- and off-road equipment. We are therefore enormously proud to collaborate with Toyota Motor Europe on this innovative technology project, which will allow us to expand our hydrogen propulsion activities."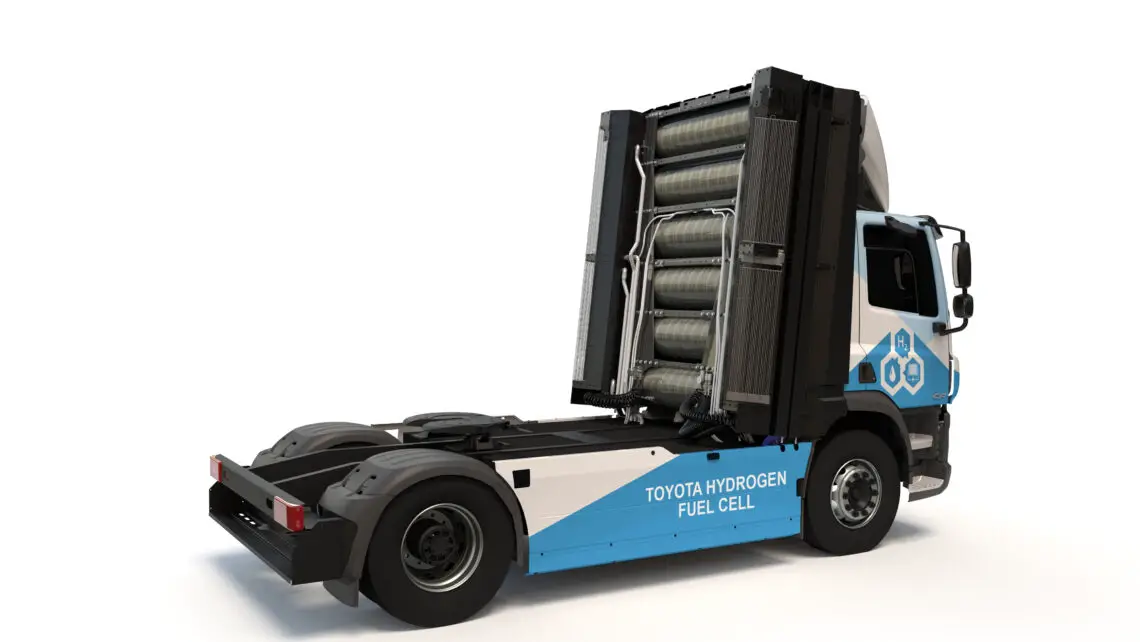 Summer 2023
The VDL Group will build the first fuel cell truck by the summer of 2023, followed by more vehicles to be produced in the fall of 2023. After this, these will also be deployed on TME's logistics routes in Europe. The project strengthens knowledge about hydrogen truck deployment, further supporting TME's long-term vision to decarbonize logistics and reduce Toyota's carbon footprint.
Carbon reduction from logistics
Leon van der Merwe, VP Supply Chain Toyota Motor Europe: "We are delighted to initiate this project with VDL Groep as it will enable us to further decarbonize the long-distance transportation of our components, vehicles and service parts. Heavy-duty trucks will remain a key pillar within our multimodal strategy and the introduction of zero-emission trucks equipped with our Toyota fuel cell modules will have a strong impact on the overall carbon reduction of our logistics."
Key role
Fuel cell trucks play a key role in the growth of the broader European hydrogen ecosystem and strongly support the decarbonization of transportation and an ecological energy transition. Heavy trucks are critical to generating healthy supply and demand dynamics for hydrogen. They can encourage the development of sustainable infrastructure, from which new mobility applications can emerge. The infrastructure for hydrogen trucks can easily be extended to other hydrogen vehicles using the same hydrogen refueling stations. This new truck project is one of several that Toyota has recently launched with multiple partners, including those for light commercial vehicles, boats, trains and buses, with the aim of accelerating the transition to a hydrogen economy.