This is the new Ford Transit Custom Nugget motorhome
Also as a PHEV
For the first time, Ford Transit Custom Nugget buyers can also choose electrified powertrains, including a new plug-in hybrid (PHEV) option. The "multi-zone" interior layout known and so beloved from previous generations returns, of course.
Ford Transit Custom Nugget
The latest generation Ford Transit Custom Nugget sits on the same all-new vehicle platform from Ford that was also presented earlier this year for the new Transit Custom and Tourneo Custom. With it, customers benefit from advanced design features, enhanced connectivity and safety-enhancing technologies. In the interior, a high-quality finish and improved functionalities are the main developments, in addition to an additional power point in the form of Pro Power Onboard and a handy solar panel for the roof that is optionally available from Westfalia.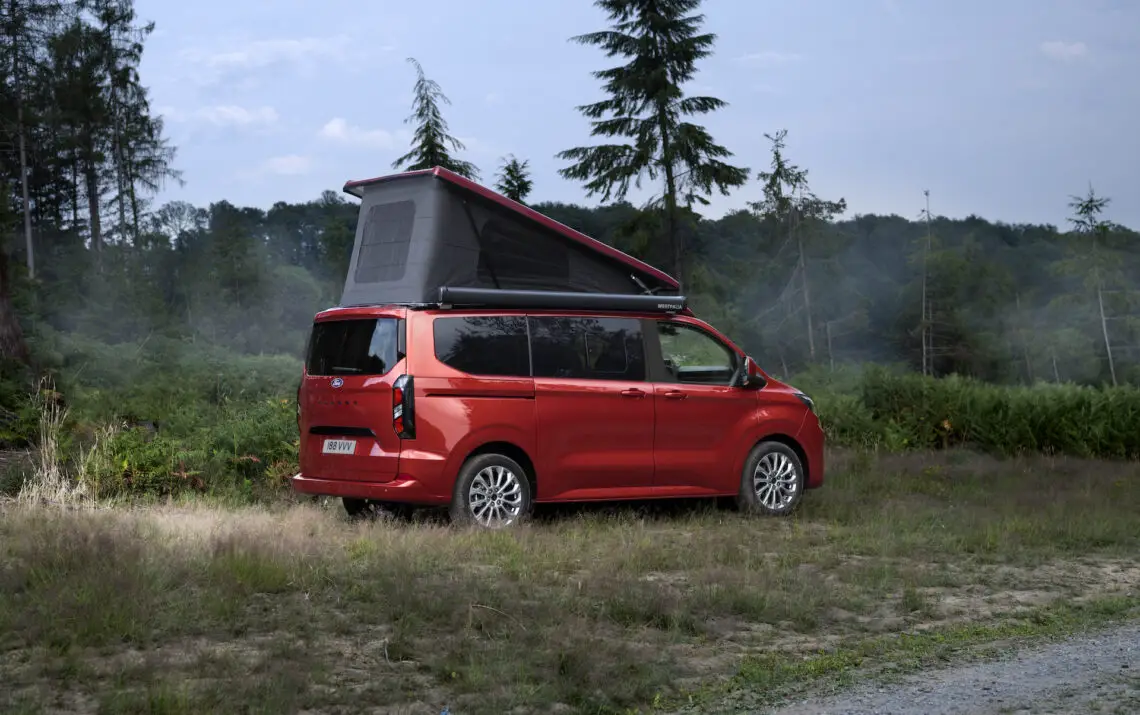 170-hp EcoBlue engine
The new generation Transit Custom Nugget will be launched in phases, starting with the Nugget Titanium version with lift roof and 170-hp EcoBlue engine with eight-speed automatic transmission. This version is available for immediate order now with estimated delivery in spring 2024. The Dutch Ford agents cooperate with the Dutch Westfalia Motorhome Center in Barneveld, the largest motorhome specialist with more than 20 years of experience. Other models and versions, including the PHEV powertrain, will be introduced over the next 12 months.
All the benefits of the new platform
Taking a road trip usually means driving hundreds of miles over long days. To do this, Ford has taken everything from the luxuriously designed cabin of the new Tourneo Custom. By applying a high-quality level of finish and carefully selected materials, the occupants' comfort experience is significantly enhanced.
Important purchase argument
The improved ergonomics and great ease of use of the cab itself is a major buying point for many Nugget customers. The new dashboard design and flat floor facilitate access to the cabin and make it easier to move from the two front seats to the living area. The innovative roof-mounted passenger airbag helps optimize dashboard layout and provides easier entry in conjunction with side steps.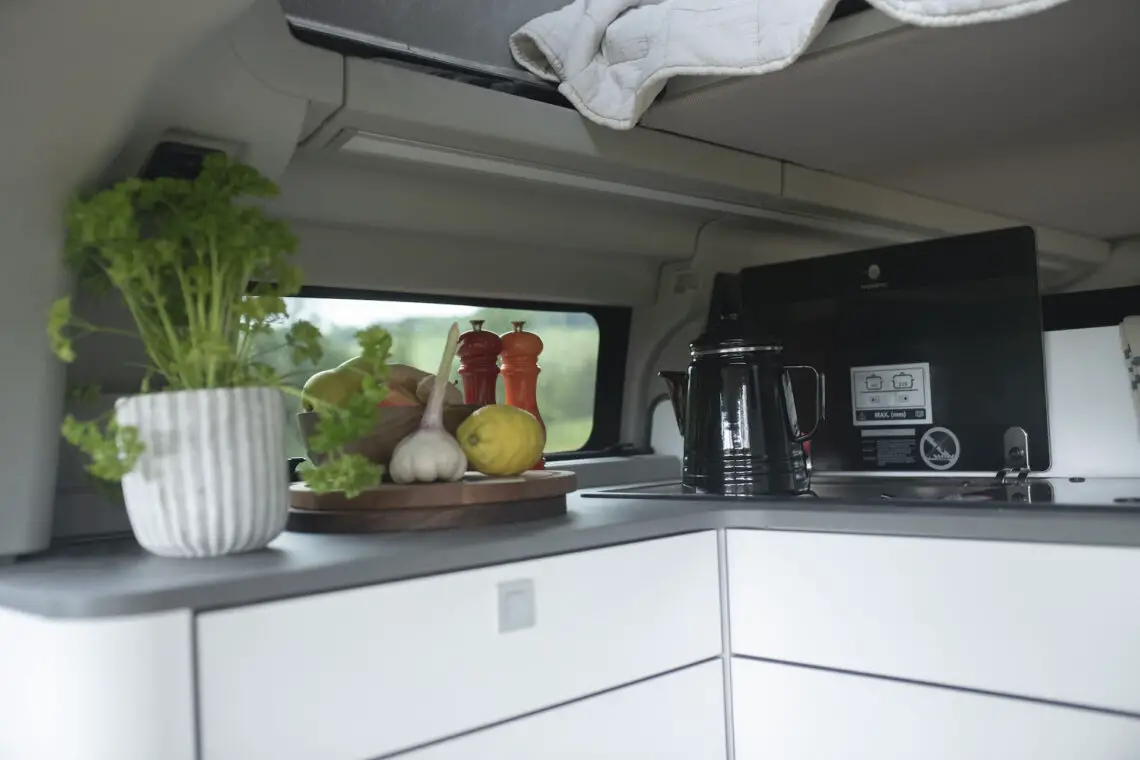 PHEV
A true first for the new Transit Custom Nugget is the introduction of a PHEV powertrain. It shares its technology with the Ford Kuga Plug-In Hybrid – Europe's best-selling PHEV in 2021 and 2022. The all-new Nugget uses a 2.5-liter Atkinson gasoline engine with an 11.8 kWh (usable) battery and an electric motor that together offer a combined output of 233 horsepower.
An all-new suspension with independent rear suspension sharpens handling considerably. Future models with all-wheel drive will also be available for customers who use their camper to seek out adventurous areas, such as outdoor sports venues or to drive away from a (muddy) festival site more easily.
SYNC 4, Android Auto and Apple Carplay as standard
The stylish dashboard features a fully digital instrument panel and a large 13-inch touchscreen. Ford's latest SYNC 4 software makes it easier than ever to find a destination, be entertained and keep in touch with family and friends. The system's navigation, audio and communication functions can be operated via the touchscreen or via voice control. Of course, wireless Android Auto and Apple Carplay phone integration are standard.
Lane assist
Special attention has been paid to making the new Nugget safe and easy to drive, even for drivers accustomed to smaller cars. In addition to a passenger-car-like seating position and an efficient eight-speed automatic transmission, the Nugget features a range of advanced (optional) driver assistance systems. Intelligent Adaptive Cruise Control with lane assist makes long trips on the highway or in slow-moving traffic less tiring. Reverse Brake Assist, Blind Spot Assist and a camera system with 360-degree vision support drivers in maneuvering in tight spaces.
Proven camper concept further improved
Ford and Westfalia have significantly raised the level of quality and ergonomics in the new model, completely redesigning the living space while maintaining the popular "multi-zone" layout with separate areas for cooking, living and sleeping. This unique interior design allows campers to move through the cabin even with two double beds set up, cook a meal or get in and out of the vehicle without disturbing each other.
The seating area is a safe and comfortable place to travel and can easily be converted into a dining and sleeping area when the Nugget is parked. In addition to optimized storage space and materials of the highest quality, Ford has also added numerous features, including:
A heatable driver and passenger seat with swivel function
A unique, heatable rear seat with three seats, allowing five occupants to travel in comfort
Standard audio system and USB-C ports for rear seat passengers
L-shaped kitchen
The optimized layout of the L-shaped kitchen makes cooking more enjoyable. Thanks to a practical refrigerator with drawer system, bottles can be placed upright and access is improved. Combined with the new, integrated cooktop and sink – now with hot water function as standard – the tidy surface offers 20 percent more work space than before. Soft-close latches and fold-out handles protect children's fingers and dampen noise while riding.
The all-new Transit Custom Nugget features significant design improvements over the previous model, including a folding mattress area to increase headroom in the kitchen while the upper bed is still in place. Also new is a rail-mounted rear seat with new controls that make it possible to convert it from a seat to a bed with one hand. A rear-mounted shower with cold and hot water function is now standard. In addition, the camping experience is further enhanced by all-new features, including:
Functional lift roof with new self-folding cloth to make it easier to lower the roof
New integrated storage for the included outdoor table and chairs
Practical blackout blinds with easy operation for more privacy
Standard 5G modem
In addition to additions to the camping equipment, the all-new Transit Custom Nugget also offers high-tech features to improve connectivity and comfort on the road once parked. Wireless charging and a standard 5G modem will keep everyone engaged and connected without worrying about a dead phone or lack of data. The optional roof-mounted solar panel helps power appliances or charge the household battery. In good weather conditions, the panel can generate more power than the built-in functions consume.
In the living area, a 7-inch touchscreen provides easy monitoring and control of the Nugget's heater, water level, battery level and lighting. In it, new features include:
Control of advanced LED interior lighting, including customizable color mood lighting
Slope sensor to help level on uneven ground
Bluetooth-enabled app that turns smartphones into a remote control for interior functions.
The all-new Transit Custom Nugget continues Ford's longstanding partnership with leading motorhome maker Westfalia, putting the company in an ideal position to provide offerings for the strong demand in the European market for compact one-ton motorhomes.