This is the most popular caravan tractor in the Netherlands
Mazda CX-5 popular SUV
According to the year 2022 survey, 8.4 percent of all tow vehicles in the Netherlands are Mazda CX-5s. So neat numbers from Mazda. And in itself it is no surprise, as the CX-5 is undiminished in popularity. Indeed, with a market share of 9.91 percent, the Mazda CX-5 also leads the list of best-selling new cars among caravan owners.
Caravan owners often drive young car
Finally, Mazda as a brand also ranks first in market share of newly purchased tow vehicle brands with 13.96 percent. Caravan owners often purchase their car new (40 percent), just over half of all cars are no older than five years and 87 percent are no older than 10 years. So caravan drivers often drive fairly young cars. This makes quite a bit of sense, since a caravan owner is generally a bit older and has a fatter wallet and thus money to invest in a new SUV.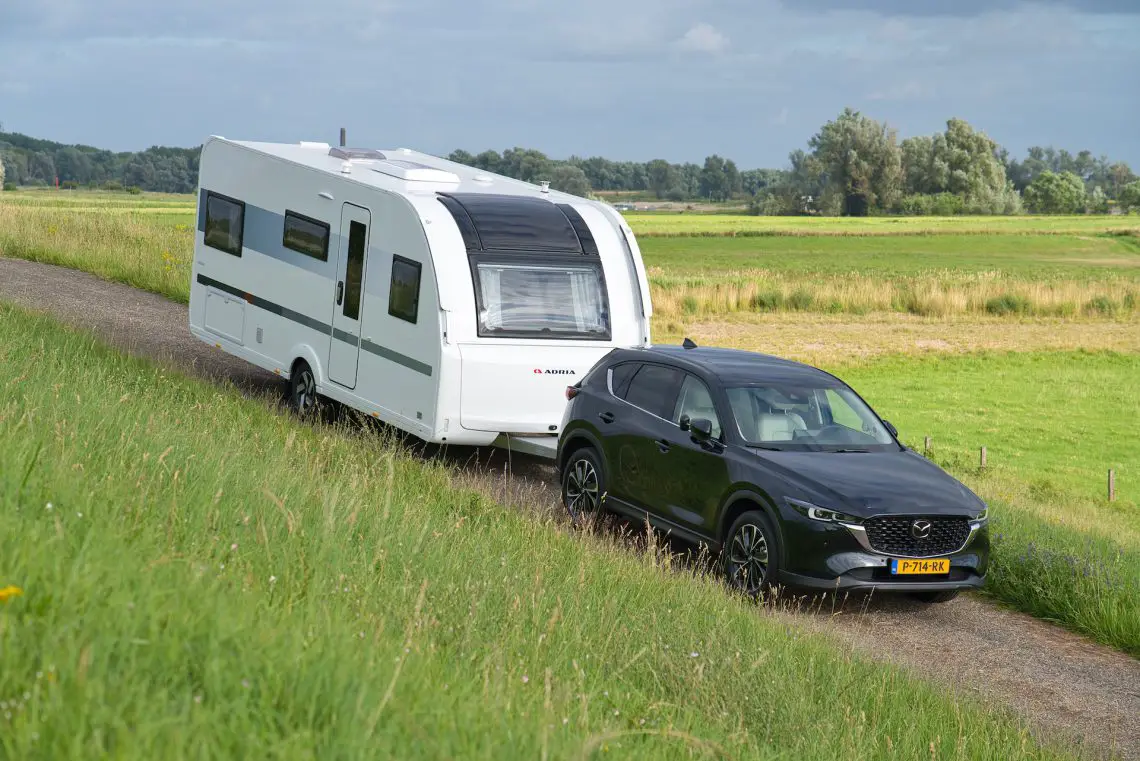 Towing weights Mazda CX-5
The Mazda CX-5 e-Skyactiv G 194 hp has a braked towing weight of 2,000 kilograms, the 165 hp MT 1,800 kilograms and the 165 hp AT also 2,000 kilograms. So racking a caravan, folding trailer or trailer is not a problem.
Other popular models include the Volkswagen Tiguan, Ford Kuga, Volvo XC60 and Toyota RAV4. Complete figures from the survey are below.
Market share of tow vehicle models in the whole market
Mazda CX-5 8.40%
Volkswagen Tiguan 4.66%
Ford Kuga 4.42%
Volvo XC60 3.30%
Toyota RAV4 3.01%
Nissan Qashqai 2.92%
Subaru Forester 2.52%
Hyundai Tucson 2.10%
Volvo XC40 2.05%
Renault Scenic 1.93%
Market share of tow vehicle brands across the market
Volvo 11.39%
Mazda 9.38%
Volkswagen 9.06%
Ford 8.07%
Renault 6.54%
Toyota 5.33%
Kia 4.76%
Hyundai 4.45%
Citroën 3.96%
Nissan 3.83%
Market share of newly purchased tow vehicle models in 2022
Mazda CX-5 9.91%
Hyundai Tucson 8.11%
Kia Sportage 7.21%
Ford Kuga 6.76%
Volvo XC40 6.31%
Nissan Qashqai 4.50%
Volvo XC60 3.60%
Suzuki Vitara 3.60%
Mitsubishi Eclipse Cross 3.15%
Mazda CX-60 3.15%
Market share of newly purchased tow vehicle brands  by 2022
Mazda 13.96%
Kia 11.71%
Volvo 11.71%
Hyundai 9.46%
Ford 8.11%
Suzuki 6.31%
Nissan 4.95%
Skoda 4.50%
Mitsubishi 3.60%
Volkswagen 2.70%