Review – Nio ET5 (2023) – Hip sports sedan with 490 hp
Number three
The Nio ET5 is the third model from the Chinese brand that we get to put to the test. Before, we drove the EL7 – a large SUV – and the ET7, a business sedan and Nio's flagship. You can think of the ET5 as its little brother. On the outside, the two look strikingly similar. The ET5 is just a size smaller. At 4.79 meters long, it is about 40 centimeters shorter than the ET7, but 10 centimeters longer than its biggest competitor: the Tesla Model 3.
Range ET5
For now, Nio is offering the ET5 with two different battery packs: 77 kWh and 100 kWh. With the "small" battery pack, a theoretical range of 456 kilometers is possible. The large battery pack is good for 590 kilometers on paper. During our first brief encounter, we didn't have time to drive the battery completely empty. The consumption figures suggest that the ET5 is not very thirsty, and some 350-400 kilometers (77 kWh) and 500-550 kilometers (100 kWh) on a single battery charge should easily be possible in favorable conditions, such as on the beautiful spring day that our first introduction took place. In bad conditions – think frost, wind, a roof box and four soft tires – you can still get about 300 kilometers with the small battery we suspect. Excellent numbers, then.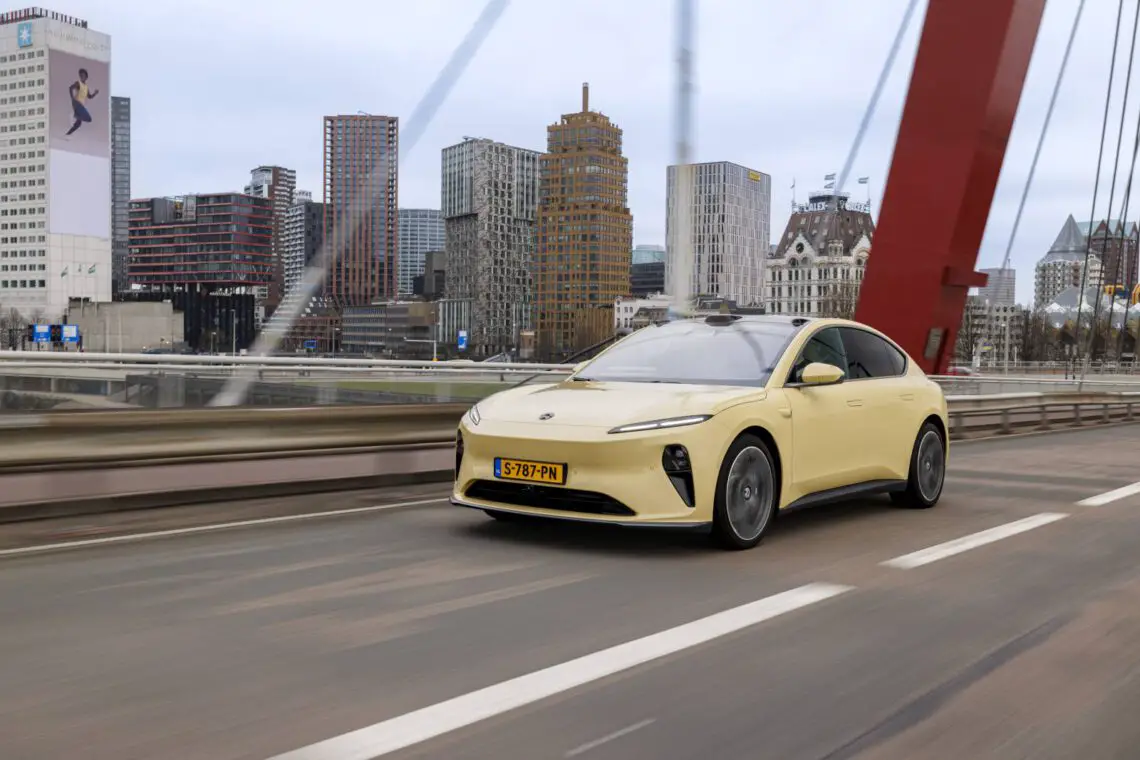 Rent or buy?
You can buy the ET5 including battery, or opt for a "Battery as a Service" (BaaS) subscription. Through the BaaS construction, you rent the battery and can swap it at a Nio Power Swap Station. Here you can swap a dead battery for a fully charged one in just five minutes. It works like this: users park their Nio in front of the Swap Station and the car then automatically drives in. A robot unscrews the empty package from the car and places a fully loaded package inside. This entire process takes only five minutes. There are now four locations in the Netherlands where this can be done. We recently visited such a swap station in Tilburg, you can see how it went in this video. Of course, if you have more time and want to stretch your legs a little longer, you can also charge the ET5 at a fast charger. The 77 kWh battery pack can fill you up to 125 kW of charging power; the large pack can handle up to 140 kW.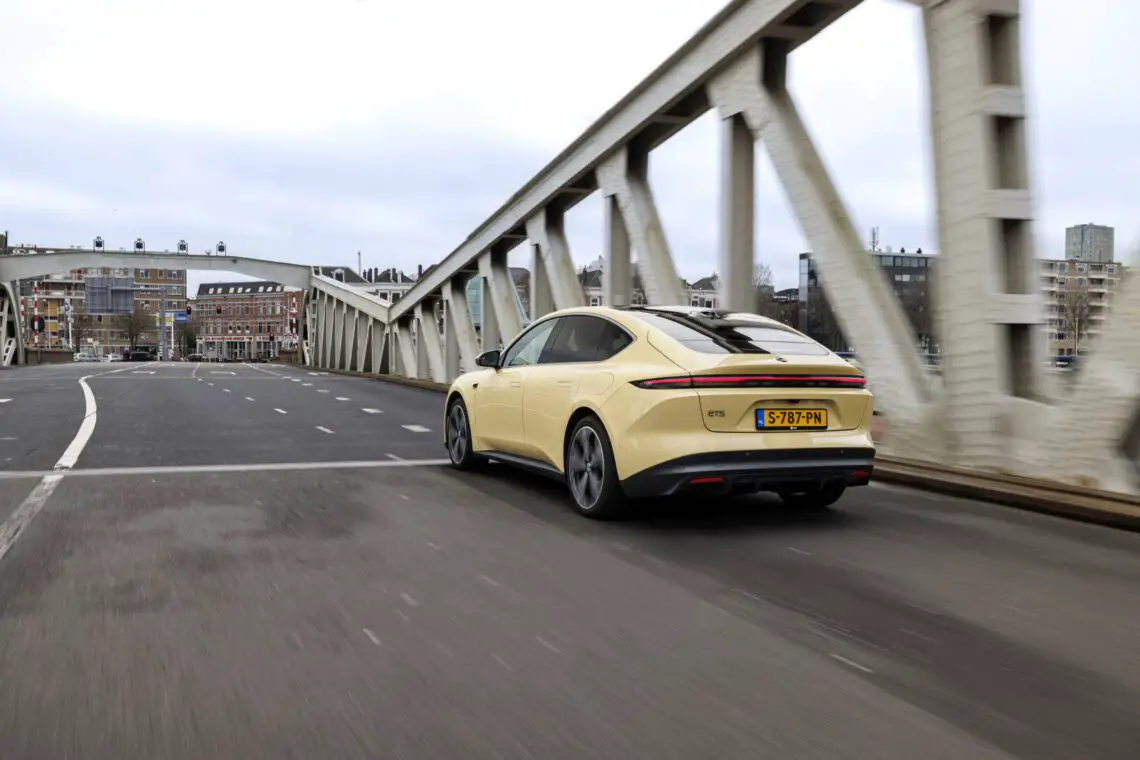 Cost that?
By renting out the battery, Nio can keep the prices of its cars relatively low. For example, the ET5 combined with the BaaS subscription has a consumer recommended retail price starting at 50,700 euros. Renting the battery costs 169 euros (77 kWh) and 289 euros (100 kWh) per month. Battery change, including energy, is free until the end of 2023. For a Nio ET5 including the 77 kWh battery pack, you have to pay 62,700 euros. For a version with the large battery pack – the ET5 Long – the brand is asking 71,700 euros. The battery rental construction is proving popular: according to the brand, all customers so far choose this option.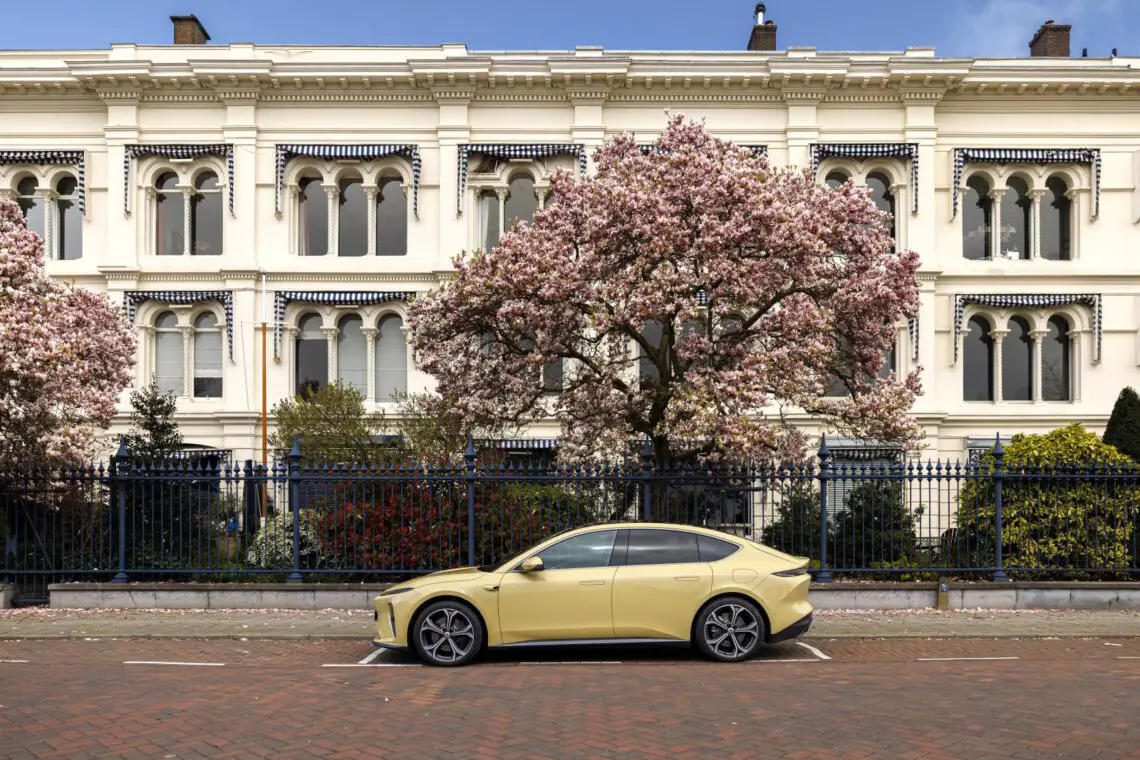 Few options
Like Polestar and Tesla, Nio offers few options. The ET5 already comes pretty thick with stuff as standard. Large screens, ambient lighting, Dolby Atmos audio system, a giant glass panoramic roof, it's all standard. You do have to pay extra for steering wheel heaters, a heated rear seat, orange brake calipers and an electrically retractable tow bar – the ET5 has a towing capacity of 1,400 kg. You also have to pay extra for the Nomi Mate – a personal assistant that sits on the dashboard in Tamagotchi form.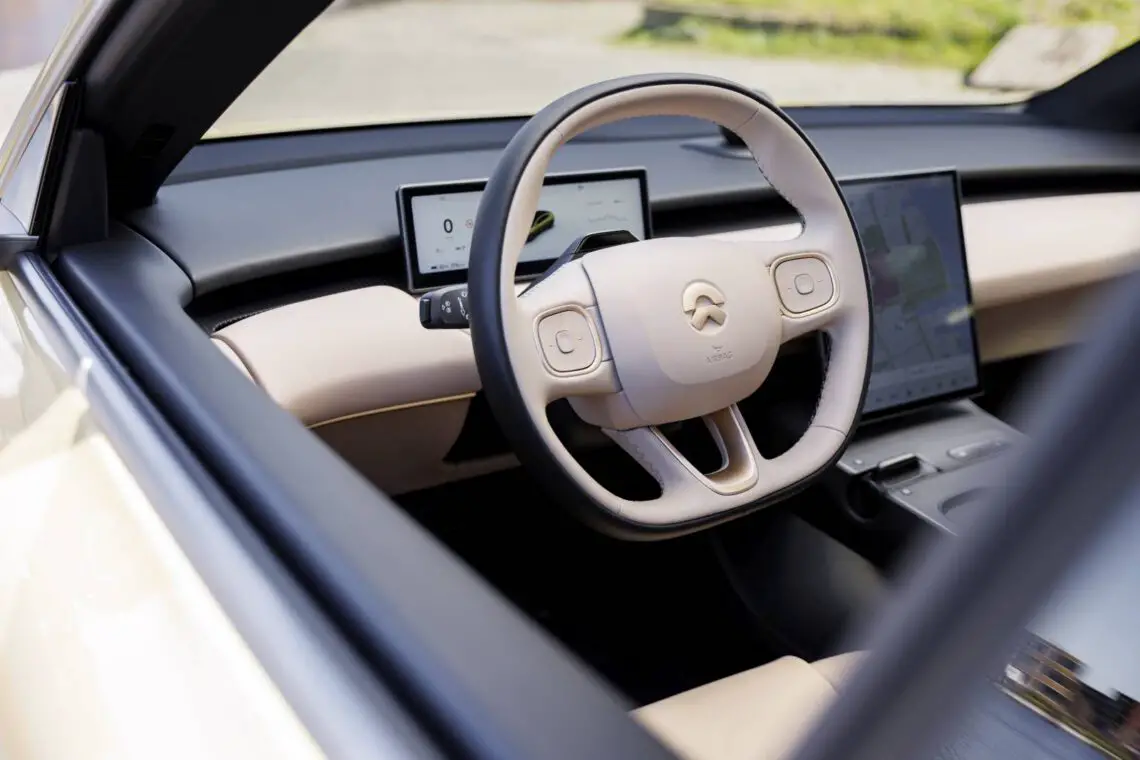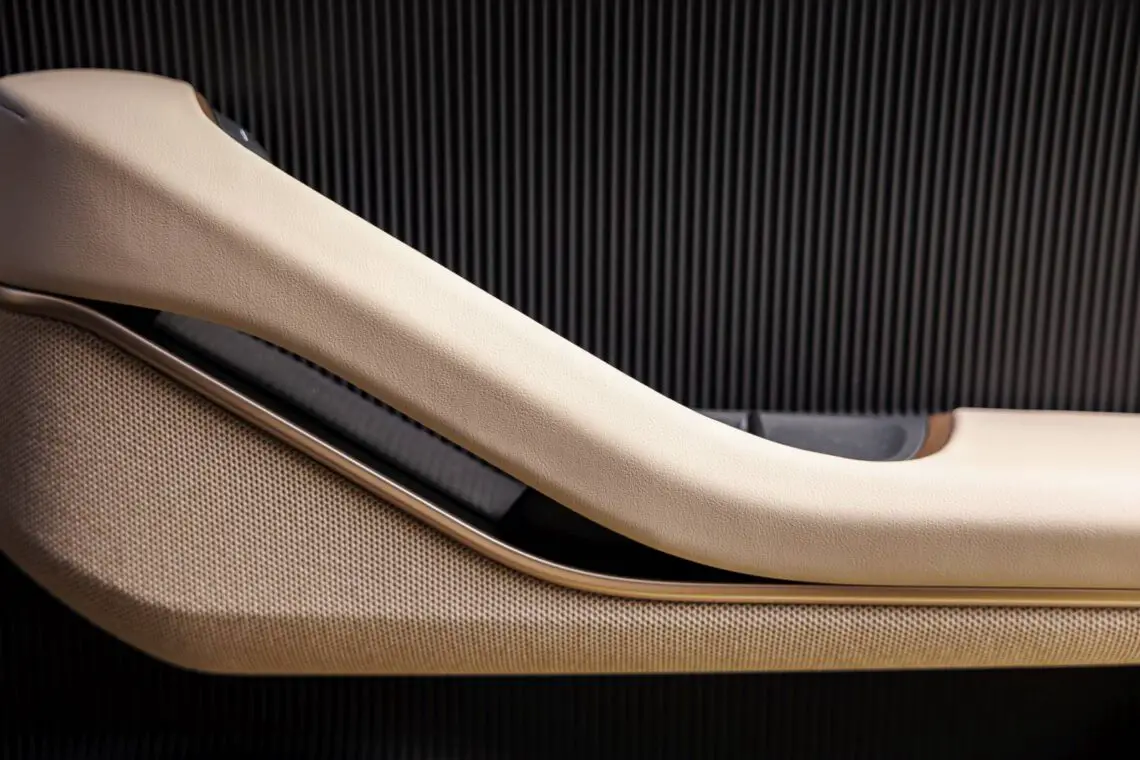 Rest
Nio herself describes the interior as a "second living room. We understand what they mean, because it exudes very much tranquility. You can choose from four different interior themes. The materials are in thick order. The fabric trim around the dashboard looks especially nice. There is clearly more hard plastic present than in the stately ET7, though. Difference has to be there. But the plastics are nicely finished and do not feel cheap. The 12.8-inch display that uses AMOLED technology is very pleasant to look at and operate. There are few cars on the market that have more computing power on board than Nio's cars.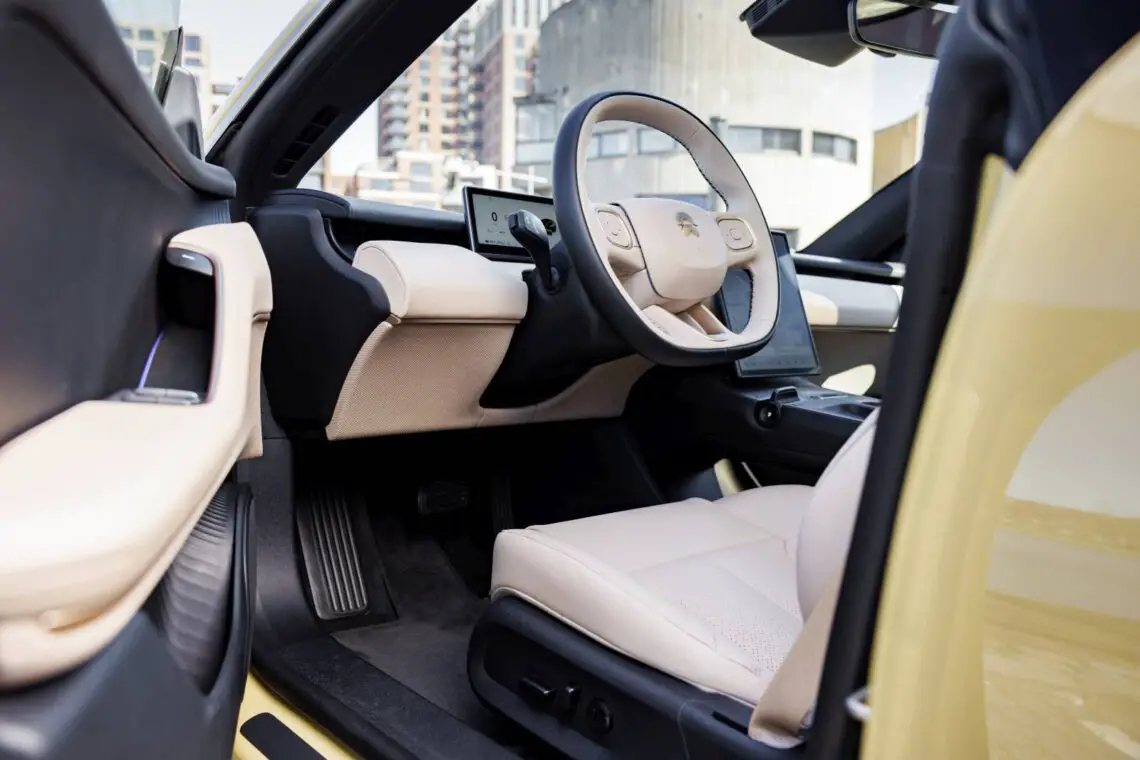 Sports sedan
At the stoplight, you don't have to get nervous in an ET5 when a Model 3, Polestar 2 or i4 comes up next to you. It has two electric motors as standard, which together account for 490 hp and 700 Nm of torque. You read that right, almost 500 hp. In just 4 seconds it races from 0 to 100 km/h and the top speed is 200 km/h. In the center console is a button that allows you to quickly change driving modes. If your child opens a packet of apple juice in the back seat, you'd better quickly switch from Sport+ to Comfort .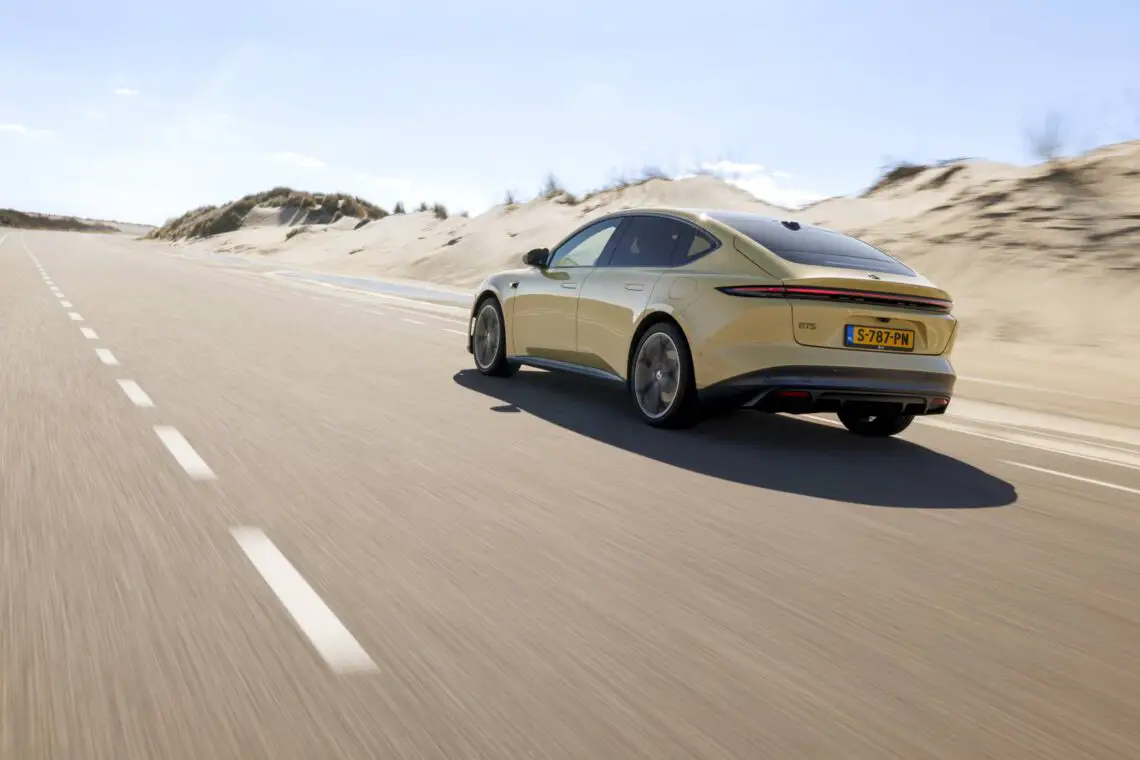 Driving experience
The Nio ET5 and ET7 look alike inside and out, but their handling differs like night and day. In the ET7, you may prefer to sit in the back rather than the front, but in the ET5, you prefer to get behind the wheel yourself. It is a typical sports sedan, with quick steering, stable handling and a relatively hard suspension. However, it never becomes uncomfortable, making it an excellent mileage rider as well.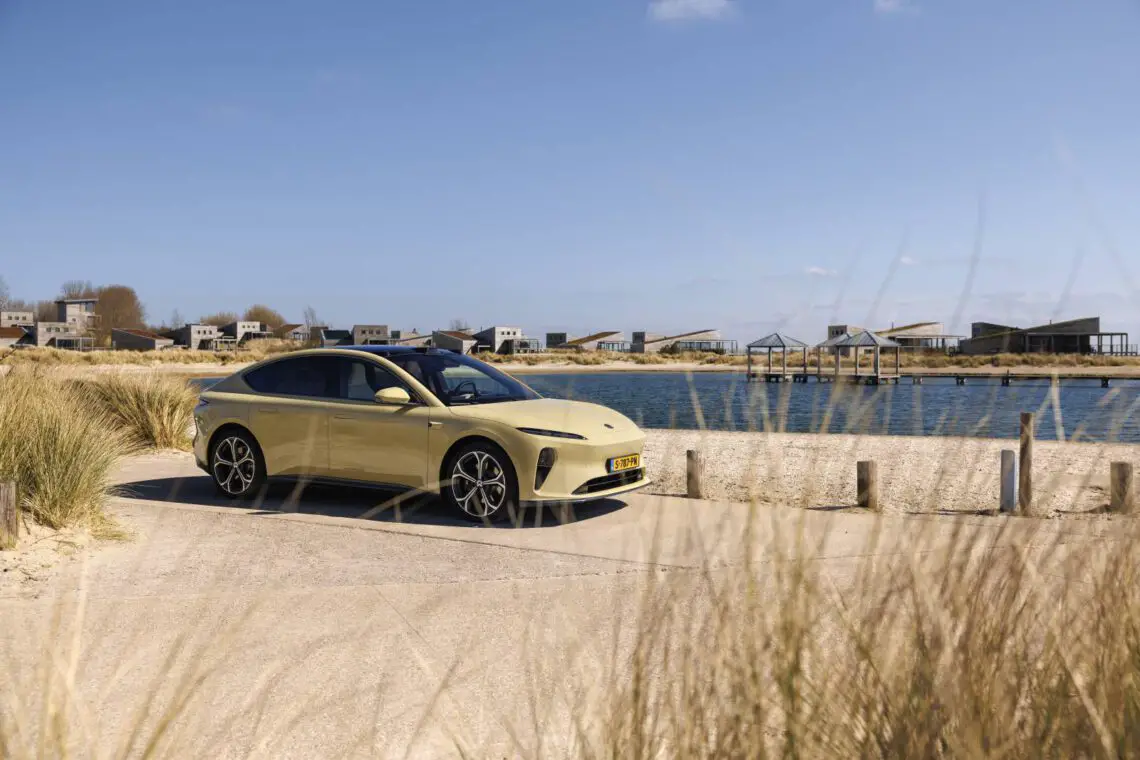 Seat position
The only drawback in the front of the ET5? The seating position is remarkably high. Are you considering an ET5 and are you a typical tall Dutchman? If so, go test sit first. You can do that in the Netherlands in Rotterdam, at De Meent 80, where there is a so-called NIO House. A similar trendy showroom is scheduled to open in Amsterdam later this year. In the video, we tell you more about the Nio ET5.