Review – MINI Electric Cabrio (2023) – The first electric convertible
MINI Electric without roof
MINI has put the saw into the MINI Electric. The brand is waving off the current generation of the MINI Electric with a convertible version. In doing so, MINI has an immediate first. After all, you couldn't buy a true electric convertible until now. As such, it is the first time for us to get to drive a convertible EV. Pretty special, because it's not often we have a completely new automotive experience. Exciting!
Unique execution
At the MINI importer, we get the keys pressed into our hands. We promise to be economical with the MINI Electric Cabrio, as the brand builds only 999 units. Not much, considering they already sold 27,000 MINI Electrics with a roof by 2022. In short: it is an exclusive version, for the real enthusiast. The Netherlands will be allocated 30 copies. By the way, all of those have already been sold. With that in mind, we now dare to tell you the price tag, because you can't buy it anyway: 63,000 euros. Whew, solid! And that's for a three-door MINI with a limited range.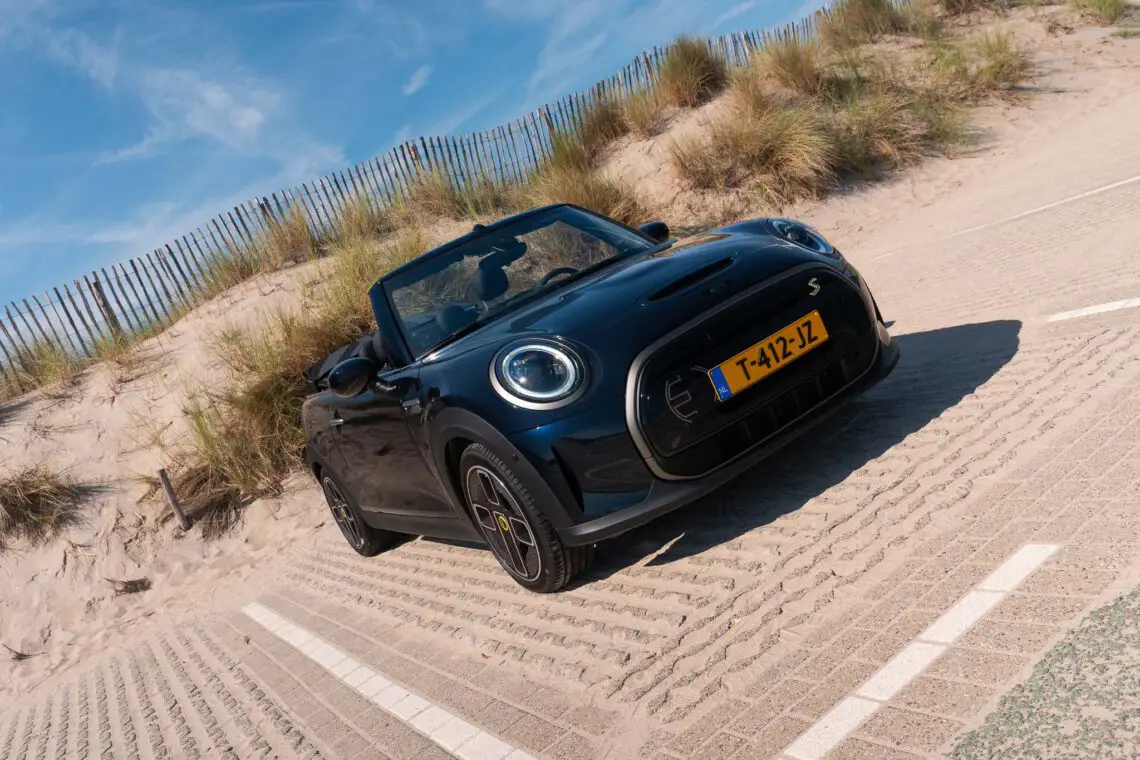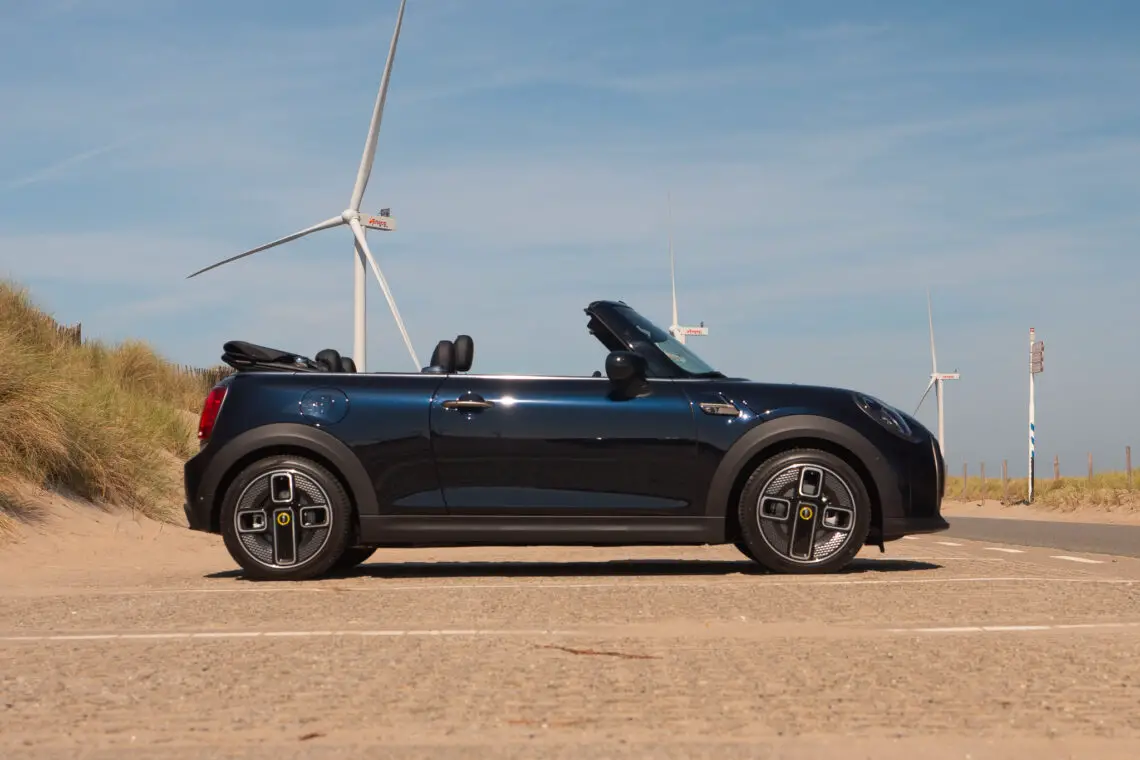 201 kilometers
In fact, the MINI Electric Cabrio gets 34 kilometers less distance than its brother with the roof, and that's no marathon runner either. That one gets 235 kilometers on paper; the convertible runs out of energy after 201 kilometers. In practice, you should rather think of 160 kilometers. So you buy the MINI Electric Cabrio for cruising around Ibiza or making Bloemendaal aan Zee unsafe. But fair is fair: in our week of testing, we put a solid 1,200 kilometers on the clock without too much trouble. As long as you can charge at your destination – whether at home or in a seaside parking spot – those 160 kilometers in the Netherlands – or in Ibiza – will almost always be enough.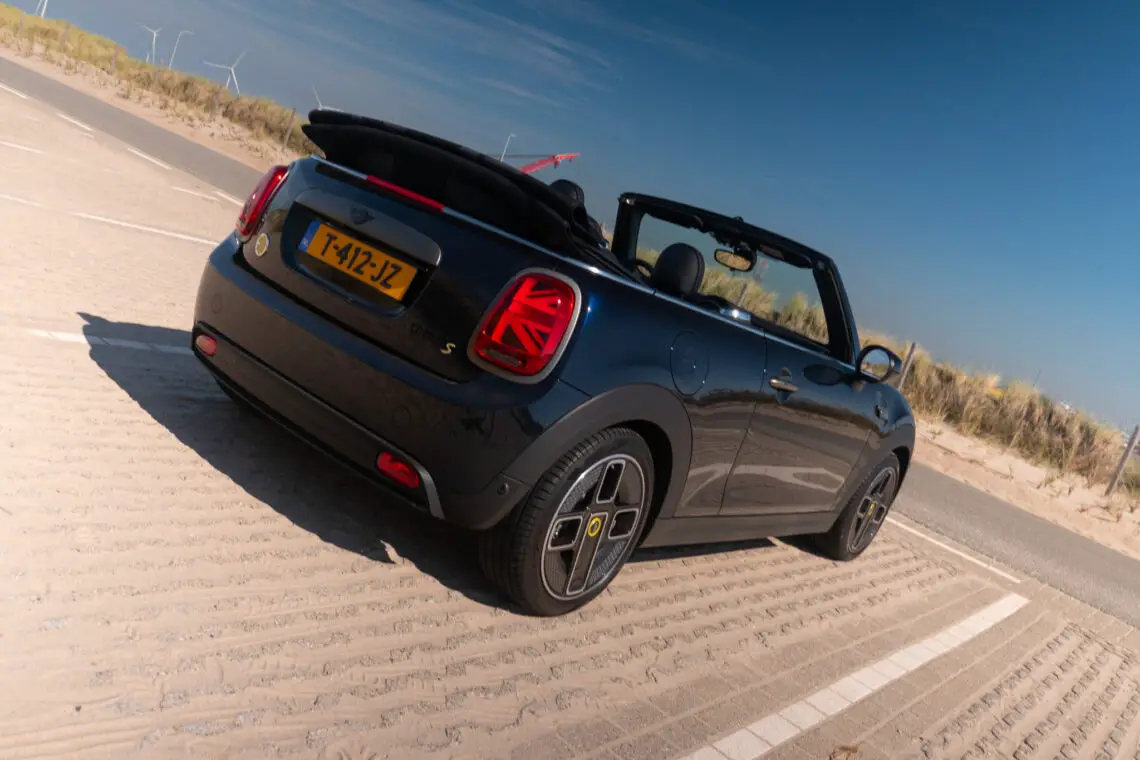 New Mini
To be clear, this is the current – or now previous – generation of the MINI Electric. In fact, MINI has already unveiled an all-new generation. We were there and you can watch our video of the brand new MINI – which gets 400 kilometers on a single battery charge – HERE.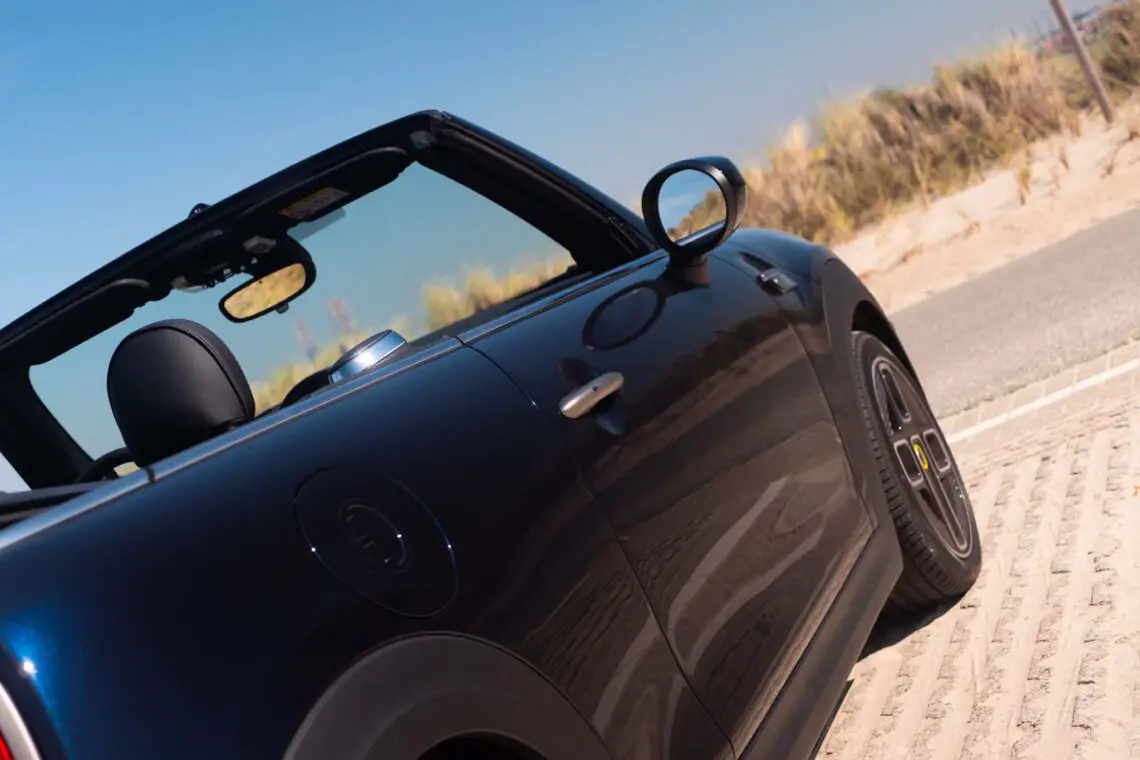 Subtle adjustments
The exterior of the Mini Electric Convertible has received some new design elements to make it extra special. On the front bumper, for example, you will find a model-specific logo. Also added are design elements finished in a striking color called Resolute Bronze. This finish is found around the headlights and taillights, on the front and rear bumper and on the door handles. The wheels are made of recycled material.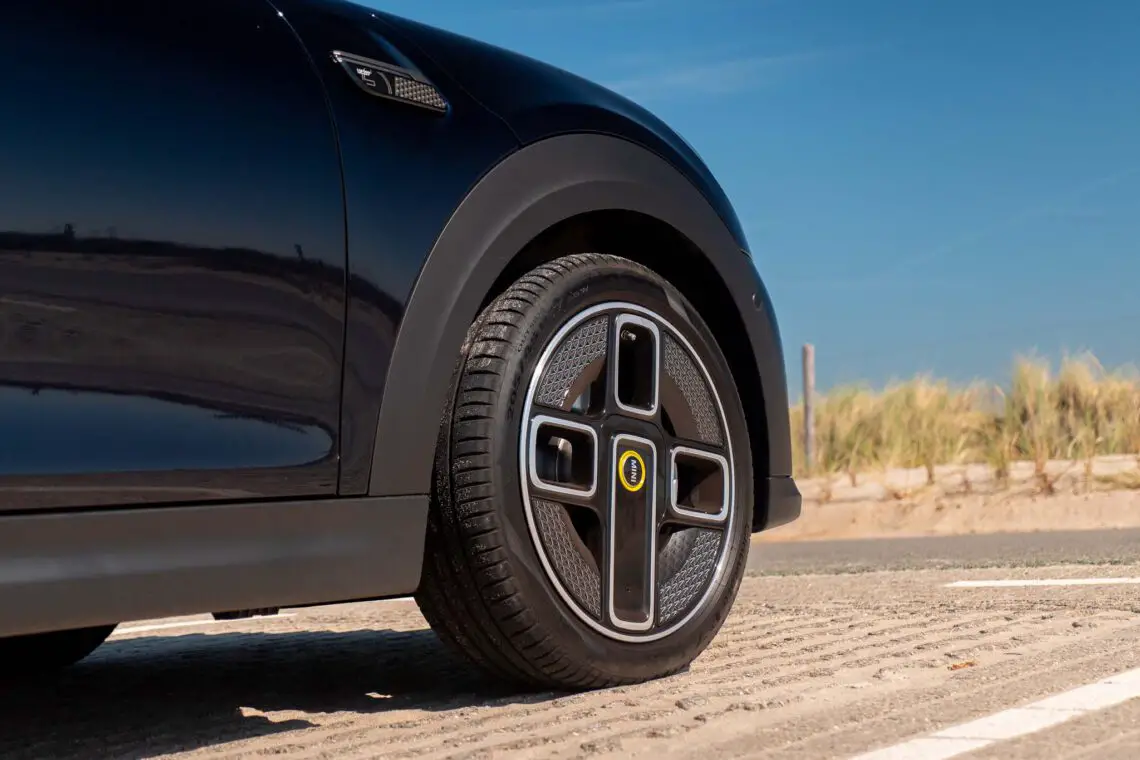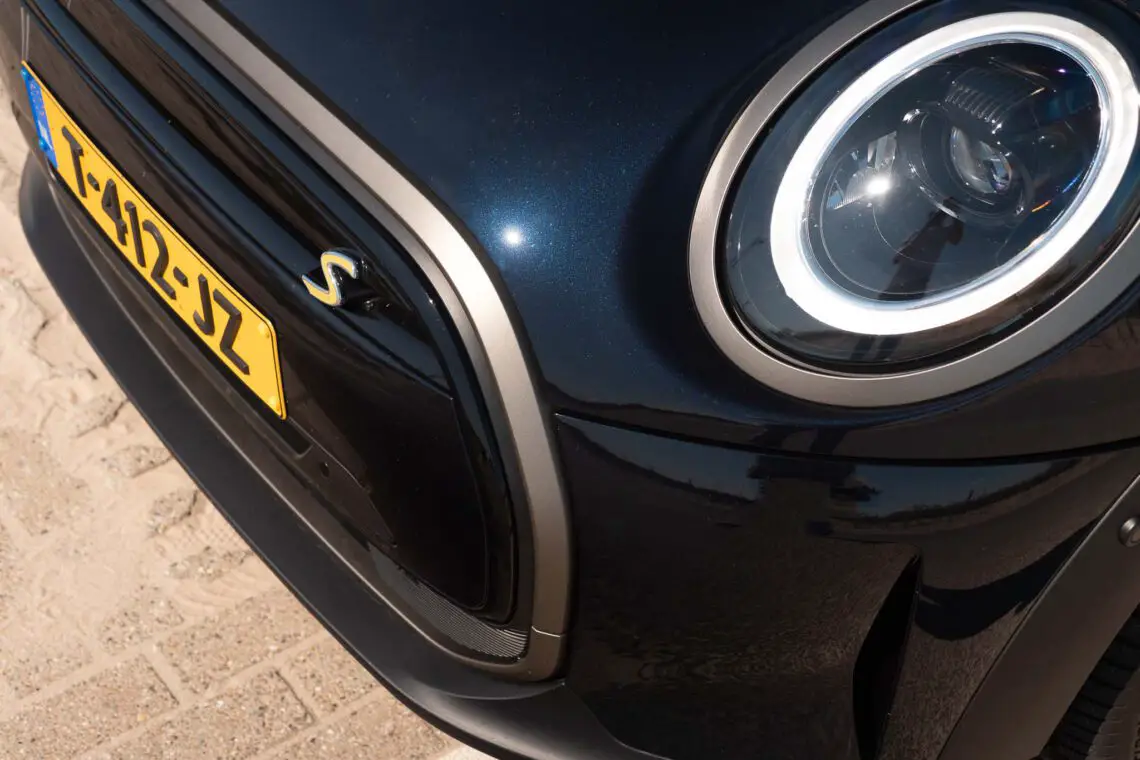 Enigmatic Black
In terms of options, you don't really have a choice, because this car is already equipped with all available extras. The only thing you do have a choice in is the paint colors. Our test car is equipped with the color Enigmatic Black. Black it certainly is not, as it is actually a deep blue shade. In addition, a silver version is also available.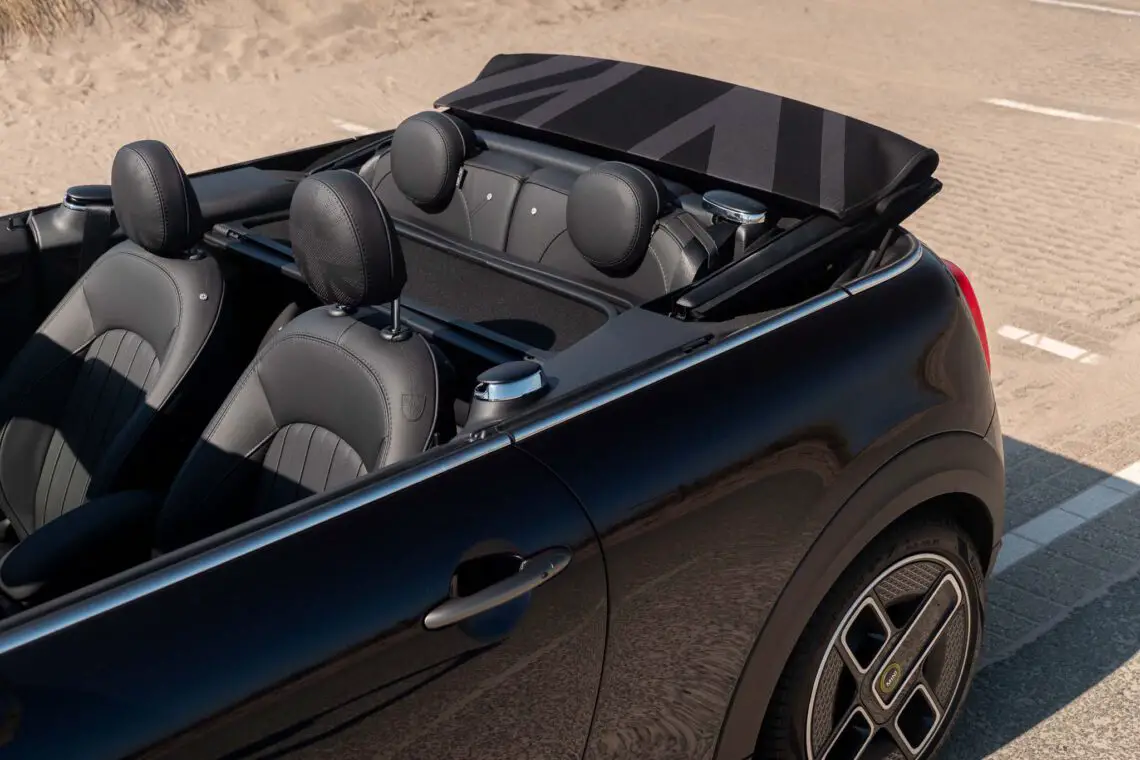 Special experience
And how does that drive, a mouse quiet convertible? In a word? Special. At the MINI importer, we immediately put the roof down and zoom silently onto the road. We've been used to EVs for years, but this is a completely different experience. You hear birds whistling, leaves rustling and twigs crunching under your tires. A meditation exercise on wheels it is. What peace! In its own way, this – without any engine noise – is a very pleasant experience.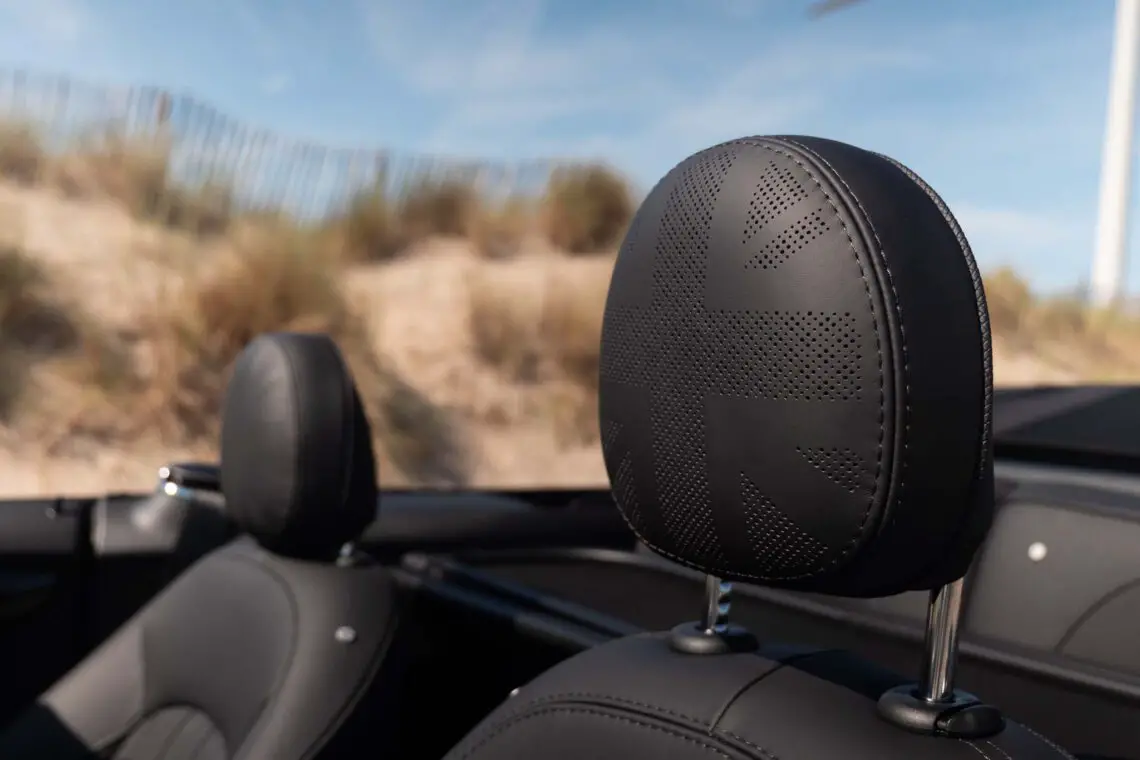 Exhaust sound
Don't we miss a solid hum from the exhaust then? That's one reason many people buy a convertible, isn't it? No, not at all. We are too busy enjoying this completely new driving experience. For many convertible enthusiasts, the lack of a solid rumble at the front as well as a deep hum at the rear will undoubtedly take some swallowing – but there are also many Dutchmen who, like us, will fall like a log for an electric convertible.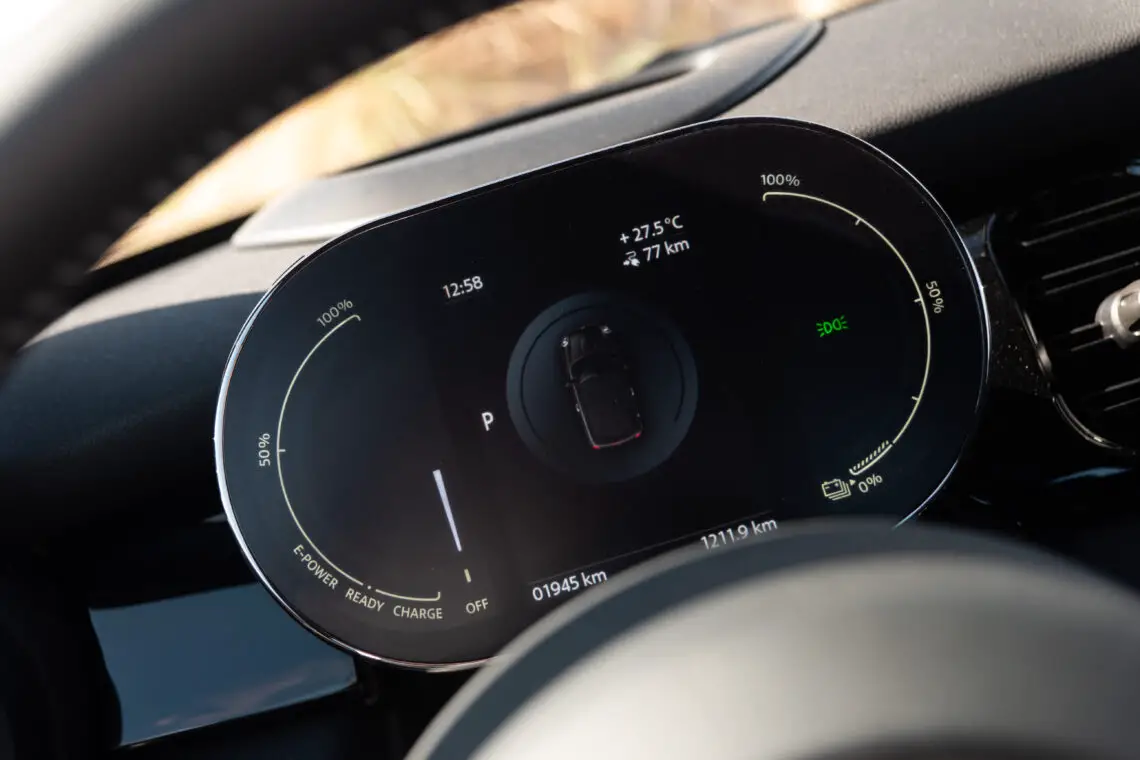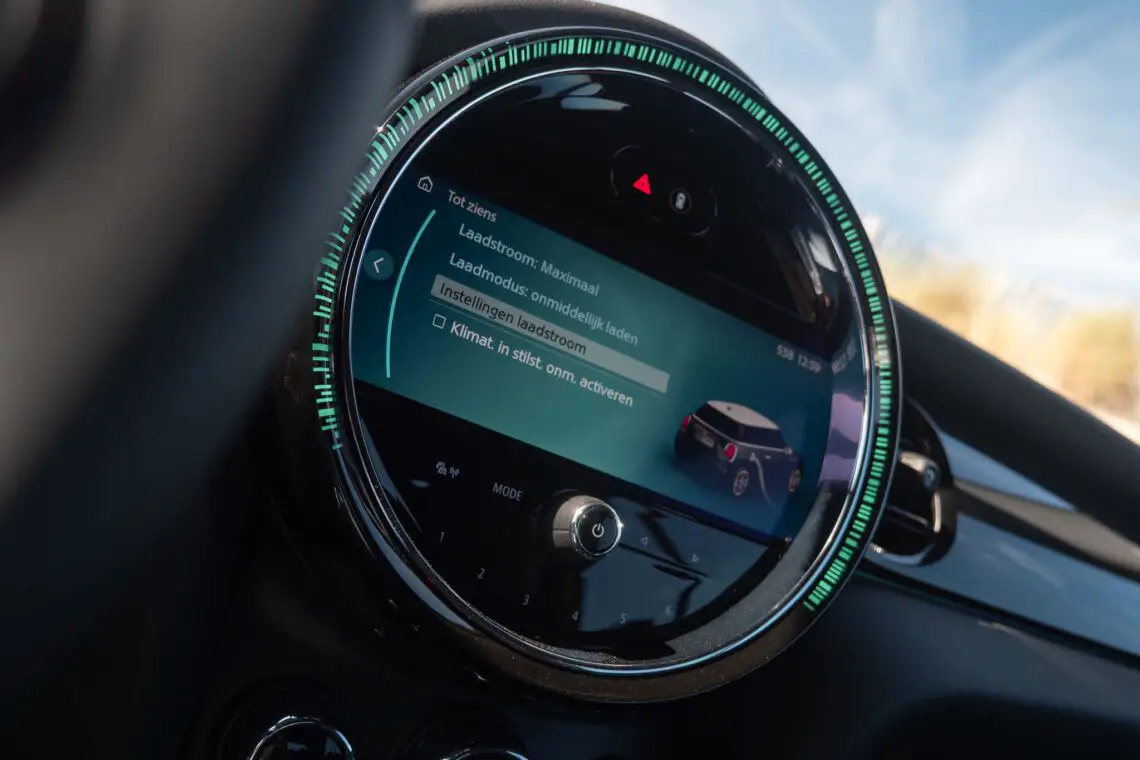 Fun ride
For many people, buying a convertible is not so much because they want to experience the engine sound, but because they just want to sit with their face in the sun and feel the wind through their hair. Unwind on a pleasure ride. We can reassure those people: driving electric in a convertible is wonderful. It doesn't really get more relaxing in a car.
But make no mistake: the MINI Electric Cabrio – like any MINI – is no softie. The convertible also drives like an out-of-this-world go-kart car. Want to see the MINI Electric Cabrio in action? Then watch the video below.