Review – Kia XCeed 1.5 T-GDi (2023), it just keeps getting nicer.
Kia Ceed popular car in lineup
At the European level, the lineup of Ceed models was the brand's best-seller last year, with a total of 137,347 registrations. So a popular car in the C-segment, or should we say the Ceed segment? Either way, the Kia Ceed comes in several body styles: from regular five-door hatchback to station wagon and from XCeed crossover to Proceed, a lifestyle state. The XCeed is by far one of the most popular body styles in the lineup, probably due to its tougher design and – how could it be otherwise? – the higher seat.
Kia XCeed 2023
Production of the updated Kia XCeed began in September 2022. What can you recognize this car by? These include the redesigned front end with sharpened headlights and integrated full LED fog lights, a narrower tiger-nose grille and larger air intakes. The bumper at the rear has also been refreshed, but it is mainly the new taillights, different diffuser and skidplates that stand out here.
What does the Kia XCeed 2023 have to offer? – REVIEW – AutoRAI TV
Digital instrument cluster
In the interior, a 12.3-inch digital instrument cluster with new graphics debuts. Also new: a glossy black panel around the gearshift and a new rearview mirror with slim bezels. If you choose a sportier GT-Line or GT-PlusLine, you get sportier touches, such as black accents, sport seats, a D-shaped steering wheel and various GT-Line logos. One thing immediately stands out: the onboard ergonomics of this Kia are very good. There are still many physical buttons to control most of the functions, which is nice.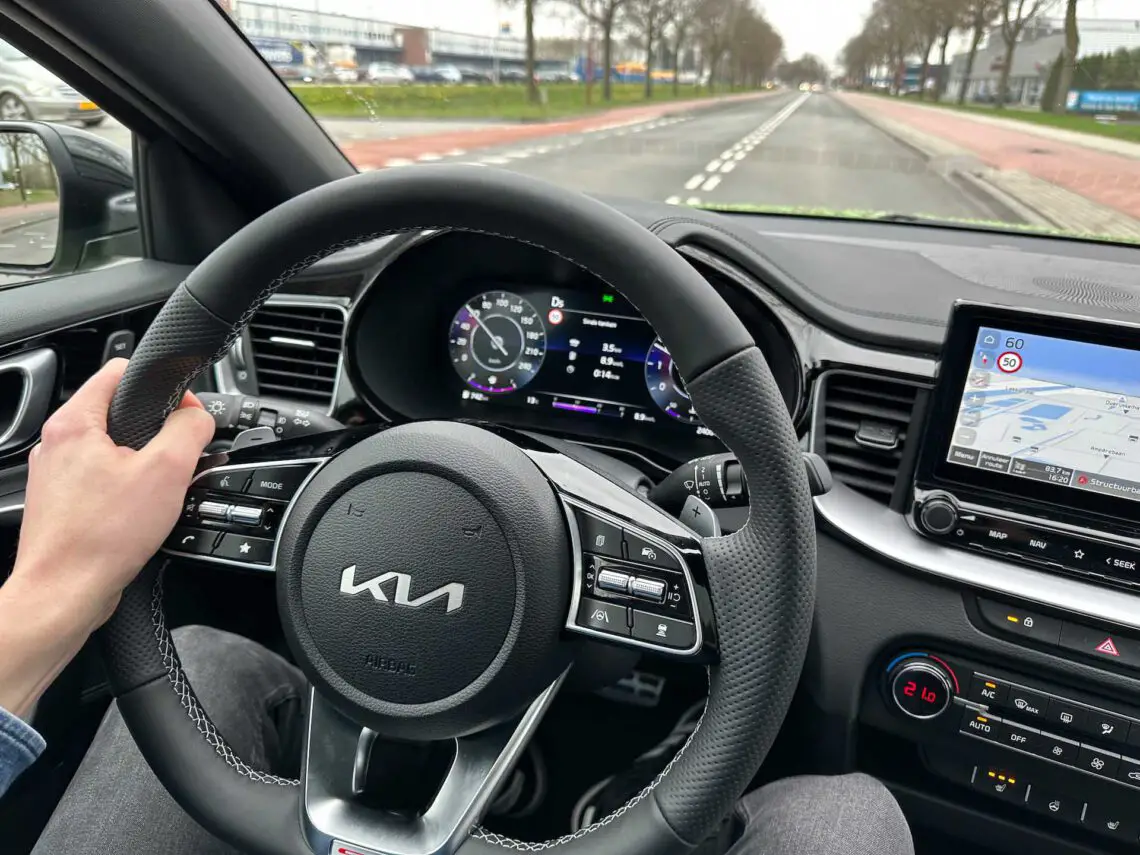 1.5 T-GDi with 160 hp
It is true that Kia offers a plug-in hybrid of the XCeed, but practice shows that buyers still prefer to go for the gasoline version, especially the extra powerful 1.5 T-GDi with 160 hp. People will gladly leave a 1.0 T-GDi with 120 hp for that. The one-liter has a braked trailer weight of 1,000 kilograms, while the 1.5 T-GDi with 160 horsepower can hook up 1,410 kilograms.
DynamicLine is the minimum
Not only that: the 1.5 T-GDi is also the finer powertrain, but you'll pay a bit for that in 2023. Drive a Kia XCeed 1.0 T-GDi starting at 30,195 euros, but you'd rather leave that variant (ComfortLine). Because the 10.25-inch full map navigation system with UVO Connect and Kia Live Services is missing. You get those only from the second trim level DynamicLine. Cost that? Minimum 32,195 euros.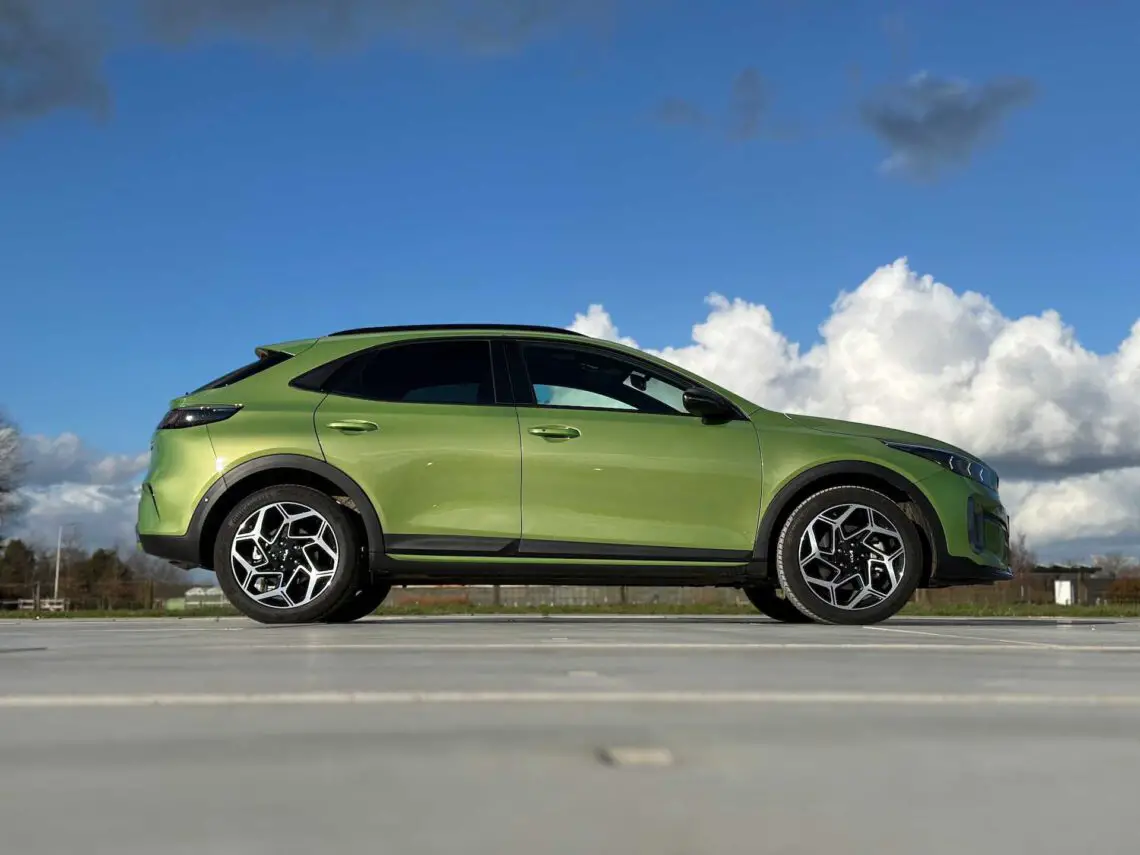 1.5 T-GDi also available with DCT7 automatic transmission
The basic Kia XCeed 1.5 T-GDi already comes as the DynamicLine and has a price tag of at least 34,195 euros. That price then applies to the six-speed manual transmission variant. Preferred is the DCT7 dual-clutch automatic transmission that also takes the lead role in this Kia XCeed. The automatic is again 2,000 euros more expensive. Thus the price runs up and up. The car we drive costs a minimum of 40,195 euros. A lot of money, but for a richly equipped C-segmenter these days, no more than normal. Because even for a perfectly normal family car like this XCeed, you can deduct almost 8,000 euros in BPM. Welcome to the Netherlands, where even buying an XCeed has become a challenge.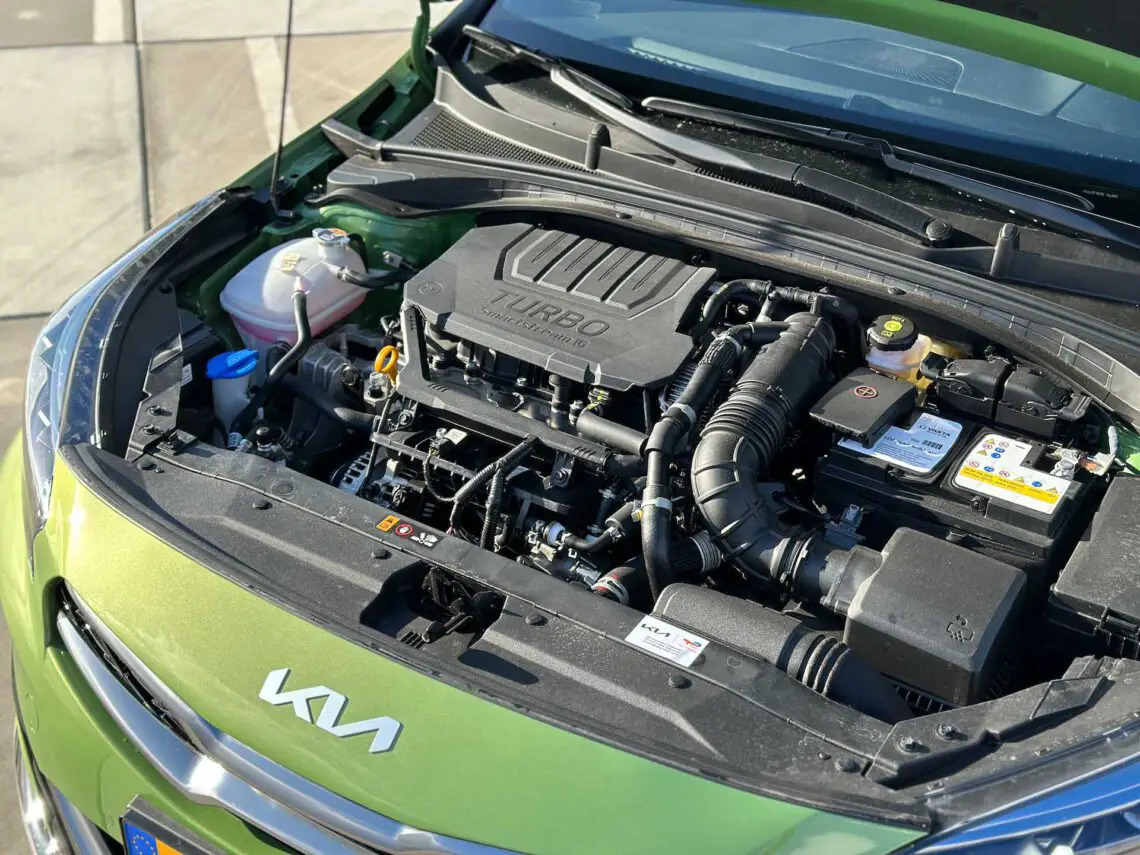 The powertrain
Returning briefly to the 1.5 T-GDi. The 1,482 cc four-cylinder produces 160 hp (117.5 kW) at 5,500 rpm and up to 253 Nm of pulling power between 1,500 and 3,500 rpm. So the engine has a lot of pulling power, especially in the bottom end, which means that revving well above 6,000 rpm does not make much sense.
Normal or Sport
There is a choice of normal driving mode or Sport mode. In the latter driving mode, the DCT7 automatic shifts down a gear, holds gears longer, and the throttle response is immediately more aggressive. Pretty fun, of course, but the Kia XCeed prefers to be driven a little more leisurely. Those who do their best can average 1 in 15.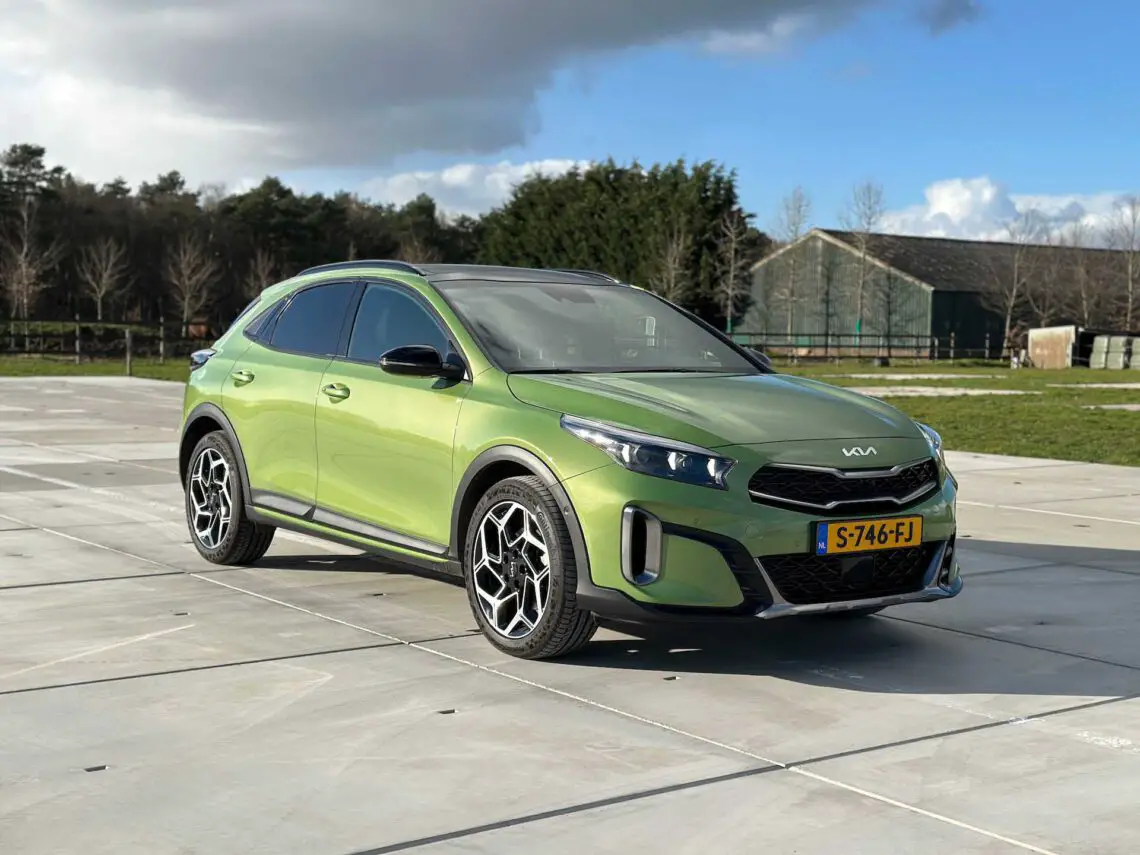 Prefer a little more power?
Performance is otherwise fine. From 0 to 100 km/h takes 9.2 seconds and the top speed comes out to 208 km/h. Prefer more power? Then opt for the 1.6 T-GDi DCT7 that delivers 204 hp and 265 Nm, good for a 0-100 time of 7.5 seconds and a top of 220 km/h. Cost: 46,995 euros. Ai! The government can then credit 11,626 euros to the BPM account. In addition to the combustion engines, Kia also offers an XCeed PHEV, equipped with a 103 kW/141 hp 1.6 GDi PHEV DCT6. This plug-in hybrid version can drive up to 48 kilometers of all-electric driving on a battery charge.
Celadon Spirit Green
Are you getting Kermit the Frog vibes at the sight of this Kia? If so, it must be because of the exterior color Celadon Spirit Green. It genuinely looks very nice on him, and time after time when you see the car, an instant smile appears on the face. Anyway, Kia delivers cool colors, such as Blue Flame and New Infra Red. Of course, colors like white, gray and black are also available, but dare to go for a pop of color. The world brightens up immediately.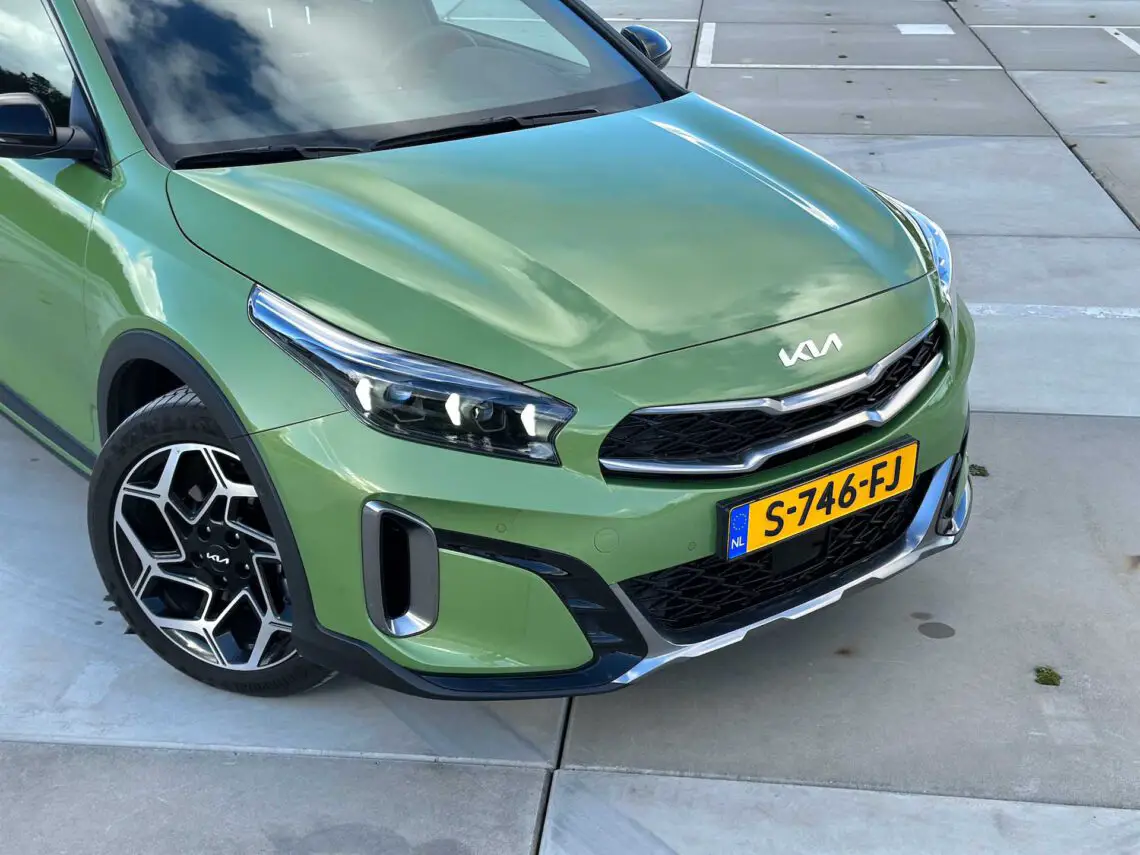 How does the Kia XCeed drive?
Well, you now know what the Kia XCeed has to offer and what the South Korean manufacturer has tweaked to make the crossover current again. But we still haven't answered one question: how does the Kia XCeed drive? It is a real everyman's friend. It already was, but after the facelift even more so. Kia has updated the recipe in several ways that make the end result even more correct than before. The suspension offers a nice blend of dynamics and comfort, and the steering feel is pretty well done as well. The sound insulation in the wheel wells could definitely be better, but the overall picture is right. To add flavor to it – see this XCeed GT-Line as an example – you unfortunately have to pay quite a bit, but in return you get a complete and nice driving car.
Conclusion Kia XCeed review
The Kia XCeed is a fine all-rounder, even more so after all the modifications. We can heartily recommend the 1.5 T-GDi. The powerplant has just a bit more "swung" and that just drives extra pleasant. In "Normal" mode you have to pedal quite a bit to get the car up to speed, but in "Sport" mode that "lazy effect" is completely gone. Then the powertrain actually responds eagerly to the gas. Forty grand also buys you a BEV these days, think of the new Kia Niro EV. But not everyone is waiting for a plug-in car yet. For those people, this Kia XCeed is an excellent and surprisingly fun solution. And in this color, you too are nice and "green.