Review – Hyundai IONIQ 6, an EV with a mission
Ten standout features Hyundai IONIQ 6
Let's start this Hyundai IONIQ 6 review with ten notable features of the IONIQ 6. For example, the design is inspired by the Prophecy Concept EV from March 2020, and the door handles are recessed. Also check the shark fin antenna cover on the roof. This is transparent. The side camera hoods also have a transparent design, and the front and rear lighting features what are known as Parametric Pixels, similar to the IONIQ 5.
The rear spoiler does look a bit like the Porsche 911. The IONIQ 6 further features active front air valves that can close or open depending on cooling requirements. The Hyundai front logo is as smooth as an eel for better streamline and the third brake light is hidden in the rear wing. Finally, recycled pigment paint from discarded tires was used for the exterior paint on the IONIQ 6.
Buying Hyundai IONIQ 6? Here's what you need to know! – REVIEW – AutoRAI TV
Various motor variants
The lineup of the Hyundai IONIQ 6 consists of several engine variants and equipment levels. First, there is a choice of a 53 kWh or 77.4 kWh lithium-ion battery pack. The 53 kWh battery only comes as Style or Connect, with price tags of 45,895 and 50,395 euros, respectively. In both cases, you have rear-wheel drive and a system output of 151 hp (111 kW) and 350 Nm of torque. Good for a top speed of 185 km/h and a 0-100 time of 8.8 seconds. The range of this battery variant is 429 kilometers (WLTP) when combined with 18-inch alloys.
Rear-wheel or all-wheel drive
The 77.4 kWh battery pack variant comes with rear-wheel or all-wheel drive. The action radius topper concerns the rear-wheel drive only version. It gets as far as 614 kilometers on a full charge of electricity (with 18-inch wheels) and has a system output of 229 hp (168 kW) and 350 Nm of torque. The 0-100 sprint is 7.4 seconds.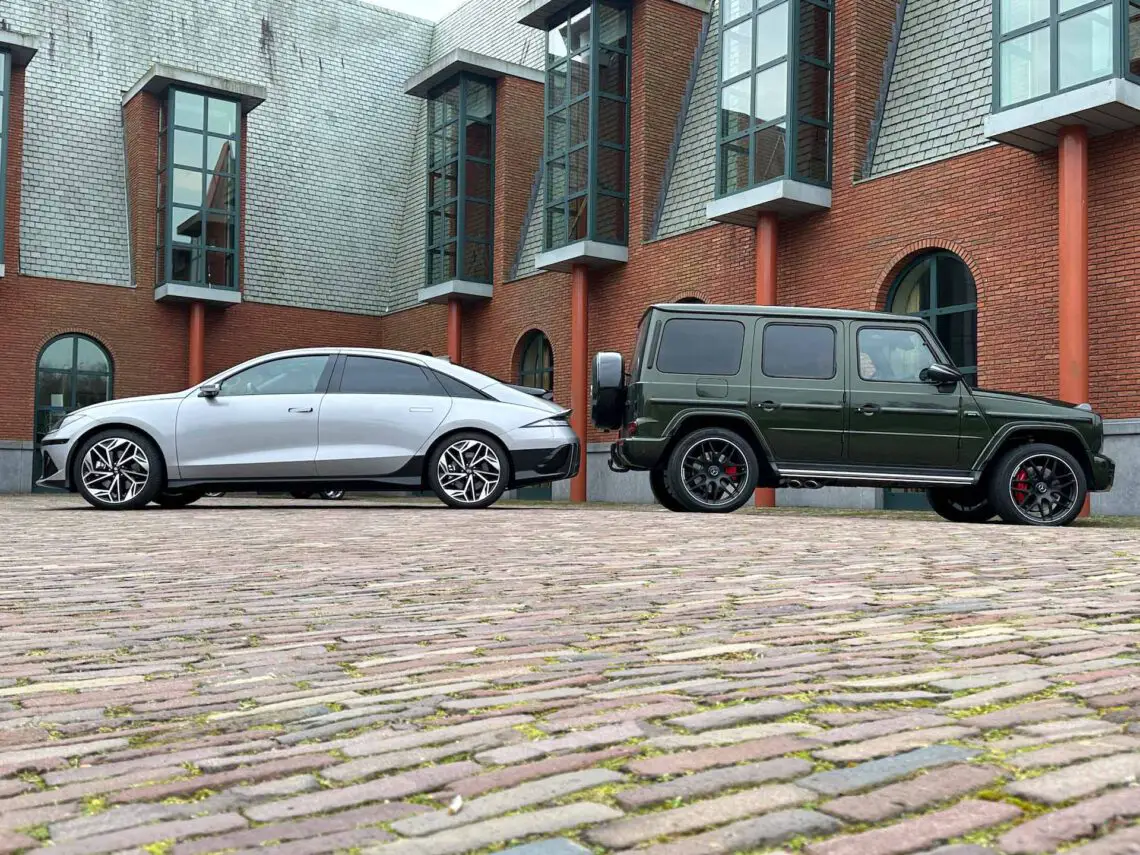 The top model
The 77.4 kWh variant with AWD has two electric motors, together good for 325 hp (235 kW) and 605 Nm of torque. In this case, you sprint from 0 to 100 km/h in 5.1 seconds and the range is 583 kilometers. But again, a side note: this is only with 18-inch alloys. Those who opt for 20-inch wheels sacrifice in terms of driving range. With 20-inches, the rear-wheel-drive variant gets 545 kilometers and the AWD version 519 kilometers. Of course, WLTP is still a theoretical value. In practice, count on 30 percent less driving range compared to the value in the brochure.
Prices 77.4 kWh
Then, of course, you want to know what an IONIQ 6 with 77.4 kWh battery should cost.
RWD
Style: 50,895 euros – Connect: 55,395 euros – Lounge: 58,895 euros
AWD
Connect: 59,395 euros – Lounge: 62,895 euros
Options
The Connect and Lounge versions have a heat pump as standard. On the Style you have to pay extra, namely 1,495 euros. On the top version – the Lounge – Hyundai provides a sliding/tilting glass roof. It costs 1,295 euros. There will reportedly be another IONIQ 6 N in the future, with the N variant of the IONIQ 5 appearing on the market as early as 2023.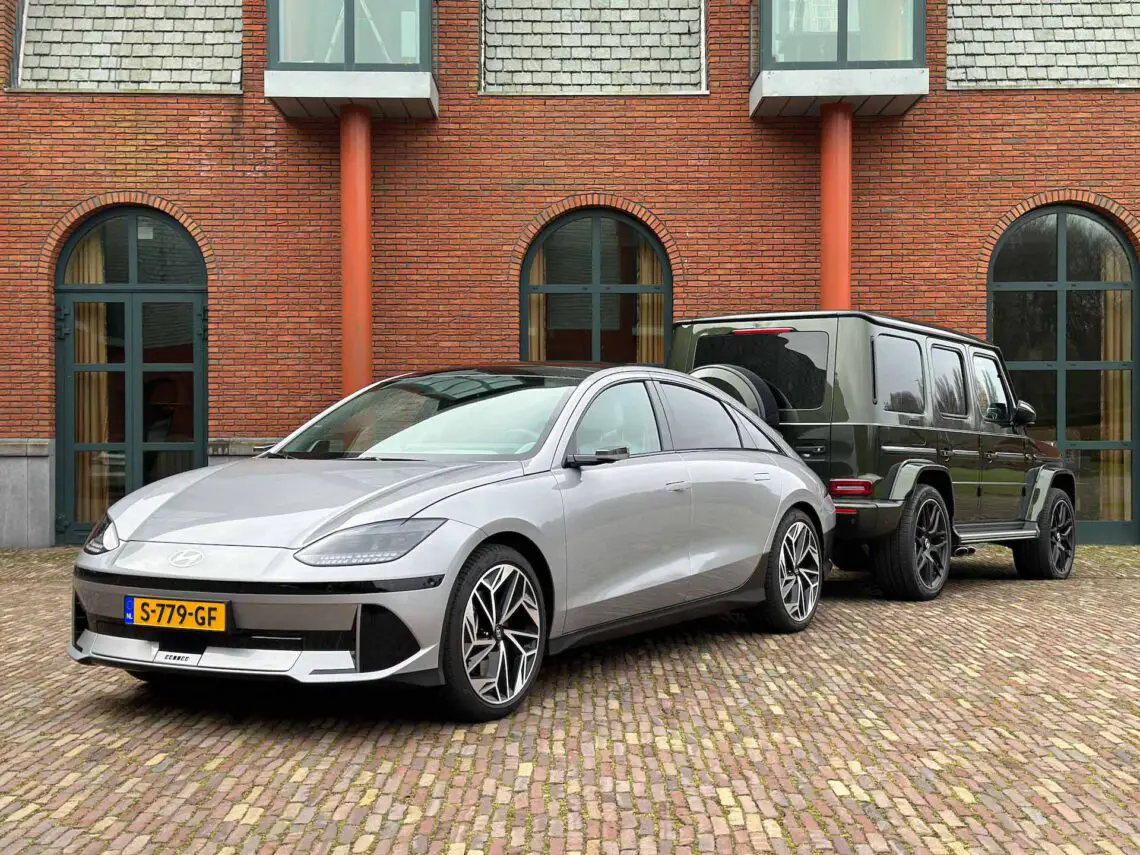 E-GMP forms the basis
Like the IONIQ 5, the 4,855-mm-long Hyundai IONIQ 6 sits on the modular Electric Global Modular Platform (E-GMP). This shows that the flexiblity of a modular platform today is bizarre. The IONIQ 5 is more of a crossover, while this "six" is a full-size sedan. Yep, a sedan and therefore not a hatchback. This is because the rear window stays where it is when opening the tailgate.
Also a 'frunk'
Nevertheless, the IONIQ 6 has a generous and especially deep luggage space totaling 401 liters. Up front, the car has another "frunk," good for 45 liters of extra storage space in the 2WD version and 12 liters for the AWD model. Thanks to E-GMP's clever layout, the wheelbase is no less than 2,950 mm, which is on the hefty side. You notice it, among other things, in the generous legroom in the rear, but the sloping roofline means you do lose some headroom. With a height of up to 1.85 meters, you'll be fine.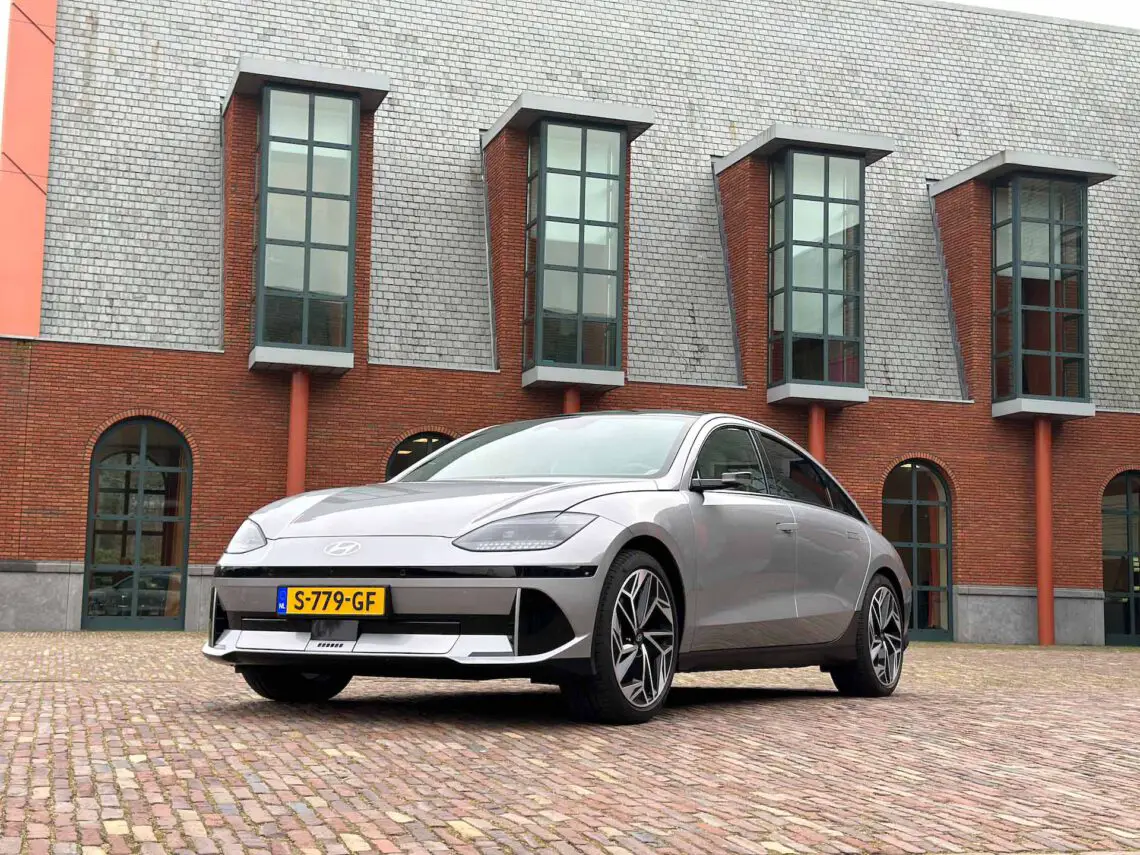 Interior Hyundai IONIQ 6
The interior is broadly similar in design to the IONIQ 6. So here too we detect two hefty displays, each 12.3-inches in size, ambient lighting with 64 colors and six two-color themes, and a steering wheel with built-in LEDs that change color when you change driving modes. The adjustability of the steering column could be better. Especially in depth, you are a few inches short. The seating position could also be better. You sit pretty high as a driver. You can get used to it, by the way, and for a lot of people it probably won't be a problem.
PET bottles and fishing nets
The interior finish is of a high standard. Hyundai applies fine materials. We also detect some transparent touches in the interior. For example, check the dashboard, door pockets and lower storage compartment. The car also has an eco edge, as recycled PET bottles and fishing nets were used for the seat upholstery, Hyundai applies raw materials from sugarcane for the headliner and carpet, and bio-polyurethane paint with organic ingredients from vegetable oil was used for the airbag cover. Finally, so-called Econyl yarn was used for the floor mats. These are nylon yarns made from recycled fishing nets from ocean debris.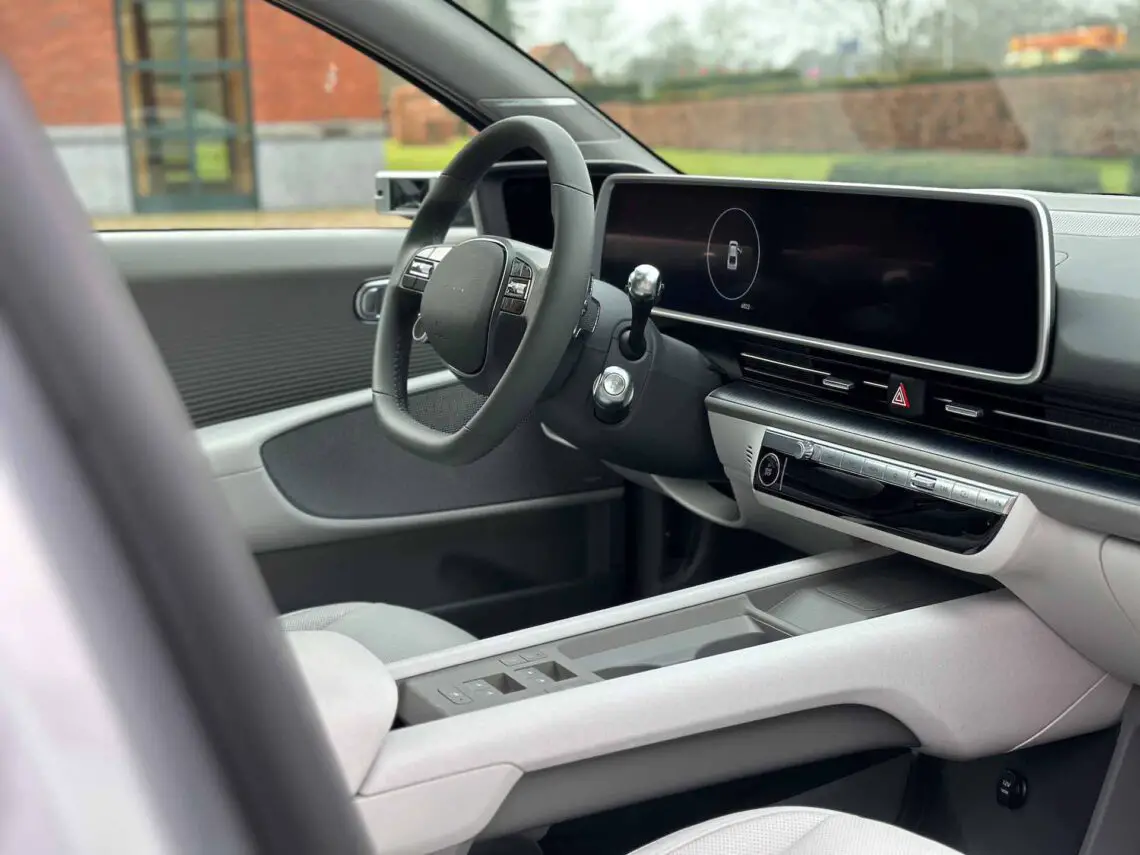 fast charging
The E-GMP platform has the major advantage that Hyundai can use an on-board power supply of 400 to 800 volts, with charging at 800 volts being standard. Charging from 10 to 80 percent takes 18 minutes. However, this is then only with a 350 kW charger. Charging time at a 50 kW fast charging station (10 to 80 percent) is 58 minutes for the 53 kWh battery and 1 hour and 13 minutes for the larger battery. The standard charging capacity of the 3-phase onboard charger is 11 kW.
Socket and V2L
The IONIQ 6 can also feed power back. There is a full 230V outlet under the rear seat, but devices can also be connected externally via a separate adapter for the charging socket on the outside of the car. This is possible thanks to Vehicle-to-Load (V2L) technology. This allows electric devices to be charged or used, such as electric bicycles, scooters and camping equipment. Or in this case: a coffee maker. Just plug it in and your "cup of coffee" will be brewed in no time. The maximum output of V2L is 2.6 kW.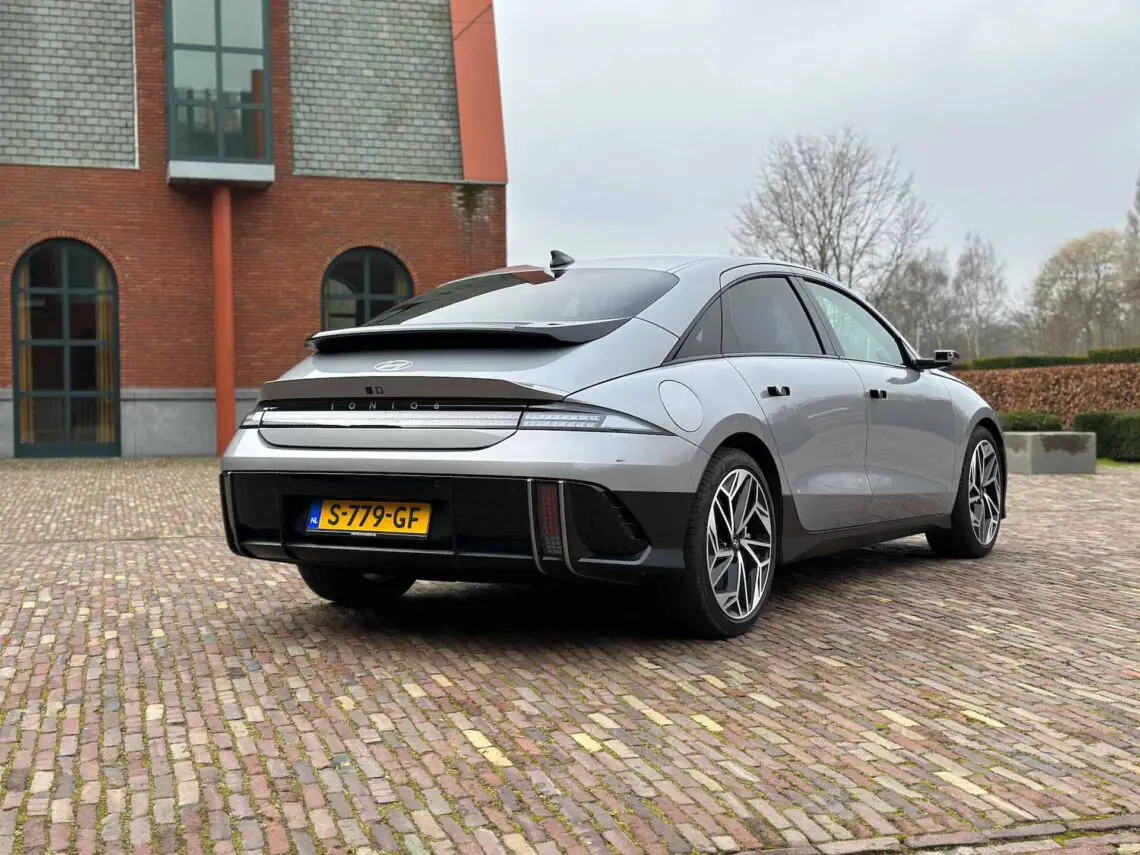 Digital side mirrors
The Hyundai IONIQ 6 is available with digital side mirrors. Highly recommended? It is different for each person. Sure it's fine to get used to, but the lack of depth still makes you long for conventional side mirrors in some situations. Fortunately, normal side mirrors are standard. The digital door mirrors (DSM) – available only on Lounge – have an additional cost of 1,400 euros.
Driving the Hyundai IONIQ 6
The driving itself, then. An important element of why you are reading this Hyundai IONIQ 6 review. Compared to the IONIQ 5, this IONIQ 6 is a completely different car. Not only is the design a world of difference, so is the character. Where the IONIQ 5 emphasizes (too) extreme comfort, the IONIQ 6 offers much more driving dynamics and steering feel. To drive, the IONIQ 6 is simply the more fun car. For more comfort or an even higher seat, go for the IONIQ 5. Same technique, different jacket.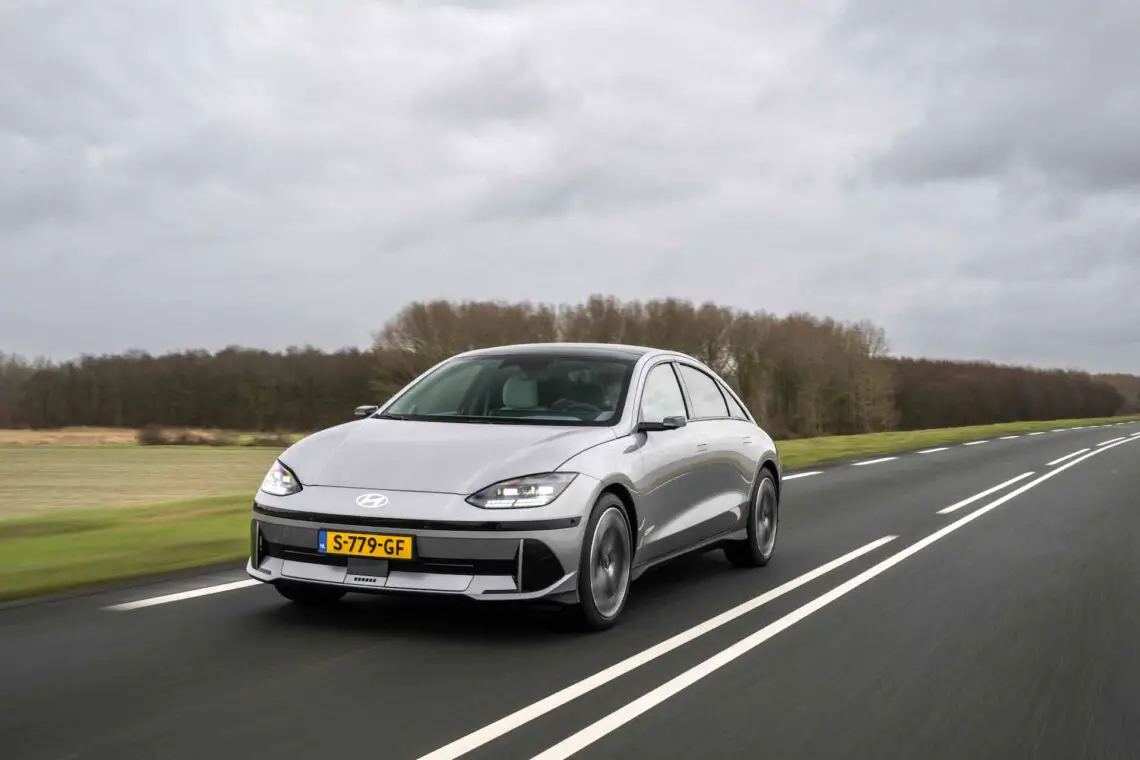 One pedal driving
Very nice is that it is also possible to use i-Pedal. In the process, the car also comes to a complete stop. You can also use shift paddles to select other modes for energy recovery. Practice shows that you just choose the most "aggressive" mode. Then you recover maximum energy. But it is very well done by Hyundai to leave the choice to the rider himself. So someone who is not a fan of one pedal driving can also just order an IONIQ 6.
Driving assistance systems, a little too much of a good thing
Driving assistance systems abound in the IONIQ 6. We counted as many as 20. As a result, warning sounds regularly sound in the interior. Fortunately, everything can also be turned off, although some systems will require you to do that over and over again after you turn the car back on. There is still room for improvement in this regard, we learn during this Hyundai IONIQ 6 review. What will the co-driver think when all those horns sound?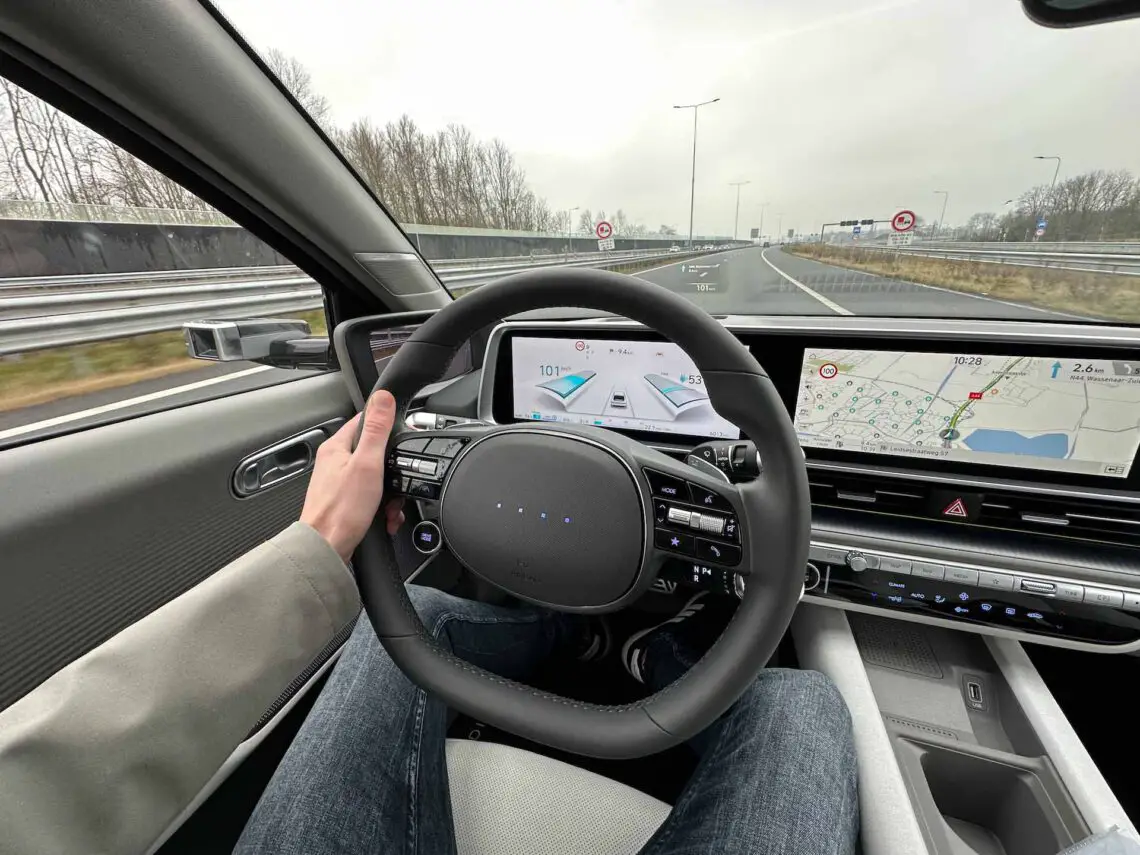 Conclusion Hyundai IONIQ 6 review
Hyundai is showing guts with this IONIQ 6. It is by far one of the most unusually designed EVs at the moment and immediately one of the better ones. Thanks to good loading capabilities, generous interior space, excellent ergonomics and high-quality materials, this Korean stands its ground. Its shape may be a matter of taste, but in real life the car comes across as totally different from pictures.
Moreover, you are going to appreciate that form even more. More and more other brands are also opting for similar body styles. This with only one goal: to squeeze as many miles out of a battery pack as possible. Our recommendation? Take the Hyundai IONIQ 6 77.4 kWh RWD Lounge. Then you're set for 58,895 euros and can hunt for that 600 kilometers of range. But one thing is certain: the unusual shape does not come at the expense of practicality, with the exception of slightly less headroom in the rear, that is. Perhaps a new Kona Electric would be a better option then.
Thanks to the Louwman Museum for the photo location.