Review – Dacia Spring Electric: what does it really cost?
Successful, that Dacia Spring
The Dacia Spring Electric has quickly become a popular electric car in the Netherlands, especially among individuals. Indeed, it is one of the first new electric cars with a reasonable price tag. The car came on the market for less than 19,000 euros. Unfortunately, that price was soon raised to nearly 22,000 euros "due to more expensive raw materials and increased production costs.
Sales of the Dacia Spring increased 38 percent year-on-year to 27,438 units in Europe in the first half of 2023. In addition, the Spring was the most popular electric car among private European customers. In short: a great success, that Dacia Spring. For some time there has also been a version with a more powerful electric motor: the Extreme 65. Reason enough to put him through his paces in the Netherlands.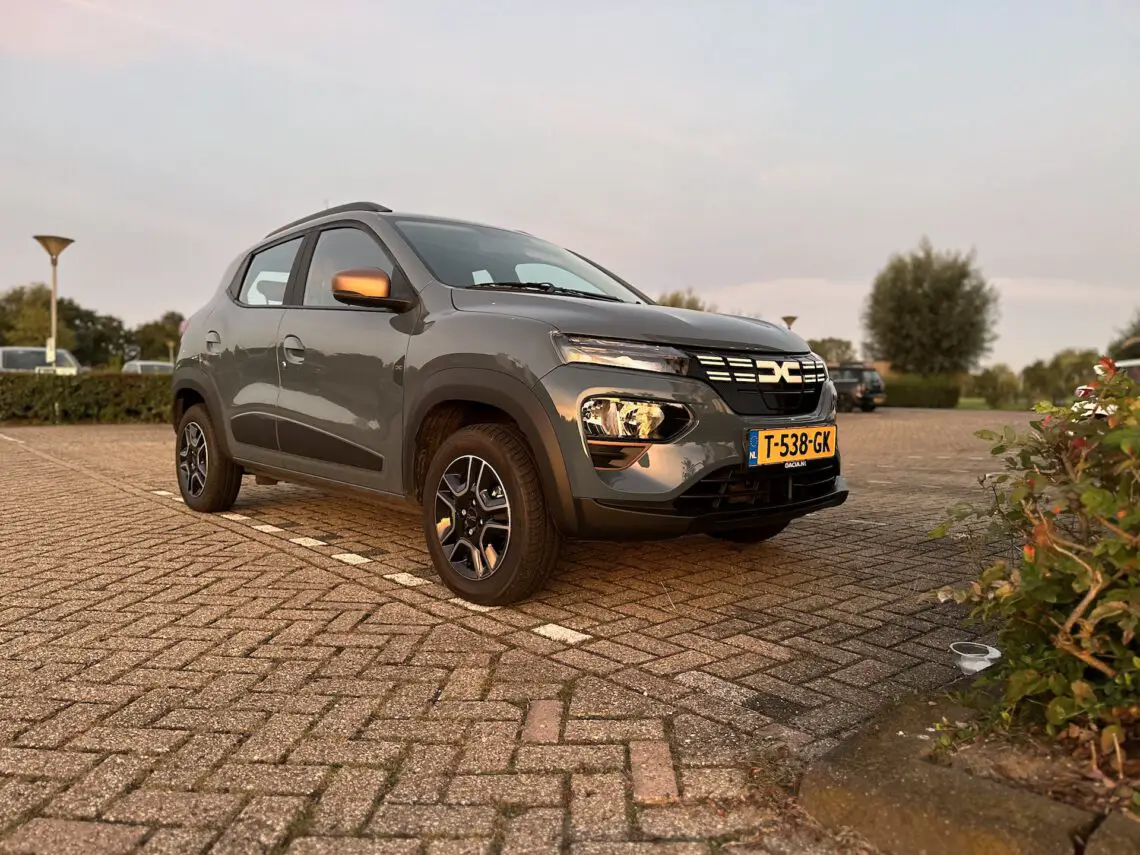 This is what the Dacia Spring Electric has as standard
At the time of writing, the starting price of a Dacia Spring Electric starts at 21,750 euros. What do you get? Think manual air conditioning, DAB+ radio, a USB connection and a 45-horsepower electric motor. Sound good? Still, we would recommend leaving this version in place. That has to do with residual value. In fact, this variant cannot be ordered with the 30 kW DC fast charger.
Equipment level Expression
The 30 kW DC fast charger can only be ordered from equipment level Expression. You always pay 600 euros extra for it, even in the case of the top version Extreme with more powerful electric motor. The price of a Dacia Spring Electric Expression starts at 22,850 euros. Again, you get the 45-hp electric motor. Worth the upgrade over the basic version? Absolute! In fact, you now also get a 7-inch touchscreen with Apple CarPlay and Android Auto support, as well as rear parking sensors, a rearview camera and power front and rear side windows. Things that a prospective buyer in particular will value.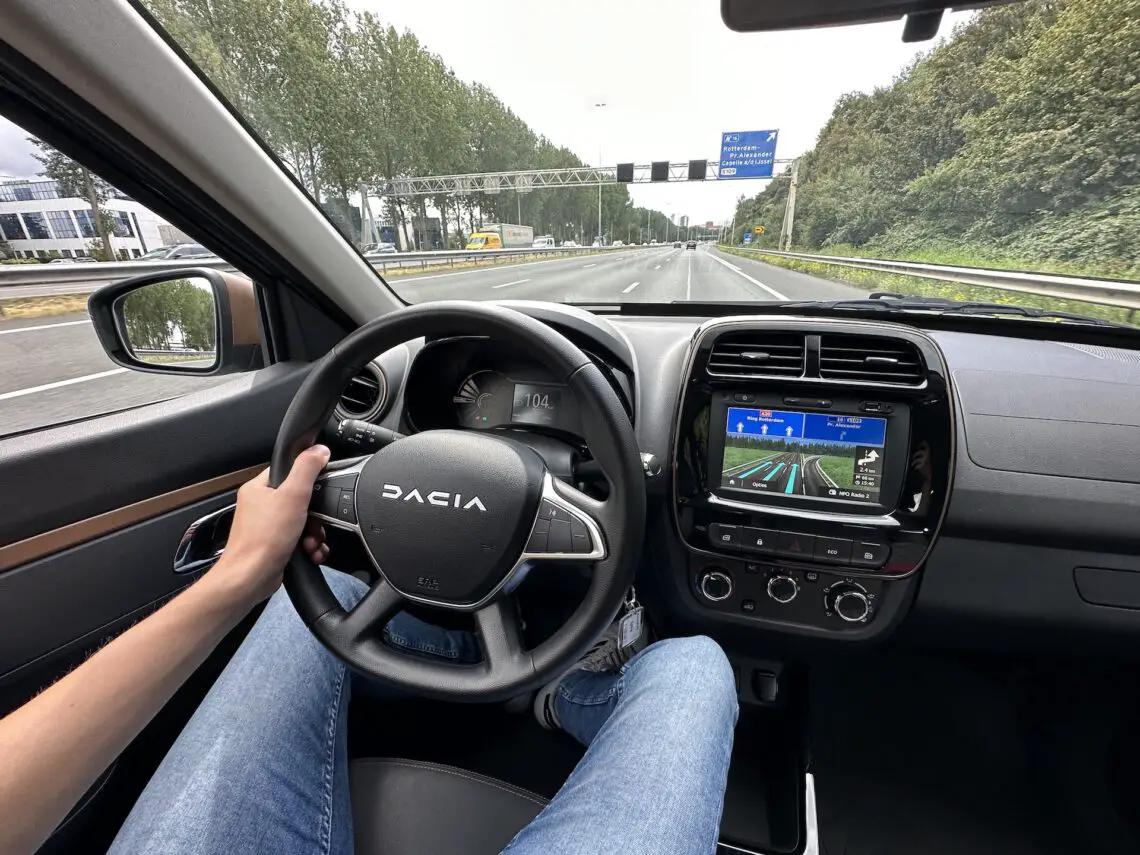 Extreme version leave?
Okay, so that Dacia Spring Electric Extreme is okay to leave? Well, actually, we would advise you to go for this very variant. Driving can start at 23,400 euros, an additional 550 euros over the Expression. That is manageable.
The Extreme's biggest advantage is its more powerful electric motor with 65 hp and 113 Nm versus 45 hp and 125 Nm for the base engine. So slightly less torque, but significantly more power. You feel this very well in practice. The sprint from 0 to 100 km/h takes 13.7 seconds with the more powerful motor versus 19.1 seconds for the 45-horsepower electric motor. The top speed is the same in both cases: 125 km/h. The sprint from 0 to 50 km/h takes 3.86 seconds with 65 hp. So in town, you're off at the stoplight nice and smooth.
DACIA SPRING Electric, what does it really cost? (2023) – REVIEW – AutoRAI TV
Range 45 hp and 65 hp
You do lose 10 kilometers of range with the 65-horsepower electric motor, as the Electric 65 has 220 kilometers (WLTP) range on paper versus 230 kilometers for the Electric 45, but because you still get along more smoothly with traffic, the stronger electric motor is still preferred. Below we list the specifications.
Dacia Spring Electric 45
Power: 33 kW (45 hp)
Torque: 125 Nm
0-50 km/h: 5.8 s
0-100 km/h: 19.1 s
Top speed: 125 km/h
Battery: 26.8 kWh lithium-ion
Battery weight: 191 kilograms
Roadworthy weight: 1,012 kilograms
Towing weight braked: 0 kilograms
Dacia Spring Electric 65
Power: 48 kW (65 hp)
Torque: 113 Nm
0-50 km/h: 3.86 s
0-100 km/h: 13.7 s
Top speed: 125 km/h
Battery: 26.8 kWh lithium-ion
Battery weight: 193 kilograms
Roadworthy weight: 1,035 kilograms
Towing weight braked: 0 kilograms
These Dacia Spring options are a must!
By the way, an investment of 23,400 euros for the Extreme does not get you there. Because as mentioned, you have to pay extra for the 30 kW DC charging option. Exactly 600 euros. That already brings the price to 24,000 euros. With the exception of some other colors, there are no multiple options. So basically, for 24 grand you buy a more than complete electric car. This test car costs just gen 25,000 euros due to the more expensive color. As an individual, that price may drop a bit further in 2023. Because the SEPP subsidy totals 2,950 euros in 2023. So on paper, this Dacia only has to cost you 21,050 euros if you go for the Extreme with 30 DC charger.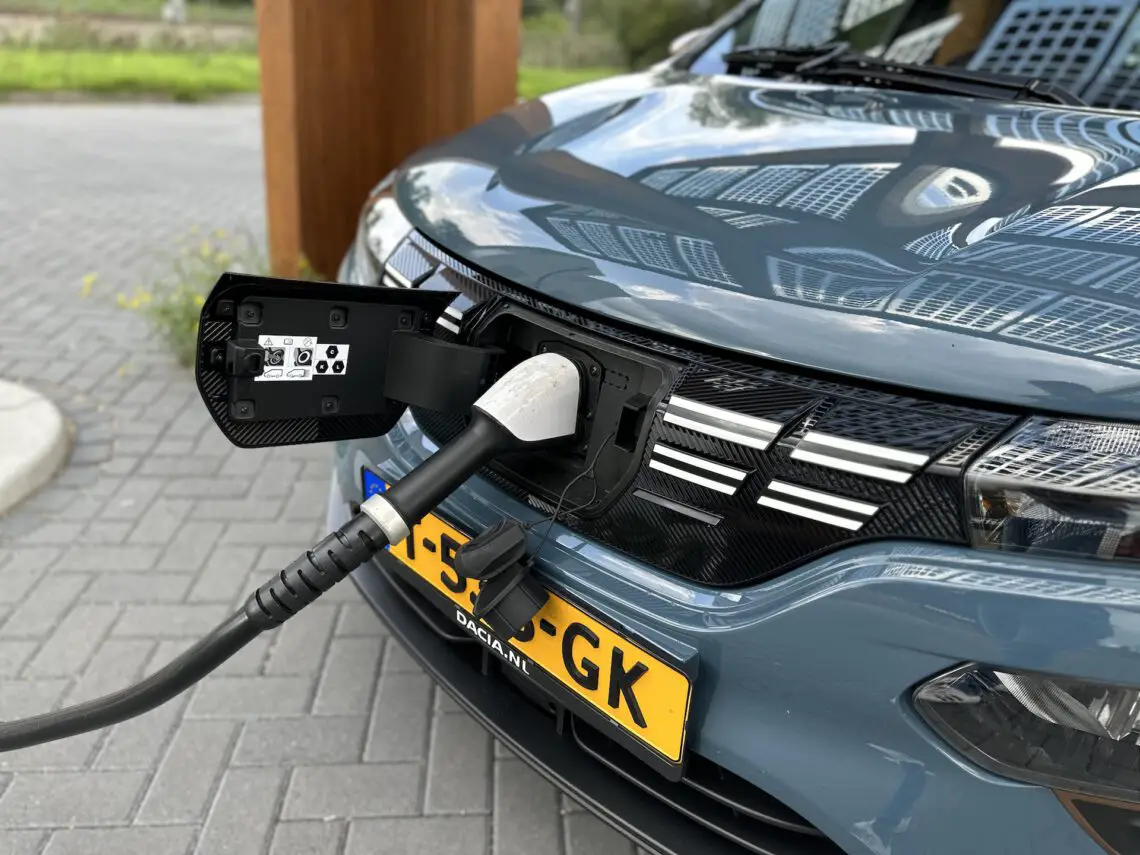 Dacia Spring charging times
Of course, you're also curious about the charging times of a Dacia Spring Electric. The battery itself is not very large, but the relatively low vehicle weight means you can still travel considerable distances in practice on a full charge of power. Under conditions of about 20 degrees Celsius, we were able to get about 190 to 200 kilometers each time on a full battery. Small note: in this we were not driving on the highway. Those who do drive on the highway had better adjust their speed to a maximum of 105 mph. For a ride of about 130 kilometers, we left with a range of 190 kilometers and were left with 36 kilometers afterwards. So on the highway, the Spring jumps less economically with energy. Loading times, by the way, are not too bad. A rapid charger (DC) also actually achieves a charging rate of about 30 kW.
Charging time (hours)
30 kW DC fast charging 0-80%: 00:56
7.4 kW AC (1 phase 32A) 0-100%: 04:51
3.7 kW AC (1 phase 16A) 0-100%: 08:28
2.3 kW AC (1 phase 10A) 0-100%: 13:32
Maintenance costs Dacia Spring Electric
Maintenance costs on this Dacia EV are minimal because an electric car simply has a smaller maintenance requirement. Just keep in mind that with an EV, you will change your tires a bit more often, given the higher vehicle weight. This Dacia is on 165/70 R14 type Michelin Energy Saver tires. Those tires are not standard. The Dacia importer retrofitted these tires. A wise choice, as they offer a nice amount of grip. The tires are a bit more expensive at 80 euros per tire, but it is definitely worth the investment. For about 200 euros, you can also get cheaper four new tires in that size, but cutting back on tires is never a good idea. It is the car's only point of contact with the road. The tires under a Dacia are already narrow, so it may well be good rubber.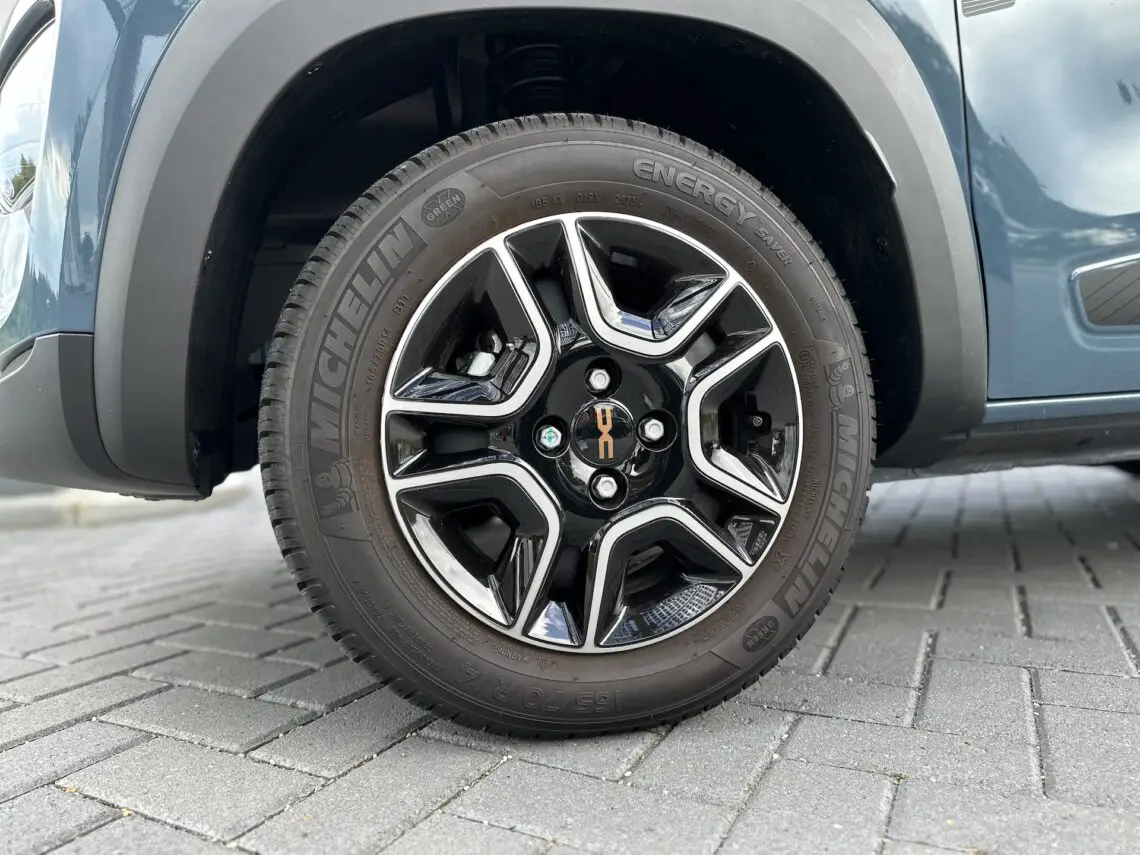 Private lease
Private lease is also possible, of course, because then you don't have to worry about maintenance costs. You then pay only the energy costs and any penalties. Excluding SEPP subsidy, you pay 299 euros per month based on a 48-month term and 5,000 kilometers per year. The Extreme you have from 319 euros per month. With SEPP subsidy, you get some discount on your monthly fee. By the way, 5,000 kilometers on an annual basis also seems a bit on the low side, but perhaps it fits your user pattern well.
What does a full battery cost?
If you have solar panels and you start the charging session at a convenient time, a full battery costs virtually nothing. If you use a public charging station with a rate of 0.50 cents per kWh, a full battery will cost you about 13.40 euros. If you can then drive 160 kilometers on a full charge of electricity, you arrive at 8 cents per kilometer, excluding depreciation and maintenance costs. With a DC fast charger – where you quickly pay 0.70 cents per kWh – a full battery will cost you about 18.76 euros.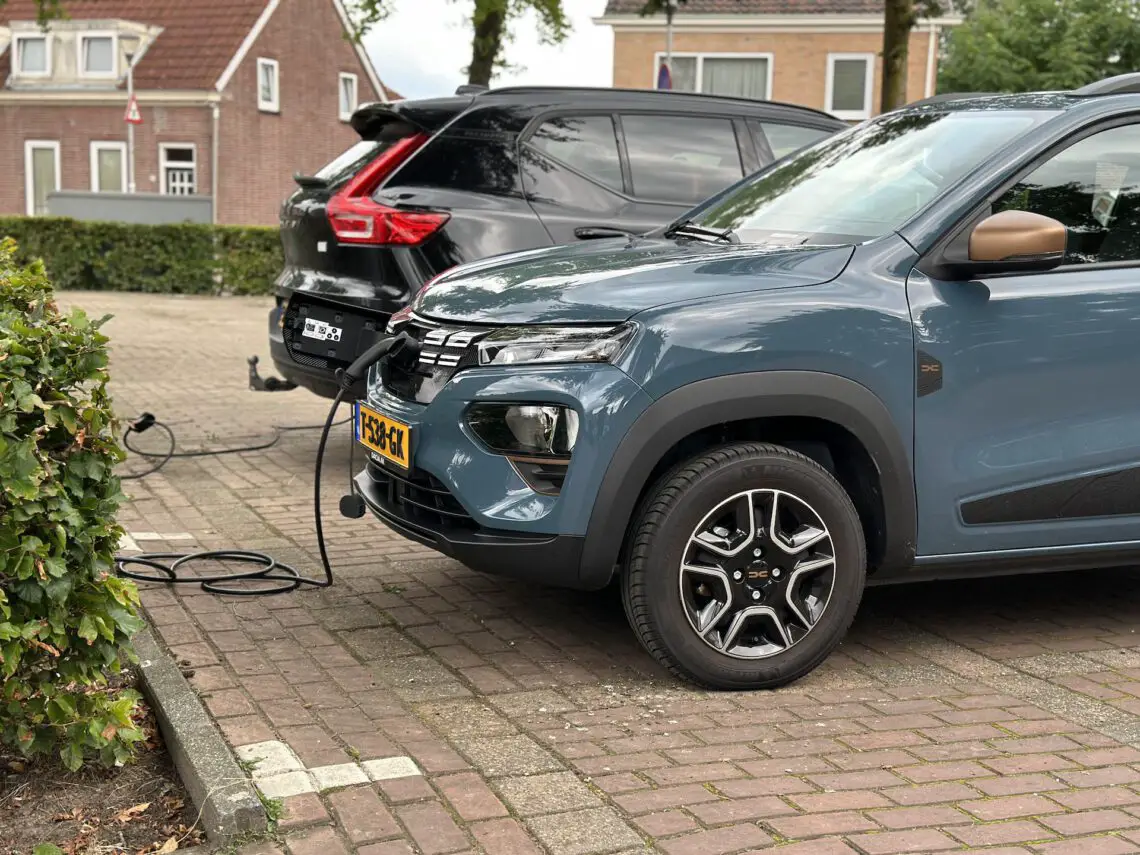 Concessions
The Dacia Spring Electric is a relatively inexpensive electric car, but to achieve this price, Dacia had to make some concessions to keep costs down. First, the Spring is based on the Renault Kwid, a car actually intended for the Indian car market. Dacia did modify it a bit with the European market in mind. The result is really pleasing, as the car looks cheerful and fresh. Besides, it does have everything you like on it: air conditioning, good infotainment, navigation, power windows, etc. If you drive a Spring for any length of time, you do discover some drawbacks. Or rather points of interest.
Disadvantages Dacia Spring
Steering column not adjustable
Chair not adjustable in height
Short seats of chairs
Sun visor too floppy, too small in length
Door compartments too large, smaller bottles do not hold
High lift threshold luggage compartment
Susceptible to crosswinds
Limited sound insulation wheel arches
Charging cable is loose in luggage compartment
Stiff rear axle, taking it easy on speed bumps so
Artificial steering, especially around mid-range
Position of key disadvantageous to knee if you are a little taller
In practice, these concerns are fine to live with. You just have to realize what you are buying: an excellent attempt by Dacia to make electric driving more accessible to a wider audience. Given the model's high sales figures, buyers feel the model's advantages outweigh its disadvantages. Speaking of benefits, which ones are there?
Benefits Dacia Spring
Electric 65 engine variant is smooth beyond expectations
Excellent range for the type of car, 190-200 km in practice achievable in conditions of 20 degrees Celsius
Excellent infotainment, where navigation is also nice and clear
Clear reversing camera
Generous luggage space, larger than most A-segment cars
Sufficiently comfortable
30 kW fast charging acceptable, especially for this segment, in practice you achieve that too
Compact steering wheel is very comfortable to hold
Nice design, car really stands out and attracts the necessary attention as well.
Charging connector is at front of car, behind DC logo. Humor from Dacia.
Conclusion Dacia Spring Electric review
Secretly, we have become big fans of Spring. It looks cool and, for the type of car, drives nice and smooth, too. The real-world range turns out to be more than sufficient for most Dutch people to get from A to B. Especially if you hardly ever need to drive on the highway – and basically always drive from village to village on the inside – then the Spring is an excellent choice. For a lot of Dutch people, this is a super interesting option, especially with the discount from the SEPP subsidy. Our advice: do invest in the 65-hp electric motor. In practice, it is just much smoother. This adds to the driving pleasure.