Renault Clio 2023: here's what's new
Best-selling French car of all time
The Renault Clio has been a continuous hit since its launch in 1990, when it took over from the Renault 5. It is quite simply the best-selling French car of all time. To date, 16 million copies of the Clio have been sold worldwide!
Bumper to bumper
Just some fun facts. Bumper to bumper, all those Clios would circle the earth no less than 1.6 times. If you stacked them on top of each other, they would be 75,000 times taller than the Eiffel Tower! Also impressive: every day Renault still builds more than 1,400 copies of the Renault Clio. The Frenchmen hope the latest version of the Renault Clio V can continue that success.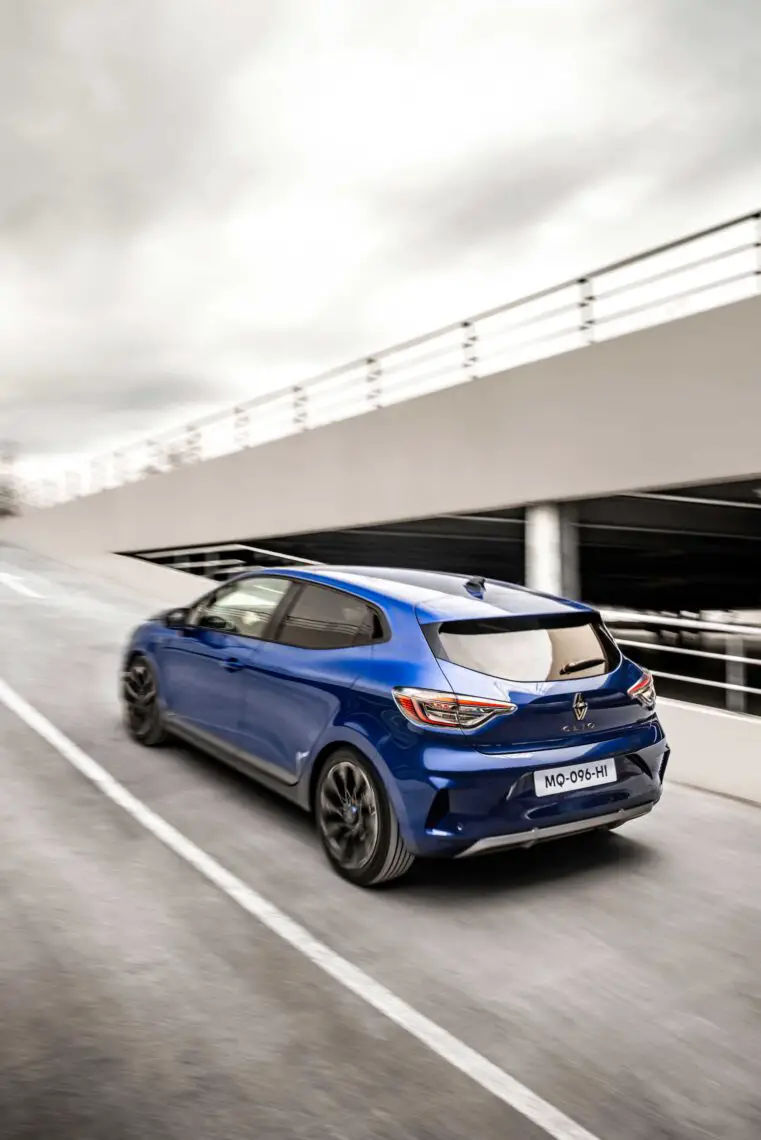 Renault Clio V facelift
This is a comprehensive facelift of the Renault Clio V. Then with a big emphasis on "face," because the rear is hardly changed. At the rear, only a new bumper and modernized taillights with crystal-clear housings. The nose area did undergo a major metamorphosis with new headlights, new bumpers, Renault's new logo and more.
Dimensions and luggage space
The dimensions of the new Clio have not changed. The car is still 4,053 mm long, 1,988 mm wide and 1,439 mm high. Luggage space is 391 liters (301 liters for the Clio E-Tech full hybrid 145).
Techno and Esprit Alpine
The new distinctive lighting will eventually be used on all Renault models. The Techno and extra richly dressed Esprit Alpine versions come with an air guide under the grille that the manufacturer says is inspired by motor racing. The wing is finished in body color on the Techno and in a gray color on the Esprit Alpine.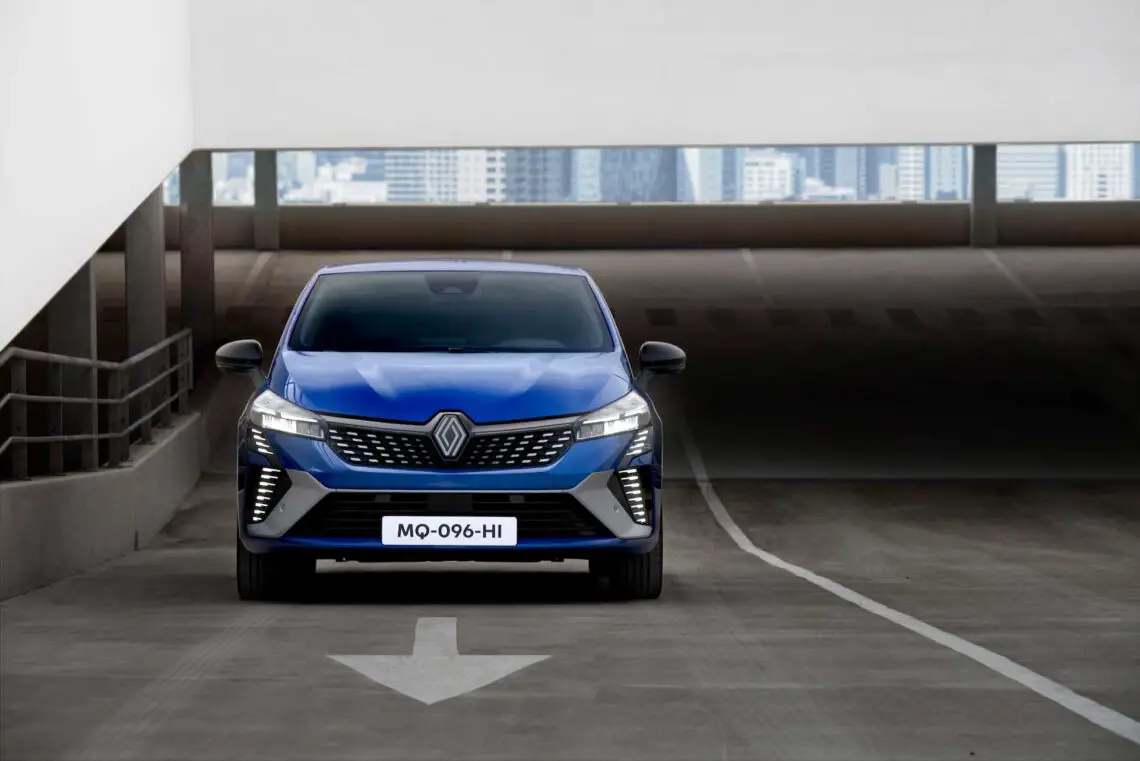 Seven body colors
The new Clio is available in with a choice of seven body colors, namely Blanc Glacier, Noir Etoile, Gris Schiste, Bleu Iron, Rouge Flamme, Orange Valencia and Gris Rafale. Of course, new wheel designs are also available. Renault supplies six variants.
Eco-edge: Tencel Modal fabric
The interior has also been touched up here and there, but none of it is earth-shattering. Renault applies new upholstery and biomaterials. Interior finishing has been taken to the next level. Renault has also looked at the eco edge in the process. For example, the seats, door panels and dashboard of the Techno version are upholstered in a sustainable fabric that is 60 percent Tencel Modal, or a cellulose fiber of biomaterial developed by Lenzing Group. These fibers are particularly soft to the touch and are made from a renewable resource: natural wood sourced from sustainably managed, semi-natural forests in Europe.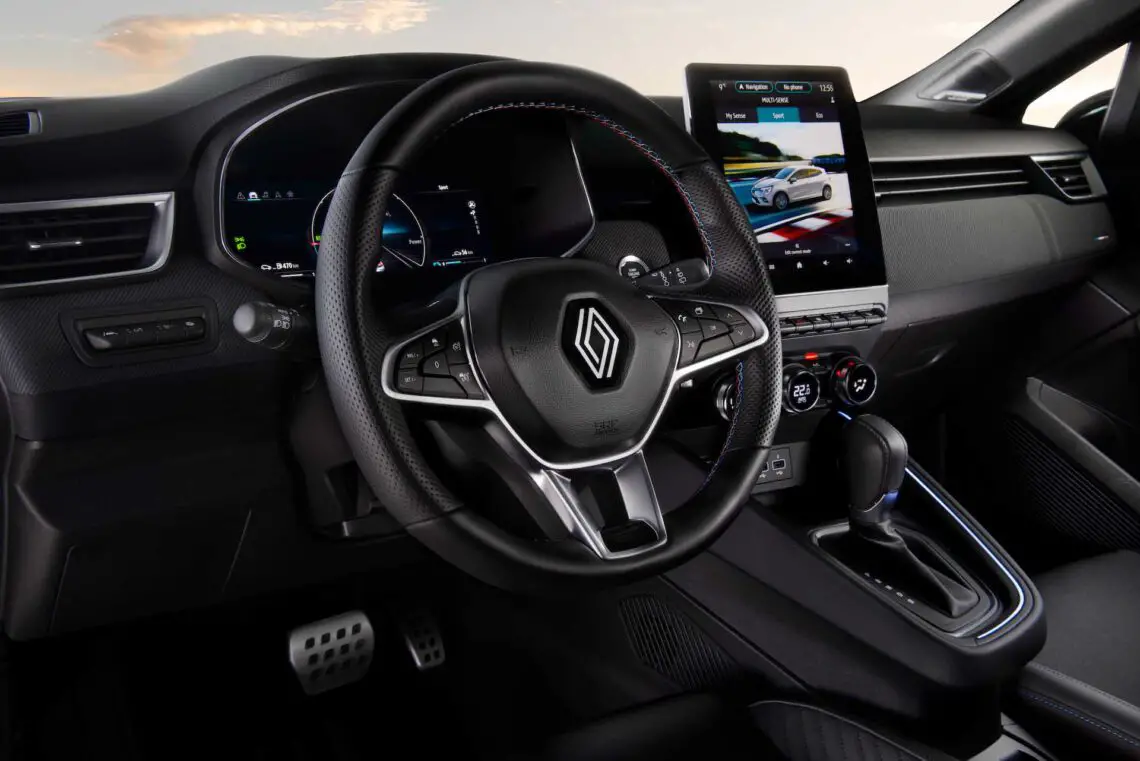 TEP, what is that?
In addition, no leather will be used in the new Clio. Instead, the surfaces are covered with TEP, a grained, coated fabric made from bio and polyester fibers. In addition, less water and energy are required to dye TEP than conventional fiber dyeing methods.
Dashboard
The dashboard is virtually unchanged. There is a choice of 7- or 10-inch digital instrumentation, depending on the version. The 10-inch version also displays the navigation map and adjusts to the driving mode set. The Renault EASY LINK infotainment system is available in two screen sizes, 7-inch and 9.3-inch. Both displays support wireless Android Auto and Apple CarPlay. A new Renault logo appears on the steering wheel.
Twenty driving assistance systems
The Renault Clio is available with 20 driver assistance systems. These include a collision prevention system with cyclist and pedestrian recognition, adaptive cruise control, lane assist, a 360-degree camera system and more.
Engines Renault Clio 2023
In the Renault Clio's engine lineup, the French give particular attention to the 107 kW (145 hp) strong E-Tech full hybrid. This series-parallel powertrain combines two electric motors (a 36 kW drive motor and an 18 kW starter/generator) with a 69 kW (94 hp) 1.6-liter four-cylinder gasoline engine, an intelligent multimode clutchless automatic transmission and a 1.2 kWh battery.
The multimode transmission has two gears for the electric motor and four for the gasoline engine. These gears can be combined in fourteen ways for maximum efficiency. The Clio E-Tech full hybrid 145 is systematically started by the primary electric motor and can drive fully electric in the city for up to 80% of the driving time. Thus, fuel savings of up to 40% can be achieved compared to a conventional gasoline engine. Thanks to CO2 emissions of 94 g/km, the Dutch BPM penalty is not too bad.
TCe 90
An alternative to the 145 hp hybrid variant is the TCe 90 with 90 hp (66 kW) and 160 Nm turbocharged gasoline engine, mated to a six-speed manual transmission as standard.
The updated Renault Clio will arrive on the Dutch market later in 2023. Renault will announce prices later.