Maxus eDeliver7: mid-size commercial bus with impressive numbers
Further expansion
Maxus Motors Netherlands is part of Van Mossel Automotive Group, which was appointed distributor of the Maxus commercial vehicle brand for the Netherlands in mid-2023. The brand now expands its range of models with the Maxus eDeliver7. In the short term, Maxus is also expanding its electric commercial vehicle range even further.
As of January 2024
With the eDeliver7, Maxus will deliver a new all-electric van in the class of medium-sized vans up to 3.5 tons starting in January 2024. Range comes out to a maximum of 365 kilometers (WLTP combined), depending on load and battery. The eDeliver7 recharges about 100 kilometers of additional range in 15 minutes (DC 20-80%: 43 minutes). 
Powertrain Maxus eDeliver7
The Maxus eDeliver7 is powered by an electric motor with an output of 150 kW (204 hp) and maximum torque of 330 Nm. There are three driving modes to choose from: Eco, Normal and Power. Maxus couples that electric motor to a 77 or 88 kWh battery pack as desired and depending on the need. The former brings it up to 320 kilometers in terms of range, while the 88 kWh version gets as far as 365 kilometers (WLTP combined).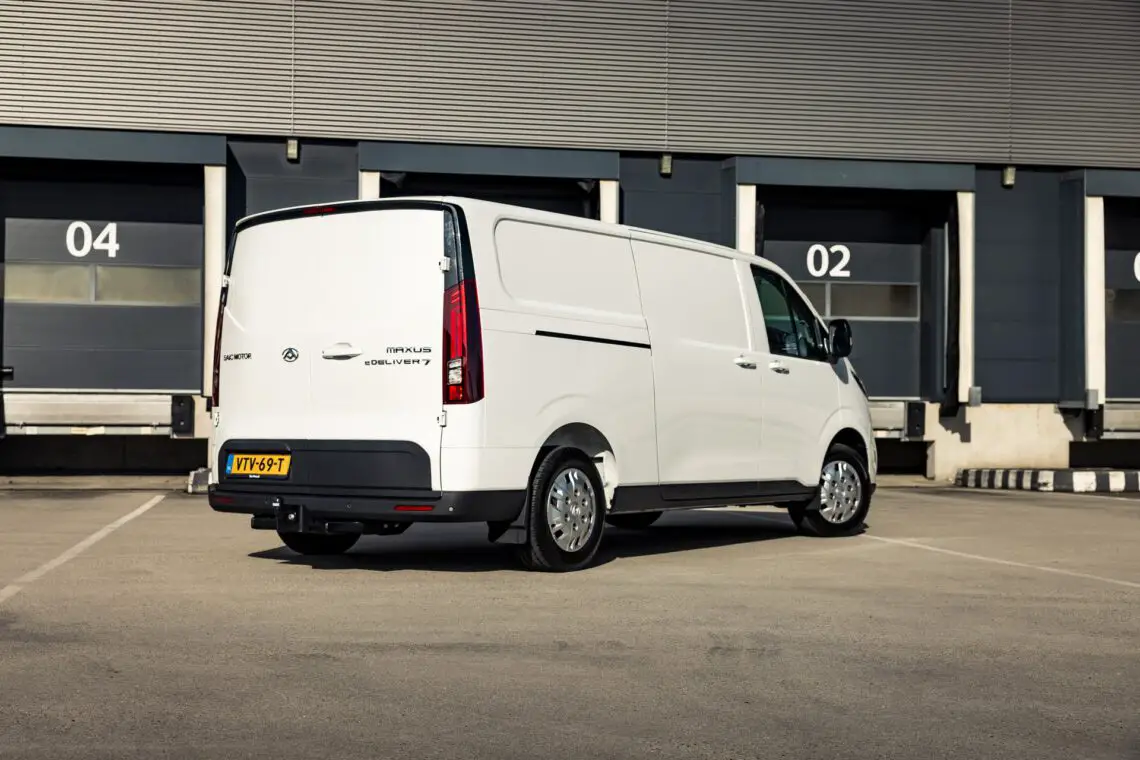 Several variants
Initially, the Maxus eDeliver7 comes as a closed Cargo Van, with a choice of three dimensions (L1H1, L2H1 and L2H2) and two wheelbases (3,000 and 3,366 mm). Thus, the cargo volume ranges from 5.9 to 8.7 m3, with a maximum payload of up to 1,200 kg. This places the eDeliver7 Cargo Van seamlessly between the eDeliver3 (max. 930 kg) and eDeliver9 (max. 1,885 kg).  
Overview of eDeliver7 Cargo Van versions: 
L1H1: 4,998 x 2,030 x 1,990mm (lxwxh), wheelbase 3,000 mm, cargo volume 5.9 m3
L2H1: 5,364 x 2,030 x 1,990mm (lxwxh), wheelbase 3,366 mm, cargo volume 6.7 m3
L2H2: 5,364 x 2,030 x 2,390mm (lxwxh), wheelbase 3,366 mm, cargo volume 8.7 m3
Moreover, the eDeliver7 has a towing capacity of up to 1,500 kg braked, which also allows it to tow a substantial trailer with load. Every eDeliver7 comes standard with towbar preparation.
As a Cargo Van, the eDeliver7 has one standard and optional two sliding doors, both of which provide ample access to the cargo area. Which means that, for example, a euro pallet can also be easily loaded or unloaded from the side. In the rear, the eDeliver7 Cargo Van has two equivalent doors that open at 90 and 180 degrees.
Equipment eDeliver7
Standard safety features include, for example, blind spot detection, LDW & LKA system (Lane Departure Warning & Lane Keeping Assist), AEBS (autonomous emergency braking system), fatigue monitoring, front and rear parking sensors and a 360-degree camera. Also standard is an infotainment system with a 12.3-inch touchscreen, Apple CarPlay and Android Auto, a Smart Key, One Touch Start, a heated multi-function steering wheel, a heated windshield, heated door mirrors, air conditioning, power windows, automatic LED headlights and towbar preparation.
In addition, Maxus always provides the eDeliver7 with strong warranty conditions on the vehicle and 8-year warranty on the battery pack. Free roadside assistance is also included as standard.
The Maxus eDeliver7 will be available from January 2024 through the Dutch Maxus branches. Prices and exact equipment level will be announced before the turn of the year. Of course, the eDeliver7 will also be available on a full operational lease or custom financing basis.