Indian Pursuit: the new flagship!
The Indian Pursuit is the new flagship. A top variant of the Indian Roadmaster with the necessary comfortable bells and whistles. Aluminum frame, design and the 1.768 cc liquid-cooled engine are almost the same, but otherwise all similarities end. The Pursuit should seduce the most spoiled touring bike enthusiast through equipment and options.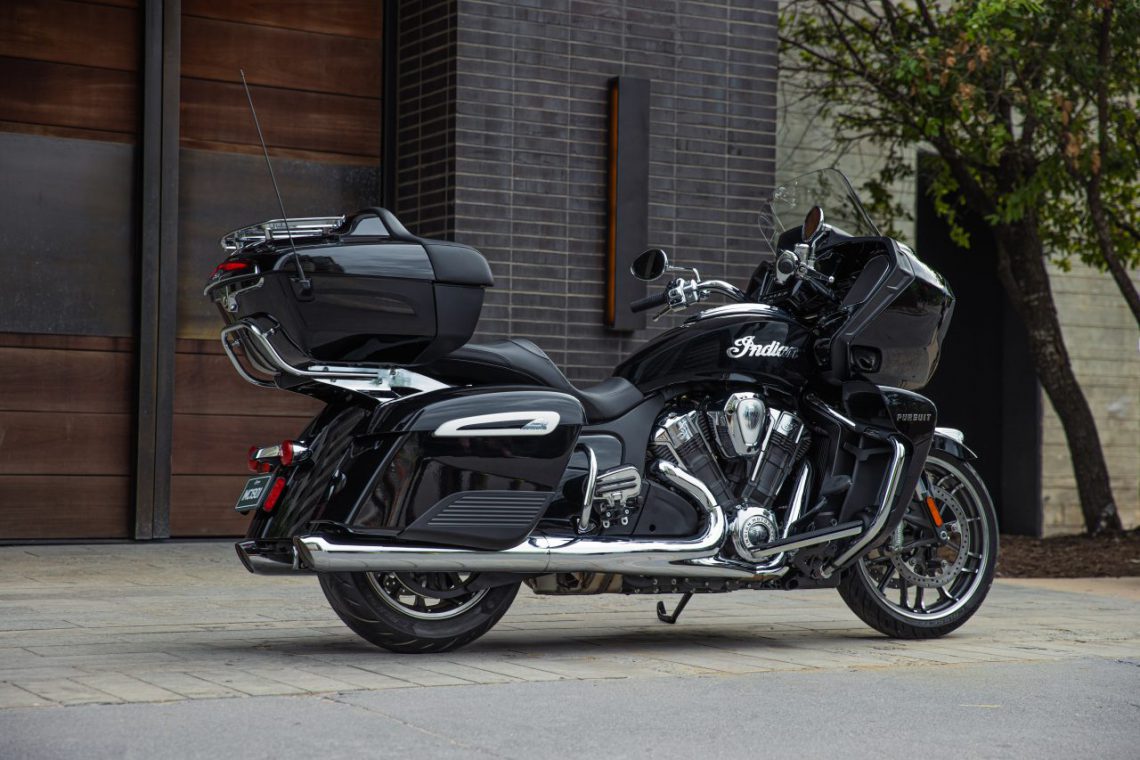 Indian Pursuit Powerful Heavyweight
The thick V-twin engine produces 121 hp. Considering the cylinder capacity, that's not too much. The torque of 178 Nm at just 3,800 rpm is much more impressive. The Pursuit can also use pulling power with a weight (fully fueled) of 416 kg. There are currently few engines that can put this value on the scale.
Three riding modes
The reasonably 'old school'-looking engine is internally completely up to date with overhead camshafts and four valves per cylinder. Adjusting valves is not necessary, because they are hydraulically self-adjusting. Saves on maintenance costs. With the Pursuit you can choose from three driving modes. These are Rain, Standard and Sport, with the latter mainly being the position for more dynamic cruising.
Heating, storage space and comfort
The fairing and leg shields should keep you well out of the wind. There are extra lamps in the leg shields, the fairings. Heated grips and heated seat are standard. This also applies to the side cases and top box, which together offer up to 133 liters of luggage space. You can lock everything at once. That goes keyless, so with the key in your pocket. You don't have to bring it up to start either.
New: touchscreen
Completely new is the fairly large touchscreen with Ride Command function, which is placed under the analog speedometer and rev counter. Ride Command offers comprehensive infotainment and navigation. You can connect an iPhone via Apple Carplay and read out numerous data about consumption, journey, distances and engine settings and engine systems. You can set and arrange the tiles yourself.
Electronically controlled suspension
The Indian Pursuit is further distinguished by a new, fully electronically controlled rear suspension from top brand Fox. The spring damper automatically adjusts to the load. You can set that via the touchscreen. The brakes are Brembo with radial-mount calipers and 320mm diameter discs, as on more sporty motorcycles. This system slows down powerfully and you need that with so much weight.
Cornering abs and traction control
Also new is a six-axle IMU from Bosch, which optimizes the electronic rear suspension, ABS and traction control under all conditions, including cornering. And yes, it is nice that abs works optimally when you suddenly have to brake hard in a bend with a 416 kg engine.
Prices and more of the Indian Pursuit
For the Indian Pursuit you pay 40,090 euros. If you want the special color Aluminum Jade, an additional 900 euros will be added. The price can be further increased with a variety of extras and accessories. These include adaptive LED headlights, a PowerBand Audiokit from Indian for even more powerful sound than the standard 200 Watt audio system, larger front fairings, saddlebags or a higher Mitred Mid-Rise handlebar.