Ford Puma ST Powershift has smaller gasoline engine, what about it?
Ford Puma ST Powershift in a nutshell
Ford is taking a slightly different approach for the new Powershift variant of the Puma ST. The regular Puma ST has a 200-hp 1.5-liter EcoBoost turbocharged three-cylinder with manual transmission. That power source is just not compatible with a Powershift automatic transmission. Therefore, Ford had to find another solution. The new Ford Puma ST Powershift is the result.
The sporty B-segment crossover combines 48-volt mild-hybrid technology with a seven-speed dual-clutch automatic transmission and a 1.0-liter EcoBoost three-cylinder. System power comes out to 125 kW (170 hp) with maximum torque of 248 Nm. Acceleration from 0-100 km/h is just 7.4 seconds, versus 6.7 seconds for the regular Ford Puma ST.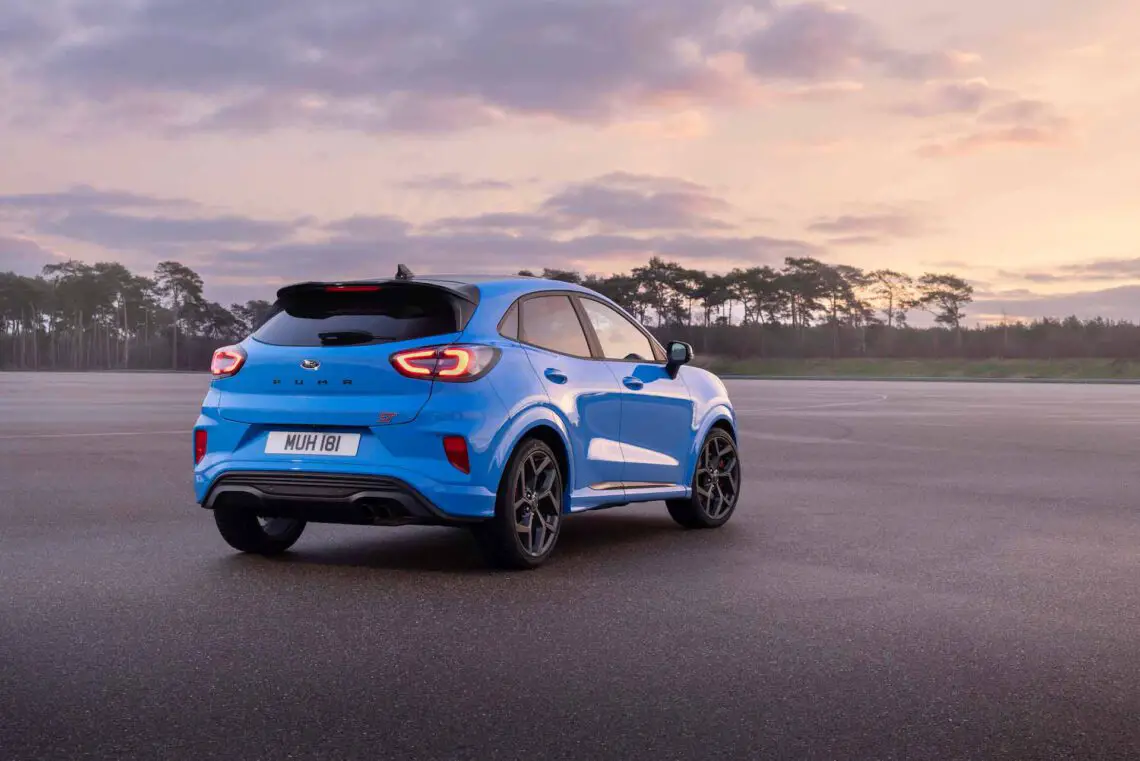 ST-worthy
All other ST features are adopted by the Powershift version, including the improved and especially stiffer chassis, a sharpened chassis with stiffer torsion axle, a special stabilizer bar and sportier-tuned shock absorbers.
Most powerful 1.0-liter EcoBoost three-cylinder ever
Through specific software tuning for the direct-injected three-cylinder turbocharged gasoline engine, Ford achieves nearly 10 percent higher peak power compared to the 114 kW (155 hp) 1.0-liter EcoBoost Hybrid engine. Producing up to 125 kW (170 hp) at 5,750 rpm and 248 Nm of torque at 3,000 rpm, the Puma ST Powershift produces exactly twice as much power per liter as a 2002 Focus ST170.
Active exhaust valve technology
The Ford Puma ST Powershift benefits from the same active exhaust valve technology as the Puma ST for improved performance and a distinctive ST engine sound on acceleration. The active exhaust valve remains closed in Drive Modes Normal and Eco, but opens in Sport mode. In Sport drive mode, the seven-speed automatic keeps lower gears longer for a sportier driving character. The seven-speed automatic also offers the option of manual shifting with paddles behind the steering wheel.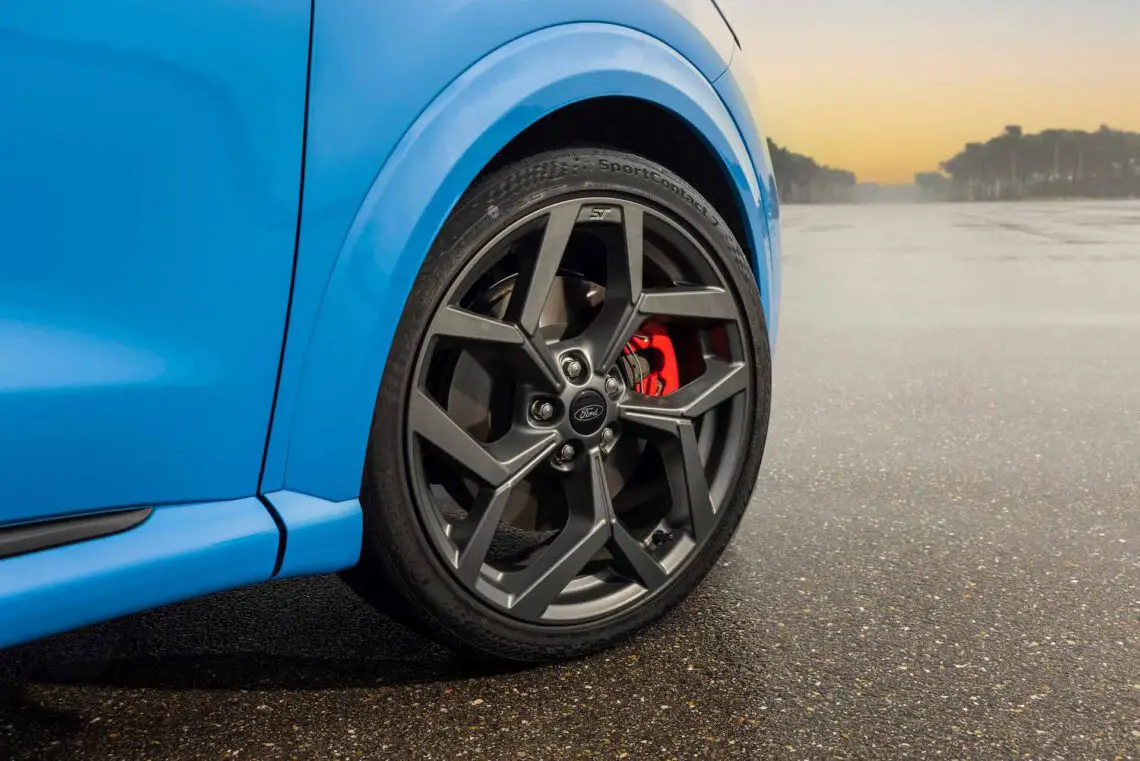 Undercarriage Ford Puma ST Powershift
The Puma ST Powershift, like the regular ST variant with manual transmission, gets so-called force vectoring springs. These springs wound in a specific direction and also wheel-specific springs ensure that forces occurring in cornering are handled directly by the springs, for greater lateral stiffness of the car.
The suspension technology works in conjunction with Hitachi twin-tube frequency-actuated dampers at the front and rear wheels, according to Ford. The dampers have the stiffness needed for optimal stability combined with the ability to absorb smaller bumps for comfort at high speeds. Specific stop rubbers are used to maintain control at high spring loads.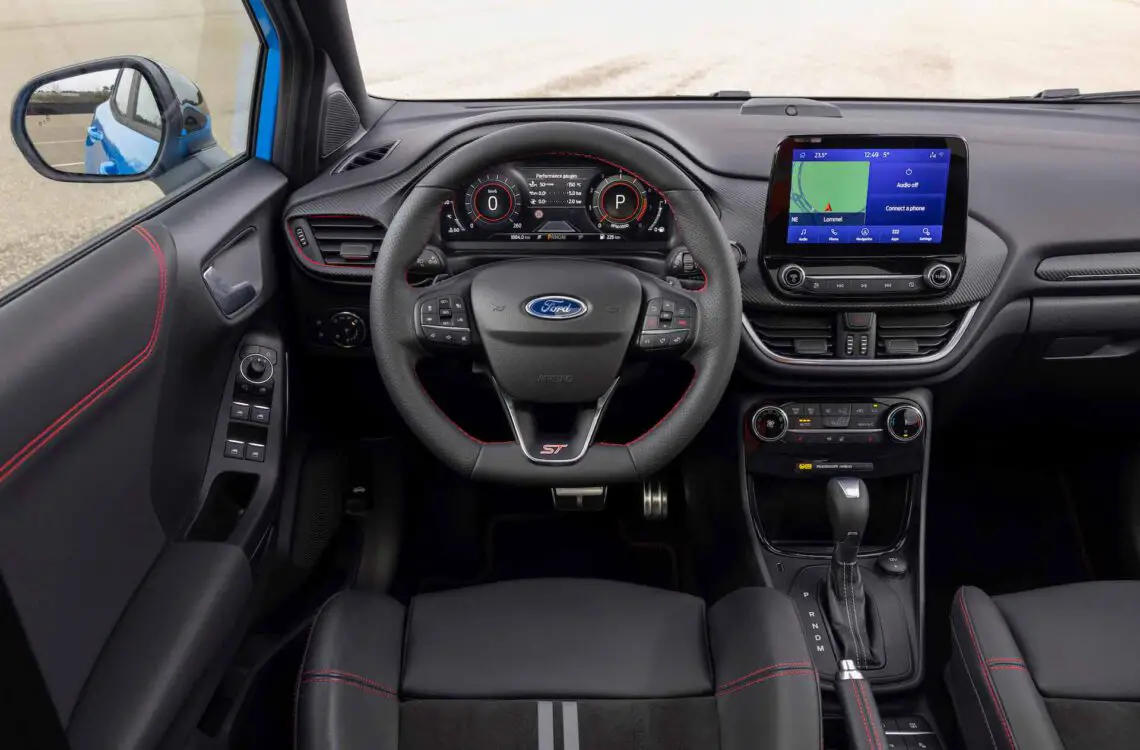 Steering
The steering of the Puma ST has a ratio of 11.4:1 – nearly 25 percent more direct than that in the standard Puma. With modified steering knuckles, shorter steering arms and the more direct transmission, the Puma ST responds more directly to cornering. This is further enhanced by Torque Vectoring Control, which improves handling and reduces understeer by applying braking force to the front wheel in turns on the inside.
Stronger brakes
Braking performance has also been optimized for the pure ST driving experience. At 325 mm in diameter, the front brake discs are 17 percent larger than those of the standard Puma. The Puma ST's brakes are tuned for maximum control, pedal feel and feedback required for sporty driving. Also, the braking system is geared to energy recovery from the driveline, which enhances engine braking.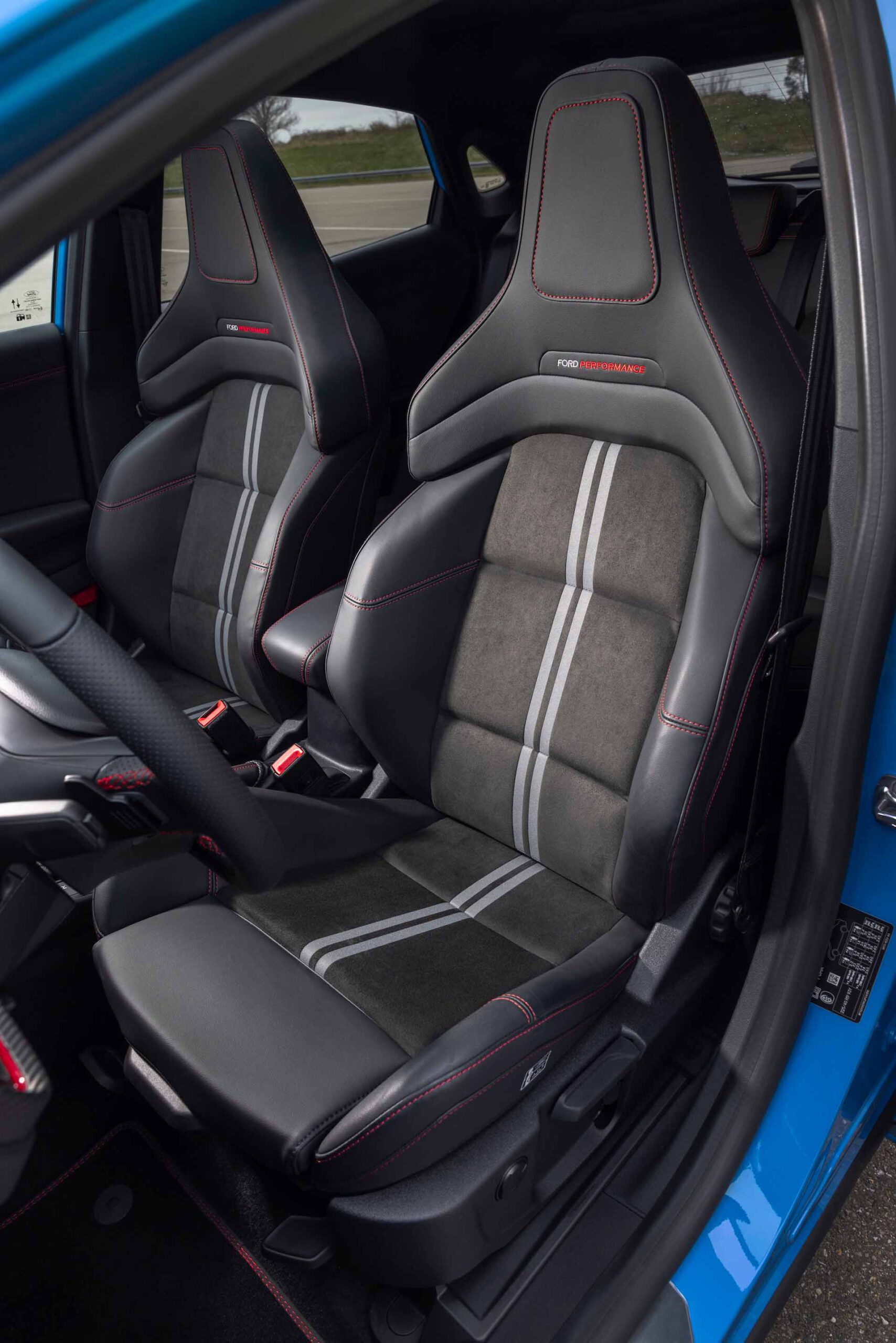 Special color: Azura Blue
The new Ford Puma ST Powershift is available with a new ST-only body color called Azura Blue. A total of six paint colors are available. The roof is glossy black. The edges of the grille, side trims, mirror caps and roof spoiler are also finished in black. The B-segment SUV comes standard with 19-inch alloy wheels finished in Magnetite.
Interior
Several things stand out in the interior, such as the sports seats developed by Ford Performance finished in high-quality Sensico material. Furthermore, the Puma ST Powershift has a wireless charging station for smartphones, Quickclear heated windshield, front and rear parking sensors, windshield wipers with rain sensor and much more.
Delivery will begin in late second quarter of 2023. Prices Ford will announce soon.