CAR TEST – AUDI Q3 SPORTBACK 45 TFSI E (2022)
Lower consumption, more horsepower
Thanks to low CO2 emissions and lower BPM fines, plug-in hybrids are still very popular. Audi is therefore introducing one to the other in our country. It is now the turn of the Q3. Is it better with plug?
Audi Q3 Sportback 45 TFSI e
You don't buy a plug-in hybrid with your heart, but with your mind. Or not? With a starting price of 48,674, the new Q3 45 TFSI e is the second cheapest version you can get. Only about 1,100 euros more expensive than the 150 hp entry-level model with a manual gearbox. That can't be an exciting car you might say. But with a system power of 245 hp, it is precisely the version that you must have. For 1,100 euros almost 100 hp more and you can make many trips fully electric, what's not to like?
The Sportback PHEV that we test starts from 51,400 euros, which is about 1,000 euros more than the regular and well-behaved Sportback slip-on with 150 hp.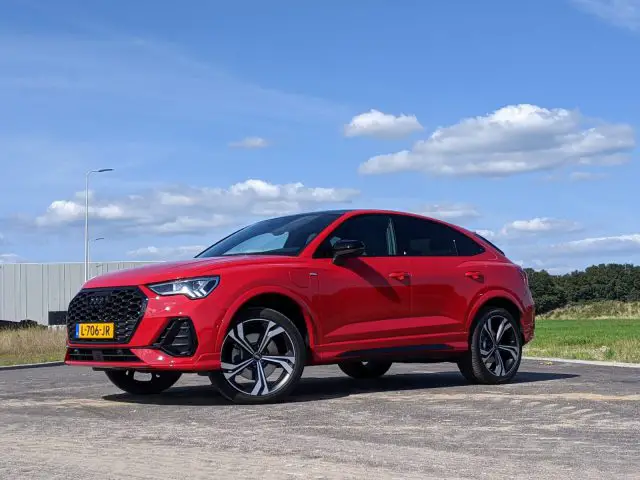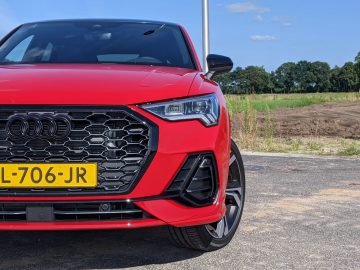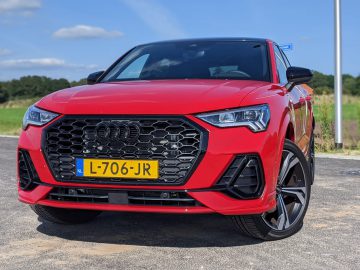 Co2 emissions
The powerful Q3 plug-in hybrid versions have only a small extra cost over the basic versions, because they emit little CO2. In our country, high CO2 emissions result in a high BPM fine. Our 245 hp test car emits 38 CO2 gr/km, while the base variant with 150 hp has 148 CO2 gr/km.
Of course these are the emission figures on paper. You have to charge a plug-in hybrid as much as possible, otherwise you will never achieve low emissions. A home charger is therefore a must if you want to fully enjoy the benefits of a plug-in hybrid powertrain. Because if the public charger is busy in the evening, you'll be driving on petrol the next day.
40 to 50 kilometers
You will have to load often. Under the rear seat of the Q3 45 TFSI e is a battery pack with a capacity of 13 kWh. It is charged within four hours, after which you can drive 50 kilometers fully electrically on paper. In practice, you should rather think about 40 to 45 kilometers, unless you only stay in the city.
For most Dutch people 40 to 45 kilometers is sufficient for daily trips to the office, nursery and neighborhood supermarket, but at the end of the day he has to plug in again. Day in day out.
Nice and smooth
You don't have to charge the Q3 every day because you have a big green heart and want to drive as much electrically as possible. No, you can also do it because you like to drive a little further.
You only have the full power of 245 hp when both engines are working. In the front is a 150 hp 1.4-four-cylinder petrol engine and a 110 hp electric motor, which is housed in the gearbox housing. That is standard a 6-speed S Tronic automatic.
The top speed is 210 km/h and the PHEV sprints to 100 km/h in 7.3 seconds. That feels a lot faster thanks to the directly available torque from the electric motor. The front wheels sometimes even lack grip to get the power on the road. Front wheels yes, because four-wheel drive is unfortunately not possible in combination with the PHEV powertrain.
When the battery is empty you only have to do it with the 150 hp petrol engine and the real fun is a bit off. And you are no longer working sustainably. Load, load and load as much as possible.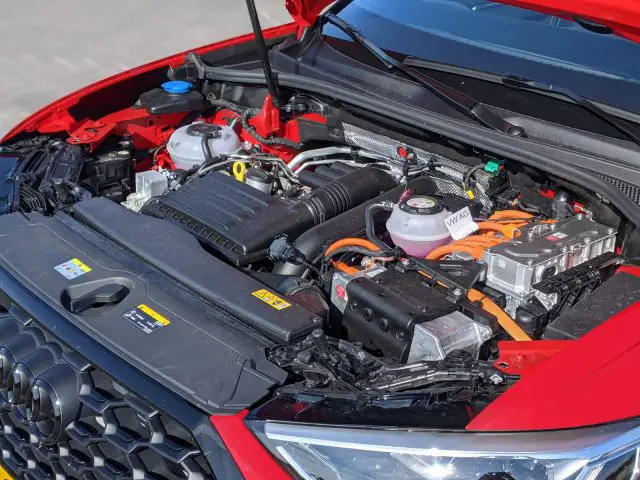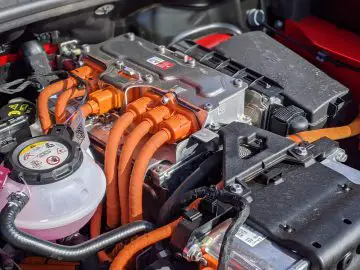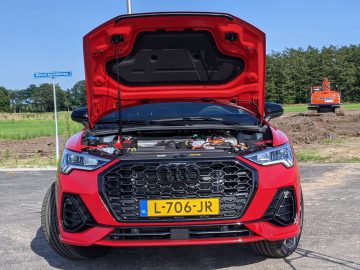 Less luggage space
To make room for the battery pack under the rear seat, the fuel tank has been shrunk and placed further back. As a result, there is less luggage space in the Q3 TFSI e than in the traditional Q3. There is 380 liters instead of 530 liters of space. In addition, there is always a large bag with charging cables in the back, because they do not fit under the loading floor.
In terms of space, it saves quite a bit, but it is still sufficient for a number of suitcases or your daily shopping. But if you regularly want to use the Q3 as a removal van, it is better to go for the Q3 with a traditional powertrain.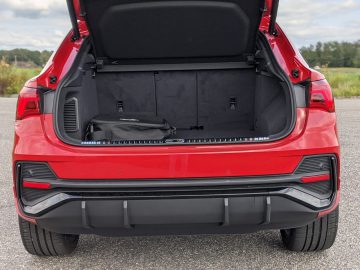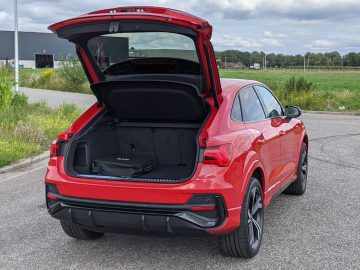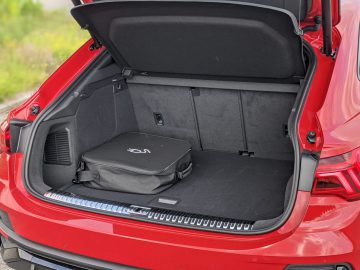 Same looks, spacious basic equipment
On the outside there is no difference between the regular Q3 and the new plug-in hybrid. Okay, you get two tank valves, one of which is of course the tailgate.
You get 17-inch wheels as standard, which also provide the best range. But those who want to be beautiful have to suffer, and larger wheel sizes are of course available. The basic equipment is also quite complete. Not surprising, because otherwise it would be cheaper than the current entry-level version, which then no longer stands a chance.
Things like the Audi virtual cockpit (digital instrument panel), Audi smartphone interface, fully automatic air conditioning, cruise control, rear parking aid, theft alarm, Lane Assist and lane change aid are all included. That's great, because if you're going to check options yourself at Audi, it quickly becomes a hassle. However, things like adaptive cruise control and electrically adjustable seats are missing.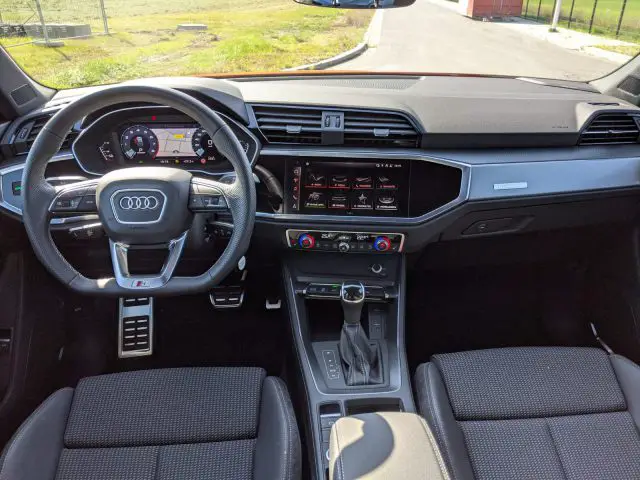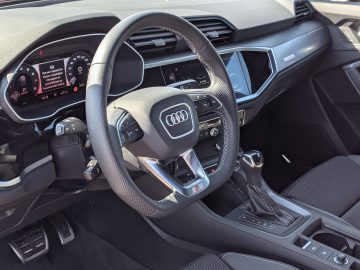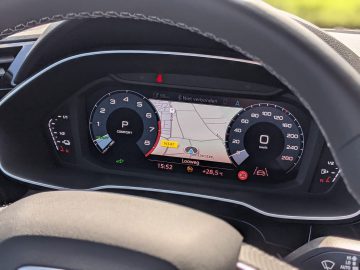 Conclusion
The Q3 Sportback 45 TFSI e is a nice addition to the ever expanding Audi PHEV range. Thanks to our tax system, it is actually the most logical choice if you have your eye on the Q3.
Okay, it is about 1000 euros more expensive than the Q3 slip-on, but you get more power, an automatic transmission and much more driving pleasure in return. And if you connect it to the charger as much as possible – possibly for free at work – then you will have earned back that 1000 peak with the current petrol price.
Don't forget that the Q3 is not the only SUV within the Volkswagen Group to be equipped with the 245 hp PHEV powertrain. Think of the Volkswagen Tiguan eHybrid (46,690 euros) and the Cupra Formentor E-Hybrid we recently tested (50,990 euros).
Do you want to see all the details of the Q3 Sportback 45 TFSI e and know how it drives? Then watch our driving test video: