AERWINS XTurismo: cross between motorcycle and drone
Conceived by Shuhei Komatsu
The AERWINS XTurismo was conceived by Shuhei Komatsu. He is a big fan of Star Wars, especially the so-called landspeeder vehicle from the world-famous film series. But Komatsu is also a big fan of flying. With the AERWINS XTurismo, it combines the best of both worlds: the looks of a motorcycle and the ability to fly.
Kawasaki powerhouse
The "plane" is already on sale in Japan, according to the top executive, but will soon enter the North American market as well. The XTurismo uses a gasoline-hybrid Kawasaki engine. Komatsu's creation weighs 299 kilograms thanks to overlaid use of carbon fiber. The top speed is 100 km/h and the plane comes down to about 40 minutes. There is a choice of black, blue or red.
XTurismo is not cheap
Cheap the XTurismo is not. The first examples have a price tag of as much as $777,000, but according to Komatsu, a much cheaper model is in the pipeline. Around 2025, he hopes to introduce a smaller hoverbike with a price tag of about $50,000.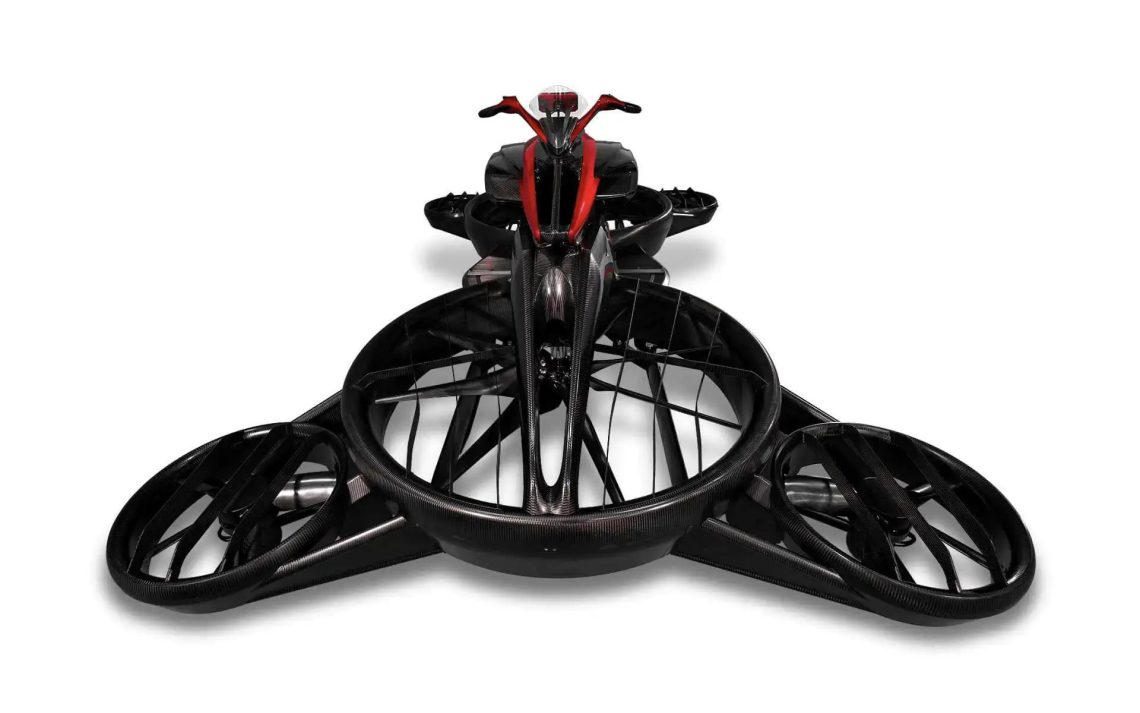 Exception in Japan
In Japan, a hoverbike is not considered an aircraft, so owners do not need a special license to fly it. Hence, AERWINS is already selling the model in Japan. The company hopes to implement similar rules in the United States, but for now they do not exist.
For now, Komatsu is targeting wealthy individuals as well as governments who want to use the vehicle for missions or surveillance work. Let us hope that AERWINS becomes successful so that a cheaper model can be realized.
Aerwins XTurismo
Specifications AERWINS XTurismo
Drivetrain:
Internal Combustion + Battery
(Autonomous Control via Electric Control System)
Weight:
300 kg
Dimensions:
Length: 3.7 m
Width: 2.4 m
Height: 1.5 m
Range:
Max 40 Km
Top speed:
80〜100 km
Payload:
Approximately 100 kg (recommended)